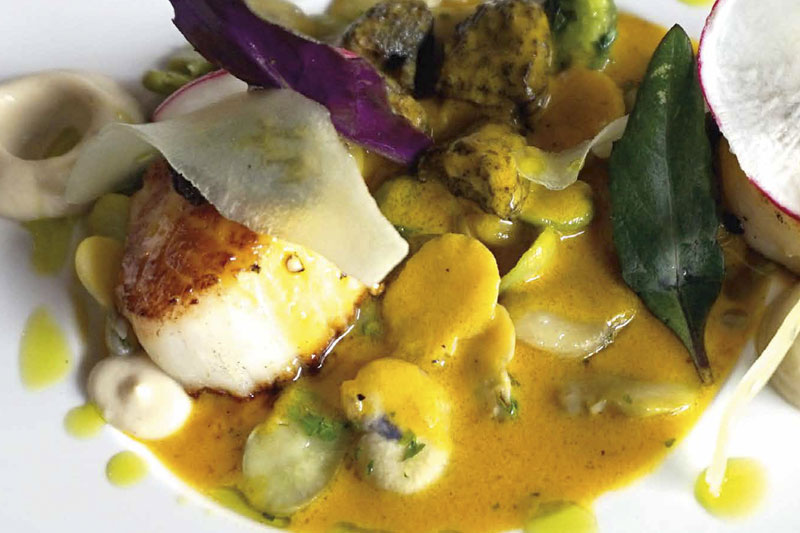 5 Days in Chiang Mai and Hanoi, Rain Included 
Fah Thai recently hopped on a route that flies from Chiang Mai, Thailand to Hanoi, Vietnam. With the ease of a short flight, two countries in 5 days seemed easy to say hello to the familiar sights and to find some 'wow' to new experiences. 
Words: Nawarat Acosta
Photos: Anutra Ungsuprasert
The capital city of Hanoi in Vietnam is but a skip and a hop from Chiang Mai, the former Lanna kingdom. While no two northern capitals can be alike, the commonality lies in their rich history, culture and the food, oh the food.
The objective was to see how much can be done with two good stops, with their wealth in historical nostalgia and local culinaria. Choosing accommodations near the iconic landmark of Wat Gate, which sits on the east bank of the Ping River and across from Chiang Mai's city centre made getting around simpler, with the airport within reach.
Given the sporadic to heavy downpours that visit during the rainy season, renting a car is a good strategy and simply requires a driver's license for a set of wheels offered by the plethora of car rentals at the Chiang Mai airport. Beyond the usually frequented city spots, having a car meant stress-free exploration of areas like the Mae Rim district. With the relatively small size of the airport, a car gets delivered and just as quickly, you zoom towards the main airport exit. With Google Maps serving as a trusty companion, just be on the lookout for U-turns that show up unexpectedly. It is about 15 minutes back to the airport for the car dropoff before your flight.
The immediate destination was the Mae Rim area, close to the airport and a happening neighbourhood with a strong enterprising spirit, dotted by the crop of creative bakeries, restaurants and coffee shops that stray from any predictable recipes. The first stop was "Steak of the Day," with Chef Rewat Srilachai at the helm. His bistro is a local favourite with faithful diners who know that anything the former Four Seasons executive chef produces is exquisitely fresh and inventive but stays true to authentic flavours.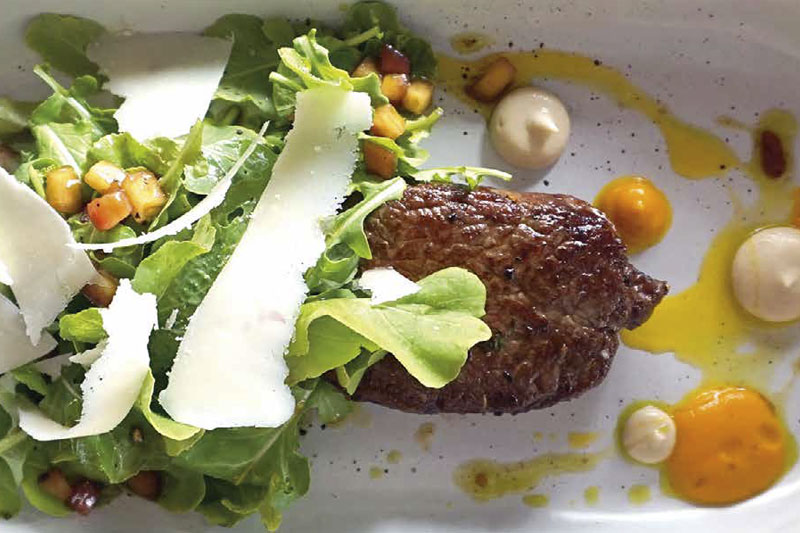 With a casual neighbourhood vibe and the amiable personality of the chef, dishes that come out, like a salad of Chiang Mai crisp greens accentuated with the sharp goodness of a real tomato is sublime in a light dressing and sheer freshness. It may be an unassuming spot but the dishes are award-worthy in taste and presentation and even better, quite affordable.
And his Steak of the Day, usually a tomahawk comes up cooked in the best possibly way. His pork chops with a softened cheese layer is decadent, and addictively tasty. The yellowtail or Hamachi is seared with the skin still crisp, while desserts like a Baked Alaska top off the experience. He also has Rimm Phi Romm Thai restaurant across the street that caters more to a local cuisine. facebook.com/steak.steakoftheday
As if that wasn't enough, another great meal came in the form of Bombay Hut Chef Chang who lived in Mumbai for 10 years.
A beckoning goddess in wall art takes you through a cobble-stoned path into a house decorated with Chef Chang's detailed and decorative finds, all Indian-themed in cosy displays. Already, he's busy prepping the meal and timing its mouth-watering delivery and diners can see him walking about the kitchen and colourful décor. His table settings possess charm with carefully chosen tableware and a creative food presentation. A three-course meal should cost no more than 550 baht or 280 for lunch. With its full on Indian theme, the food retains its authentic base with a touch of local Chiang Mai ingredients bursting with personality, just like the chef himself. With Bombay Hut's popularity, reservations are a must. Don Kaeo, Mae Rim District, Chiang Mai, +66 90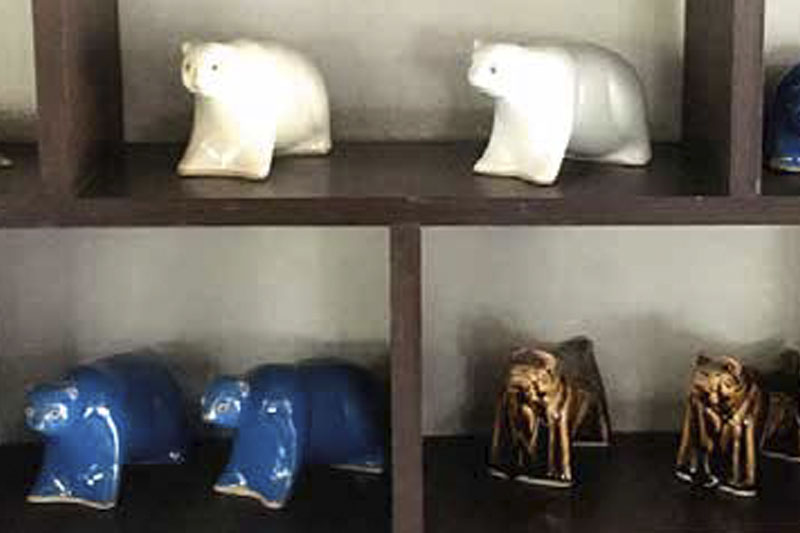 Mae Rim Ceramic 
As you drive along Mae Rim road, try not to blink in order to not miss the wonderland of Mae Rim Ceramic and a throwback to another era reminiscent of the mid-century trend. The compound is worth visiting for their display of handmade tiles and stoneware pottery of table items and decorative pieces. It's a unique place where you can special order tiles for that dream home or stop by to add to your tableware collection. Among some of their notable projects include the grand sweep of tiled roof at the former Siam Inter-Continental Hotel in Bangkok and now the City Hall in Busan, Korea. 165 Moo 8, Don Kaeo, Mae Rim District, Chiang Mai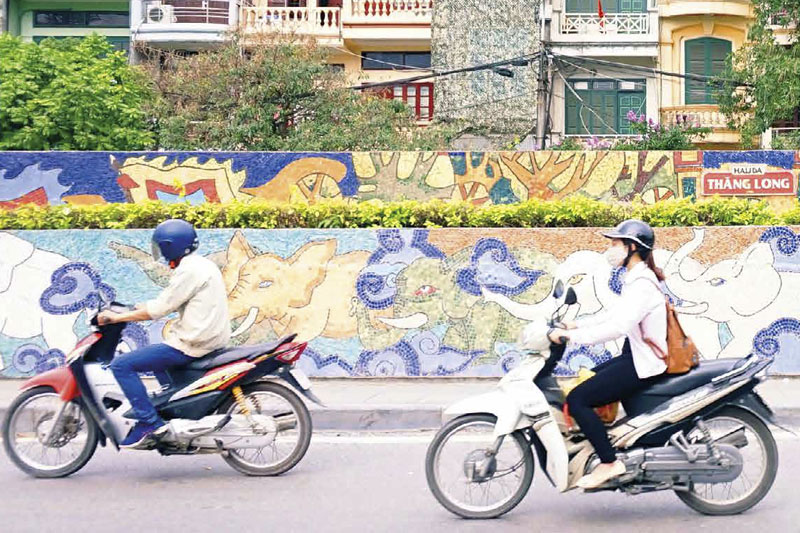 Onwards to Hanoi, "ỐI GIỜI ƠI" 
It loosely translates as "oh my god" but that's how you feel with every bite and sight encountered. Look past the curtain of chaotic streets where man and vehicle seem to share the same lane and you'll find countless delights that go beyond Hanoi expectations.
However, when in Hanoi, there has to be pho. Yes, the queue needs to be joined at places like Pho Thinh to taste for sautéed beef atop a steaming bowl of a non-traditional yet Hanoi classic. But nothing beats the experience of apartment pho at Miss Minh. Apparently, Miss Minh had been serving to loyal customers for decades but had to vacate her sidewalk spot. Not wanting to go elsewhere for their pho cravings, those in the know have been showing up at her doorstep for their regular bowl. Thus in her living room surrounded by a collection of blue and white ceramics and a corner daybed – you slurp the clearest broth, rightly balanced b onions and scallions in a bowl of true Hanoi pho. Pho Hang Trong, 8 Trong Hoan Kiem
For a dash of caffeine, in one of the many mysterious alleyways, follow signs for Hoi An Café, with excellent drip coffees and Vietnamese coffees that offer a more superior, taste of fresh roasted beans. It's the design of the place in a former duplex apartment and balcony views of the Old Quarter that showcase the charm of Hanoi.
While countless lists and blogs offer tips on where to eat, but sans list, the eating is still on any sidewalk, you can down a vast array of molluscs, like snails in herbal dipping sauces of a quality found in high-end restaurant, except you're on plastic stools and makeshift tables. An auntie sets up shop where she steams rice crêpes and hands it over to you à la minute, hot and delicious. Most things are served with a sheer extravagance of herbs piled high and a vinegar and fish sauce dip. During peak time, tables get shared and you're sure to be taught the right way to eat something. To enhance flavours, use the condiments and season until you strike the right balance.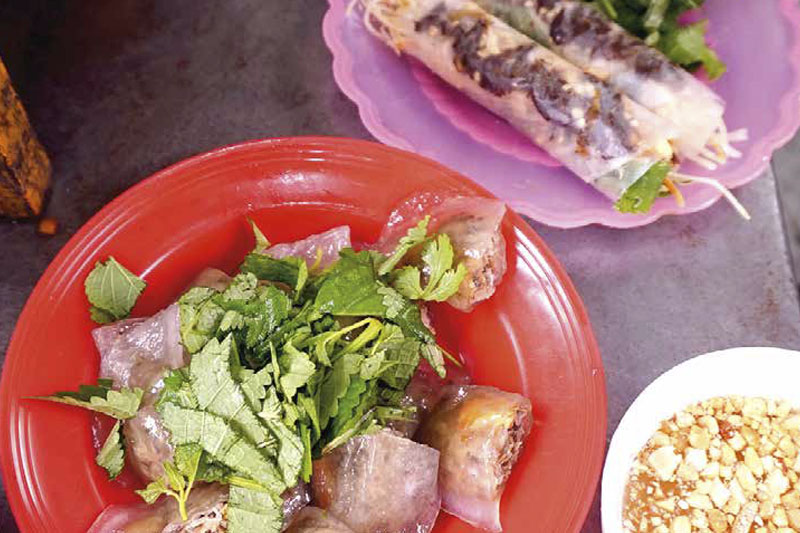 To further maximise the food experience, consider joining a food tour. We were lucky to have met Thanh, a determined guide from maiafoodandtravel.com who took us to the Truc Bach neighbourhood to have fresh pho rolls with duck, steamed rice pancakes with pork and mushrooms and strands of pickled papaya. They're fusion, she states, although they're made by veteran aunties who continuously
play with available ingredients. Congee with clams makes you cry in wonder while Vietnamese beefsteak meal with a thick generous slab of paté and French fries set you back USD $5. Nearby dessert places with coconut ice cream and a caramel flan at a mere US 30 cents leaves us flabbergasted. And in final hospitality, we try the famous egg coffee. Thanh describes it as drinking 'tiramisu,' and when put that way, definitely is a pleasantly palatable experience.
For added cultural sights, the Hanoi Train Street in Dien Ben Phu street offers the excitement of scheduled trains whizzing by on tracks smack dab in the middle of a narrow lane. It's a busy neighbourhood, but nonchalant residents are used to its daily appearance that's within inches away from their doorstep. Nearby is an area known for its nightly street food, and the tempting call of chicken congee served with fried crullers. Again, the dusting of white pepper and generous sprinkling of herbs like perilla and scallions give the dish a depth of flavour like nowhere else. Cafés nearby like Xofa and Vui showcase a more modern Hanoi for drinks and just chilling.
For a daytrip, a car can be hired for US $120 for nearly a full day to Ninh Binh, In just under two hours on a modern highway, see karst formations that just out of spectacular and still waterways.
Female rowers who use their feet to 'row your boat' offer another experience not found in too many places. Hanoi is used by many as a gateway to other places like Halong Bay, but if you decide to just hang out, there are still many amazing that make you go "oi giời oi."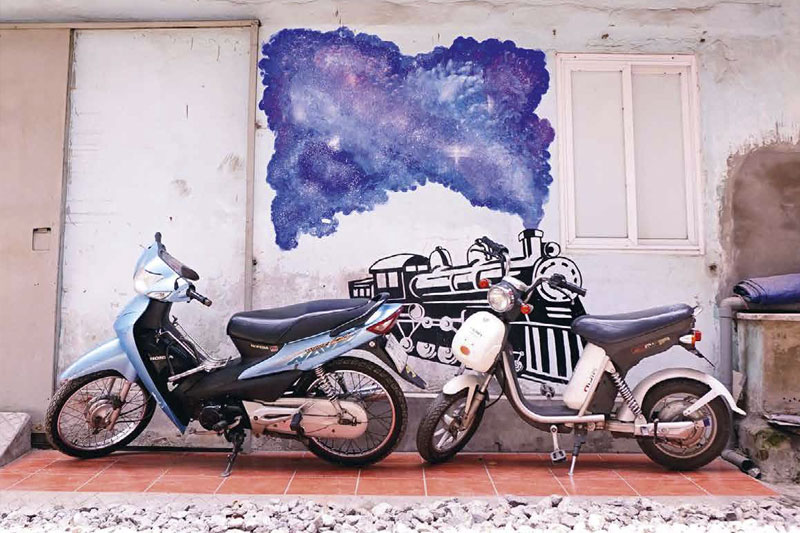 ฮานอยกับเชียงใหม่ช่างเหมือนกันเสียนี่กระไร ทั้งประวัติศาสตร์อันยาวนาน วัฒนธรรมอันล้ำค่า และอาหารอันโอชะ แค่พูดถึงต่อมน้ำลายก็ทำงานหนักเสียแล้ว
เราเลือกที่พักย่านวัดเกตทางฝั่งตะวันออกของแม่น้ำปิงใกล้ใจกลางเมืองและไม่ห่างจากสนามบินนัก สำหรับหน้าฝนเช่นนี้ เช่ารถยนต์ขับดูจะเหมาะสมที่สุด เราจึงถือโอกาสขับไปเที่ยวและชิมของดีแถวอำเภอแม่ริมกัน
บรรยากาศเย็นชื่นใจท่ามกลางไร่นาเขียวขจี มีร้านรวงสวยแปลกตา เราหยุดกันที่ร้าน Steak of the Day กับเมนูอาหารที่อดีตเอ็กเซ็คคิวทีฟเชฟจากโฟร์ซีซั่นส์อย่างเชฟเรย์ หรือ เรวัฒน์ ศรีลาชัย รับรองว่าสดใหม่และมีรสชาติเอกลักษณ์ เราขอแนะนำสลักผักใบเขียวน่าทาน มะเขือเทศหวานกรอบ ราดน้ำสลัดใส ทั้งสดใหม่และสดชื่น แถมราคาไม่แพง พอร์คช็อปพร้อมกับชีสนุ่มๆ ก็อร่อยจนหยุดไม่ได้ ต่อด้วยปลาฮามาจิเผาไฟอ่อนให้หนังกรอบ คุณจะหาประสบการณ์แบบนี้จากที่อื่นไม่ได้แน่นอน
ร้านอาหารร้านเดียวไม่เคยพอ มื้อค่ำแวะไปที่ Bombay Hut ตำรับเชฟช้างที่เคยใช้ชีวิตในมุมไบกว่า 10 ปี ขณะที่เดินผ่านสวนเข้าไปในตัวร้าน กลิ่นหอมของแกงกะหรี่และเครื่องเทศก็พุ่งเข้ามาเตะปลายจมูก Bombay Hut เสิร์ฟอาหารนานาชาติแต่โดดเด่นด้วยรสชาติสไตล์อินเดีย พร้อมดื่มด่ำไปกับความงามของส่าหรีและของตกแต่งกลิ่นอายอินเดียขนานแท้ (ดอนแก้ว อำเภอแม่ริม เชียงใหม่)
ขอเตือนตรงนี้เลยว่าขณะขับรถต่อไป ห้ามกระพริบตาเด็ดขาด ไม่อย่างนั้นคุณจะพลาดแม่ริมเซรามิค แหล่งงานกระเบื้องทำมือ เครื่องปั้นดินเผา จานชาม และของตกแต่งบ้านมากมายที่คุณสามารถสั่งทำของชิ้นพิเศษได้พร้อมการันตีคุณภาพจากผลงานหลังคากระเบื้องของอดีตโรงแรมสยามอินเตอร์คอนติเนนตัล และซิตี้ฮอลล์ในเมืองปูซาน เกาหลีใต้ (165 หมู่ 8 ดอนแก้ว เชียงใหม่)
จากเชียงใหม่ เราบินต่อมาที่ฮานอยในเวลาเพียงสองชั่วโมง เมื่อมองข้ามความวุ่นวายบนท้องถนน คุณจะเห็นร้านเฝอที่มีคนต่อแถวรอยาวเหยียดอย่างร้าน Pho Thinh ที่ปรุงเฝอหน้าเนื้อแบบฮานอยดั้งเดิมแต่เต็มไปด้วยความแหวกแนว หรือจะเป็นร้าน Miss Minh ที่ถึงแม้จะเลิกขายเฝอริมทางเท้าแล้ว ลูกค้าขาประจำก็ยังเข้ามาในบ้านของเธอเพื่อนั่งรับประทานเฝอรสเยี่ยมได้เหมือนเดิม คงไม่ต้องบอกก็รู้ว่านี่คือเฝอต้นตำรับอย่างแท้จริง
นอกจากร้านอาหารเหล่านี้แล้ว อาหารริมทางก็ล้ำเลิศไม่แพ้กัน มีตั้งแต่หอยแมลงภู่คุณภาพคับฝา ข้าวเกรียบปากหม้อทำสดๆ ร้อนๆ เสิร์ฟพร้อมกับสมุนไพรนานาชนิด ร้านเหล่านี้ต่างจากร้านอาหารหรูเพียงแค่เป็นโต๊ะเตี้ยข้างถนนและลูกค้าต้องนั่งบนเก้าอี้พลาสติกเล็กๆ เท่านั้นเอง
เราโชคดีที่ได้ร่วมฟู้ดทัวร์โดยมีไกด์ Thanh จาก maiafoodandtravel.com เป็นผู้นำทาง เริ่มตั้งแต่เฝอม้วนไส้เป็ด ข้าวเกรียบปากหม้อไส้หมู เห็ดและมะละกอ โจ๊กหอยลาย และเฟรนช์พรายส์ แล้วล้างปากด้วยไอศกรีมกะทิ คาราเมลคัสตาร์ดและที่ขาดไม่ได้คือกาแฟไข่ หรือที่ไกด์ของเราบอกว่าเหมือนทิรามิสุนั่นแหละ
ต่อด้วยการเที่ยวรับประทานอาหารยามค่ำคืนในย่านที่อยู่ใกล้กับ Hanoi Train Street ห้ามพลาดโจ๊กไก่ที่กินกับปาท่องโก๋ ใส่พริกไทยนิด เติมผักลงไปหน่อย อร่อยจนโลกไม่ลืม ปิดท้ายกันที่ Xofa และ Vui Café ด้วยเครื่องดื่มสุดชิล
คุณต้องสามารถเลือกเที่ยวแบบวันเดย์ทริปโดยเช่ารถขับไปยัง Ninh Binh เพื่อชมถ้ำหินปูนสุดตระการตา ขณะล่องเรือไปตามแม่น้ำโดยมีสาวสวยแจวเรือให้หรือจะไปฮาลองเบย์ก็สวยไม่แพ้กัน แต่ถ้าเลือกที่จะอยู่แค่ในฮานอยก็ไม่ใช่เรื่องผิด เพราะแค่ในฮานอยก็ทำให้คุณร้องว่า "พระเจ้าจอร์จ มันยอดมาก" แบบนาทีต่อนาทีได้เลยทีเดียว