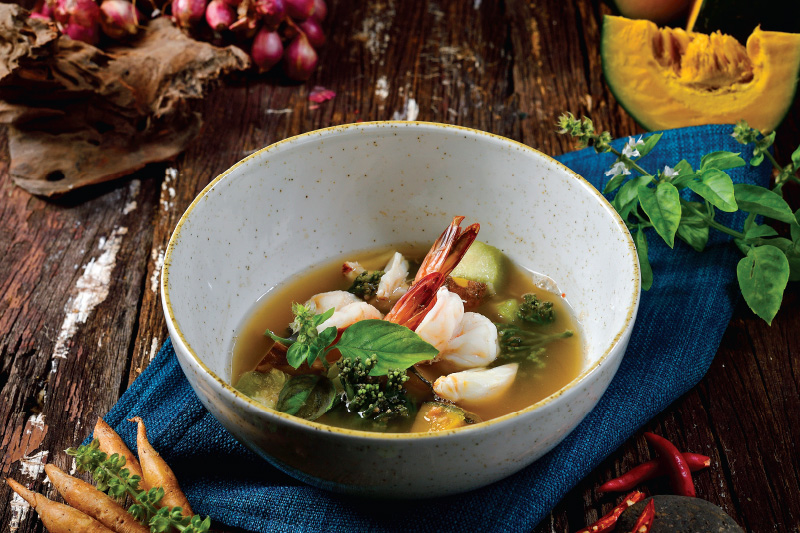 A Recipe for Health
Thailand's legendary Gaeng Liang soup offers potent pepppery flavours with mouth-watering medical benefits. 
Words: Sarita Urupongsa
Thai food is a delectable, enchanting adventure for many people. Created from the simplest ingredients, this renowned cuisine features a unique and almost endless menu of dishes that reflects culinary wisdom passed on from generation to generation. To pick a favourite Thai dish can be difficult as there are so many delicious choices with the power to not only delight the palate but also bring health benefits. Gaeng Liang is a perfect example.
The peppery vegetable soup is a popular Thai recipe, especially among the older generation. Apart from its key ingredients of peppercorns and lemon basil leaves, the soup is rich in assorted vegetables and various gourds – bottle, cucumber, or ivy gourds – all known for their cooling effect. Gaeng Liang is therefore among the top choices when it comes to healthy recipes as it balances the body and stimulates digestion. Also known as mommy's booster for its legendary ability to boost breast milk, this delicious soup regulates the body's elements according to traditional Chinese medicine. You could even call it a super-food, packed with a variety of different benefits.
To recreate the fragrance and perfectly balanced flavours of this classic recipe, you need a dried shrimp curry paste accompanied by shrimp paste, garlic, and peppercorns. The broth should not be too clear or too thick, but infused with the rich complexity of salty, sweet, and peppery flavours that go so well with a hearty plateful of steaming rice.
Gaeng Liang's ingredients may change depending on availability and locality. The local greens are usually what gives the soup its different varieties. Choices range from young galangal, baby corn and luffa to straw mushrooms and pumpkin, while the protein usually comes from fresh prawns.
Inspired by the simplicity coupled with nourishing power of Gaeng Liang, chef Rosarin Sriprathum of Celadon has crafted Gaeng Liang Phak Plang (Malabar spinach) with crab meat and fresh prawns.
Ingredients
Shrimp paste
Dried shrimps
Shallots
Coriander roots
Straw mushrooms, halved
5 bird's-eye chillis, crushed
Pumpkin
Lemon basil
Baby corn
Phak Plang or Malabar spinach
Fingerroot
Crab meat
White prawns
Fish sauce
White peppercorns
Preparation
Pound shallots, fingerroot, coriander roots and white peppercorns into a smooth paste.
Add dried shrimps and shrimp paste and pound until the shrimps and paste are well mixed.
Place paste in a large pot of water and bring to the boil.
Immediately add Malabar spinach, crab meat, and prawns before bringing the pot back to a gentle boil.
Add a tablespoon of fish sauce to the broth.
Once the prawns are cooked through, turn off the heat immediately.
Open daily 6-11pm, Celadon, The Sukhothai Bangkok 13/3 South Sathorn Road, sukhothai. com, +66 (0) 2344 8888