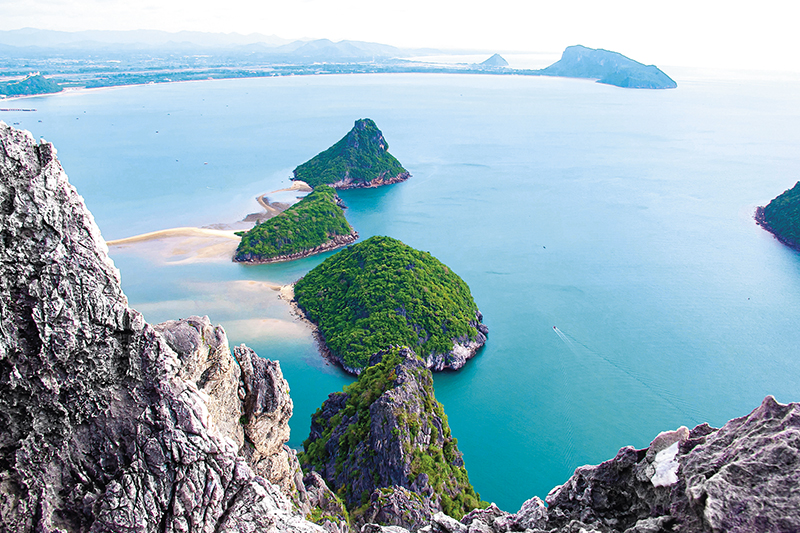 All Aboard for Hua Hin!
There's no better place for a quick, quiet getaway from the bustling capital
Words by Suthima T.
Bangkokians looking for a quick escape tend to head for the nearest seaside destination, which usually means Hua Hin. Not only is this little town by the sea just a few hours drive from the capital, it also basks in a quiet, classic charm.
Located south of Bangkok in Prachuap Khiri Khan, Hua Hin offers simple seaside delights along with a surprisingly sophisticated leisure and night-time scene. Here are some of its key attractions:
HUA HIN BEACH
Stretching for some 13 kilometres, Hua Hin's white sand beach attracts a constant flow of tourists. But the crowds rarely get uncomfortably large and their presence adds vibrancy to a district that bustles with activity. And thanks to Hua Hin's popularity, there's plenty of food, drink and other attractions to be had. Beachgoers can opt for the simple pleasure of splashing about in the usually calm sea, or else pay 300 baht to hop onto a horse for 20 minutes. The once-exclusive Hua Hin has served as a holiday home for the royals since King Rama III, but now the town welcomes the public with open arms.
Location: Many local roads connect to Phetkasem Road, which leads to the beach.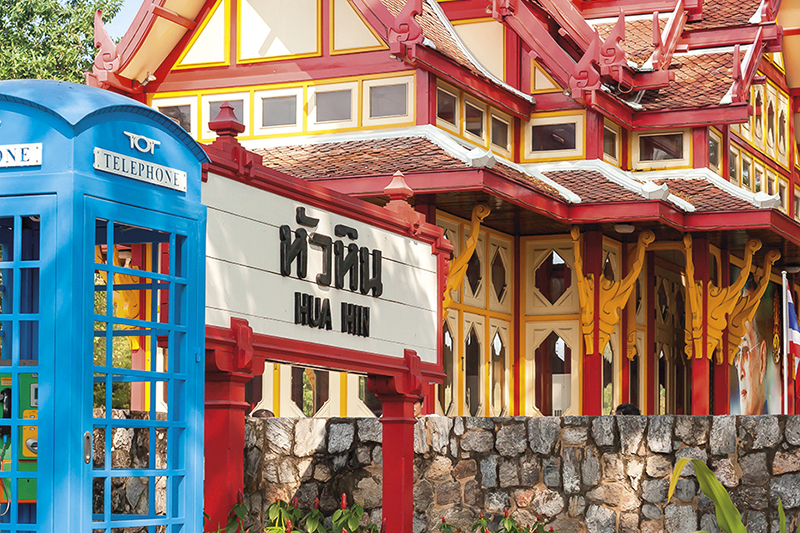 HUA HIN RAILWAY STATION
Retaining its old wood-and-iron façade, the railway station outshines the town's other buildings in terms of aesthetic beauty. Its quaint, East-meets-West architectural style stands in contrast to the modern hotels and malls that now dot Hua Hin's skyline. Built during the reign of King Rama VI, the brightly painted wooden buildings – which include a royal waiting room – are Thai in concept but retain an air of Victorian English elegance. You can stop to soak in the atmosphere at the rail-side café.
Many visitors choose to make the historic trip by train from Bangkok. It may be slow, taking four hours or more instead of two-and-a-half by car, but the journey south through Thai countryside is certainly more picturesque.
Location: 157/27 Pokklao Road. Tel: +66 (0) 32 511 073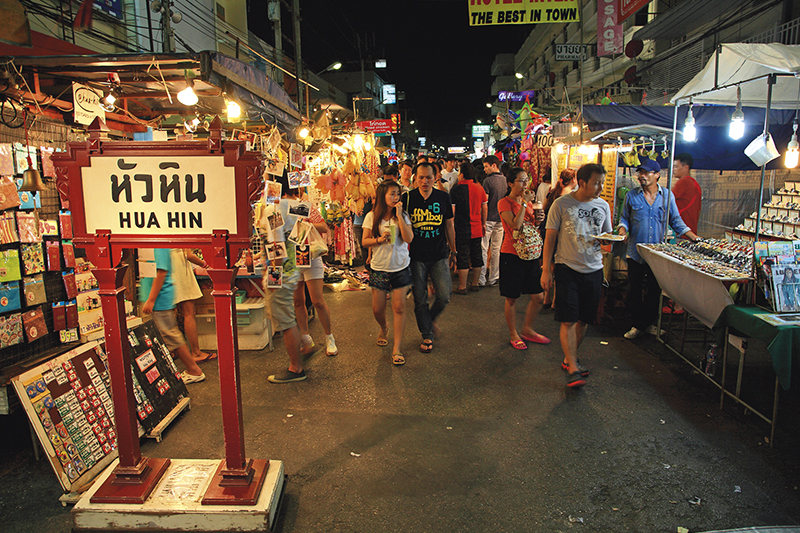 HUA HIN NIGHT MARKET
Spend a few fun hours exploring the colourful stalls offering all sorts of souvenirs, clothes and even bedsheets at very affordable prices. There's also plenty to snack on at roadside stalls and seafood restaurants lining the way. The market is open daily from 6pm until 11pm and beyond.
Location: Where Dechanuchit Road intersects with Phetkasem Road.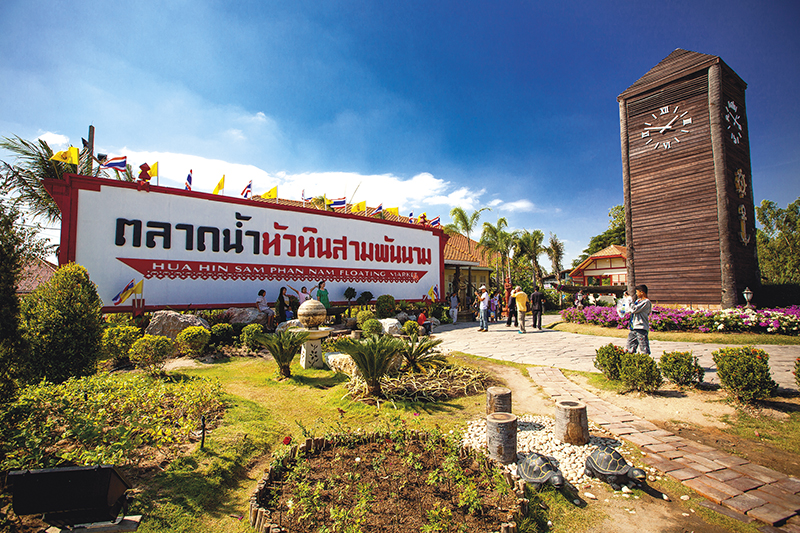 HUA HIN SAM PHAN NAM FLOATING MARKET
Covering more than 100 rai (16 hectares), this sprawling market has been fashioned in the late Rattanakosin (King Rama VI) style. The vast landscaped grounds include a huge manmade lake, show islands, mini train track, more than 200 shops and as many as 40 boat vendors offering all kinds of food and snacks.
If you're lucky, you may catch a live performance by Thailand's legendary Suntaraporn Band – or even be pulled into a singalong. The market is open from 9am to 5.30pm, and though entry is free for Thais, foreigners pay 200 baht. however, that covers a boat ride through the market. Visitors can also ride the mini train for 20 baht each.
Location: 88/8 Moo 13 Nong Hoi-Thap Tai Road. Te: +66 (0) 32 900 111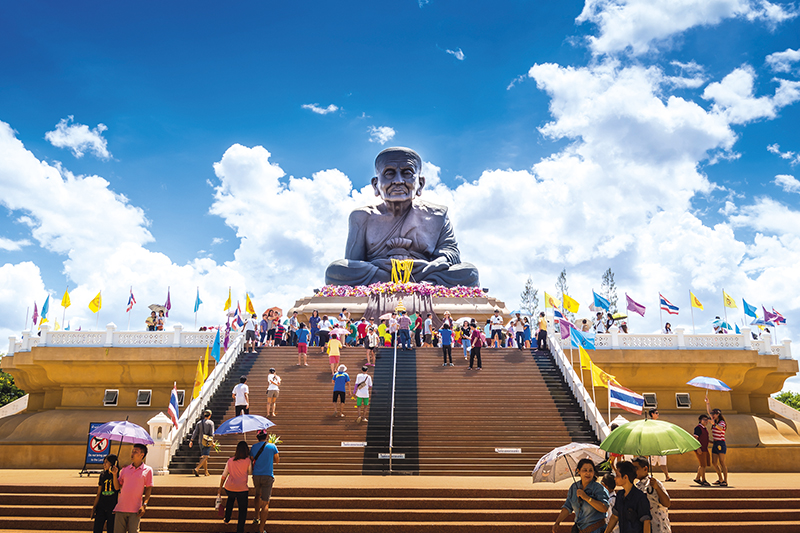 HUAI MONGKOL TEMPLE
Set in a park-like setting, this monastery boasts the country's largest statue of Buddhist monk Luang Phor Thuad, who was said to have had the miraculous power of turning seawater into fresh water. visitors can climb up to the base of the 11.5-metre-tall sculpture and look down on the stunning landscape of Prachuap Khiri Khan and, on clear days, even get a glimpse of the Tanao Sri mountains that separate Thailand and Myanmar. The temple is open daily from 5am to 10pm.
Location: Huai Mongkol Road.
For more info: Hua Hin Municipality's Tourism Division: Tel: +66 (0) 32 511 047