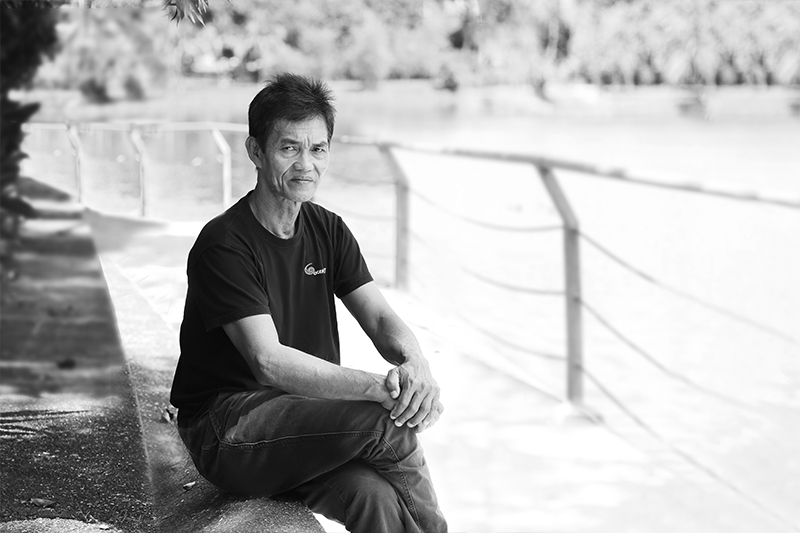 The Coral Conservationist: Restoring Reefs for the Greater Good
Driven by his passion for rehabilitating coral reefs, Anuar Abdullah has sparked a movement that has delivered a positive impact in Southeast Asia. As the founder and CEO of Ocean Quest, a social enterprise and conservation organisation, he is now looking to spread that message across the globe in order to revitalise their precious ecosystem for future generations.
Words: Richard Augustin
Photos: Kevin Teh, Anuar Abdullah
For over 14 years, Anuar Abdullah has been rehabilitating coral reefs around the region. Driven by his passion and perseverance, he has blazed his own path in the field of coral conservation which has not only sparked a positive effect on the reefs he has helped revitalised, but also the people who have come together to share such goals.
When we first meet Anuar, it is evidently clear the man has spent a large portion of his life embarking on seaborne adventures. With a fit frame, tanned sun-kissed skin and easy-going attitude; he cuts a perfect image of a dive master, someone with extensive dive logs under his belt.
Anuar's story is somewhat unique, beginning in his home state of Terengganu on Malaysia's east coast, where he was exposed to the ocean from a very young age. It was this affinity with the sea that sparked an interest in oceanography, which eventually garnered him a scholarship at the Florida Institute of Technology in the United States.
Upon receiving a master's degree in oceanography, he travelled extensively to various islands across the globe, where he developed a keen interest in conservation efforts, specifically coral restoration. With his return to Malaysia, Anuar began his own self-funded research to discover a more effective way to help revitalise and propagate corals.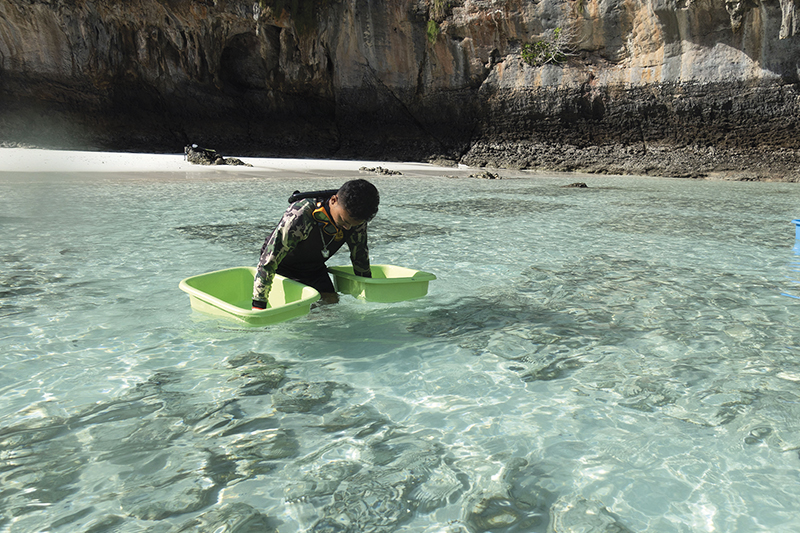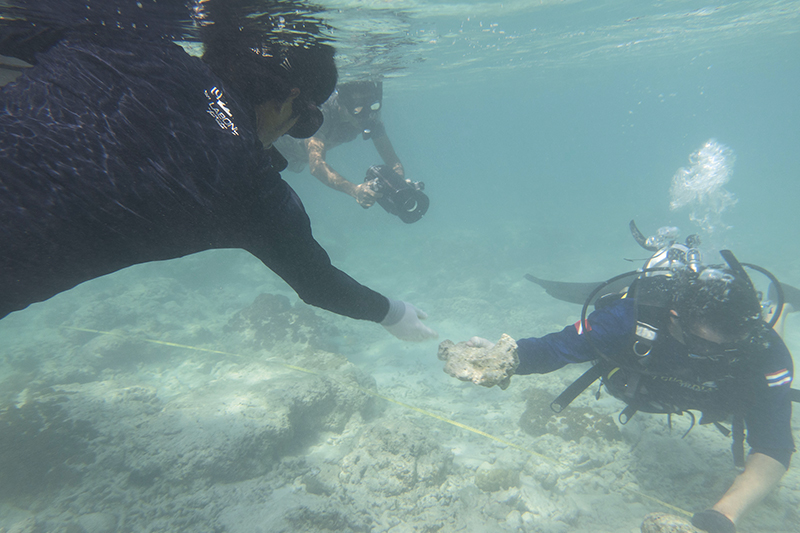 "I tried various methods over the course of that time and also studied closely what others were doing in the field as well," recalls Anuar. "Eventually I looked at how people were rehabilitating forests and figured a replication of that idea could be the best course of action."
To put this theory to the test, Anuar began studying coral propagation techniques more closely by visiting coral farms around the region. Although these farms were known to export their coral to aquariums around the globe, he knew first-hand that they provided an ideal training ground for his studies.
"I looked at how these farms were growing coral and I looked at refining their techniques and ensuring there were proper protocols to follow." Eventually he discovered a way to effectively grow corals using household glue and rock. "I discovered this method in 2004, but back then people who saw me attempting this technique thought I was crazy. However, the method not only worked but it was also highly effective," stresses Anuar.
"It is a cheap and efficient way and it's completely organic with no use of any artificial structure," he says. "As we only use a small piece, our footprint is small and we can grow up to 1,000 corals a day. The whole process takes between 7-21 days once the coral is able to attach itself unto the rock on its own. By then there is no trace of the glue, meaning our process is 100% organic."
Anuar opines that current methods such as artificial reefs are not conductive enough. "Look at the word 'artificial', it implies that it is fake," he states. "Having a natural reef that has been revitalised in an organic way does more in the long run. It will undoubtedly deliver more benefits for coastal communities."
With his experience in coral propagation, Anuar also believes that the current advancements in the field are not workable enough, especially over a long term period. "We've read the news on how scientists have discovered a way to grow coral up to 40 times faster. However, these tests are largely done in labs in a controlled environment. The methods we apply are done in the ocean and subjected to actual environments and conditions."
Upon discovering a workable way to revitalise and grow coral, Anuar immediately set out to structure an education plan and protocols for his rehabilitation technique. "The system used in most places today is outdated as it emplys a cataloguing to chart the growth and health of reefs," he explains. "We needed a proper way to map our progress and also monitor the reefs in a more precise and sustainable way." This ultimately paved the way for Anuar to create Ocean Quest.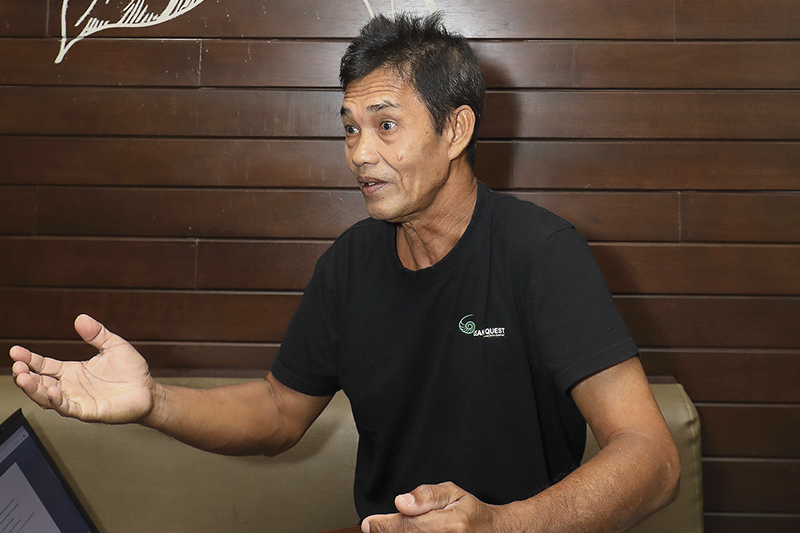 "I founded Ocean Quest eight years ago and made it a social enterprise specifically focused on coral reef preservation," explains Anuar. In a span of less than ten years, Ocean Quest can now be found in countries such as Brunei, Malaysia, Thailand and Philippines. They also currently have over 800 trainers across the globe.
"We have 160 trainers from mainland China alone, all of whom are scuba instructors living in Southeast Asia who are helping spread the word on what were are doing and helping to keep Ocean Quest alive," he adds. "We are non-profit, we only charge USD12 for registration and administration fees and we basically fund ourselves on that.
Anuar elaborates that all it takes is for each trainer to teach five students a month to keep the endeavour going, adding that everyone who is attached to Ocean Quest does so on a strictly volunteer basis. "Presently, we have people across the globe in places such as Finland, Switzerland and France, who help out with various duties pertaining to our conservation efforts."
In terms of projects, Ocean Quest efforts can be found in 180 islands, most of which are in Thailand. One of the biggest projects they are lending their expertise to at the moment is Maya Bay in Phi Phi Ley, where the movie The Breach was filmed.
"The normal time frame for us to propagate corals is roughly four years and that includes development, monitoring and training. Once the work is completed, the reefs are then handed over to the local personnel to take charge and care for them. "Our services are free, pro-bono so to speak, however our only criteria is that we have to work together as partners."
Ocean Quest doesn't pre-select a site to rehabilitate, as it is practice by the outfit to be invited to survey the site first. Upon their evaluation, they will decide the best course of action for the site at hand, be it propagation or simply advising on the proper steps to ensure the reefs are given the best possible protection.
To date, Ocean Quest works extensively with Thailand National Parks as well as partners with Sea Shepherd. International collaborations should increase just like the number of reefs they help revitalise.