Artisanally Yours in Singapore
Singapore tops the list of 'great small countries' with outstanding examples of modernity, technologies and brains. Amidst all things modern however, Singaporeans now find meaning in the craft of edibles.
Words: Sirin P Wongpanit
Photos: Permboon Wongpanit
You can say that the brain has a great ability to discern the good from the bad. But it is the stomach that "holds" your heart. The art of making good and delicious food does not have to be at all fancy, it is genuine sustenance and its old recipes that have not only made them survive, but also thrive amidst modern Singapore. Younger generations here, despite their aspirational education and high-paying professions, are seeking out the tradition of crafted foods. We now see the swift rise of artisanal eats in Singapore becoming as prominent as their economic prowess.
Reading about the Lion City leads you to two main points. First, this island nation has a reputation stacking high with its long list of being the regoin's, if not the world's, centre stage in so many aspects. Finance trade, technology, and medical technology, they lead as a smart city or leader – even as a maritime port or in oil-refining. Earlier this year, CNBC confirmed that Singapore, for the fifth year in a roll, maintains its long-standing position as being the world's most expensive city to live in, making it official that this place is even pricier to have a life in than New York, London and Paris.
But then, if you talk to any Singaporean, or any food-obsessed native, you will notice one thing. The younger generations now favour hawker food, whose stands serve as the place where a multitude of tasty and satisfying bites can be savoured at good value. This creation of authentic food follows or sometimes develop from ancestral recipes.
"We call them hawkerpreneurs," says Peh Ching Her, the fourth generation owner of the 93-year-old Pek Sin Choon, the shop for original Nanyang Tea in Singapore's Chinatown, in referring to the rise of young owners of old-school hawker food stalls. "They are a breath of fresh air in our ecological food system. While many of them are trying to perpetuate the old-school eats of Singapore, many of them (the food entrepreneurs) develop something entirely new, that somehow maintain crucial links to the past."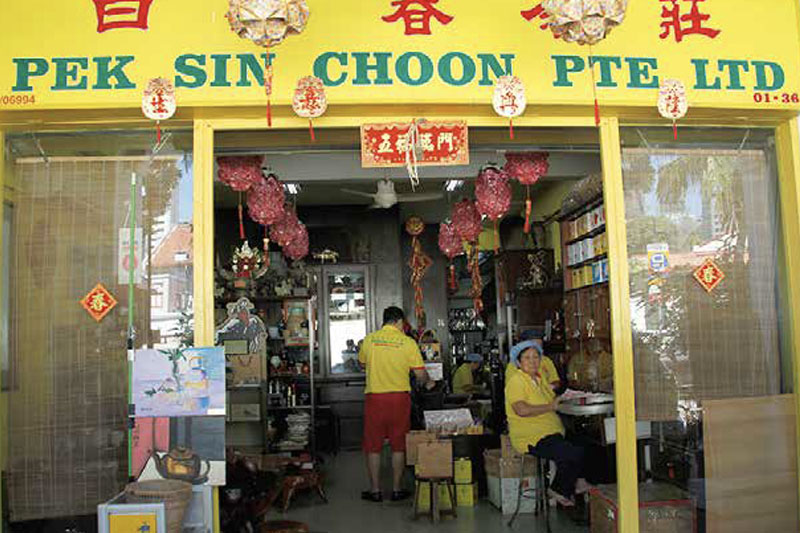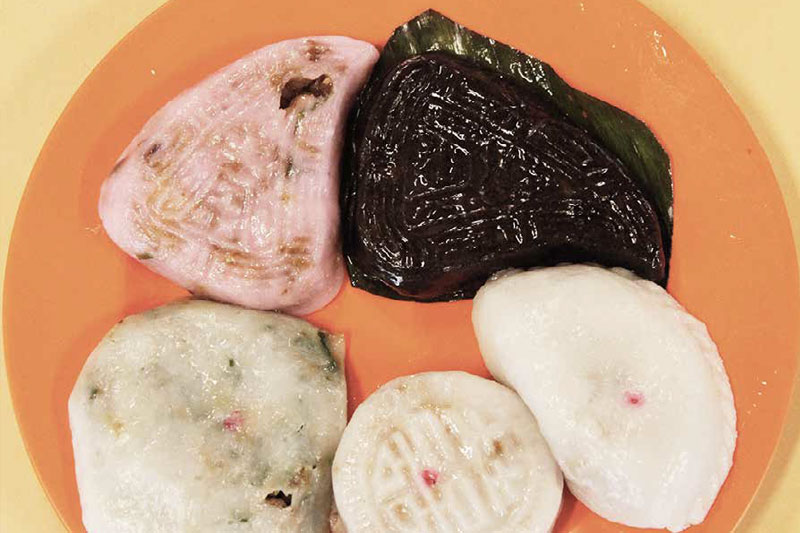 Our four days in Singapore confirmed the fact that the city is exorbitantly pricey. Museums here do not offer a 'free day' of the week, and admission can cost up to S$26 per adult. Taking a taxi can produce a real sweat, especially if you are hurrying into the city centre while their smart road-congestion managing system or ERP (Electronic Road Pricing) ticking up the metre for the final cost. But when it comes to food, we are pretty impressed. There are a lot of great and delicious foods at amazing values. And we are talking about real artisanal and hearty fare that is available to everyone.
The curry puff as a snack well represents Singapore with a mixture of Malay and Chinese characteristics. Spices came from its trading background, when its fragrant migration dominated its maritime ports. At Wang Wang Crispy Curry Puff stall at the Old Airport Hawker Center – perhaps the oldest part of Singapore – the puff pastry gets rolled by hand, stuffed with fillings and then speedily crimped before being deep-fried. The crispy, flaky and very yummy treat will cost you just about S$1.20.
But if you are up for more, like chunkier pieces of chicken and potatoes, or creamy custard and luscious durian puffs, head to the air-conditioned Soon Soon Huat on East Coast Road in Katong area. A daughter now continues her grandmother's recipes with a modern flair. A coffee or tea set with a signature handmade puff will cost you just S$2.60.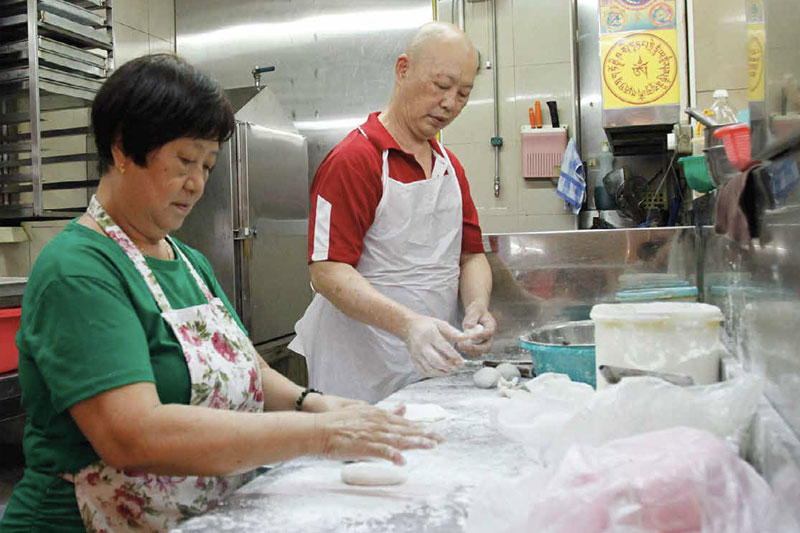 The obsession with handmade edibles continues with many things in Singapore. At Jalan Kukoh Food Centre not too far from the Chinatown, a nondescript Teochew Kueh shop is busy taking orders and turning away those who did not call and order in advance.
Teochew Kueh, a type of steamed dumpling, has skin made from rice flour and the stuffing varies from bamboo shoots, turnips, dried shrimp to chives and yam. As you might guess, this stall makes every single thing by hand. Hand-kneaded 'kueh' skin, with hand-chopped ingredients and stir-fried fillings make their way into each delicious treat that will cost you just about a dollar each.
All food artisans we talked to confessed that going old-school is a tough choice, but it's a better choice nonetheless. At the Chinatown Tai Chong Kok Confectionery (Hue Kee), heaps of fresh lotus seeds get hand-sorted, cleaned and made into the luscious and thick paste fillings for this year's mooncake festival. Now into its second generation, Tai Chong Kok still perpetuates the use of ancient recipes – all done by hand. "It's a natural thing to do," explains Wing Cheong who from dawn each day checks into this production unit in Aljunied area, while he's prepping and producing old-school Cantonese confectioneries. "Although it is tiring, handmade foods are always better."
Apart from the homemade lotus paste, Tai Chong Kok is also a master in recreating nostalgic treats. This is my first time biting into the crispy, yet with a bit of chewiness, savoury cookie called 'baby chicken cookie,' or 'gai zai pang.' It's made with traditional ingredients, including lard and preserved red bean curd, hence its distinct sharp aroma and texture. This particular cookie recipe might have been a century old, going back to the time Chinese settlers here would have asked for a fresh brew of strong and fragrant tea to go with it.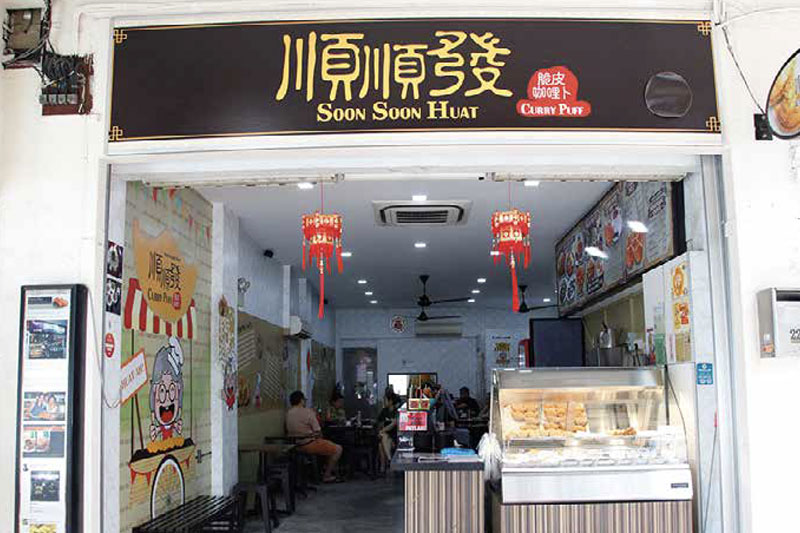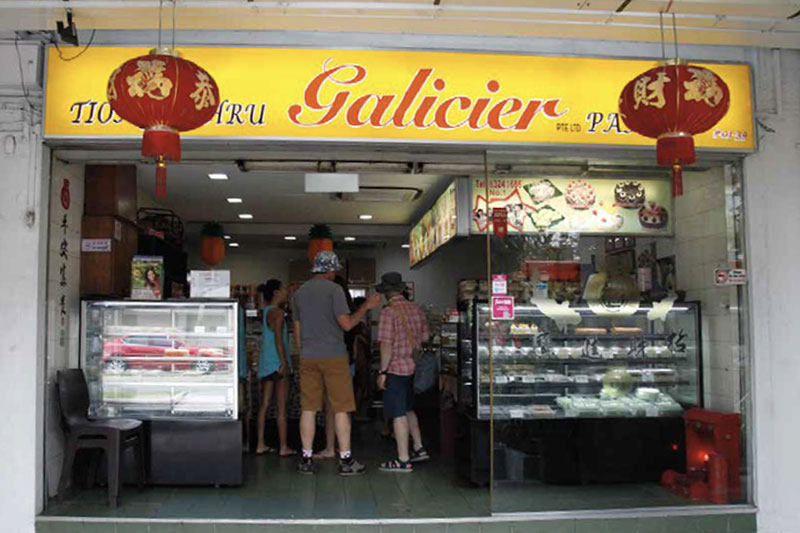 In 1965, Singapore, which used to be a part of Malaysia, became a sovereign nation. With a land area of about 590 square kilometres, no hinterlands and not much in natural resources, Singapore completely depends much on imports and making do with what they have. But look at Singapore today and the locals will say to you with a swell of pride. "We have nothing, yet we have everything."
Nanyang Tea, a particular tea blend which has become truly native to Singapore, is the one local staple that can best tell the story of this nation. It's about thinking ahead, backing it up, improvising and comparing. Instead of depending on just one resource for teas that could peril its supplies, Singapore tea merchants decided to blend their own, using a variety of teas from different places, thus reducing their risk of overdependence on one source. So they made their very own series of this healthy and ambrosial tea.
"The breads, the logos, the names of our teas are as political as they are historical," says Mr. Peh, of Pek Sin Choon. "We were founded back in 1925, our teas have been through a series of political and social events in Singapore; hence products were developed in homage to those (events). But through it all, it is great to know that even as old as we are, a new generation of people are looking back and studying the past. Tea, food, all the cultures of Singapore, we hope, will be then in good hands."
Artisanal Eats in Singapore
Get fresh blends of the signature Nanyang tea at Pek Sin Choon in Chinatown.

 

com
Order the most traditional mooncakes and "baby chicken" cookies from Tai Chong Kok Confectionery (Hue Kee).

 

com
Enjoy an early afternoon tea, Teochew style, at Jalan Kukoh Teochew style, at Jalan Kukoh Teochew Kueh (call and reserve in advance), Block 1, Jalan Kukoh, Kukoh 21 Food Centre, 01-19/20. Opens Tuesdays 7am until sold out, and 4-9pm, Wednesdays to Sundays 7am until sold out, closed Mondays.

 

T+65 9838 0235
Soon Soon Huat Crispy Curry Puff, 220 East Coast Road, opens daily: 7.30-17.20.

 

T+65 6841 5618
Try Nonya kueh and mango cakes and other Peranakan pastries at Tiong Bahru Galicier Pastry, Block 55, Tiong Bahru Road,

 

T+65 6324 1686, daily: 10.00-21.00 (closed Mondays).
For refreshing, sparkling teas made from the old-schoool style of Nanyang Tea, head to Danger Close Tea and ask for their 'Chinois' blend. Block 120, Bukit Merah Lane 1 #01-05,

 

T +65 9435 9194
Wang Wang Crispy Curry Puff, #01-126, Old Airport Food Centre. Opens daily:

 

T +65 9090 7009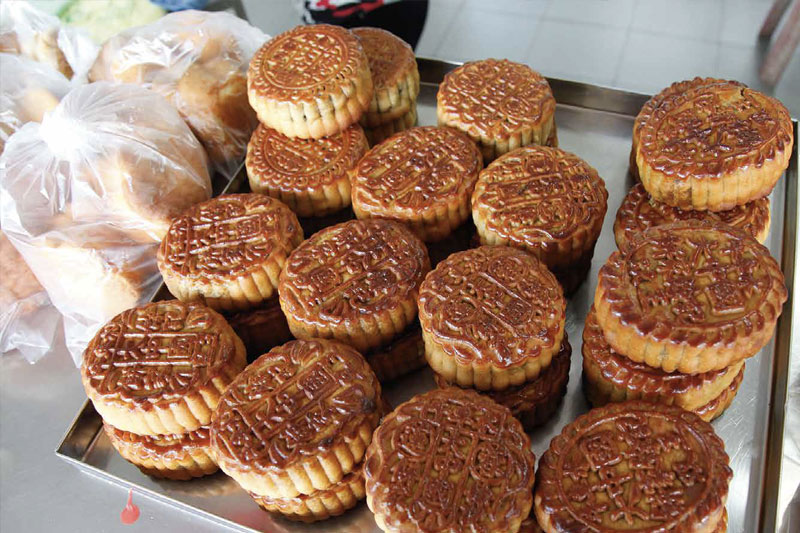 อาหารไม่ใช่แค่สารที่หล่อเลี้ยงร่างกาย … แต่อาหารคือชีวิตและจิตวิญญาณ นี่คงจะเป็นเหตุผลที่หนุ่มสาวชาวสิงคโปร์แสวงหาตำรับอาหารโบราณอันโอชะจนทำให้ศิลปะแห่งอาหารเติบโตอย่างรวดเร็วในสิงคโปร์เทียบเท่ากับการพัฒนาทางเศรษฐกิจเลยทีเดียว
เมื่อได้พูดคุยกับคนสิงคโปร์ ต่างพูดเป็นเสียงเดียวกันว่า คนหนุ่มสาวนิยมอาหารฮอกเกอร์ฟู้ด (แหล่งรวมร้านอาหารหลายอย่างไว้ในที่เดียวกัน) เพราะทั้งราคาถูกและอร่อย แถมส่วนใหญ่ก็เป็นตำรับอาหารโบราณหรือได้รับแรงบันดาลใจจากตำราเก่าแก่
Peh Ching Her เจ้าของรุ่นที่ 4 ของร้าน Nanyang Tea ดำเนินกิจการมาแล้วกว่า 93 ปี เขาเรียกเจ้าของธุรกิจร้านอาหารเหล่านี้ว่า "hawkerpreneurs"   เขากล่าวว่านี่คือบรรยากาศแปลกใหม่สำหรับธุรกิจอาหารในสิงคโปร์ มีทั้งร้านที่ขายอาหารในแบบต้นฉบับ แม้แต่อาหารที่แปลกใหม่ก็ยังเชื่อมกับความดั้งเดิมไม่ทางใดก็ทางหนึ่งอยู่ดี
เมื่ออยู่สิงคโปร์หลายวันเข้าก็ค้นพบว่ากระเป๋าไม่ตุงอยู่สิงคโปร์ไม่ได้ ไหนจะค่าพิพิธภัณฑ์ (ไม่มีวันเข้าฟรี) ค่าแท็กซี่บวกค่าธรรมเนียมจากระบบจัดการจราจรหากต้องการเข้าไปยังกลางใจเมืองในเวลาเร่งด่วน แต่ค่าอาหารกลับตรงกันข้าม ของถูกและดีมีอยู่จริงในสิงคโปร์
อย่างกระหรี่พัฟ การผสมผสานระหว่างวัฒนธรรมมาเลย์และจีน ให้ตรงดิ่งไปยังร้าน Wang Wang Crispy Curry Puff ใน Old Airport Hawker Center ทางร้านแป้งนวดแผ่นบางใส่ไส้น่าทาน จับจีบอย่างรวดเร็วด้วยความชำนาญ แล้วทอดจนเหลืองกรอบ ทั้งหมดนี้ซื้อได้ในราคาเพียง 30 บาท!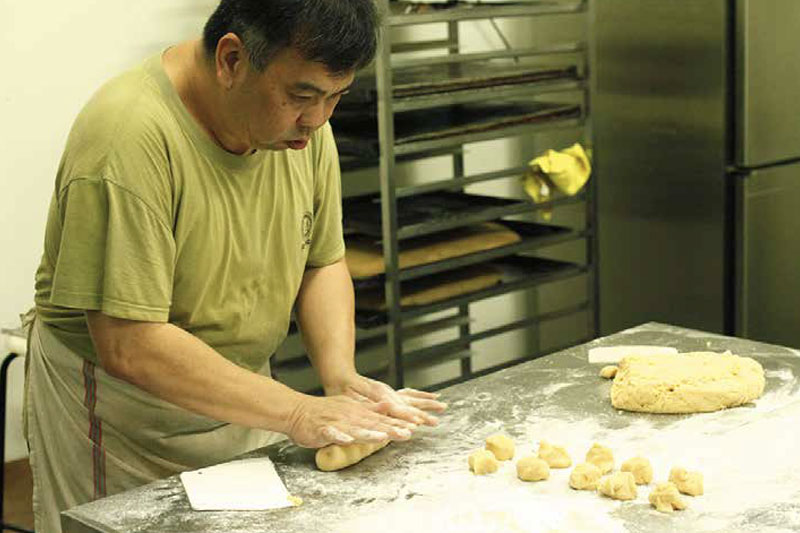 ถ้ายังไม่หนำใจมุ่งหน้าไปที่   Soon Soon Huat บนถนน East Coast ย่าน Katong พัฟไก่มันฝรั่งแน่นเต็มคำ หรือจะเป็นพัฟครีมคัสตาร์ดทุเรียนพร้อมกับเซ็ตชาหรือกาแฟ ก็ราคาเพียง 65 บาท
หรือจะเป็น Teochew Kueh หรือขนมจีบแป้งข้าวเจ้าใส่ไส้หน่อไม้ หัวไขเท้า กุ้งแห้ง ปลาแห้ง และกุ้ยช่าย ร้านหาไม่ยาก อยู่ใน Jalan Kukoh Food Center ไม่ไกลจากไชน่าทาวน์นัก ราคาชิ้นละไม่ถึง 30 บาท แต่ต้องโทรมาจองคิวก่อน ไม่งั้นอดทานแน่
เจ้าของร้านอาหารเหล่านี้ต่างพูดเป็นเสียงเดียวกันว่า การตัดสินใจทำอาหารแบบดั้งเดิมนั้นไม่ง่ายเลย แต่เป็นทางเลือกที่ดีกว่าทางเลือกอื่น อย่างที่โรงงาน Tai Chong Kok Confectionery (Hue Kee) คนงานแกะเมล็ดบัว เลือกสรรอย่างประณีต ล้างให้สะอาดแล้วนำมาเป็นส่วนผสมของไส้ขนมไหว้พระจันทร์ในปีนี้ นี่แหละคือการทำอาหารอย่างที่ควรจะเป็น นอกจากนี้ยังมีขนม Gai Zai Pang หรือคุกกี้ทอดกรอบแต่เหนียวนุ่ม ทำมาจากส่วนผสมดั้งเดิม สูตรอายุกว่าร้อยปีจากผู้อพยพชาวจีนรุ่นแรกๆ เหมาะกับทานคู่ชาแก่กลิ่นหอมหวาน
ที่ขาดไม่ได้คือ Nanyang Tea ชาสัญชาติสิงคโปร์ ที่พ่อค้าชาตัดสินใจผสมชาขึ้นเองเพราะไม่ต้องการพึ่งพาใบชาจากเพียงแหล่งเดียว เกิดเป็นชาเพื่อสุขภาพหอมกรุ่น คุณ   Peh แห่ง Pek Sin Choon กล่าวว่า แบรนด์ โลโก้ และชื่อของชาสะท้อนแนวคิดทางการเมืองและประวัติศาสตร์ที่ดำเนินมาตั้งแต่ปี 1925 ได้เป็นอย่างดี เพื่อให้คนรุ่นหลังได้มองย้อนกลับไปและศึกษาอดีตของประเทศ เขาหวังว่าคนรุ่นหลังจะสามารถบำรุงรักษาทั้งชา อาหาร และวัฒนธรรมทั้งหมดของสิงคโปร์ไว้ตราบนานเท่านาน
อาหารจากรสมือดั้งเดิมในสิงคโปร์
ชิมชา Nanyang ต้นตำรับที่ Pek Sin Choon ในไชน่าทาวน์
สั่งขนมไหว้พระจันทร์และคุกกี้ "baby chicken" จาก Tai Chong Kok Confectionery (Hue Kee)

 

com
จิบชายามบ่ายสไตล์ Teochew ที่ Jalan Kukoh Teochew Kueh (โทรจองล่วงหน้า) บล็อก 1, Jalan Kukoh, Kukoh 21 Food Centre, 01-19/20. T +65 9838 0235
Soon Soon Huat Crispy Curry Puff, 220 ถนน East Coast T +65 6841 5618
Wang Wang Crispy Curry Puff, #01-126, Old Airport Food Centre T +65 9090 7009
ลิ้มลอง Nonya kueh เค้กมะม่วงและขนมชาว Peranakan  ได้ที่ Tiong Bahru Galicier Pastry, บล็อก 55, ถนน Tiong Bahru, T +65 6324 1686
ดับกระหายด้วยน้ำชาซ่าๆ จาก Nanyang Tea ต้นตำรับ มุ่งหน้าไปยัง Danger Close Tea และสั่งเมนู 'Chinois' บล็อก 120, Bukit Merah Lane 1 #01-05, T +65 9435 9194