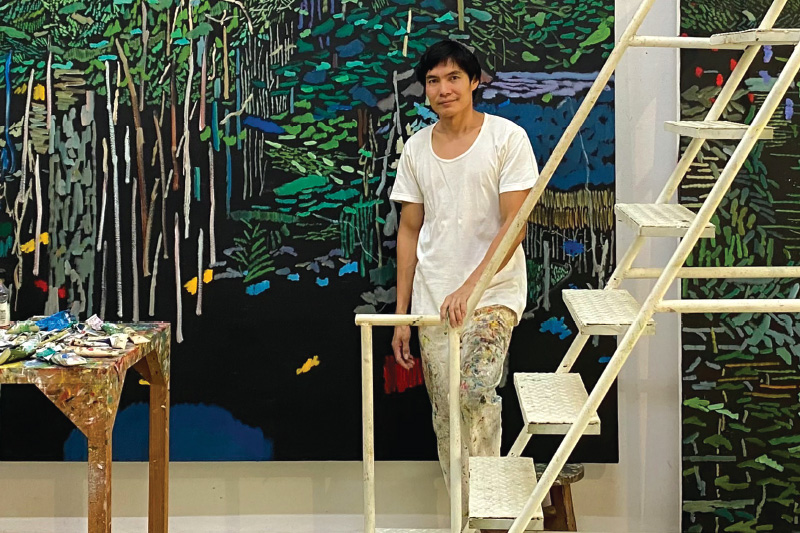 At Home in the Magical Forest
Thai artist Verapat Sitipol loses himself in the wonder of Kanchanaburi to reveal our ancient connection with Mother Nature.
The Art of Exploration
Art and nature have always been inseparably connected. Nature is the revered Mother of creation that brings forth inspiration and beauty. FAH THAI interviewed Verapat Sitipol, an artist who passionately combines his skills as a painter with the beauty of nature to create vivid reinterpretations of his surroundings. We also found a variety of cultural venues for people of all ages to explore.
Verapat Sitipol discovered the secret of art early in life, as a student at Silpakorn University's Faculty of Decorative Arts, Applied Arts. He came to the realisation that learning about old masters was only the first step; to become a true artist he had to spread his creative wings and find his own unique self-expression. When given the opportunity to exercise his inner creative passion, the Thai artist turned not to words or personal emotions. Instead, he wanted to share the beauty and interconnectedness of the natural world as seen through a different looking glass. That desire grew into a passion when Verapat decided to bid adieu to Bangkok and call Kanchanaburi his home 20 years ago. He has nurtured his creative flame here for the past two decades, lighting up galleries in Thailand and beyond with his visions of the western province. In February and March, he displayed his latest works in a solo exhibition at Over the Influence art gallery in Paris.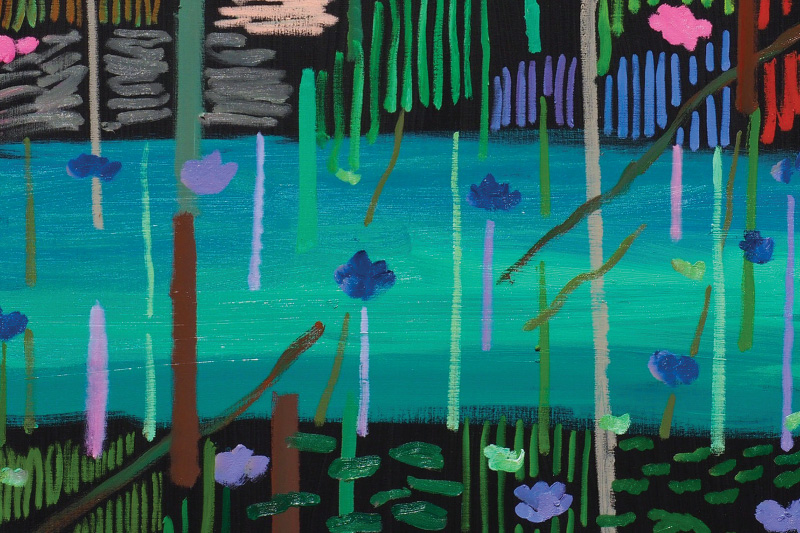 There's a pattern of freedom and fun in your colour choices. Landscape is also important to you. So, what is the relationship between places and the vivid colours you use to paint them?
To me, the use of colour in my painting is a musical melody. Every time I draw or paint, I get the impression that I'm actually composing beautiful colour pieces. Nature is my inspiration when it comes to the choice of colour. It brings freedom and liveliness, but at the same time there's this sense of peaceful stillness in all rhythms. The scenery in my work is not just my painting's subject or temporary inspiration. All the flora and fauna, the leaves, the mountains – everything is in my bones. My studio may be surrounded by lush forests, but I'm not the type that has to look at the subject for inspiration. It could be the overall ambience that facilitates the transit to nature, and yet I might not realise that.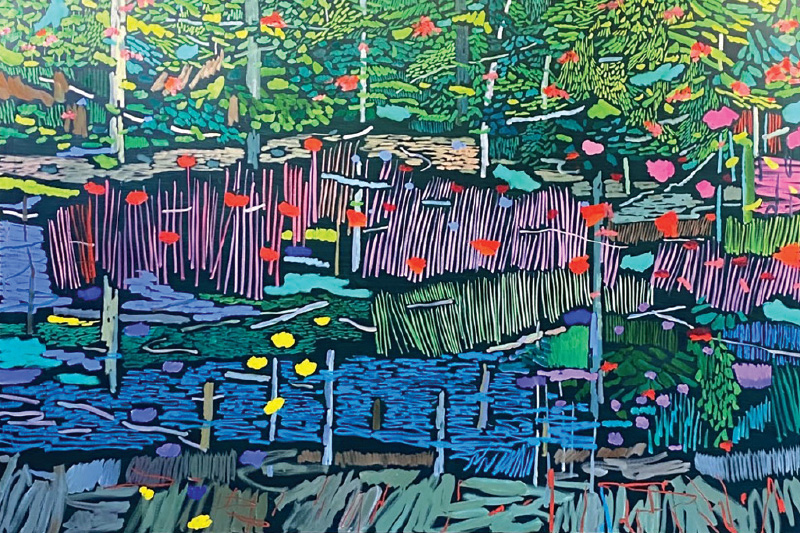 Have you always been drawn to abstract art, or is it something that has evolved with your practice?
It's interesting that you view my work as abstract, since to me it is clearly landscape painting. The reason may be that I've never painted by looking at the subject – except for some stuff, for fun. I don't even do sketches, as my work is not based on shape. It comes from these smooth-gliding feelings that well up from inside. They co-exist with the surrounding nature, which in turn ignites creativity and improves the work. The process is certainly a synthesis of the abstract. The conclusion of that creative performance and the appearance do not matter. I don't pay much attention to those things.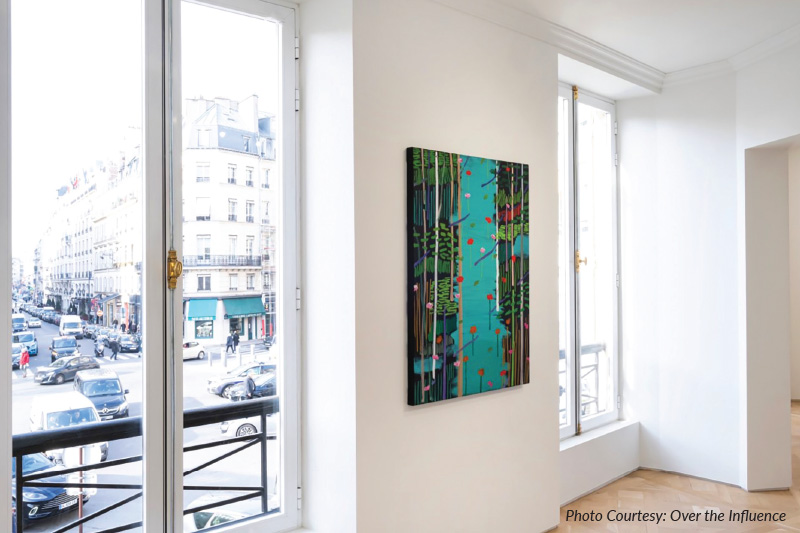 What message is your art trying to convey?
The same one that nature whispers to us: simple, yet wonderful. In my latest work, "Magical Forest", my focus is on climate change. I borrowed inspiration from the shape of rivers and waterfalls – these are a common sight in Thailand – as the key to reflecting the Earth's serene, lush fertility that is disappearing gradually. This is a reminder to ourselves about whether we still need nature, and how much we need it. Technological progress is making our life more convenient. But at the same time, our beloved nature, which has always been our one true friend, is disappearing.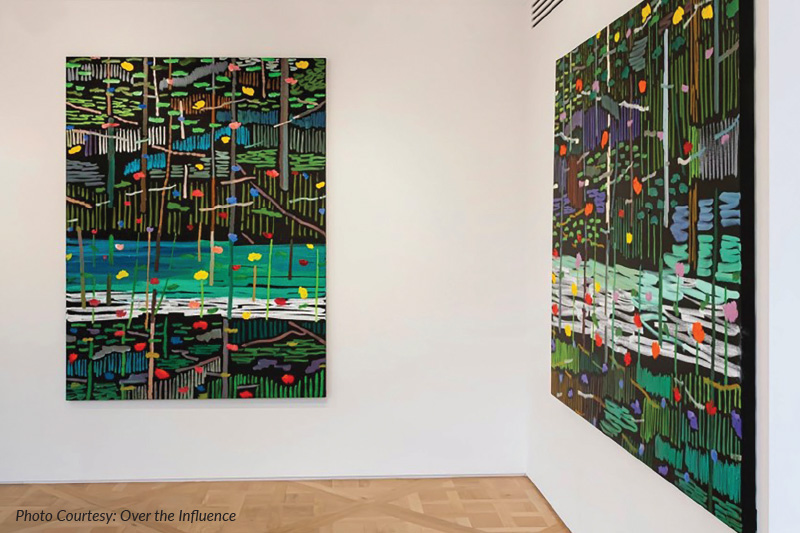 Are you working on any exciting new projects?
The most exciting project for me right now is to give this interview, and to see my work published in media. When I was a kid, I dreamt I would be on the plane and that came true. But having my artwork published in an in-flight magazine? That's another level. It is exciting and I'm proud of that achievement.
Who or what are your biggest influences?
I'd say my family, the natural surroundings, and myself.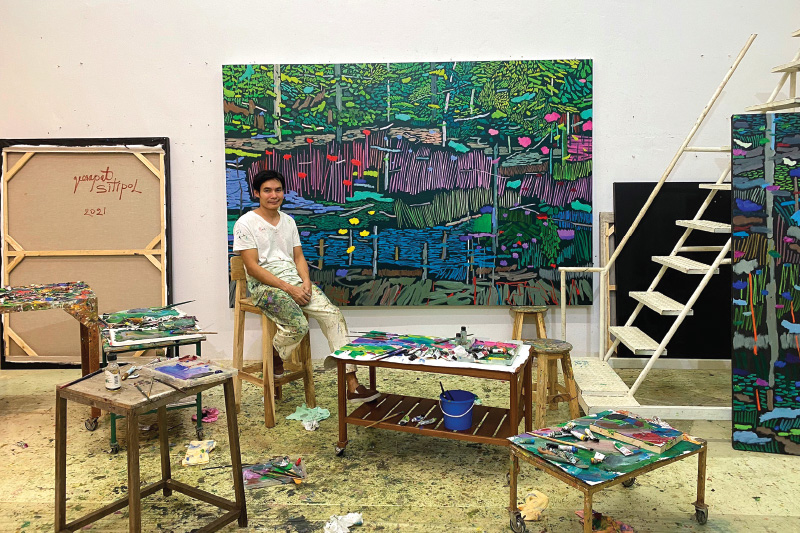 What can we expect from your next project?
Sensitivity and intensity in terms of artistic techniques, and a deeper meaning.
See more of Verapat's art and updates on Instagram: verapatsitipol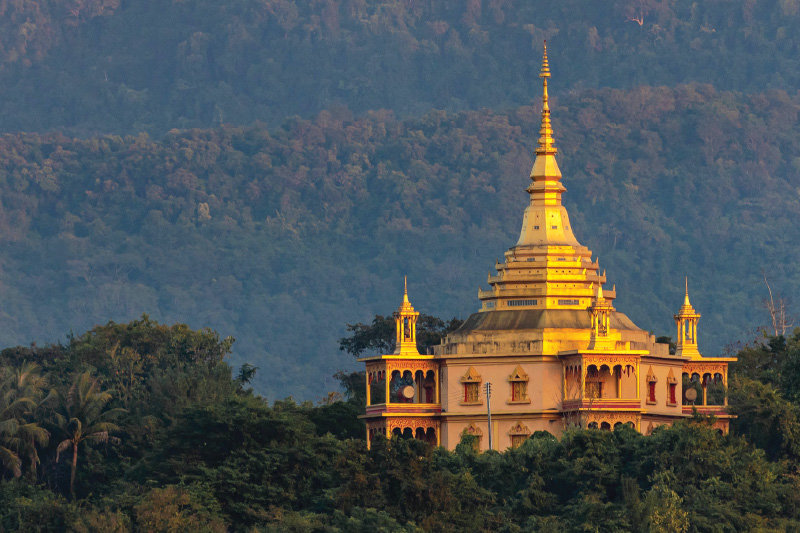 Golden Sanctuary
Luang Prabang is a gleaming jewel of contradictions. The town is a backpackers' haven but also a peaceful sanctuary that lures travellers of all ages from across the world. Apart from the pristine scenery and locals' kindness, Luang Prabang's gleaming palaces of worship are what people come here to discover. Wat Pa Phon Phao or the Peacefulness Temple, for instance, is a peak experience for many visitors. Located atop a small hill, the temple offers panoramic views of the mountains and surrounding villages. Turn around on the outside terrace and you can feast your eyes on its glowing golden Santi Chedi (Peace Pagoda). Don't miss the brightly painted murals illustrating the story of the Buddha and moral admonitions.
Free admission, V5M2+67F, 13, Luang Prabang, Laos
Kiddy Land
Learning occurs at any stage of life, but wasn't it more wonderful and fun when you were young? With wide eyes and playful curiosity, children's minds wander joyfully from one place to another and dive straight into anything that interests them. As school break approaches, parents may be looking for places that are not only fun but also help enrich their kids' spirit of adventure and lust for learning. Let's check out some of the best!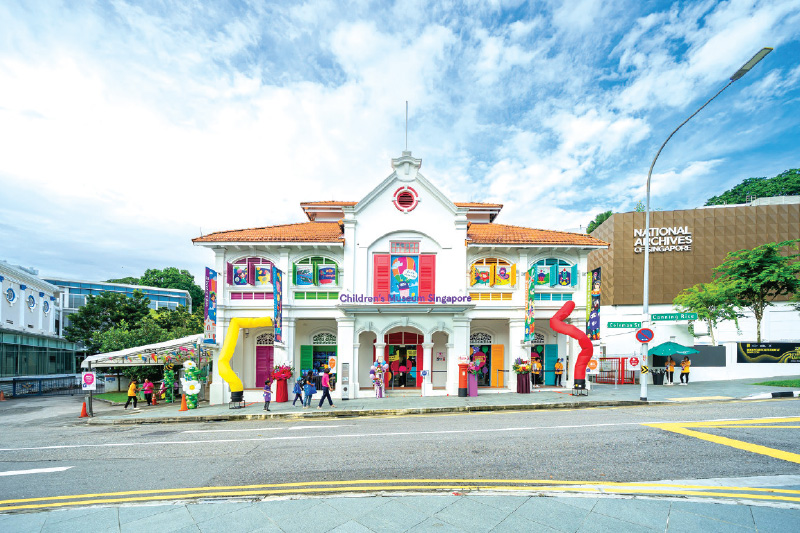 Voyage of Discovery
Children's Museum Singapore maintains this colonial school's former life as a place of learning with a colourful and playful environment dedicated to children aged 12 and under. "A Voyage Back in Time", the museum's permanent exhibition, features an immersive theatre that tells the history of Singapore, while the special exhibition "Imagine A Garden" presents beautiful native flora and fauna as paper sculptures. Children's Museum Singapore features a wide range of other activities that promote kids' cultural learning and friendship-building in a fun, interesting, and safe environment.
Advance booking is required. Admission fee is S$15 per adult, $10 per child. Open Tuesday-Sunday, 23-B Coleman Street, Singapore, www.nhb. gov.sg/childrensmuseum
Adventure Learning
Children are full of energy and quick to learn. With the right place and the right method, their horizons can broaden to new worlds. Hong Kong Children's Discovery Museum has found just the right formula with a play-based learning environment for everyone, especially children aged 10 and under. Launched in March, the brand-new 5,500 sqft museum houses more than 30 customised and interactive exhibitions in eight themed exhibition zones. Its mission is to get children to enjoy learning through fun and play in the areas of language and literacy, Science, Technology, Engineering, Art and Mathematics (STEAM) as well as environmental awareness. The themed zones take little visitors on a journey through the wonders of their surroundings, making their own discoveries and creations along with developing essential abilities of creativity, problem-solving, and social skills as they go.
Shop E (G/F) & 1/F, Island Walk, 163 Shau Kei Wan Road, Hong Kong, www.childrensdiscoverymuseum.hk/en/about-cdm