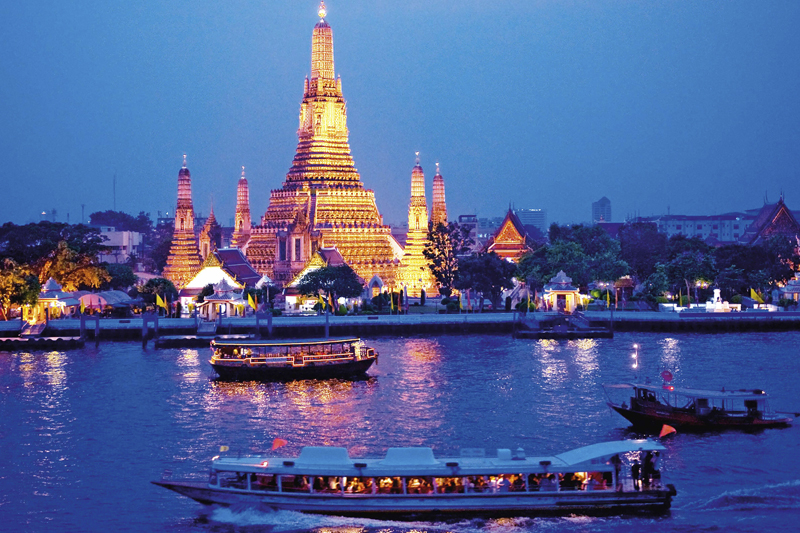 Weired & Wonderland Waterfront
A zigzagging boat tour reveals the quirky charms of Chao Phraya's riverside neighbourhoods.
Words & Photos: Bruce Scott
The murky and meandering, but always majestic Chao Phraya River effectively divides the city of Bangkok in half. To the east, the Central Business District buzzes with high-end hotels, bars, restaurants and malls; while on the quieter western side the pace of life is glacial by comparison. However, along the banks of the river – from the Rama III bridge in the south, to the Rama VIII bridge in the north – the landmarks, monuments, and historic neighbourhoods are fairly evenly distributed, which is why a zigzagging boat tour is needed to explore it all.
The Chao Phraya Tourist Boat operates a nine-stop "hop on, hop off" service, a river journey which is both faster and less crowded than the regular Chao Phraya public boats. A few of these Hop On Hop Off (HOHO) vessels even have open-air upper decks, which makes them feel quite luxurious on a sunny day – a luxury that'll only set you back 180 Baht for an all-day unlimited pass.
The stops along this route read like a hit parade of Bangkok's most acclaimed landmarks – the Grand Palace, Wat Pho, Temple of Dawn, Lhong 1919, and Asiatique Mall (serviced from 4pm till 6.30pm only) – but there are plenty of quirky lesser-known highlights as well, especially in the historic residential enclaves that surround these iconic monuments.
PHRA ATHIT
The northernmost pier on the HOHO route is Phra Athit, which services the backpacker party mecca known as Khao San Road. If you hop off the boat and turn immediately to your left, strolling along the riverside walkway in front of Sheepshank restaurant (definitely worth a visit) you'll come to Santichaiprakarn Park, a calming oasis of greenery with plenty of wooden benches and the perfect view of the iconic Rama VIII Bridge.
The park also faces historic Phra Sumen Fort, one of only two remaining forts in the city. Directly in front of the fort, at the bend where Phra Athit Road becomes Phra Sumen Road, are three cool hole-in-the-wall venues all aligned in a row. Karim Roti Mataba is a six decades old neighbourhood halal eatery serving up Indian delicacies, including their namesake roti. Right beside it is Latte Bua, a stylish little café where you can get a proper caffeine fix. Finally, if you arrive late in the day You Only Live Once (YOLO) is a craft beer bar serving both Thai and international brews.
THONBURI RAILWAY STATION|
The Royal Barge Museum is the main draw at the Thonburi Railway Station pier, but this stop is also within easy walking distance of Tha Wang Lang, a sprawling market made up of narrow alleys where eating and shopping reign supreme. Whether you're after some cheap pork dumpling noodle soup, Portuguese-style egg tarts, meat-on-a-stick delicacies, or a new pair of elephant print pants, you'll find everything here.
The main walkway, which is perpendicular to the river, is probably the busiest stretch, but if you veer left at the first spirit tree – look for colourful ribbons wound around a massive trunk – there's a smaller (and quieter) parallel laneway which is home to several restaurants, including Sawong Organic Café. The cool thing here is the huge collection of vintage toys and retro packaging that decorate the interior. There's even a cabinet with original boxes of Darkie, the popular toothpaste brand with a blackface mascot (subsequently renamed Darlie).
To get from the pier to the market you pass through the Siriraj Hospital complex, which is also home to a quintet of gruesome galleries known collectively as the Siriraj Medical Museum. An admission fee of 200 Baht gets you into all five, but the displays here are definitely not for the squeamish. From unborn Siamese twins encased in transparent resin, to mummified corpses of murderers, to dioramas showing which tapeworm you're likely to find in which foods, it's a hodgepodge of human horrors.
PAK KHLONG TALAT
More commonly known as the Yodpiman Flower Market, about half of this vast indoor warehouse space is actually given over to produce vendors, who operate alongside their flower vending colleagues. It's captivating to stroll past the vibrant – if oddly unfragrant – heaps of flowers, most of which are made into garlands to be used in Buddhist prayer rituals. Moving away from the river, and through the neighbouring ICP Flower Market, stop for an ice cream at Farm to Table Organic Café, a cuter-than-thou eatery where all the dairy and produce is sourced from a private farm in Chiang Rai. They also have a sister restaurant, Farm to Table Hideout, which is twice the size but so tucked away on a nearby side street that you'd never find it without knowing where to look.
Return to the pier by walking along the tree-lined Rop Krung canal and you'll come across a dazzling white bridge at Maha Rat Road where beautifully sculpted lions decorate the railing.
RATCHAWONG
Access to Bangkok's bustling Chinatown can be had via the Ratchawong pier. Turn down Song Wat Road and then make a left at Peiling Public School – an almost century old building that's more exotic temple than school – then zigzag through the narrow old market laneways till you get to Yaowarat Road, this neighbourhood's busy main artery. Turn right, and then make a left at Mittraphan Road, continuing past mystery shophouses selling amulets, pottery, incense, and other oddities. At the July 22 Roundabout, where six Chinatown streets converge around a small parkette, turn right and you'll see Happy Espresso, one of Bangkok's first proper barista style cafés. The elderly woman calling and pouring the shots here is the owner's granny, and she definitely knows how to make a perfect cappuccino – which at just 75 Baht is worth the walk.
Back at the pier, stop at Som Tum Ratchawong for Isaan food. Though bare bones and non air-conditioned, the satisfying, heaping bowl of spicy dill chicken soup set me back 80 Baht!
ICONSIAM
As of November 10th, 2018, the HOHO boats no longer stop at the River City Bangkok complex, but they do make landfall directly across the river at the newly opened ICONSIAM luxury mega mall. Boasting Thailand's first official Apple store, as well as multiple floors of designer brand name shops, this cathedral to conspicuous consumption is an attraction unto itself. Not surprisingly it's boosted foot traffic to the surrounding district, and using the mall as an air-conditioned short cut to Charoen Nakhon Road is the perfect way to check out what's going on in this 'hood'. In the evenings Save Our Souls, a friendly hipster certified craft beer bar, offers a rotating list of international brews on tap, as well as Thai and international craft beer by the bottle. But check out their reasonably priced menu as well, with many main dishes well under 100 Baht.
SATHORN
The direct link to the Saphan Taksin BTS station makes the Sathorn Pier a busy one. If you end your trip here you can have your sundowners at Jack's Bar – a cheap and cheerful ramshackle riverfront restaurant tucked away on an unassuming side street – or continue up to the Charoen Krung main road to Palate Bar & Restaurant, where a slightly exhausting walk up six flights of stairs rewards with an open air restaurant offering some sweet city views (without the sky high prices).
During the day, pay a visit to the Islamic enclave centred around Haroon Mosque, where the winding backstreets are too narrow for traffic, making them eerily peaceful. Adding to the eerie calm is a pocket of greenery across from the mosque that doubles as a Muslim cemetery, full of unmarked mounds (as dictated by Islamic tradition). If you call ahead you can also make an appointment to visit the nearby Institute of Islamic Art Thailand, which is housed on the 2nd floor of the Anjuman Islam Auditorium building.