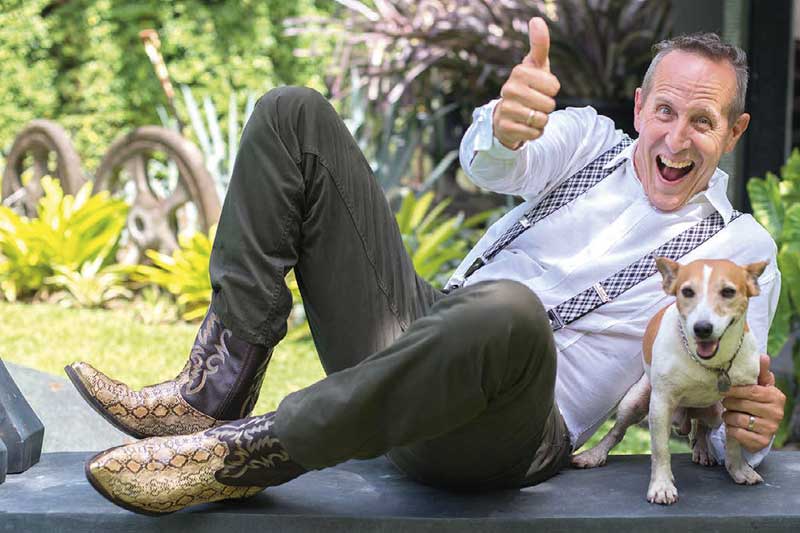 OUT OF THIS WORLD WITH BILL BENSLEY

 
Creative genius Bill Bensley lives one half of his life in imagination and the other in reality. 'Escapism', his recent design tome, showcases bits of lifetime work; minifesting the fact that the hotel designer has no problem crossing the line between real life and colourful fantasies. Bensley flouts convention and inspires our writer. Her takeaway? Blue sky thinking.
Photos Suwit Kittitien, Bensley Design Studio
Words Sirin P Wongpanit
 If life is about setting records, Bill Bensley is certainly intent on breaking a good run with new ones. Known for his new explorations in resort designs, Bensley is easily one of the world's most prolific hotel architects who has designed over 200 resorts in 30 countries. Among his long list of projects, many of which are located in pristine and remote areas, is a palace – a real one. He has two offices, one in Bangkok, the other in Bali. On average, he and his 200-manned dream team would work on about 45 different projects at the same time. When I met him the first time, Bensley was sitting in on five different meetings, his two dogs slumbering at his feet. It is a known fact that Bensley travels most of the time. His schedule is crazy, as his secretary will readily confirm. And when we talked for the second time for the interview, the seemingly indefatigable man had just unpacked from a month-long trip to Eastern Europe.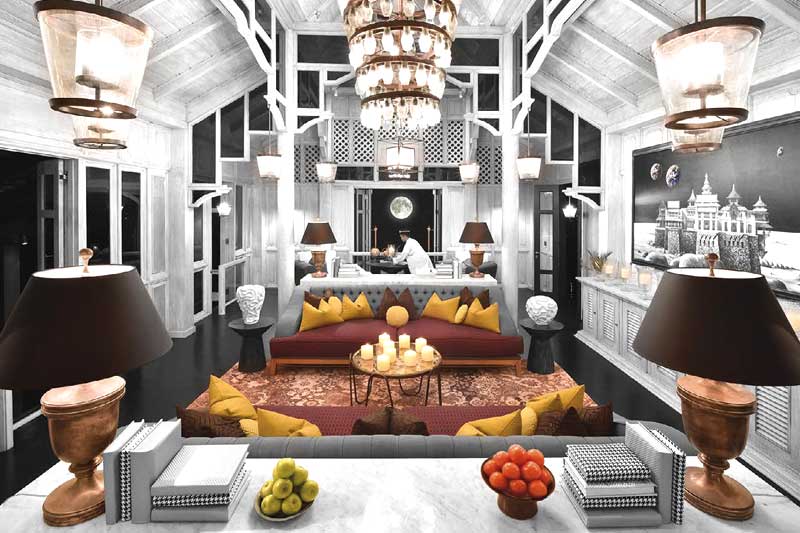 "Now we have made it to 92 countries," says the larger-than-life architect on the number of countries," says the larger-than-life architect on the number of countries he travelled. "My plan is when I turn 60, which is about one and half years from now, we willl land on a new, uncharted country and make it our 100th."
His younger days meant numerous summertime road tips and camping and being very comfortable with trudging into lands unknown. Bensley recalls seeing new places with a fresh pair of eyes, a necessity to stay on the alert and have fun. "I grew up travelling constantly. Every summer, we went on a big tour all over America, we went to Mexico, we went to Cananda. And when I graduated from school, I went on for four months to Europe, using the money my sister gave me for my Harvard (class) ring to purchase the rail pass and took a detour to Europe before eventually landing in Asia." The year was 1984, Bensley was 24 years old, and the travel that originated from his home in Anaheim, California to Asia took four and a half months. 
Dubbed the 'King of Exotic Luxury Resorts' by Time magazine and the 'craziest sane hotel designer in the world' by Vanity Fair; Bensley – while still planning to traverse from one place to another – always picks up new ideas at every moment in his journeys. "It goes directly from vacation to designs," he says. "In Krakow, Poland for example; I got excellent ideas for our villa project in Halong Bay. My memories are all photographed and some are translated into tiny details of whatever we are doing. When we were in Dubrovnik, Croatia, our room with the balcony overlooking the stone staircase where Game of Thrones' Cersei walked in shame got me so inspired – and now we are making the sketch I did back right then and there into a 6 by 1.5 metre drawing, for the Four Seasons Chiang Mai renovation."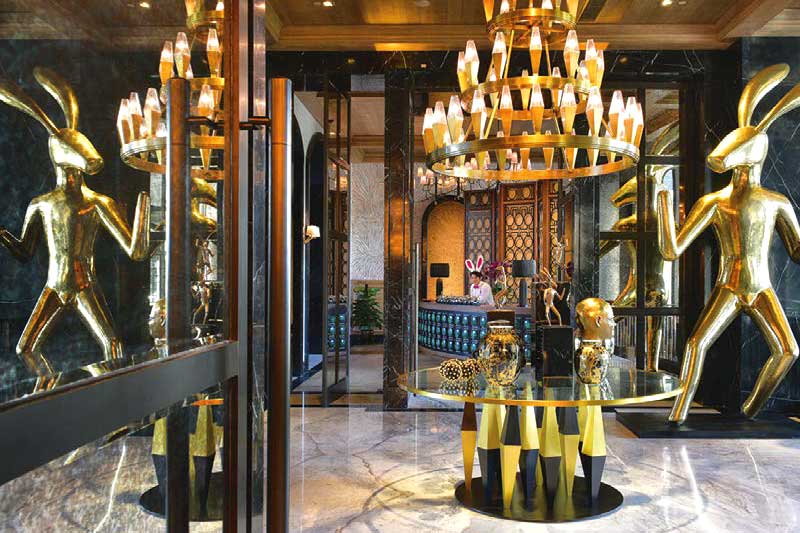 Global trips might have given Bensley aesthetic ideas, but it is his strong desire to dream, have fun and really immerse in novel and inner journeys that make him different, or 'crazy and sane' at the same time. Lately, Bensley's resort bluprints create a new realm – that of another world or an "out of this world" kind of vacation. A real escapism, if you will, where guests are convinced they are in a certain time and place, yet everything has all been created and built. He and his team achieved that in grand orchestration and indicative of the high art of putting an entire wholesome project together. Every minute string of the story is tied together within the designs and with a strong and reality-based timeline. The experience is made real with facts complete with fine and minuscule details required to make everything flawlessly function so guests can really escape into this new world; a world according to Bill Bensley.
But it is also the stark realities existing in life that drove him to sketch out a project closest to his heart. Concerns on poverty, the widespread encroachment of natural environments and uncontrolled wildlife paching are addressed in his latest project – one that is most important to him: the Shinta Mani Wild in Cambodia. 
"I bought a 99-year lease to log in this land, but with no intention to log," explains the architect who is known for doing everything in his design to avoid cutting even one single tree. "Instead, we want this place to be a sanctuary for all animals, big and small, as well as the whole entire forest. It will also be the place where our guests can be in (a) totally different but real world; of the world of Cambodia."