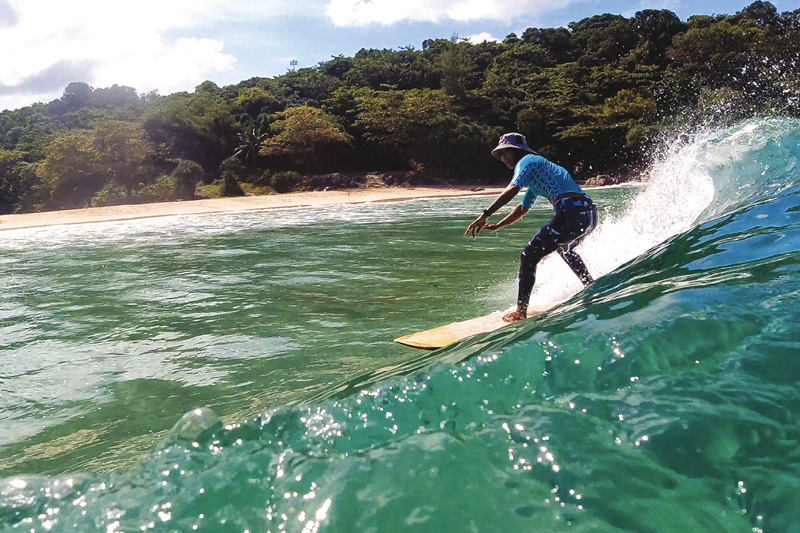 Catching the Wave in Phuket
The Andaman coast serves up tasty curls and unique Thai surf culture
Thailand's largest island is famous for some of the world's best beaches, a vibrant nightlife and a mind-blowing culinary landscape. But Phuket also boasts a hidden side that surprises visitors who arrive at the right time of the year – a thriving surfing culture.
In the peak travel season, December to April, tourists are met with palm-shaded sands lapped by the calm, azure waters of the Andaman Sea. But after April, Phuket reveals its other side, as the waves rise to beckon those with a keen sense of adventure.
Surfing in Phuket has a surprisingly deep history dating back half a century. The 1970s was the golden era of surf exploration when the sports' pioneers scoured the coasts of Southeast Asia in search of raw adventure. However, Phuket failed to match the quality and consistency of waves they found a few hundred kilometres south in Indonesia, and the island was relegated to the footnotes of surfing history.
Over the next few decades, Phuket's waves were forgotten by all but a handful of expat surfers, opportunistic holidaymakers, and adventurous Thais.
Fast forward to 2020, when COVID-19 arrived and left people with endless leisure time on their hands. With beachside hotels offering huge discounts, many decided to quit the city for the beach where they discovered the perfect antidote to lockdown blues: surfing.
Celebrity heartthrobs also caught the boarding bug, supercharging the trend.
The Thai surfing scene exploded. Surfing schools and rental shacks sprang up on beaches from Rayong to Songkhla that showed even the slightest ripple. Big crowds joined surfing competitions and festivals in popular spots like Phuket, Khao Lak and Laem Ya. The wave rose so high that Thailand now has a surfing team that competes internationally, with riders enjoying big-name sponsorships.
Wild but also cool, surfing has always exerted a magnetic pull on people of all ages. Thorugh some are quickly turned off by its challenges, others develop a lifelong love affair with the board. Surfing brings you closer to nature, while forcing you to leave your worries on the shore. It brings surreal magical moments: glimpsing the sunset through a clear, blue wave, or that indescribable sense of achievement as you catch a wave in a dance of perfect harmony.
This novelty sport can easily grow into a hobby before finally embracing you in its laidback, laughter-filled, sun-kissed lifestyle.
In contrast with other sports, surfing relies entirely on the whims of nature. Phuket, however, offers fairly consistent waves from April to November that are ideal for beginners. And the warm, tropical sunshine means you can always leave your wetsuit at home. For newbies, there are schools with skilled instructors sprinkled along Phuket's west coast.
Though surfing may seem daunting at first, the right conditions and a good instructor can see you catching waves within an hour or two. And since the waves arrive with the wet season in Phuket, surfing becomes a perfect rainy day activity.
For those surfers who aren't ready to put their boards away at sundown, Super Surf Kata off Kata Beach makes fantasies of a never-ending wave at the perfect speed come true. Though riding the artificial wave here is more like wakeboarding, the skills and sensations are similar and just as fun. The centre also offers surfers the chance to sharpen their skills for the next day's session on the beach. Last but not least, it gives you an excuse to enjoy an after-surf cocktail and kick back to live music and beach vibes.