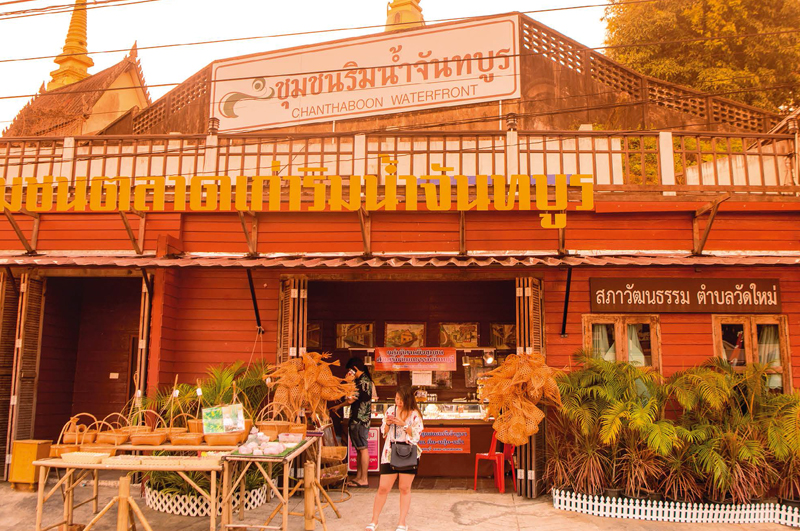 The Sands Less Travelled
Thailand's eastern coastline offers seaside escapes and rustic beauty minus the crowds.
Words & Photos Phoowadon Duangmee
Walking down the main strip, time-worn shophouses, rustic yet chic restaurants, municipal museums and Chinese shrines jostle for your attention, as local stores do a roaring trade in dried pepper, herbs, seafood and seasonal fruit. On the other side of the Chanthaburi River, the Cathedral of the Immaculate Conception stands tall as testimony to a different faith on the far bank.
Chanthaburi's old waterfront is among Thailand's most charming neighbourhoods.
This riverside community began to grow in the 19th century, as spice and gem traders, warriors on the run, priests, colonisers, seafarers and mariners from different parts of the world moved in.
"Once marked on nautical charts as Chanthaboon Community, this part of the Chanthaburi River was an important trading port," says our local guide. "This was a meeting point for Thai, Chinese and Vietnamese traders, who did business in wild products and spices. Chanthaburi was also a strategic location for the French during the Franco-Siamese War of 1893."
French Flavours
Though the French soldiers and missionaries have long gone, they left behind Thailand's largest Catholic church and the historical Red Block Building – which was used as a military barracks. Now, as you stroll around the waterfront, uniforms and religious robes have been replaced by ordinary Thai folk queuing up for a bowl or two of delicious egg noodles with mantis shrimps, carefully inspecting a thorny durian, or sniffing local herbs on sale.
Tucked away on Thailand's eastern frontier, Chanthaburi province is where many tourists begin their exploration of the country's beautiful eastern coastline – where tropical fruits, secluded sandy beaches, pleasantly warm water, spicy food and pristine islands await them.
We start our journey by stepping through the doors of its monumental Gothic "house of God". Built in 1909, the cathedral – which began its life as a modest chapel in 1711 – marked its centennial a decade ago. it now stands majestic and peaceful in the glow of its stained -glass windows and the glitter of the Virgin Mary statue keeping vigil out front. The sculpture is said to be decorated with more than 200,000 sapphires – a fitting tribute from locals who made their fortunes trading in gems.
Christianity arrived in the waterfront community some 300 years ago, when missionaries spread the word among a handful of farmers and merchants eking a living on the banks of the river.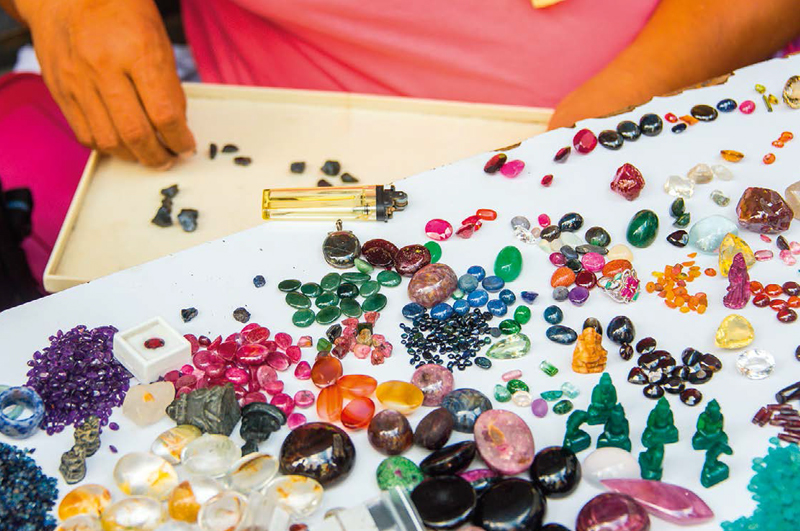 Treasure Hunt
"Chanthaburi is noted for its ruby mines and for its fine gem-cutting techniques," our guide continues, as we approach the old riverside quarter. "Unfortunately, the ruby mines have run dry and we now import the gems from Africa, before cutting, polishing and sending them to jewellery design studios in New York and Antwerp."
For a deeper glimpse into the historical trade, we nose around Chanthaburi's gemstone market, where we see pink, blue, yellow and other strangely hued stones shipped from Africa, while rubbing shoulders with gem dealers from all over Asia. This market is worth a visit just for the mesmerising sight of miners and dealers negotiating over the trays of precious stones.
Next, we drive 35 kilometres west from the riverside community to check out the old mine, whose owners are keen to keep the historical ways alive. Visitors are invited to get their hands dirty by descending into the pit and sifting for gems in traditional style. Those who manage to find a ruby or any other precious stone, get to take it home.
For those who prefer to stay above ground, hunting for the tastiest durian or other fresh fruit might be more appealing.
Also on our trip was an Indian traveller who was bowled over by the taste of the local fruit. "Arre wah! [Oh my gosh!] This is durian!" she exclaimed. "It's not that bad. The first bite might be a bit like sniffing old, dirty socks, but once you bite in, it's all about the sweet creaminess."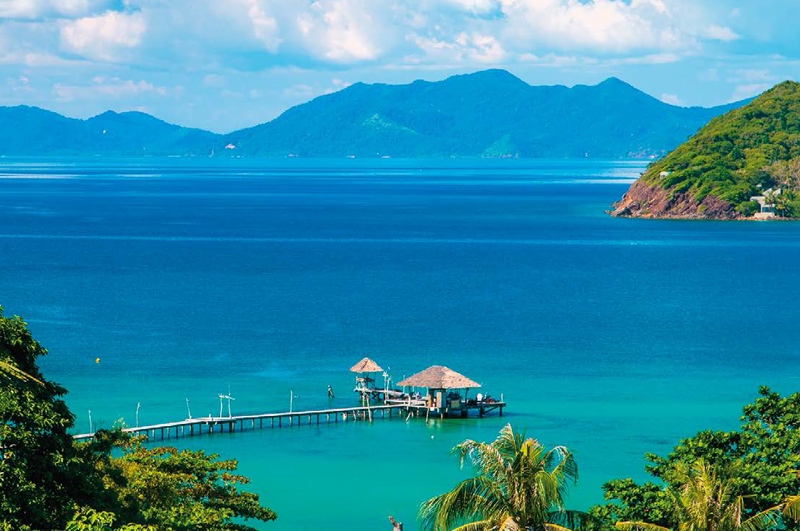 Secluded Beaches
The East of Thailand is also renowned for its pristine coastlines and tropical islands. Holidaymakers looking to head off the tourist trail may consider travelling on to Trat's Klong Yai – Thailand's easternmost district, where there are fewer visitors, the beaches are lined with brightly coloured fishing boats, and the sunsets are dramatic.
Inspired by the though of escaping to a sandy, secluded paradise, we hop on a speedboat and head for Koh Mak – an island known locally for its palm-fringed bay, white sand beaches and crystal blue waters. The locals have managed to keep traffic, wall-to-wall development, noisy beer bars and pollution to a minimum and have made this sweet little island an ideal destination for an eco-friendly retreat. We make the most of the tranquility by soaking in warm seas, cycling around the island and making peace with the local dogs before calling it a day at a thatch-roofed bar.
On the third day, we decide to get back on the road and weave our way up to the small town of Trat, which serves as a jumping off point for several islands as well as the Cambodian coast.
With atmosphere wooden shophouses, charming riverfronts and cultural landmarks, this is a perfect spot to take a breather after an energetic day or two of island hopping.
On our hunt for local charm and beauty, we rent a fishing boat to take us to the seaside community of Ban Tha Ranae.
Located at the edge of the Trat River estuary, Ban Tha Ranae served as a port for Chinese junks to stop and load up on fragrant spices like pepper and cardamom to sell back home. With fortunes to be won, the Chinese decided to make this township their home, with many even setting up pepper plantations.
Ba Tha Ranae today offers visitors several revealing expeditions, such as taking a boat ride through the mangrove forest, foraging for wild food and indulging in the local specialities.
In Lan Taboon, a tangled mangrove wonderland, I peer curiously at the giant roots intertwining endlessly like mysterious creatures.
With its tropical islands, deserted beaches and durian, Thailand's East is full of hidden gems just waiting to be experienced.
Getting There
By Car
Chanthaburi is about three and a half hours from Bangkok. It takes about an hour to drive from Chanthaburi to Trat.
By Bus
Buses to Chanthaburi leave hourly from 6am at the Eastern Bus Terminal in Ekamai or less frequently from 5am at the Southern Bus Terminal, Mor Chit. It takes around four hours to get there, and a little over an hour from Chanthaburi to Trat.
By Plane
Bangkok Airways flies from Bangkok to Trat four times daily, and flights last one hour. Check out flight schedules at bangkokair.com