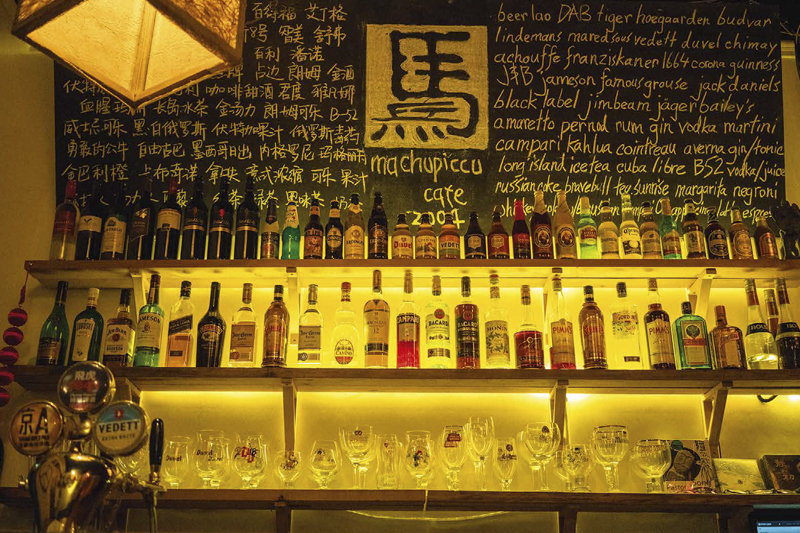 An Insider's Trip through the Chengdu Underground
In Chengdu's dark of the night, experience the city's bars and live music venues that showcase an active indie scene.
Words: Joe Henley
Photos: Paul Ratje
Only in China can a city of 14 million be considered "small." But that's Chengdu, capital of Sichuan Province, where the frontier of the airy eastern Tibetan highlands meets the hazy western China urban sprawl. For the people of Chengdu, in this left-of-centre section of a 1.4 billion-piece puzzle, flying under the radar is just fine. They've got their own thing going on, free of the snide cynicism of their eastern counterparts. And whether you're a first-time visitor or an old Chengdu hand, you're more than welcome to join in.
In Chengdu's Wuhou District, an area with a sizable population of Tibetan migrants who come down from the plateau in search of work and a chance at living the urban dream, prayer flags hang in shop windows and signs and menus still feature the flowing scrawl of the Tibetan script.
It is here in Wuhou, against the backdrop of Tibetan tradition, that Chengdu's multi-faceted Chinese music scene thrives. It is where many streets are marked by Tibetan bars where singers still perform songs in their native tongue, singing for khata, silk scarves of red, green, or gold that equate to tips paid by patrons of between 100 and 500 yuan (USD 14 and 72). A good singer will finish a song draped in layer upon layer of silk, the added weight no burden, as it means a hefty addition to an otherwise modest monthly paycheck.
This is just a small part of what Wuhou has to offer, though. The district is also where you will find many of the bars and live-houses where the city's underground and established rock and indie musicians ply their trade seven nights a week.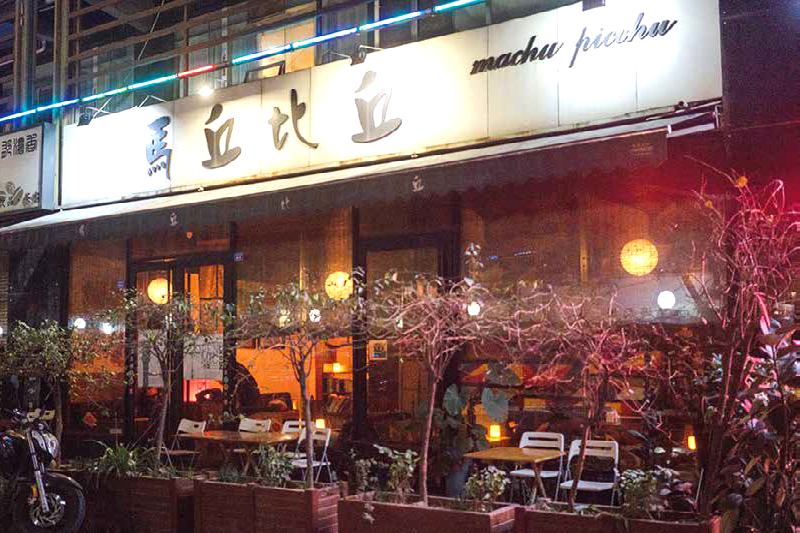 As good a place as any for an intro to Chengdu's musical culture is New Machu Picchu Bar, a dark, lamp-lit space that feels like home, even for the wayfarer. The walls are covered in photos of all the musicians who have taken to the bar's small stage over the past six years, the furniture is carved from Himalayan softwoods, and the bands and solo acts who play here tend to favour the softer end of the musical spectrum – jazz, acoustic, electronic, and experimental.
On any given night at Machu Picchu, you might see a table of Tibetans doing rounds of shots, musicians from Shaanxi or Luzhou or Yunnan talking shop or putting together new collaborations over a cocktail or two. Listen in and you might hear them mention that in Chengdu it's not nearly as hard to make a living purely from music or art as it might be in the nation's other tier-one urban centres. The scene here is well-developed in a country where indie music is still something of a fresh face, barely into its third decade of existence.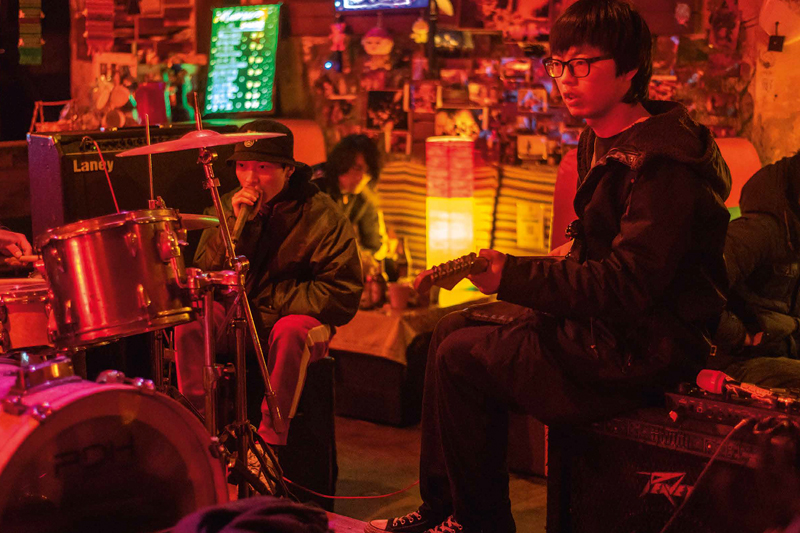 Starting with a place called Little Bar just over 20 years ago, the Chengdu indie scene has flourished, and Machu Picchu is merely a starting point. A short taxi ride away is Steam, a music and art hub that also serves as a hostel, a place where many an underground touring band beds down for the night when passing through the city for a gig.
Steam's owner, Mao Mao, is one of those who has come from away. Originally from Yushan, a county west of Chengdu, the transplanted thirty-something founded Steam with the simple goal of providing a space wherein musicians, music fans, and travellers can have a good time. Even if there isn't a show scheduled, anyone is welcome to get up on the Steam stage and jam. There is even an on-site studio, Havoc, where local bands record, and where artists from abroad, including New York post-punk legends Television, had expressed interest in laying down tracks.
Chengdu, according to locals, is relatively more free – more liberal in its sensibilities – than other major cities in China. Still, there are the usual one-party state authoritarian hallmarks that can plague something as liberated and disorderly as rock n' roll. There was a time, scenesters say, when the 21 floors of the Poly Center on Jinxiu Street were filled with rock and electro clubs. Today, just one remains. TAG (which stands for "To Another Galaxy") is the last space standing, the others shut down by police raids and accusations of open drug use on site. Online reviews for TAG are a mixed bag, but when it comes to big-name international DJs coming through Chengdu, it's the place to be.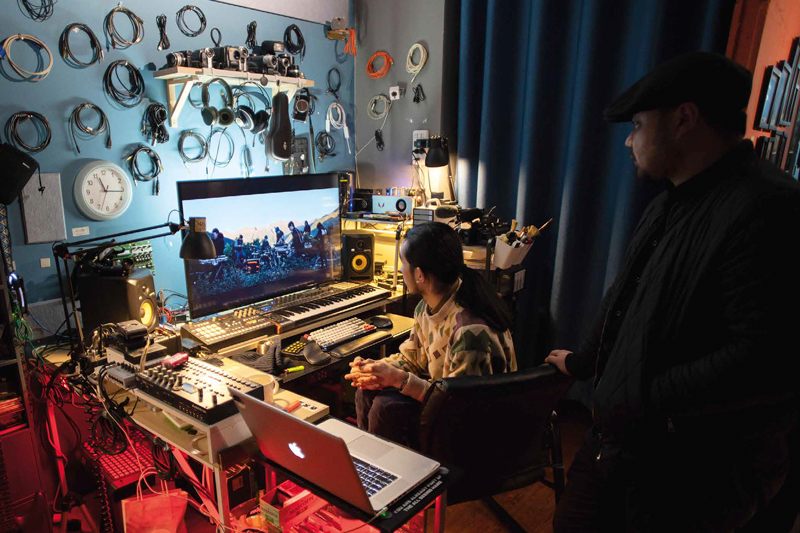 For a real taste of Chengdu's libertarian spirit, though, head to Jah Bar, near the Old South Bridge in the Jinjiang District. It's a reggae bar, the interior bathed in a red glow, paper lanterns hanging overhead, strings of lights behind the bar. The red could very well be a cheeky nod to the bar's location, in the middle of Chengdu's officially unofficial red light district.
Jah Bar is a place where you might catch an impromptu reggae/dub jam session by a crew of scene veterans both homegrown and foreign, or a live set from a tight jazz trio. Patrons bask in the peace-and-love vibes, watching the band, heading outside for a cigarette and a game of Foosball, going back in for another libation and a few more songs. It's a throwback, bar regulars say, to what the Chengdu scene was like a decade ago, organic and pure. The growth of any music community brings with it its share of pain and contempt bred from the strains of familiarity. But none of that seems to exist at Jah Bar. Here it's all about the love and the P.M.A., Positive Mental Attitude.
From Little Bar to Jah Bar, Chengdu pumps with both positivity and creativity. It is a place to indulge and be indulged, a million miles from pretension, a stone's throw from the Next Big Thing. Come, stay a while, and you just might discover your new favourite band, or that intimate venue that will make you say "I know a little place …" the next time you hear "little" Chengdu come up in conversation.
Getting there: Bangkok Airways flies to Chengdu four times a week from Koh Samui. For flight information, visit bangkokair.com.
Where to Enjoy the Tunes:
New Machu Picchu Bar
Yulin Beijie 1, Chengdu
• Tel: +86 158 8235 6944
Steam
30 Wuhouci Street, Wuhou district, Chengdu
• facebook.com/Steam-Hostel
Little Bar
87 Fang Qin Jie, Yulin Shang
Wu Gang, Chengdu
Jah Bar
Old South Bridge, Huang Gate
Road #36-118, Chengdu
• Tel: +86 136 8905 1773
Tag
Room 2118, Building A –
Poly Centre, Jinxiu Street,
Wuhou district, Chengdu
• Tel: +86 139 8190 9901
• zx024@163.com