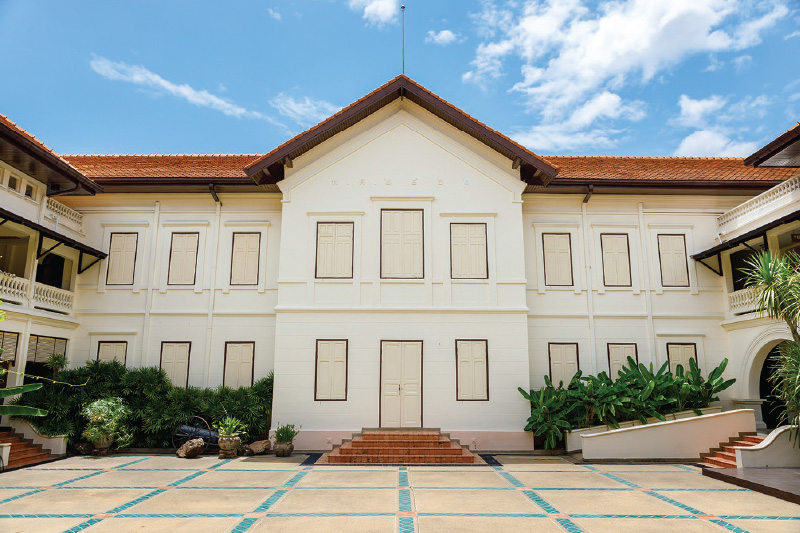 Chiang Mai: Lanna from Heaven
Lifting in the lid on Thai northern culture
Words: Phoowadon Duangmee
Steeped in rich heritage and cuisine from its days as a kingdom's capital, this historical city also buzzes with contemporary culture.
Founded in a mountain valley in 1296, Chiang Mai is the former capital city of the Lanna kingdom. Ancient temples, elaborate craftwork, traditional foods, scenic mountains and a laid-back attitude – Chiang Mai has kept its charm while still flowing with the times. Visitors can enjoy an array of leisure activities or simply stroll around Chiang Mai's Old City, where they will discover the moated quarter crammed with historic wats (temples), chill-out cafés, restaurants, and stylish boutique hotels.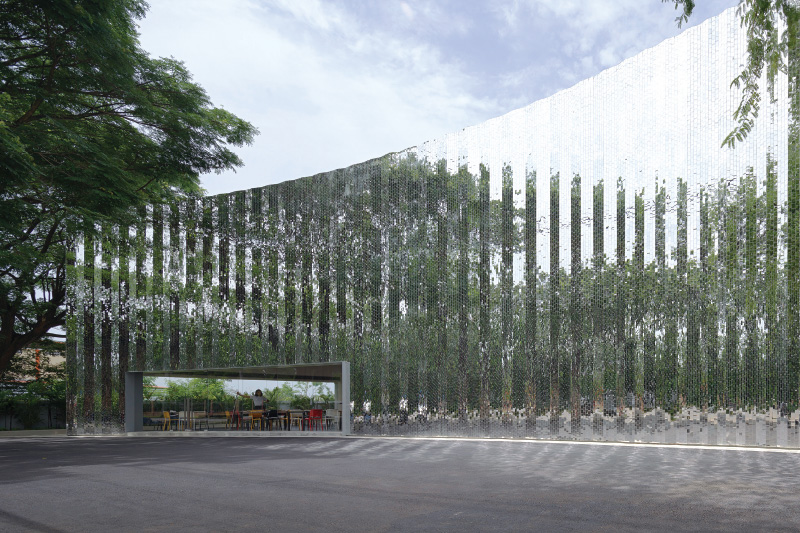 Get to grips with its history at the Chiang Mai Arts and Culture Centre, set inside the old Provincial Hall. This museum provides an excellent overview of Chiang Mai's journey from the first simple wooden settlement to a busy modern metropolis, using dioramas, photos, artefacts, and audio-visual displays. Just like travel, the journey through history and culture opens new vistas and encourages us to think beyond ourselves. Visitors are catapulted back to the present at the Maiiam Contemporary Art Museum, located half an hour's drive away in San Kamphaeng. The 150-baht entry fee give access to a feast of modern and contemporary art by local and international artists.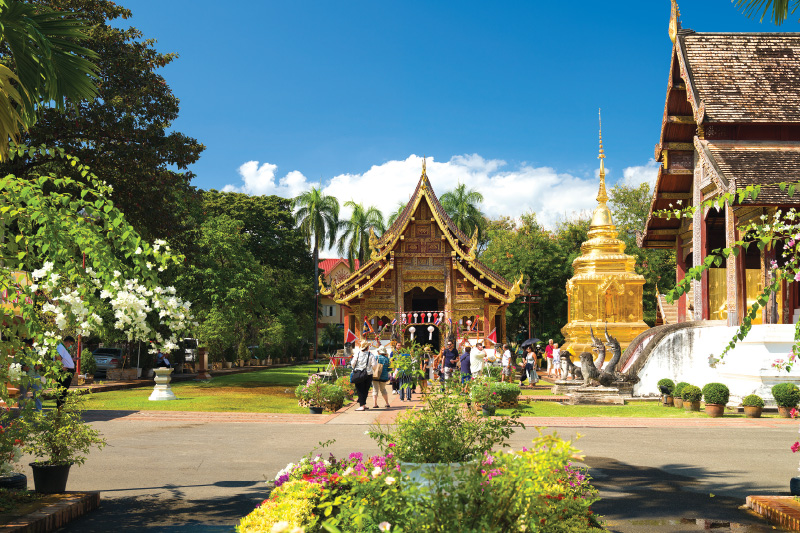 Chiang Mai served as the seat of the Lanna kingdom for 266 years, from 1292 to 1558. Today, the Chiang Mai Old City still resonates with Lanna customse, arts, architectural achievements and distinct flavours. Temple hopping is a favourite way of touring the moated city. But if you don't want to spend too much time in too many places, Wat Phra Singh is the destination to head for. With its ancient pagoda, library buildings, Wiharn Lai Kham (Golden Monastry), and Phra Singh (the most beautiful Buddha in Thailand's North),Wat Phra Singh is a gleaming showcase of Lanna art and architecture.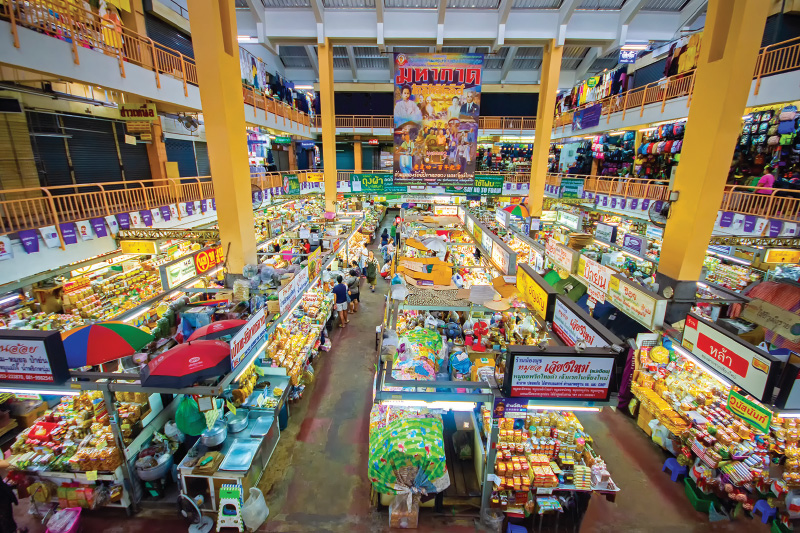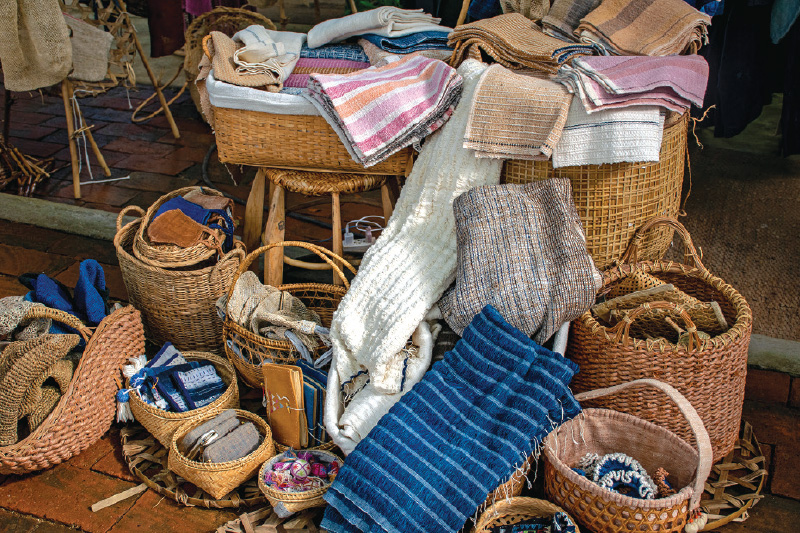 Once you've investigated the heart of Chiang Mai's heritage, the markets should be a-calling. Warorot Market (Kad Luang) and Ton Lamyai Market – two connecting foodie paradises along the Ping River – are beloved of locals and visitors who come to pick up anything from "sai oua" sausage, pork crackling and "nam phrik num" (green chilli dip) to free-range chicken and cannon ball-sized avocados.
Open Saturday and Sunday from 6.30am to 2pm, Jing Jai Farmers' Market Chiang Mai lays out a feast of fresh organic products. Farmers, bakers, grocers and artisans sell their fresh vegetables and treats to chatty locals and tourists, who take serious pleasure in discussing the origin of their foods.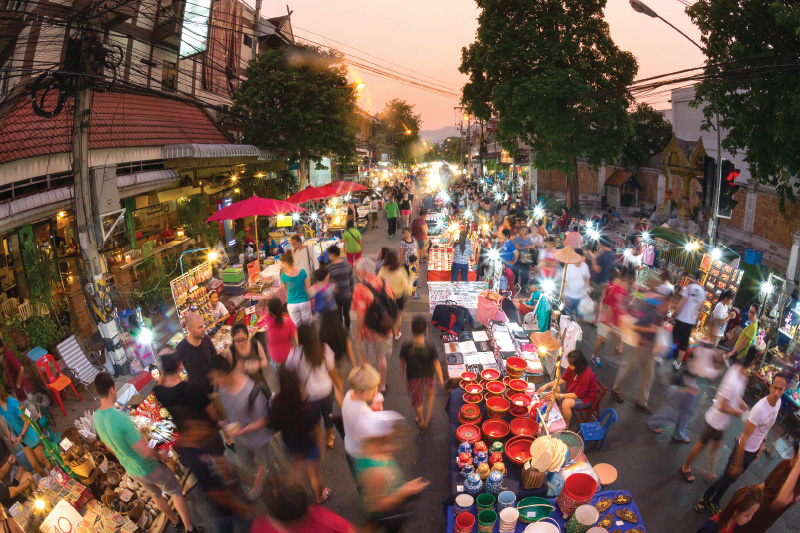 Chiang Mai is a spellbinding city with incredible local arts, boutique shops and arts scene. But even more magic reverberates from small communities inside and beyond the old city, where artisans carry on centuries-old artistic traditions.
Silversmiths live in the temple neighbourhood around Wat Si Suphan – where they have left their mark in the elaborate silver ordination hall. Every Saturday evening, local artisans can be found on Wua Lai Walking Street plying their silverware, artworks and other precious handicrafts. Or head to the Tha Phae Gate on Sundary eveings to see the Tha Phae Sunday Walking Street come alive with the sights, sounds, and scents of Lanna heritage. If you can't wait until the weekend, treat yourself at Baan Khang Wat. The "craft village" just a short ride from the Suan Dok Gate is a great place to discover handmade creations, from silver jewellery, basketry, celadon, and silverware to lacquerware, woodcarvings and parasols.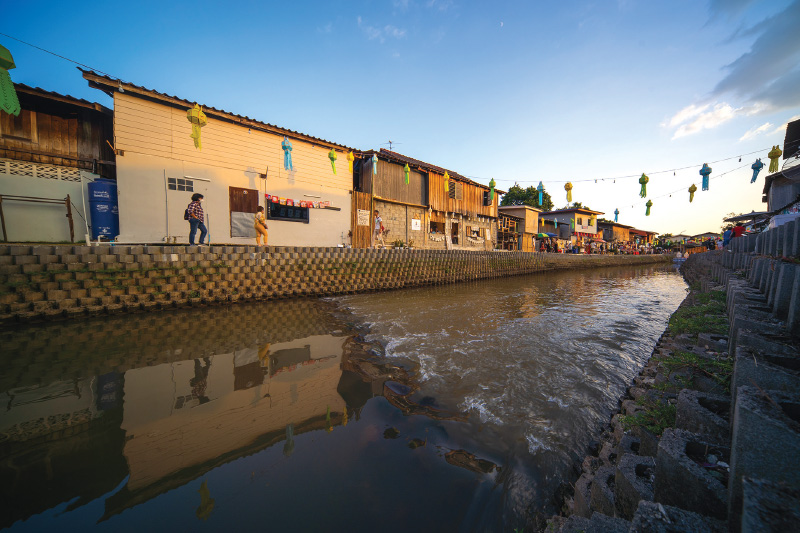 While you're in Chiang Mai, a stroll along the Mae Kha Canal is not to be missed. The one-kilometre section of walkway known as "Otaru Canal" for its Japanese-themed waterfront is the city's newest landmark. Once Chiang Mai's dirtiest waterway, it's now been cleaned up and pedestrianized to make more room for outdoor living and green public space. Today, the beautiful waterway is car and hawker-free, with bars, souvenir shops, and craft stalls, as well as restaurants, making it an ideal place to stop for food and shopping before calling it a day.