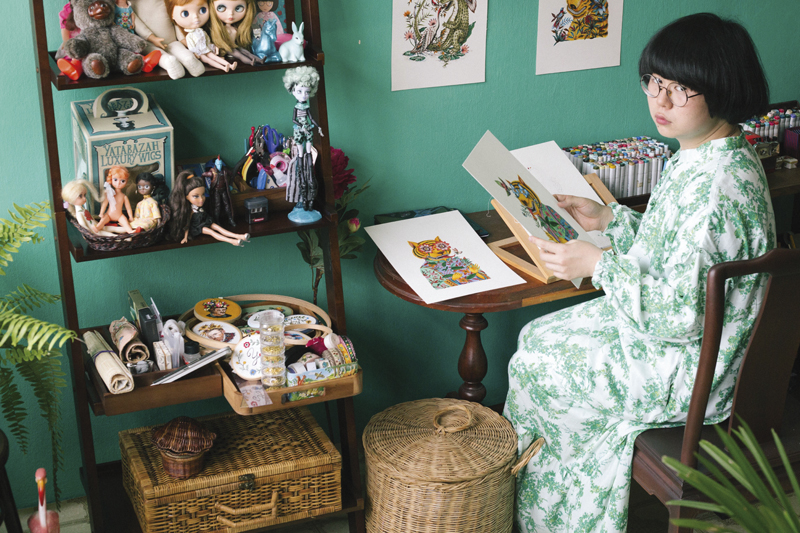 Haute Drawings in High Fantasy
Infused with a sense of fantasy, urban legends and popular culture, Thai artist and fashion designer Phannapast Taychamaythakool has created unique collection of illustrations for a global high house of fashion.
Words: Phoowadon Duangmee
Photos: Phannapast Taychamaythakool for Gucci & Wichit Kongsiangsung

Last summer, Phannapast left her creative stamp when Gucci unveiled their "Le Marché des Merveilles" jewellery line. The collaboration with the Italian high fashion brand also came with a fairytale installation of animal portraits at their New York Fifth Avenue and Beverly Hills stores.
In the series of fantastical portrayals, an elephant appears in an enormous red hat and blue dress with floral motifs. Then there is one of a loved up couple, a dolphin and a panther, in colourful dresses with tongues wagging in euphoria. These animals stand proud and confident in their finery. Odd yet magical – the entire set of illustrations burst at the seams with floral details and patterns, sending art and fashion aficionados to fantasy land where beauty and the beast manages to find a comfortable marriage, and wild animals have access to high fashion or in this case, Gucci's latest collection.
In the historic neighbourhood of Bangkok's Chinatown, Phannapast shows up at Starbucks Wang Burapha on a sunny afternoon with her drawing markers and drawing logbooks for a private interview with Fah Thai magazine.
"I come to Starbucks often to do some sketching and drawing. The daylight is about right to do hand drawing," says the 31-year-old Thai illustrator.
The up-and-coming artist appeared in a loose blue shirt, super long and over blue jeans and sneakers. Her face stands out with the distinctive "Beatle moptop" haircut and pair of round, super-sized hippy sunglasses – like John Lennon's look from the 1960s to 70s. A prominent mole – similar to Cindy Crawford's signature one – occasionally draws attention with the people she talks to. Unlike her vibrant and quirky works, Phannapast's voice is surprisingly gentle and conversations are carried out politely like with most Thai women, ending every sentence with the particle 'kha.'
"Your work is oversaturated with a bright palette – pink, red, blue and yellow – so vibrant. Do you keep any black clothing in your wardrobe?" I asked the young fashion designer this as many fashion designers wear all black. Yohji Yamamoto, Vera Wang, Riccardo Tisci, Karl Lagerfeld – to name a few.
"No, I don't like black," says Phannapast. "I keep a few black pieces, but I don't really put them on." Behind the pair of large hippy shades, I could sense some degree of shyness. After a few sips of hot Cappuccino, an ice breaker moment happens. The conversation becomes more sensational, with voices rising in a series of higher pitches.
"When I was very young, I avoided looking at myself in the mirror," says Phannapast. "Something wasn't right in there. The reflection of a schoolboy in a typical and traditional crewcut was like a stranger to me, and that made me feel uncomfortable. There was conflict and disgrace. I didn't even glance at my reflection," confesses Phannapast, who is male and dresses as a woman.
Nothing unlocked the conflict in her mind except art. It built up self-esteem and brought her out of a protected shell to eventually shine. Phannapast studied fashion design at Chulalongkorn University, Bangkok, and became a creative director of the local clothing brand "Kloset". Being a freelance illustrator, she posts her work on Instagram occasionally.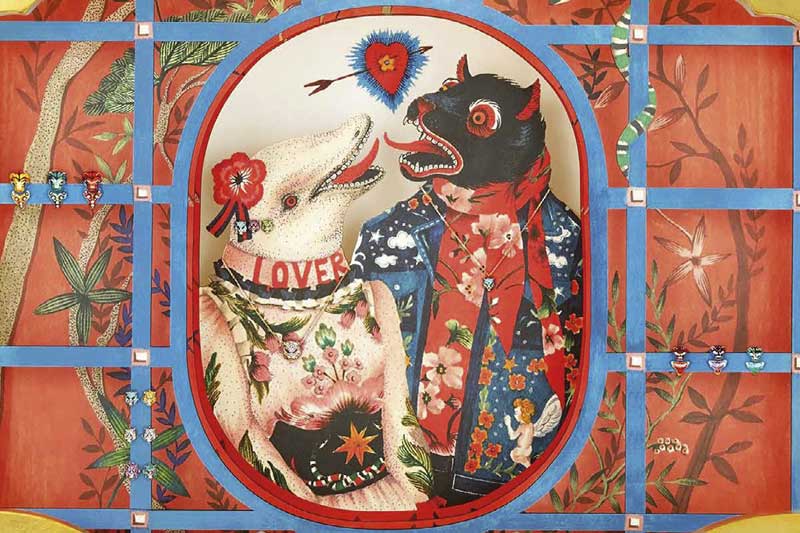 "In my young age when I started drawing, no one told me such things about creativity. Form and function was very conventional. Leaves had to be green, and the branches of the tree had a certain form," says Phannapast.
In art school, Phannapast had access to many artistic concepts, ideas and inspiration, and found out that beauty, indeed, has different faces and forms. She started to take a hard, long loo in the mirror to find out her talents.
"People have been living in a conventional world way too long, and are way too comfortable to recognize the beauty of being different," says Phannapast. "When we find something or someone unconventional, we keep asking too many questions. We tend to think that they are misfits and alienated. We believe that they need to be fixed.
"In fact, we don't have to look, think, feel or act like our peers. Beauty lies in being different – be it difference in sexual identity or appearance." In her work for Gucci, Phannapast tries to convince people of this philosophy.
She also illustrated a book of imaginative fairy tales written by a friend, Aracha Cholitgul, inspired by stories of a personal past, and brought into an artistic visualisation. The tales in three chapters revolve around a "Wonder Factory" where animals create jewellry.
In the first chapter, "A Present from the Sky" tells a tale of the kitten who wears a mask to cover up a facial mole. One day the little cat decides to take off the mask when it learned that beauty and a feel-good experience do not come from appearance alone.
The second chapter, "The Very Big New Friend", Erawan is a large elephant having a hard time trying to get a job in the factory. She is large in size with legs as large as the oldest trees in the forest. Her body is even bigger than the factory itself and when her ears flap, they create a small whirlwind. After Erawan has been in the factory for a while, she learns that she is a misfit. Every time the hapless pachyderm tries to help, everything she touches breaks. In these stories, both artists create an unforeseen relationship that challenge people's attitudes.