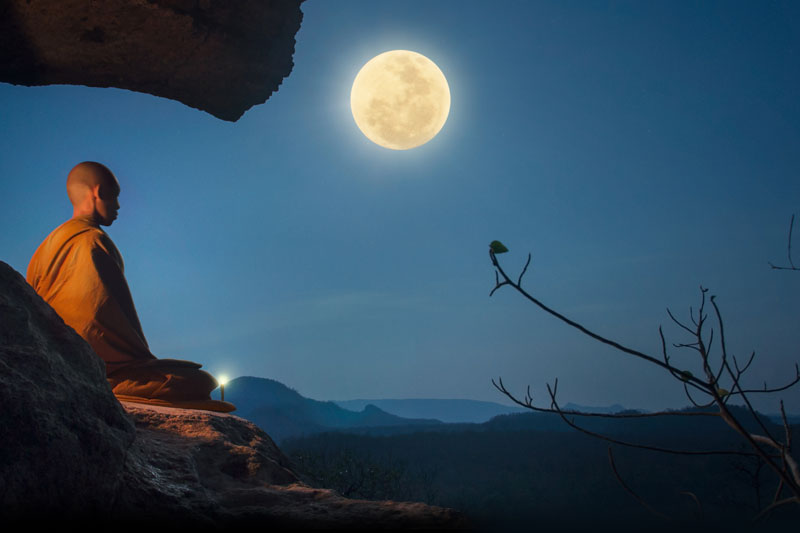 FIND YOUR MISSING PEACE 
You get the sea, sand and sun on the beautiful island of Koh Samui, but in addition to that, how about some happiness and inner peace? On a hilltop is the Dipabhāvan Meditation Centre, a place that offers your mind and spirit a chance to get renewed through the process of mindfulness.
Photos: Dolnapa Ram-Indra, Thitiphan Kantawilaskul
Words: Tanistha Dansilp
I recently visited the Dipabhāvan Meditation Centre, also referred to as the Development of Light Hermitage in Koh Samui in the province of Surat Thani in Thailand. The retreat overlooks the beauty of Lamai beach and since its inception in the year 2005, more than 30,000 foreign visitors from all over the world have come to this place to find fulfillment through dhamma practice. To make it to Dipabhavan, a red minibus takes me up the hill. From here on, I leave the real world behind — the busy streets, the beautiful beaches, the drinking and dancing and loudness of Chaweng or Lamai beaches.
The plan is that in seven days, there will be only you with a mind cleared of worried and a feeling of calmness. People come to the Centre to spend time with nature, listen to the sound of their heartbeat, feel the wind and hear the birds, and slowly isolate from the outside world. At the retreat, you get to go deep inside yourself – to observe, be conscious of your thoughts and be honest with yourself. The teachings are based on Ajarn (Thai for teacher) Buddhadasa, a revered monk who taught the principles of Buddha-Dhamma.
The day begins at 4:00 am and spreads out with meditation and basic activities that ends with bedtime at 9:00 pm. This comes to 17 hours a day and 119 hours a week! Not much strenuous activity goes on except for the simple task of sitting, sleeping, walking and eating. Yoga, a walking meditation and dhamma completes the day. A climb of some 200 steps takes place five times daily as part of the mindfulness practice. The monastery bell becomes the official timekeeper and yeps you with the counting of walking steps.
OPEN TO A NEW EXPERIENCE 
"Our mind is like a monkey, and not a simple monkey but a drunken one! Watch your mind and your thoughts because it will become your action! – Buddha teaching
On the last morning of the English course at the Centre, people can finally talk and share their experiences, complete with big smiles on their faces. After all, it is seven days of begin silent – no use of social media, no mobile phone, no television, no book to read and only two vegetarian meals are taken in a day.
And I wondered what had happened in the last six days to our minds. I wanted to know whether something really did happen and where it took us. It's an interesting question that I asked participants. Wadey, an Australian biologist who lives in Malaysia felt much more aware of things after six days and says, "I decided to come for meditation without knowing anything about Buddhism or meditation. I only know it is a good opportunity. I loved the chance to calm my mind." Another enlightened person who also spent a week at the retreat tells me, "My mind feels energetic and works very fast and adds with conviction that meditation is a good way to observe our minds.