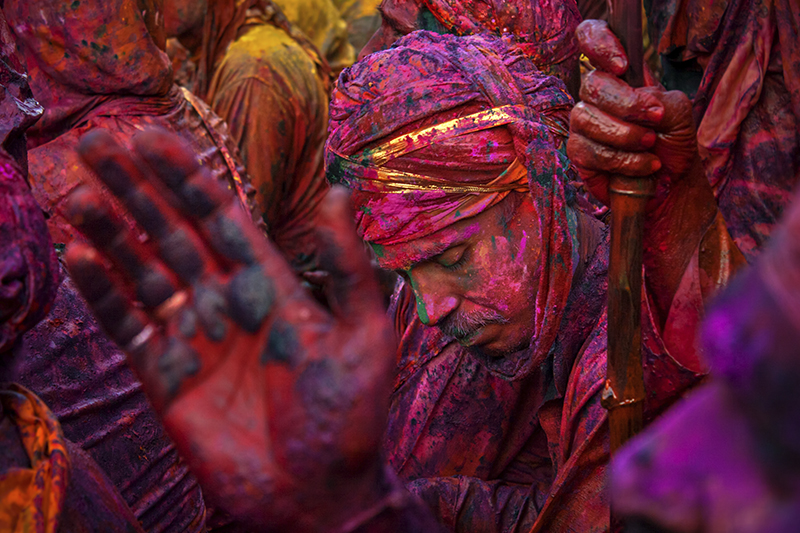 True Colours Shining Through
The vast and vibrant diversity of India reaches high tide on one day of the year – welcome to Holi!
Words: Sugato Mukherjee
Photos: Sugato Mukherjee & Soumya Bandyopadhyay
In the temple towns of Mathura and Vrindavan, a few hours from Delhi, the festival of Holi is celebrated over several days, when dusty streets are suddenly drenched in bright colours.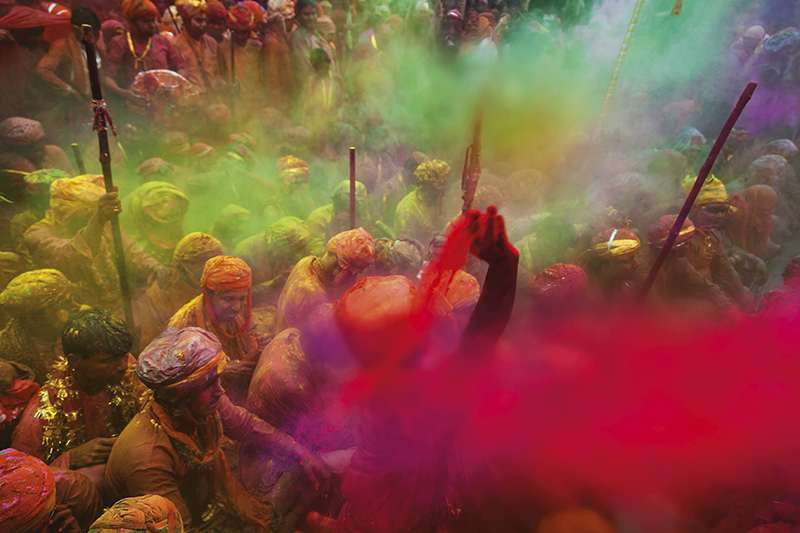 Holi, or the Indian festival of colours, celebrates the arrival of spring and the blossoming of love. The day brims with joy, as people drench one another with coloured water and daub coloured powder on each other's faces, all to much boisterous laughter. Carried away by the raucous fun, even strangers become friends.
This festival is deeply imbued with Indian philosophy and mythology, with the vibrant colours and exuberance signifying the victory of good over evil. Holi is a pan-Indian affair, but the celebrations reach a crescendo in the northern and eastern regions.
Dusty north Indian towns like Mathura and Vrindavan metamorphose into polychromatic fairylands, their narrow streets splashed in every hue and filled with people dancing to a frenzy. On the other hand, in the east Indian city of Kolkata, the day is celebrated with melodious music and dance, though the fun is no less intense.
The festival of Holi is steeped in tales of the love between the Hindu God Krishna and Radha, a day when temples dedicated to them come alive with devotional hymns, religious rites and dance. In the remote northeastern town of Manipur, which has a huge number of Krishna devotees, tales of their love are told through melodious performances and subtle rites, while in Mathura and Vrindavan the same story is portrayed with a lot more vibrancy and energy.
In more ways than one, the festival of Holi celebrates the diversity of India.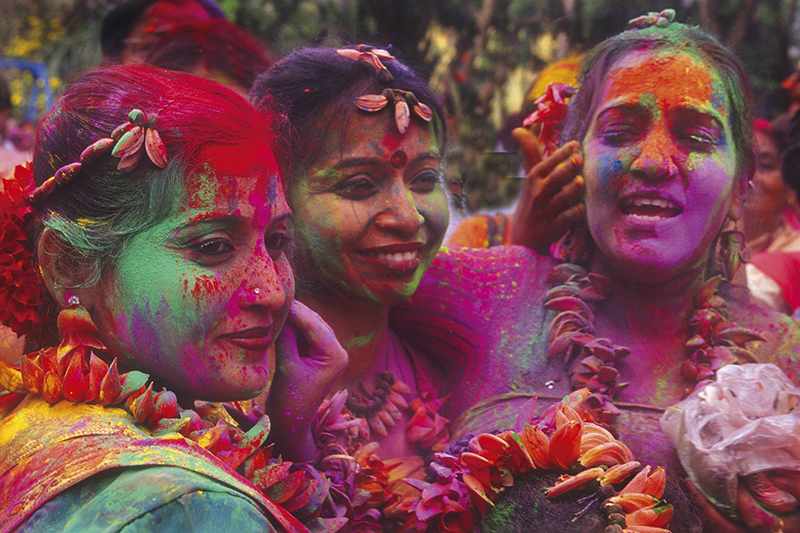 In Kolkata, people dress up in spring colours and splash each other with coloured water.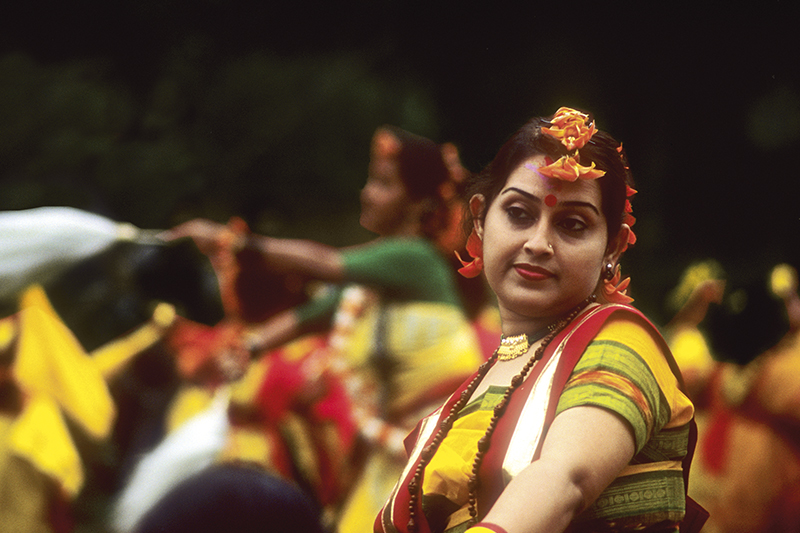 The spring festival, known as Dol Utsav in Kolkata, has become a cherished part of the city's cultural calendar.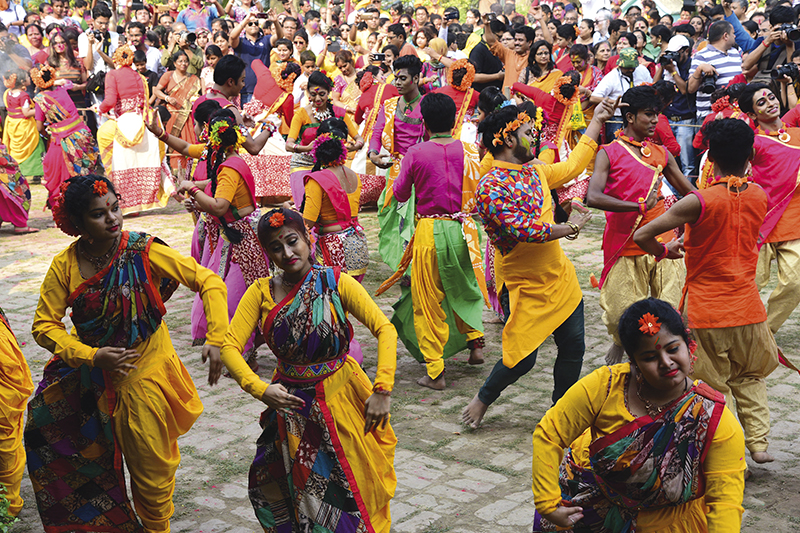 In the university town of Shantiniketan near Kolkata, residents usher in the spring with song and dance.
Residents in the northeastern town of Manipur mark Holi with traditional dance.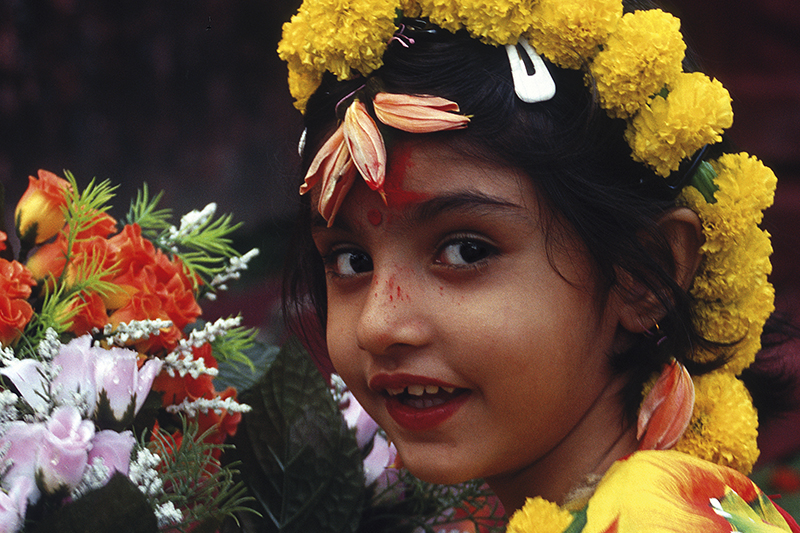 Children dress up in traditional costumes accessorised with flowers.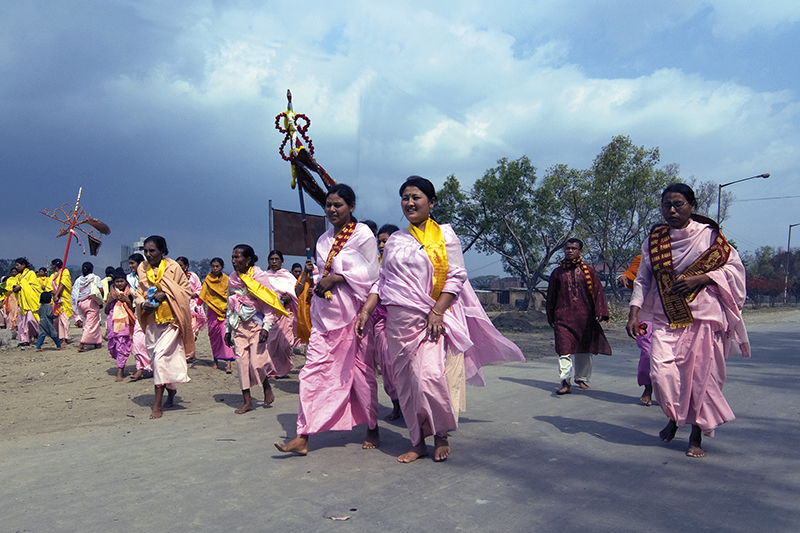 Holi processions are held everywhere in India.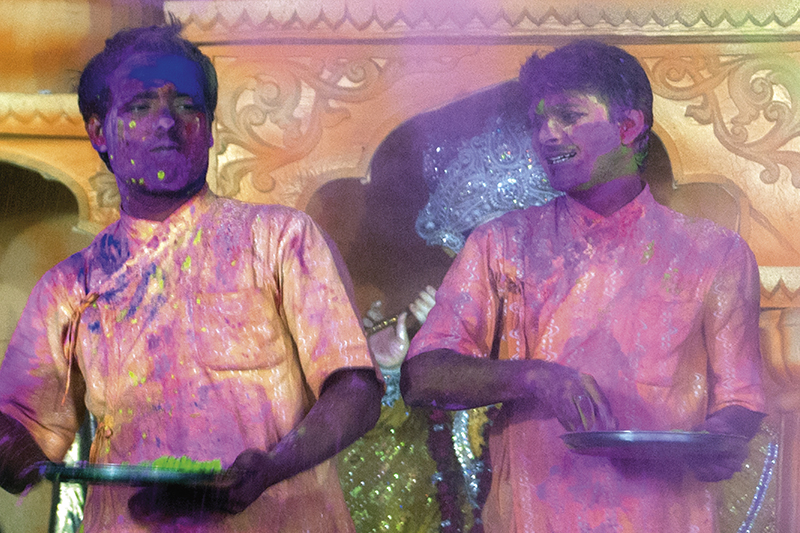 Two men pelt visitors with coloured powder at a temple in Kampur, north India.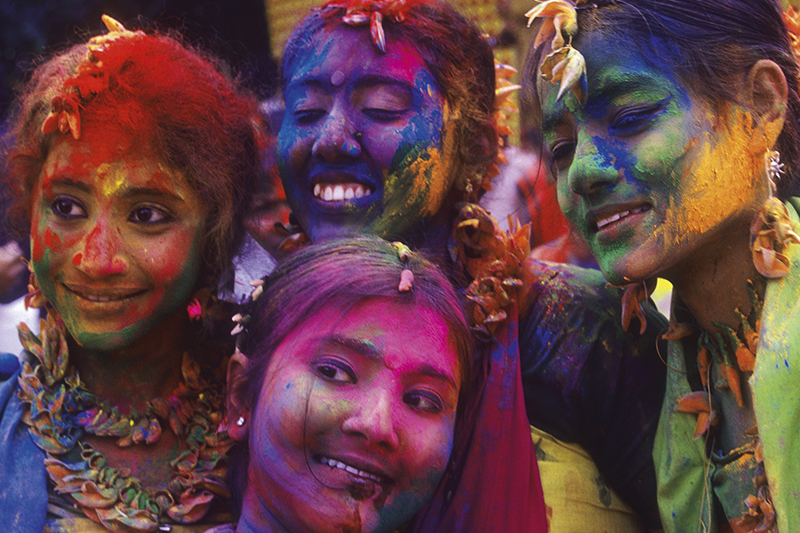 Every hue used in Holi has its own significance. Red stands for love and fertility, blue depicts Krishna and green is for new beginnings.
While the rest of India celebrates Holi to the tune of hymns or Bollywood hits, in Shantiniketan the festival is marked with songs of Rabindranath Tagore.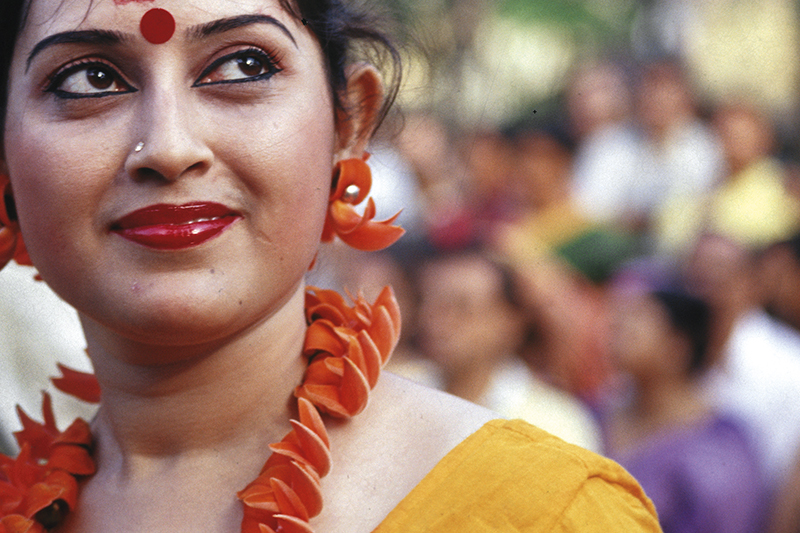 The hues of palash, a flower that blooms this time of the year, adorn women during the festival.
Holi transcends all barriers, when even the elderly are soaked in joyous spirit.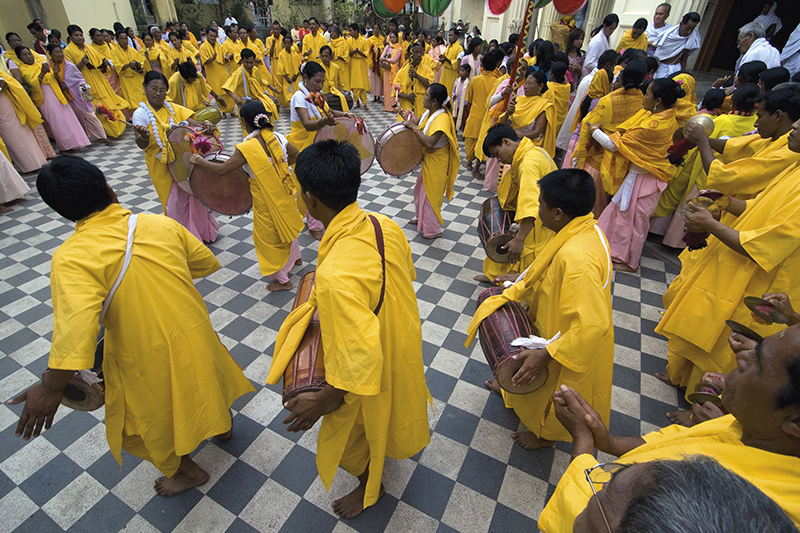 Temple courtyards come alive with devotional dances.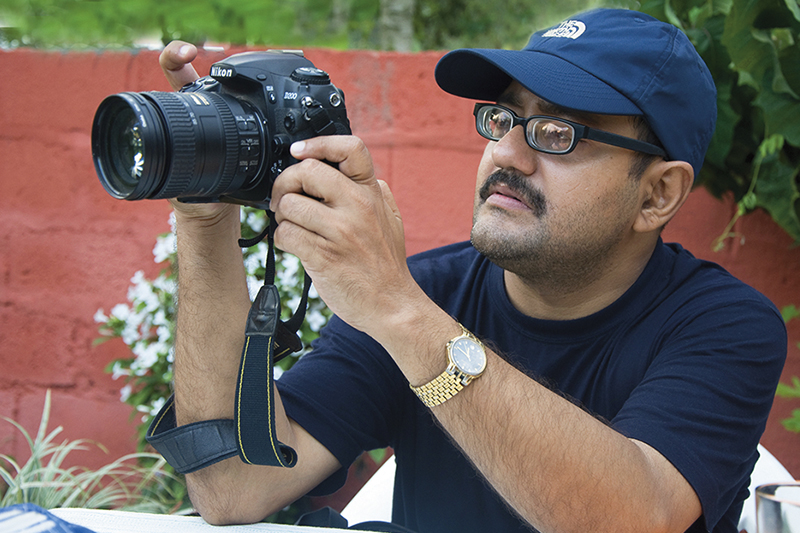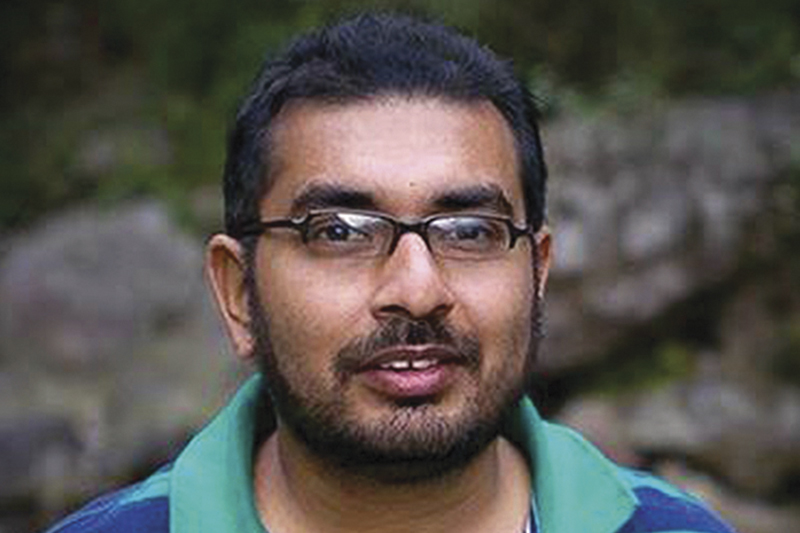 The work of Sugato Mukherjee, a photographer and writer based in Kolkata, has appeared in National Geographic Traveller, Al Jazeera and Travel+Leisure, among others. When he is not working on personal documentary projects, Sugato writes about exotic travel destinations. His work on Sulphur mining in East Java won a Unesco award. 
sugatomukherjee.com
Soumya Bandyopadhyay is a street photographer from Kolkata. He loves apturing scenes of people, his lends weaving intricate stories of the constant change and different shades of their lives. Though by profession he is a computer engineer, his photos have graced exhibitions in India and overseas.