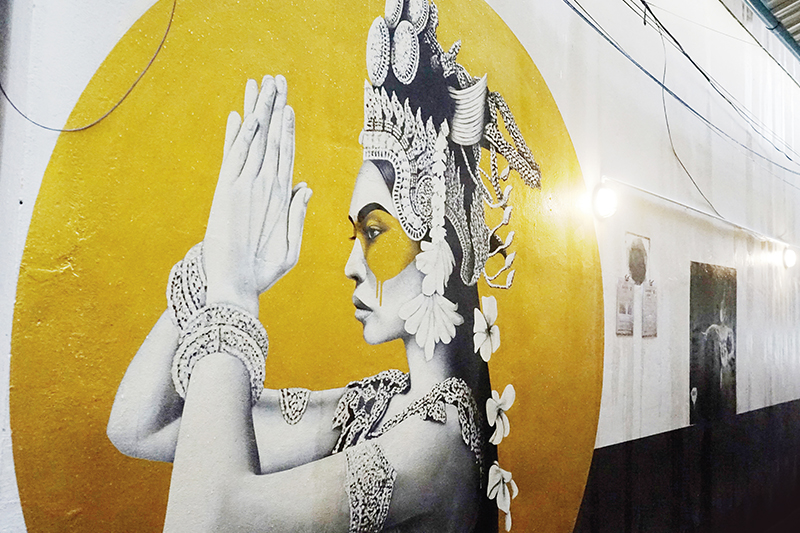 Kandal Cambodia's New Capital of Style
Near downtown Siem Reap, this trend enclave of local talents offers everything from high fashion and unique jewellery to delicious farm-fresh produce.
Words  Khetsirin Pholdhampalit
Photos @iwasborntotravelbkk
While Thailand's hotspots for arts and culture are found on Bangkok's Soi Nana in Chinatown and Chiang Mai's Nimmanhemin Road, Cambodia's bohemian scene is just beginning to sizzle in Siem Reap. Here, the once-sleepy village of Kandal is now abuzz with local creative talent everywhere from designer stores to laid-back cafés to art studios.
"Kandal" means "middle", and sure enough the village is located slap in the centre of downtown Siem Reap on tiny Hup Guan Road, close to Pub Street and the Old French Quarter. Nestled next to the city's raucous party district, its tranquil rows of shophouses have transformed over the past few years into a trendy enclave.
Some 30 small businesses here have got together to produce pocket brochures with brief descriptions of their stores, which promote the area among locals, expats and tourists. Kandal's thriving cultural scene is also suppoted by some hotels, who recommend the village to their guests as a not-to-be-missed site.
During my stay at Anantara Angkor Resort, Yuki, the female butler assigned to me, suggested I visit this spot if I was in search of unique and interesting dining options. The hotel also offers free transfer on the "remork" – the local tuk-tuk – to and from Siem Reap's central area, including Kandal. Unlike Thailand's three-wheeled tuk-tuk, the Cambodian version – perhaps the country's most popular mode of transport – is actually a carriage pulled by a motorcycle. In Siem Reap, passengers are charged between US$3 and $5 per trip.
I explored the village on a rainy afternoon in the middle of the week and found barely a handful of tourists strolling around. Close to the end of the street, I stumbled upon Mademoiselle Thyda – a stylish grocery store featuring an impressive selection of beautifully packaged local spices, herbs, teas and delicatessen goods that proved to be perfect souvenirs. Run by Siem Reap-born and Paris-raised Mademoiselle Thyda, all products are locally sourced from a fair-trade network of farmers across Cambodia and processed in its workshop in the town. Each item comes with a tag providing information on the origins of the product, how it can be used and its taste.
The store's biggest seller is pepper, available in black, red and white and grown and sun-dried in line with sustainable principles by a small family in the southern province of Kampot – known as one of the best sources of pepper in the world.
Next door is a boutique selling exquisite silk scarves woven by women in a remote village in Banteay Chhmar, close to the Thai border in the northwest of Cambodia. The Soieries du Mekong store is named after a French social enterprise that for nearly two decades has been teaching rural women hand-weaving techniques in a move to empower them and help them make a living.
"Each scarf is meticulously woven on a traditional loom and takes more than 16 hours to complete," says shop manager Liv Chhorvin, who also serves as a model in the collection's lookbook. "The creations combine French design with local craftmanship. Each piece is crafted by a single weaver, whose portrait appears on the tag. So far, we have 70 women weaving these one-off pieces."
The scarves are made with various types of fabric, ranging from 100% silk to combinations of silk, cotton, wool and cashmere, and come in plain or geometric and chequered patterns to meet all tastes.
Further down the road I wander into the Garden of Desire, a shop selling novel pieces of jewellery, some of which are embellished with sandstone – a reminder of the ancient temples at nearby Angkor. Each piece, inlaid either with semi-precious stones or more unusual materials, is intricately crafted in fine silver to trace unconventional ideas such as the roots of culture, nature, family relations and the cycle of life.
"A customer once asked by I didn't use precious stones like diamonds. To me, sandstone symbolises our roots, and jewellery should be something that complements your personality instead of taking over your appearance," says Garden of Desire's founder-cum-designer Ly Pisith. "If you wear a nice diamond ring, people will focus more on the ring than on you."
Having lived, trained and worked in Paris for several decades, Pisith established his own brand 10 years ago and set up a workshop in Siem Reap. For him, crafting jewellery using traditional techniques such as hammering and punching doesn't just celebrate local craftmanship, it also helps him manifest his organic designs where fluid curves and clean lines take centre stage.
Next door is the concept store Maison Sirivan – a fashion brand created by Sirivan Chak-Dumas and built on more than two decades of her experience working at different fashion houses in Paris. She returned 10 years ago to establish her own studio and brand offering a collection of simple, yet elegant clothing for men and women in linen and cotton. Her loose styles and classic silhouettes in bright or neutral-toned linen and cotton are timeless additions to any wardrobe.
Her shop also offers fashion accessories like hats, scarves, shoes and bags from other local brands, created with artisanal grace and contemporary finishing twists.
Also sharing the space is the new Biniky Chic Nomad brand, which offers limited-edition, high-design products sourced from across the world. A standout is the stool/side table that's strong enough to carry a load of 300 kilos but folds to the size of a book. Origami has also inspired the one-millimetre-thick flat stand that can be folded into different shapes to hold your smart devices, laptop or books. It can bear up to 40 kg without collapsing.
Hearing growling sounds from my stomach, I decide it's time to head to the charming boutique/café SvayChek Organic Farms. This eatery is easy to spot – just look for a white wall adorned with a colourful pineapple.
Inside an entire wall is devoted to a colourful display of organic fruit and vegetables fresh from a farm in Svay Chek Village, 20km north of Siem Reap. here you can grab local veg like Khmer lettuce, parsley, eggplant, chilli, celery and holy basil as well as freshly laid eggs and delicious bananas, mangoes and pineapples. Also featured are piquant salad dressings like mango-mustard, dill pickled, pesto and organic honey. Based on the farm-to-fork concept, this shop also offers healthy meals and drinks.
SvayChek Organic Farm was the brainchild of Japanese expat-turned-farmer Kojima Sachiko, who over the past several years has developed a 40-hectare farm, growing vegetables and fruit fertilised by fishponds. The farm now cultivates more than 30 varieties of fruit and vegetables that are delivered daily to the retail store in downtown Siem Reap.
"Svay means mango and check stands for banana – the two tasty fruits that Svay Chek Village is known for," says my butler Yuki as she arranges for a remork to take me back to the hotel. "Don't for to try them. The local mangoes and bananas don't look beautiful, but they taste amazing!"
She was right. they made for a delicious to Kandal Village's feast of delights.
Must-Visit
Angkor Wat
Top of any itinerary should be Cambodia's national treasure and UNESCO World Heritage Site, Angkor Wat.
The rising sun clothes the ancient Khmer temples of Angkor in an ever-changing golden hue, making a dawn visit a fixture on many travellers' bucket list. A tip: Avoid the rainy season (July to October) when the dawn light is likely to be grey rather than golden.
"Angkor Wat faces west and the best time to visit is during the March equinox, from March 21 to 23, when the sun rises right behind the pinnacle of the central tower," says Thai-speaking local guide Soeun Mao. "Symbolically, west is the direction of death and Angkor Wat was built both as a religious site and as a mausoleum for King Suryavarman II, who ordered its construction."
An entry pass for the temples of Angkor Archaeological Park and other monuments in Siem Reap costs US$37 for one day, $62 for three days and $72 for a week.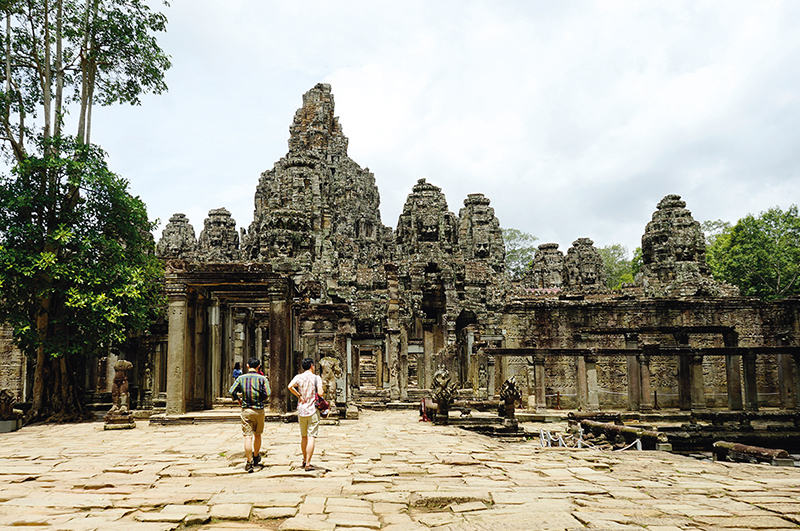 Bayon and Ta Prohm
A dazzling jewel among the treasures of Angkor complex is the Bayon, originally set in the heart of the ancient city of Angkor Thom and built in the late 12th century by King Jayavarman VII, who introduced Mahayana Buddhism to Khmer Empire.
Of the five gates leading into the ancient city, the south entrance is the most popular thanks to the well-conserved statues of gods and demons that line the bridge. The Bayon is distinctive for its 200 giant, enigmatic faces carves into 54 towers. Take time to explore the outer bas-reliefs depicting everything from historical battles and processions to mundane daily tasks of the ancient Khmer.
Jayavarman VII also built the Ta Prohm temple, which is now a romantic ruin bound by creepers and roots that appear behind Angelina Jolie in the "Tomb Raider" films.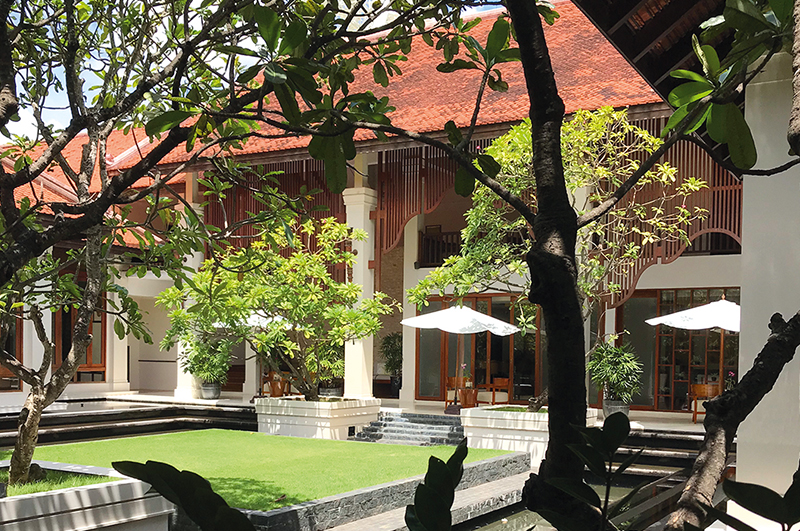 Stay
Anantara Angkor Resort
Anantara Angkor Resort is just 10 minutes from Siem Reap International Airport and 15 minutes from Angkor Wat. After extensive renovations, the all-suite retreat has 39 rooms in eight styles decorated with finely crafted teakwood, complimentary in-room minibar and Nespresso machine. Activities tailored to guests' tastes can be arranged. The staff are polite and helpful, while the housekeeping service is exceptional. Anantara.com/en/angkor-siem-reap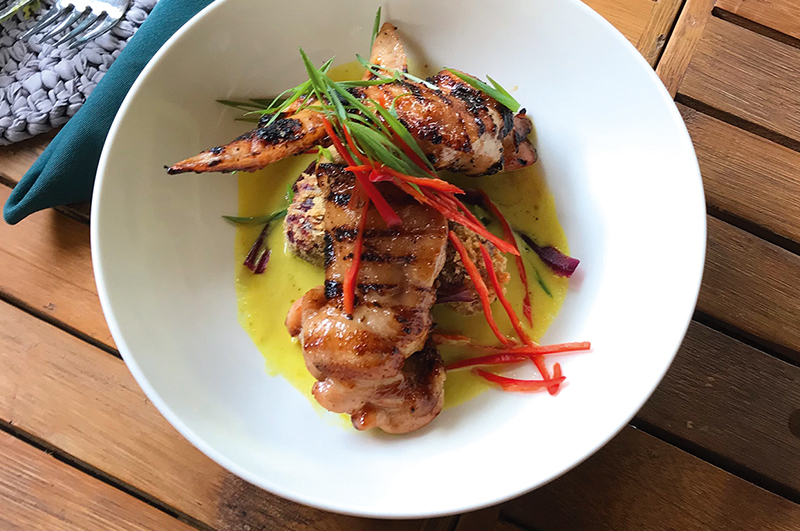 Eat
Spoons Café
Meals at the Spoons Café are slightly different. Run by the non-profit organisation EGBOK, which supports underprivileged young adults hoping for a career in the hospitality industry, the café serves as a training ground for students to gain hands-on experience in food and beverage. The menu offers an array of Cambodian delicacies with a contemporary twist. Find out more at egbokmission.org/spoons-café