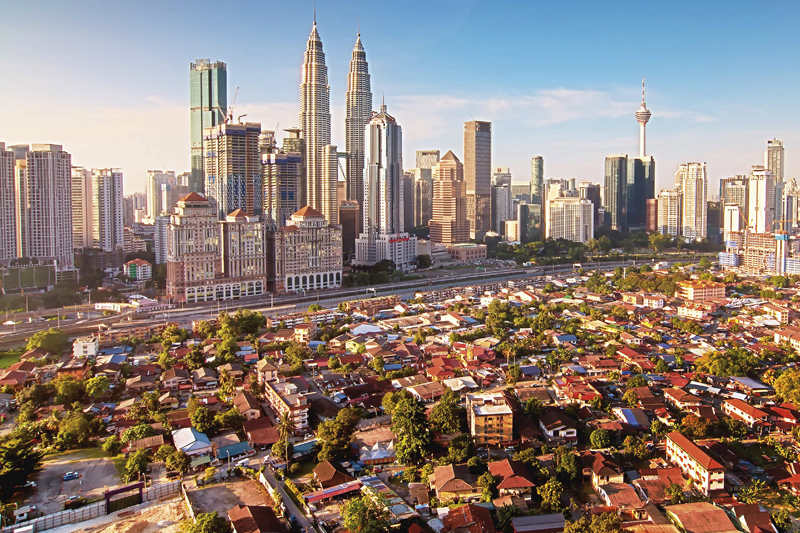 A Closer Look at Kuala Lumpur's Cultural Hubs 
Get to know the Malaysian capital's diverse neighbourhoods and their different characteristics.
 Words & Photos: Ronan O' Connell
Below Kuala Lumpur's forest of skyscrapers lie a range of vibrant communities which reflect the generous cultural diversity of Malaysia's biggest city. The country's population of 32 million people is divided into three main ethnic groups. The Bumiputera – which refers to Malays and indigenous people – make up more than 60 per cent of the population, while the Chinese account for slightly more than 20 per cent and Indians almost seven per cent. While this ethnic diversity is evident almost anywhere you go in Kuala Lumpur, tourists can get well acquainted with each culture by visiting particular neighbourhoods.
Embellished by traditional wooden Malay homes and teeming street markets, the low-rise neightbourhood of Kampung Baru feels like a quaint countryside village transplanted into a modern city. Less than two kilometres south, Chinatown is a teeming district where the alluring scent of Cantonese cuisine wafts through busy markets and past historic temples. The city's Indian community, meanwhile, has made its mark on two areas, the fascinating district of Brickfields, with its Hindu temples and fantastic Indian restaurants, and the renowned street shopping area around Jalan Masjid India. This is your guide to KL's captivating ethnic neighbourhoods.
KAMPUNG BARU
Established in 1899 as a dedicated agricultural precinct for Malays, Kampung Baru has remained captivatingly authentic. It is the most unique area in downtown KL. On its tree-lined streets children ride bicycles, parents tend to their vegetable patches and elderly people sit together playing cards. All the while, KL's lofty skyline looms above them.
The contrast between Kampung Baru and its immediate surrounds could not be starker. All around it the new Kuala Lumpur is growing and flourishing – an impressive nest of modern architecture from high-end shopping malls, to cutting edge office towers and chic condominiums. This is why entering Kampung Baru feels like travelling in time. Downtown KL's swift pace of life slows to a crawl on the quiet streets of this historic neighbourhood.
Instead of steel-and-glass skyscrapers, here there are timeworn wooden homes. Rather than  manicured parks embellished by art installations, Kampung Baru has tilted palm trees beneath which locals sit to drink tea or eat snacks. Fast food and coffee chains are nowhere to be seen, instead cuisine and drinks are freshly prepare by locals who operate from quaint restaurants or street stalls.
This charming mix of attributes has made Kampung Baru an attractive place for tourists to while away a few hours. I was drawn here by the lure of simply wandering its streets to soak up Kampung Baru's laidback atmosphere and, more importantly, to sample its renowned Malay food.
Within minutes of arriving in the neighbourhood my eye was caught by a stall selling fried tofu and chicken satay sticks. The former is invigoratingly spicy and the latter juicy and infused with a delicious peanut flavour. I washed it down with what may just be the best mango smoothie I've ever tasted, blended in front of me using fresh fruit and ice.
Later, for my dinner, I sat down at a local restaurant. There were so many different dishes that I had trouble settling on just one. instead I ended up with two plates filled with a mixture of rice dish Nasi Lemak, spicy Beef Rendang curry, and Nasi Ayam Goreng Kampung, a comforting chicken rice dish.
In between these two feasts I admired the many gracefully-ageing timber-panelled buildings which line the streets of Kampung Baru. Painted in gentle shades from mint green to lavender and pale orange, these clay-tiled homes and community buildings are reminiscent of those in countryside villages across Malaysia.
CHINATOWN
While Kampung Baru is somewhat of a hidden gem of KL, few tourists to the city overlook Chinatown. That is due, in a large part, to the huge popularity of its street shopping paradise, Petaling Street. Every major tourist city in South-east Asia has at least one shopping precinct which is mostly targeted at travellers – areas which overflow with souvenirs, sunglasses, shoes, watches, mobile phone accessories, and counterfeit brand products. In KL, that place is Petaling Street. Every time I visit KL, I stop here and stroll beneath its hundreds of red Chinese lanterns as I buy small presents for family and friends, from packets of Chinese herbal tea to traditional Chinese paper umbrellas.
Beyond this touristy side of Chinatown, however, hide more authentic nooks of the neighbourhood. After stocking up on gifts I normally enjoy the silence of Guan Di Temple. Splashed with many different shades of red – the colour which represents luck in Chinese culture – this 124-year-old Taoist Temple is unmistakable. Inside, locals hold burning incense sticks as they kneel to pray to Guan Di, the Chinese God of War.
Even more historic is the nearby Sin Sze Si Ya Temple, the oldest Taoist structure in KL, having been built in 1864 in dedication to two Chinese deities. For just one Ringgit, you can have your fortune told at this temple by shaking loose a stick from one of its decorative pots, and then getting a temple volunteer to translate the note which corresponds with the number on your stick.
Chinatown is not just a tourist attraction, many local live in homes tucked away in its alleys and small businesses thrive, many of which have operated there for generations. The Kwong Fook Wing Tailor, for example, has been dressing locals for more than 100 years, and now does a roaring trade with tourists also. The Cantonese food throughout this neighbourhood is spectacular, especially the fish ball noodle soup and Hokkien-style pork. Head down any alley or side street and you will be spoiled for choice when it comes to food.
THE TWO LITTLE INDIAS
KL has not one but two Little Indias. These days that term is most commonly linked with Brickfields, a large neighbourhood with a heavy Indian population. But the original Little India is the area which surrounds the thoroughfare of Jalan Masjid India, which is located midway between Chinatown and Kampung Baru in the city's inner-west.
This neighbourhood is home to my favourite street market in KL. Each weekend, Jalan Masjid India is blocked off to heavy vehicle traffic as close to 500m of the street is lined with temporary stalls. These stalls sell everything from snacks like roti pancakes to clothes, fashion accessories, household items, books, electronics and toys. The range of items available is quite remarkable. The best time to visit is in the late afternoon so you can avoid the searing sun and finish your shopping expedition with a plate of succulent Mutton Biryani, an Indian comfort food, at one of the small restaurants near the northern end of the market.
Far more tourists, however, venture to Brickfields, partly because of its handy location alongside KL Sentral, the city's transport hub. While Sentral and the shopping centre attached to it is filled with chain stores and international brands, the moment you step foot into Brickfields it seems like you could be on the streets of Mumbai or Bangalore.
Small, family-run shops play jaunty Bollywood music while selling Indian spices, snacks, colourful sari dresses and specialty goods like Toran Hindu decorations and Diya oil lamps. Particularly popular among tourists are the small stalls and shops which offer Henna, a decorative form of impermanent Indian tattoo.
The spiritual side of Brickfields comes to life in its many temples. The beautiful Hindu temples of Sri Kandaswamy Kovil and Vivekananda Ashram are welcoming to visitors, as are the Maha Vihara and Sam Kow Tong Buddhist for KL's Indian influence, it is highly recommended to visit both Brickfields and Jalan Masjid India.