From Trash to High Fashion
La Rocca: Journey of Shopping Bags from the Grocery Store to Haute Couture

Rungrot Chankrachang's place is full of unwanted stuff – if not plain pure trash – which he slowly turns into unique and precious items of clothing.
Words: Phoowadon Duangmee
Photos: Dulyaporn Chalyarit
Thai fashion designer Rungrot Chankrachang regularly takes delivery of thousands of discarded reusable shopping bags and, like intrepid travellers, these bags have a story to tell – a story that apparently only he can hear.
Made somewhere in Europe, with the aim of saving the blue planet from plastic waste, these reusable bags ironically become trash themselves, either because they have been replaced or their place of origin, say Germany, where they are transported to poorer countries as a charity offering or simply to be disposed of.
But like they say, one man's rubbish can be another's treasure.
Armed with sewing machines, a team of tailors and bucket-loads of creativity, Rungrot cuts these discarded, dull-looking bags into small pieces and stitches them together to create a unique patchwork of colours, which is then used to create a stunning piece of haute couture.
All this thanks to the so-called "green" mindset that encourages people to buy reusable shopping bags.
"Millions of reusable shopping bags are handed out every year. Many are left on the kitchen counter, while the rest are shipped out to developing countries, where they are either given a new life – or end up as landfill," says the designer and man behind the fashion brand "La Rocca".
"Isn't it funny? We go for reusable shopping bags to cut down on plastic waste, it makes us proud and gives us a pleasant sense of sustainability on our trip to the grocery stores.
"But then, this bag becomes waste itself, because its design is so darn boring nobody wants to carry it around."
It's clearly a design issue and it's this designer's job to give a plain shopping bag a new unique life.
Irony and a touch of humour are the tools Rungrot uses to make his patchwork shirts, trousers, dresses and even jackets.
"I'm eccentric, plus I'm so tired of wearing the same kind of clothes over and over again. So, I decided to make one-of-a-kind clothes, and I love doing this with reusable shopping bags," Rungrot says, explaining his unusual view of the world.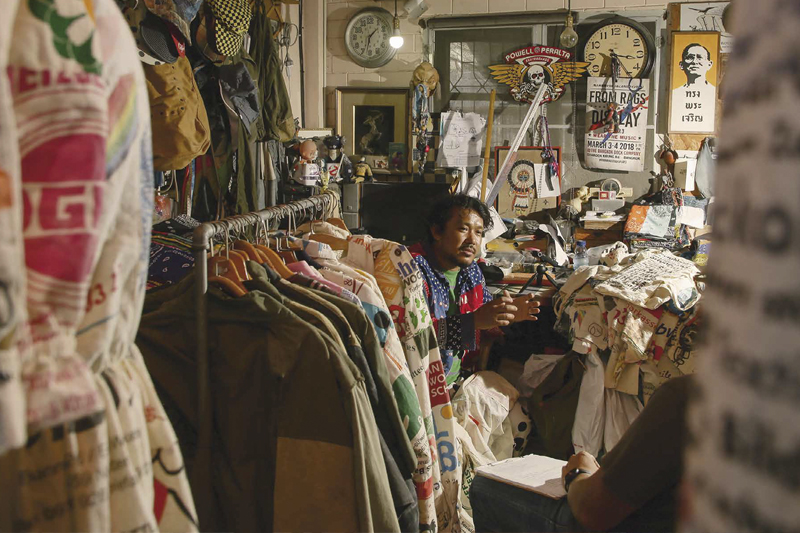 Rungrot, 42, was born and bred in one of Bangkok's most uninspiring ghettos. He studied architecture at a vocational college, but found needle and thread far more inspiring ghettos. He studied architecture at a vocational college, but found needle and thread far more inspiring than bricks and mortar.
Arriving at his home in the north of Bangkok, we are met with the sight of large piles of patchwork, stacked up like poker chips, occupying the entire floor. Dozens of shirts and jackets hang from clothes racks next to his design table, and looking around we find plastic models and more piles of fabric. This place is his studio and his home – where he designs his clothe and also helps his wife raise their three children.
On the wall hangs a large dark-blue piece of patchwork cloth, faded and scruffy-looking.
"That's worth more then 30,000 Baht [USD1,000]," he says. "I got this vintage piece of patchwork from Japan and its beautiful example of craftmanship is my inspiration. This piece has been stitched again and again for more than 50 years, gradually becoming a piece of art."
Rungrot says he is crazy about stitching together pieces of fabric because each finished patchwork has its own story to tell, much like each and every one of us. And different pieces of fabric sewn together tell a more interesting story, he says.
Making costumes out of patchwork is nothing new. Once a way of using up leftover scraps of fabric or extending the life of a garment, patchwork was adopted by mainstream and high-fashion designers to capture the bohemian spirit – indicating a certain sense of independence and rebellion.
Today the technique has become a fashion favourite, with Dior's Autumn-Winter 2018-2019 collection by Italian designer Maria Grazia Chiuri sending patchwork down the runways to mark the 50th anniversary of the 1968 mass protests against the Vietnam War, many of which were led by rebellious women like Vanessa Redgrave and Jane Fonda.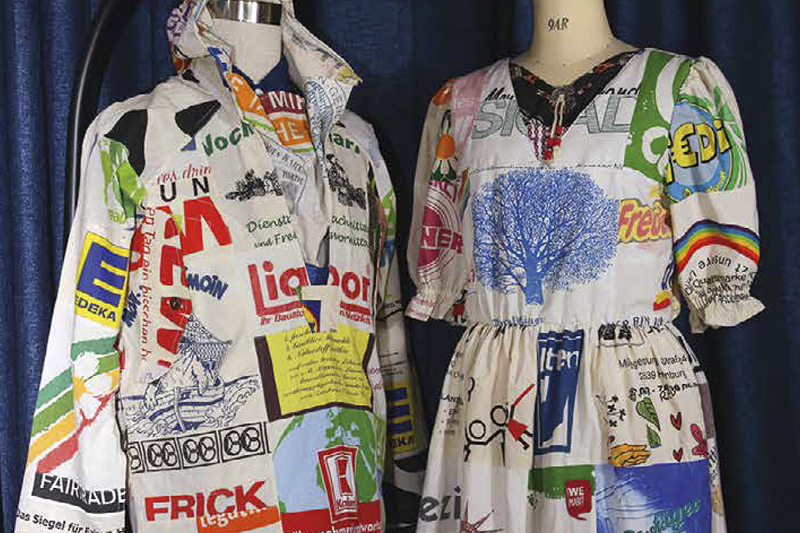 Rungrot's clothes are bright and colourful – a statement for the carefree, self-confident woman who doesn't think twice about donning a technicolour piece. His creations can be found on Instagram and in CentralWorld shopping mall and Chatuchak Weekend market for anything between 2,250 Baht and 2,800 Baht (USD 73 and US90). La Rocca pieces are also available in Hong Kong and South Korea.
"Fifty reusable shopping bags make one La Rocca shirt, but not every bag matches every specific design. First, I pick out bags with interesting typography or graphics, and then I start thinking about the composition and design. I choose different pieces from different bags that can be mixed and matched to make a perfect look," he smiles. "I call this slow fashion, because balancing art, beauty and fashion is a time-consuming process."
After La Rocca was chosen recently to dress South Korean boy band Winner, Rungrot reckons he will be getting some serious traction with smaller niche boutiques in Asia. But he's in no hurry to cash in on his growing popularity.
The fashion industry is always in a rush to stack shops high with identical pieces, but for Rungrot, making clothes takes time – and space perhaps. For him it's all about the process, choice of materials and appreciation of every step of the patchwork, before it can be transformed into high-fashion.
"My patchwork dresses are not just about money, they require patience too," the designer says half seriously, half playfully. "Slow fashion is what La Rocca's customers want for their one-of-a-kind piece."
La Rocca Studio is available at Chatuchak Weekend Market, Section 5 Soi 55/2 No: 155 and at Upperground, CentralWorld