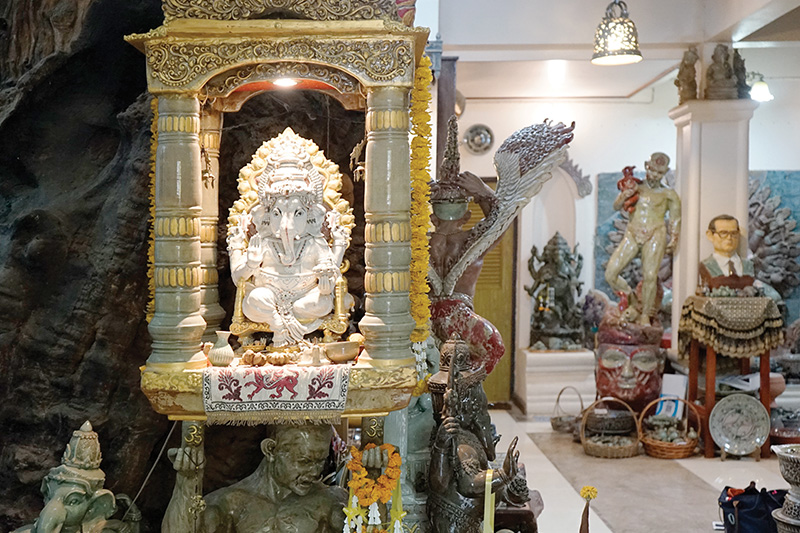 Made in Sukhothai
Visitors can now bring the ancient culture of Thailand's first capital back to life in galleries and workshops that dot the UNESCO World Heritage city
Words: Khetsirin Pholdhampalit
Photos: Atripical.ig
Visitors to the UNESCO World Heritage ruins in Sukhothai are now getting the chance to bring the fascinating history of Thailand's first capital back to life. Local artists are opening their studios to hold workshops where tourists can learn to make anything from clay Buddhist amulets and heritage ceramicware to intricate textiles.
Sukhothai's cultural roots can be traced in its distinctive blue-green glazed ceramic ware called Sangkhalok. These gleaming ceramics lit up the kingdom from 1238 to 1428 CE, and the centuries-old craft has been revived to make Sangkhalok Sukhothai's most famous product today.
For an introduction to Sangkhalok ceramic making, look no further than Ganesha Gallery near the Sukhothai Historical Park, where workshops on pottery and inscribing traditional patterns are offered.
"Let me show you to how to draw a fish called the Pla Ka Dam [black sharkminnow], a distinctive motif used to decorate ancient Sangkhalok ware. The hand-drawn style is unique to the local pottery," says Ganesha Gallery's co-founder Hathairat Promphet, as she guides visitors step by step through the process.
Each workshop participant is given a small clay plate on which they draw the pattern with a pencil under Hathairat's careful guidance. Once the drawing is complete, the plate is glazed and then fired in the kilm at a precise temperature to create the perfect shape and colour. The complex firing process takes time, and it is four weeks before the ceramics are delivered to participants. The 60-minute workshop costs 600 baht per person inclusive of materials and refreshments. Anyone with a little more time to spare can learn how to mould clay into a mug, bowl, or elephant figurine in the 90-minute workshop priced at 900 baht per person.
"Our pottery goes through a biscuit firing [pre-glze firing] at 800 degrees Celsius and then glaze firing at 1,270°C, to create stoneware that is durable, vitrified, and nonporous," says Hathairat, who established the gallery 17 years ago with her spouse Santi.
Ganesha Gallery produces its own Sangkhalok ware in both traditional and contemporary styles ranging from teaspoons, animal figurines, plates, and bowls to coffee mugs and vases. Traditional patterns include fishes, lotuses, vines, and waves to symbolise old Sukhothai's fertility. The classic blue shade comes tinged with green and red, influenced by the pottery of China's Ming Dynasty. 
For a contemporary twist, Hathairat and Santi use wood-ash to create distinctive turquoise, oxblood, and blue-purple glazes for Western and Japanese-influenced ceramics that update the motifs. The gallery also lives up to its name by creating Ganesha figures both big and small.
A short hop away is Baan Phra Phim Laksamonsilp, where friendly couple Narongchai and Yanapat Torin guide visitors through the ancient art of making Buddhist clay amulets from moulds. Narongchai, or 'Kob", first leads visitors to his boutique gallery for an introduction to Sukhothai-period amulets via the private collection he unearthed on his property.
"Sukhothai-era amulets come in over 1,200 distinctive designs and I reproduce some for the sake of educational purposes. I am trying to keep alive the tradition of amulet making, which is a very important ritual dating back to the Sukhothai kingdom," says Kob.