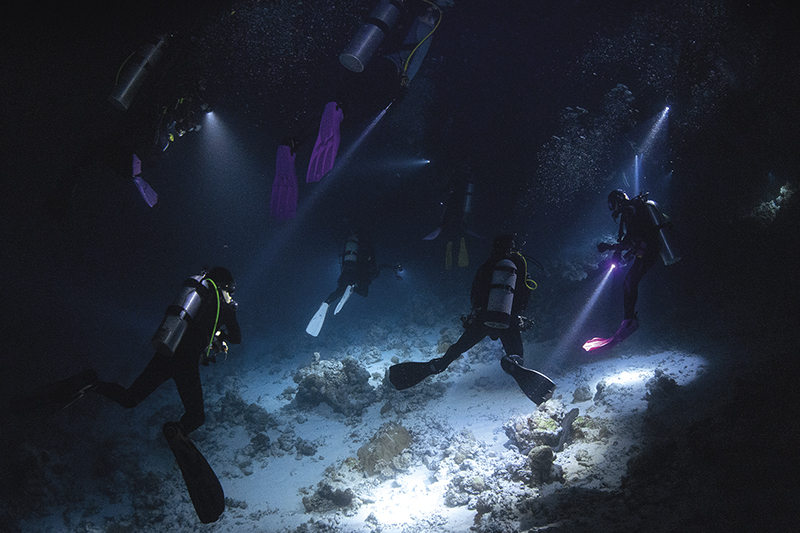 Plunging into the Maldivian Blue
The luxurious settings of the Maldives are usually enjoyed above water. But staying on a liveaboard boat and diving into the archipelago's underwater world can be an even richer experience.
Words & Photos: Tanakit Suwanyangyaun
The picture-perfect scenery of the Maldives has long lured travellers and honeymooners from around the globe to the island's signature hotel bungalows above its turquoise waters. But this "Pearl of the Indian Ocean" also has less famous side which is just as inviting as its crystal-clear seas, azure sky and pristine white beaches – its treasured underwater world.
For those who want to take the plunge, the Maldives offers three main scuba diving trails amid its coral-reef atolls formed from extinct volcanoes, namely the Standard Route, North Route, and Deep South Maldives Route. The first route, also known as the Best of the Maldives or Central Atolls, is the most popular thanks to its convenient location with direct transfer from the port capital of Malé. The other two see fewer visitors but both promise mesmerising discoveries, especially the Deep South route.
Not simply underwater adventures, many scuba diving trips also include the Maldives' unique liveaboard experience. A liveaboard describes the type of boat that serves as a floating home for divers during their trip. Very different from the simple vessels used for diving daystrips, these boats operate like floating hotels, complete with luxuries. Each diver has their own room with full amenities, while the boat also features a common saloon with hi-tech home entertainment system and a jacuzzi for a soak as you admire the view of serene Maldivian seas. Wake, eat, dive, sleep, and repeat – the liveaboard offers divers the unique charm and marine life of a different location each day. Also on the daily menu is a buffet of delicious dishes, whipped up fresh by the staff in the gallery. If guests want something out of the ordinary, or perhaps want to try their hand in the kitchen themselves, the cooks are happy to oblige.
For a special and memorable holiday, divers should try the combined Standard and Deep South Maldives route, which starts with a short transfer from Malé port to their liveaboard on a dhoni, or traditional multi-purpose vessel.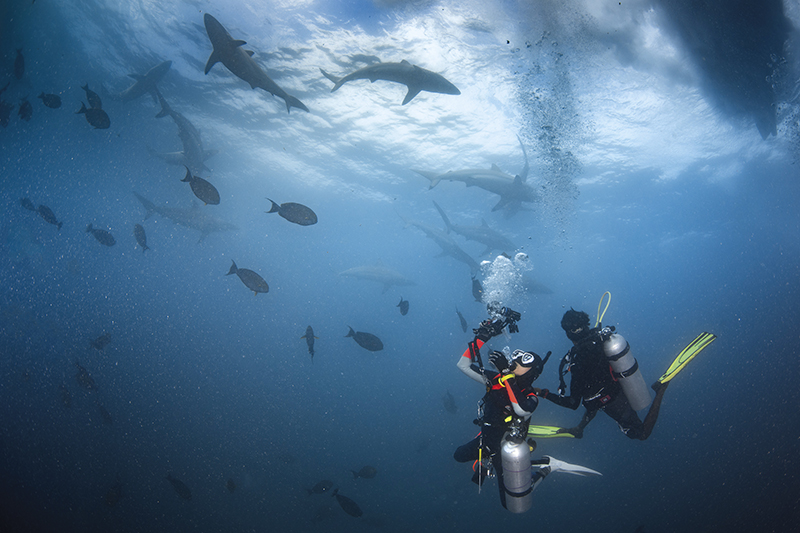 Divers begin the trip with a check-up on their health and scuba gear at the 'Fish Tank'. Located not far from Malé, this diving spot is special for the huge number of fish – including stingrays – that gather beneath the pier to feed on waste from the island's tuna factory. Like being immersed in a vast colourful fish tank, this is the favourite spot of many divers thanks to the lively scene. Those who are lucky enough may even spot a guitarfish, a rare visitor to this underwater playground.
After the check or refresher dive, divers usually enjoy dinner and leisure time before heading for a night dive. The diving spot of Alimatha Jetty, a resort pier, offers rare encounters with giants of the sea, namely nurse sharks, stingrays, marble rays, and even blacktip sharks. Night dives, however, may not be ideal for those who dislike the darkness or those who scare easily since these creatures tend to swim close.
Scuba diving in the Maldives may be a piece of cake for some people, but it's not for the inexperienced. Strong currents can be too much for beginners and divers should have a degree of experience and skill before jumping on a trip with a liveaboard.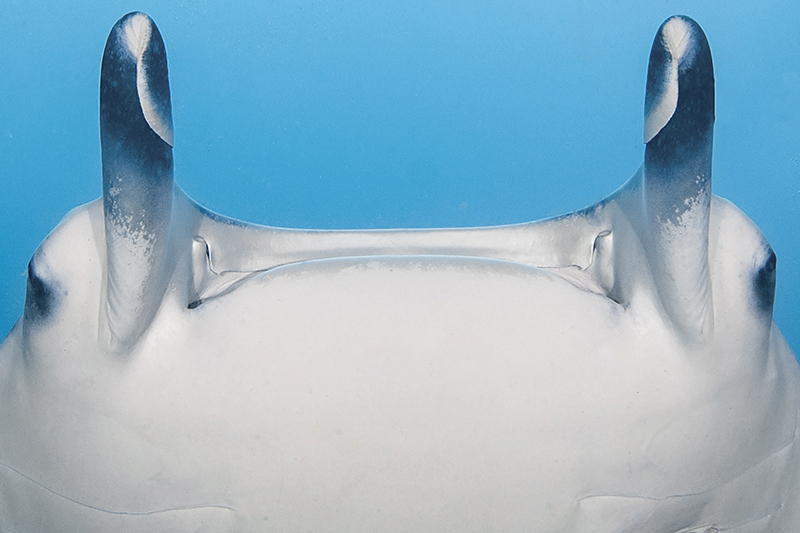 The Deep South Maldives route has more adventure in store. The dive trail shot to fame in just a few years for the sheer variety of underwater creatures swept along by its strong ocean currents. Most of the diving is done in the deep bleu channels between each atoll's coral reefs. Here, divers need to plan their moves and timing carefully since changing tides can transform conditions in the blink of an eye.
Channel dives should be done during a rising tide when seawater is pouring into the lagoon, bringing a rich variety of marine life. Bad planning can land divers in falling tides, when they are vulnerable to being swept into unexpected situations outside the atoll perimeter. But there's no need to sweat with fear of uncertainty; just pick the right time and you will find a new and wonderful world opening up before your eyes.
To enjoy the spectacular natural show as strong currents sweep through, divers need a reef hook to attach themselves to the rocks at the entrance of a channel. Then all they have to do is wait for the parade of marine life to emerge – from gliding stingrays to magnificent grey reef sharks. When the expedition time is about to run out, the dive leader will signal for everyone to unfasten the reef hook so they drift with the current into the atoll. If luck is on their side, aquatic marvels such as whale sharks may show up.
When night arrives, boats head to Maamigili Beyru to the south of Ari atoll. Each boat comes with a large spotlight and trains it on the sea to attract plankton. The blooms of plankton attract feeding whale sharks and smaller fish, which can be viewed either from the boat or at closer range with the use of snorkels or scuba gear.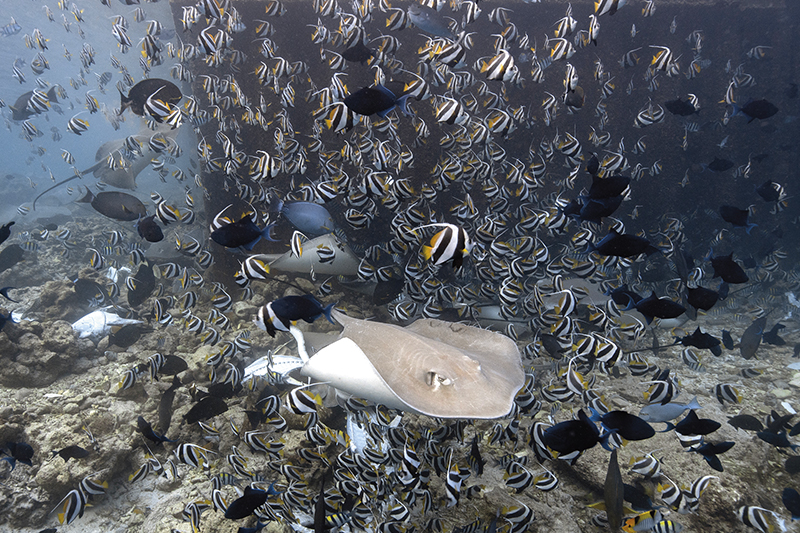 Two more shark-feeding spots serve as the highlight of trips like these. Feeding the spinner sharks is especially exciting since the creatures are as large as adult humans and make a spectacular sight as they hunt in shoals for food. Matching those thrills is the encounter with tiger sharks that awaits at Fuvahmulah Island. The tiger sharks were originally drawn to the pier by scraps thrown overboard by fishing trawlers, but nowadays diving companies invite divers with adventurous spirits to witness the feeding up close. Fuvahmulah also features an enormous underwater cliff famous for its strong currents and fearsome depths. Lucky divers may also get the experience of a lifetime in an encounter with rare marine creatures like the thresher shark and giant oceanic manta rays as well as whale sharks, tiger sharks, hammerhead sharks and the unique-looking sunfish, or Mola Mola, which can grow up to a tonne in weight.
Thanks to careful protection of Maldivian waters as a shark sanctuary, this underwater world remains pristine and perfectly preserved. Regular flights to the Maldives also bring these encounters with the deep blue closer and loveaboards within easy reach.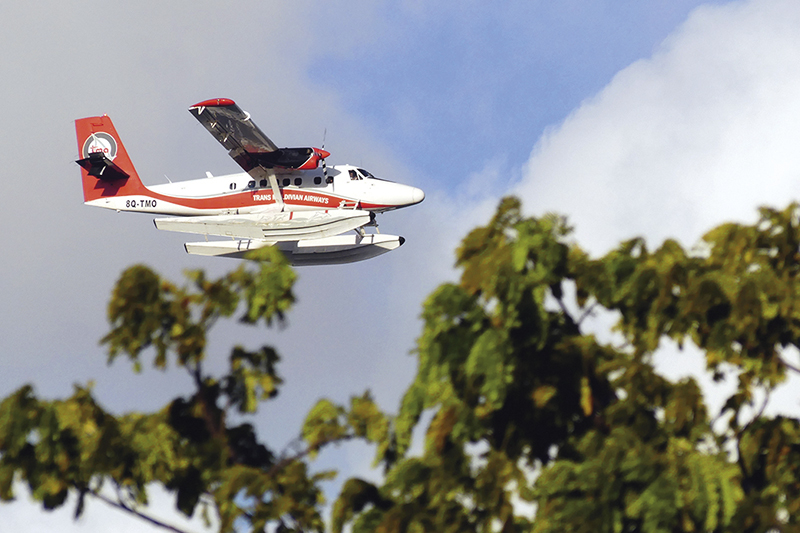 Exploring the Maldives Urban Side
The Maldives is about sun, sand and sea. The cliché remains indisputable.
Exploring the archipelago's urban lifestyle is nevertheless an eye opener for those who choose to take a break from worshipping its natural riches.
Malé, the capital, is one of the world's densest cities, and embraces three major islands – Malé, the commercial hub, Hulhulé where the international airport is located, and Hulhumalé, an artificial island linked to the airport via a causeway. Since the opening of the long-awaited Sinamalé Bridge in August 2018, Malé and Hulhulé are connected by road, while the traditional and efficient ferry services carry other commuters. Sinamalé is the Maldives' first and only inter-island bridge.
The airport island is the starting point for ferry, speedboat and seaplane services to hotels and resorts on other islands and atolls – the further an island, the higher the transfer fee.
Many tourists choose to stay in the city and make it a springboard for sightseeing excursions. The Malé, Hulhulé and Hulhumalé coastlines host a large number of hotels, from luxury to bed-and-breakfast style accommodations.
Most hotels or travel agencies in town arrange excursion trips or marine activities such as snorkelling, island hopping, parasailing and submarine tours. A Maafushi day visit, for example, takes you to snorkel, swim at a sandbank, watch undersea marine life, and take in a dolphin cruise with lunch on an island. A separate submarine tour to view underwater life normally takes about 40 minutes.
You can also book a one-day excursion at some of the fivestar international resorts, as a reasonably priced alternative to an all-inclusive hotel package. The trip to Club Med, for instance, includes speedboat transfers, unlimited alcoholic and non-alcoholic drinks, snorkelling (equipment included), lunch, kayaking, sailing, and access to its swimming pool, beach, lobby and gym.
Though extremely crowded, you can hardly get lost in Malé itself, which is built on a grid pattern consisting of narrow streets sandwiched by shops, restaurants, office buildings and apartment blocks. The waterfront esplanade itself is lined with restaurants and cafés.
For the atmosphere and ambience of a wet market, head to the Fish Market where the daily catch – e.g. red snapper, barracuda, grouper, yellowfin tuna – is fresh and available in massive quantities every day. If you have never seen a giant tuna, Malé Fish Market should not be skipped. The main fresh market in Malé is no less vibrant and colourful.
When your legs stiffen after a long walk, take a taxi to Sultan Park for a rest under big, shady trees before moving on to the President's Palace, the National Museum and the Old Friday Mosque. A city tour to these attractions can be arranged.
Bangkok Airways flies once daily to the Maldives from Bangkok.