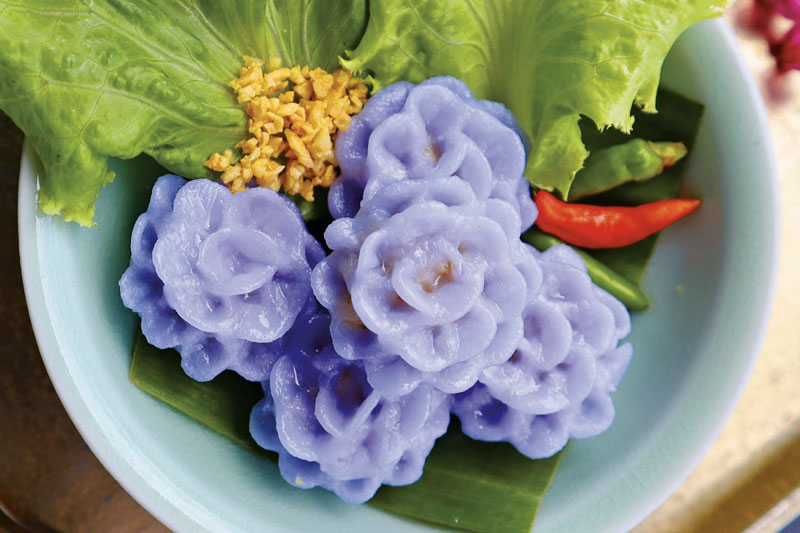 Meet the Queen of Thai Snacks
The exquisitely formed Chor Muang melts in the mouth to deliver majestic flavours
Delicately handcrafted Chor Muang, or steamed flower dumplings, are considered the crème de la crème of traditional Thai snacks. However, don't be deceived by their swet and enchanting appearance.
Known to previous generations as a sugary confection, Chor Muang now leans more to the savoury side and usually comes stuffed with a delectable mix of salty peanut or pork paste.
The snack can be traced back to the reign of King Rama II (1809-1824) when it appeared in the famous poem "Karp Hey Chom Khrueang Khao Waan" or the Serenade of Snacks and Sweets.
A hallmark of royal cuisine is the meticulous craftsmanship that graces each dish, and Chor Muang is no exception. It boasts a delicate, flower-shaped form that melts in the mouth to release surprisingly delicious flavours. This sensual artistry is what gives Chor Muang its prominent place among Thai culinary treasures.
To make Chor Muang, begin by stir-frying minced pork wtih the classic trio of Thai ingredients: coriander root, garlic, and pepper. Then season the mix with sugar, light soy sauce and salt. The dough should posses enough elasticity to shape Chor Muang's signature flower petals. To achieve this, mix half a cup of rice flour with a tablespoon eah of glutinous rice flour and tapioca flour, then knead it with butterfly pea water to create a delicate shade of violet. To shape the petals, use small tongs – or the special Chor Muang tweezers if you can find some – and place the filling in the flower. Then steam them over boiling water and brush with garlic oil. Serve the finished dumplings with lettuce, fresh coriander and fresh chillies.
This delightful snack is difficult to find as it takes hours to make and cannot be stored for long. Try your luck at upmarket Thai dessert outlets like Chada Tea Boutique on the first floor of CentralWorld mall in Bangkok (facebook.com/chadateaboutique).