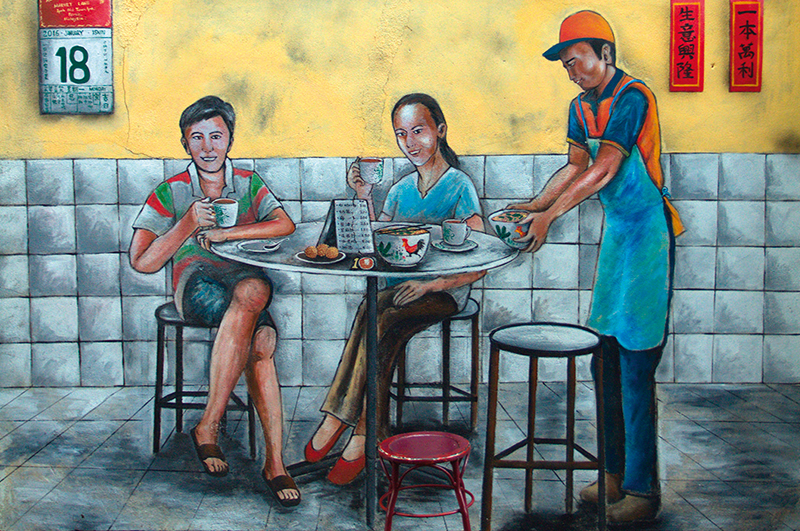 Tin Town Turns Tasty
Munching through Ipoh – Keith Mundy samples Malaysia's new destination for foodies.
Words & Photos: Keith Mundy
As you swing off the expressway into Ipoh's outskirts, massive limestone outcrops just skyward, soon to be joined by colossal hotel and office blocks that seem to have risen as man-made rivals.
But mercifully, Malaysia's third biggest city turns out to be an overwhelmingly low-rise place, an orderly grid pattern of two-storey shophouses, fronted by that civilised Malaysian speciality, the "five-foot way" – covered pavements that shelter you from rain and sunshine.
These orderly streets also lead you to an incredible number of eateries, both traditional and trendy, in what is gaining fame as Malaysia's new foodie destination, rivalling Penang and Kuala Lumpur. There's even a bible for it, "The Foodie's Guide to Ipoh's Best Eats", penned by the local paper's food writer.
A city roughly 700,000 located in the Kinta Valley on Malaysia's west coast, Ipoh mushroomed in the "tin rush" of late 19th and early 20th centuries. Chinese migrants flooded in to mine the grey-gold of the world's richest tin seams, and the village turned into a boomtown teeming with busy shophouses and lorded over by the mighty institutions of British imperialism.
But the boom went bust in the 1980s and now, instead of panning for tin in mountain streams, the main occupation here seems to be dipping noodles in steaming vats. In the countless restaurants that line the streets downtown, dexterous cooks dish up delicious meals in cuisines varying from Malay to Indian to Western, though Chinese food remains by far the most popular, but with a strong local tinge.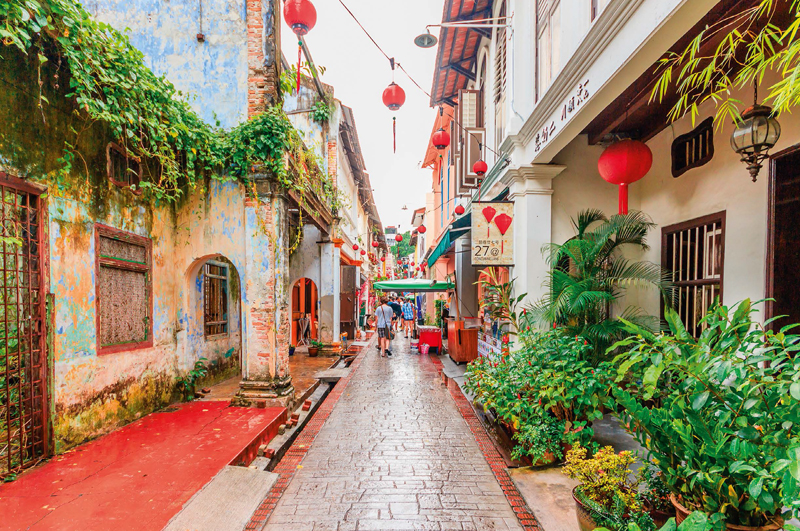 Bean Sprouts Chicken
Hungry urbanites from Kuala Lumpur and even Singapore flock in every day, with many almost immediately sitting down for a meal of Ipoh's signature dish, bean sprouts chicken – especially at Lou Wong's in the heart of the city. At a street-corner location emblazoned with huge yellow signs, Wong's open-sided eatery is usually packed with daytime diners, cooled by the whirring ceiling fans.
At night, the area is pedestrianised, and tables are set up outside, not just from Lou Wong's, but also from three or four other places selling ayam tauge, or nga choy kai as Chinese Malaysians – who make 30 per cent of the population – call it.
I seat myself at a marble-top table and am greeted by a red-capped waiter. Noting down my predictable order, he's back in a trice with a pile of curly white bean sprouts. As I contemplate the succulent mountain, the pièce de résistance arrives – shining white slices of poached chicken lapped by a soy sauce gravy and a bowl of hor fun, or flat rice noodles.
It's a simple combo that's served at nearly every Chinese noodle shop in Malaysia – but Ipoh's version takes the crown thanks to the bean sprouts. Crunchy, fresh and grown locally, they have a special texture and taste that people say is due to the local water.
Tai Yee Wai, the head waiter, explains: "Back in the 1950s, Lou Wong had a streetside stall selling chicken mixed with bean sprouts. He then decided to serve them separately in a proper restaurant. He was the first one to do that, and word soon got around that the food was very good.
"The secret's in our special recipe for sauce and oil," he says with a wink.
Ipoh-style ayam tauge or nga choy kai has become a magnet for foodies, with dozens of places now offering the delicacy. Ipohites claim their version is special because the sprouts are grown and cooked in water drawn from the limestone mountains that flank the city, and infused with the spirit of the amazing cave temples inside those mountains. Apparently, hard water with high mineral content makes for especially tasty food.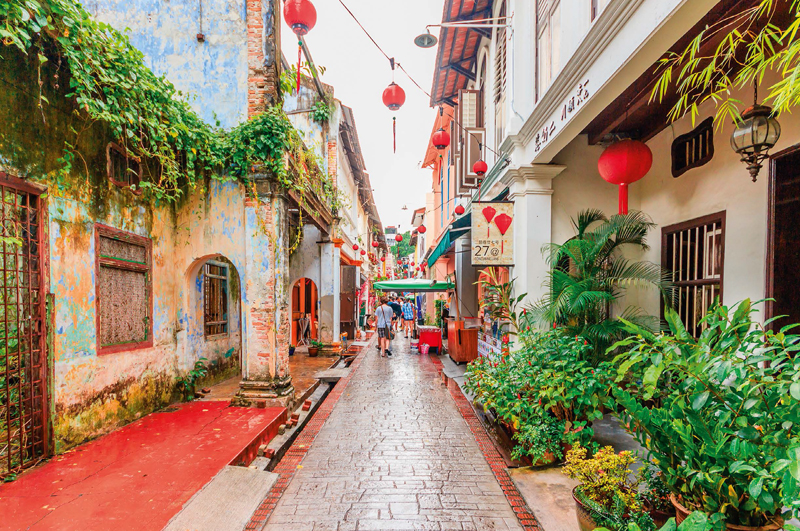 Old Town, New Town
Downtown Ipoh is divided into three distinct parts: the Old Town dating back to the 19th century that hugs a bend of the Kinta River; the New Town on the east bank where the city spread in the 20th century; and the "newer town", which developed further east.
Paradoxically, while the New Town is decidedly traditional in its food offerings, most of the trendy spots can be found in the Old Town, possibly because its eye-catching relics make it Ipoh's prettiest neighbourhood. The British left behind a legacy of white-stucco colonial architecture – the pomp of big banks and the city hall, the elegance of the planters' and miners' clubs. Top prize goes to the train station, a veritable palace in fabulous Edwardian baroque style, which now presides over a vast new plaza.
The Old Town's fashionable reputation was born a few years ago when two shophouses were knocked together to create the quirky café-restaurant Burps & Giggles, scattered with antiques and bold murals. it's now run by the founder's niece, Amanda Teoh, a lively young woman in granny glasses who explains: "When my aunt had the idea for this café, she remembered how her mother used to drink a lot of milk. She would burp and then break into giggles."
Burps & Giggles spawned a rash of retro cafés, most of them crammed in a narrow alley called Concubine Lane. Lined with little two-storey townhouses, this alley used to be where tin tycoons kept their mistresses, and bordellos welcomed colonial officials at night. Opium smoke spiced the air. Now, the 100-metre passage has been turned into a heritage row for tourists.
Yet, cheek-by-jowl with this tourist honeypot, Ipoh's old ways still thrive.
Just round the corner is a typical kedai kopitiam, an open-fronted noodle restaurant called Li Heng Fatt. At the counter you'll find a 50-ish Chinese Malaysian man busy boiling up and dishing out bowls of hor hee, which are whisked off by waitresses to throngs of after-work diners chatting across round tables. Called a uniquely "Ipoh thing" by the Ipoh Echo's food writer, hor hee noodles are a fish soup with small springy fish balls, thinly sliced fish cake, crunchy tung choy (a preserved vegetable) and sui kao (fish wonton), served up with bird's eye chillies in soy sauce. All topped off with scrumptious bean sprouts.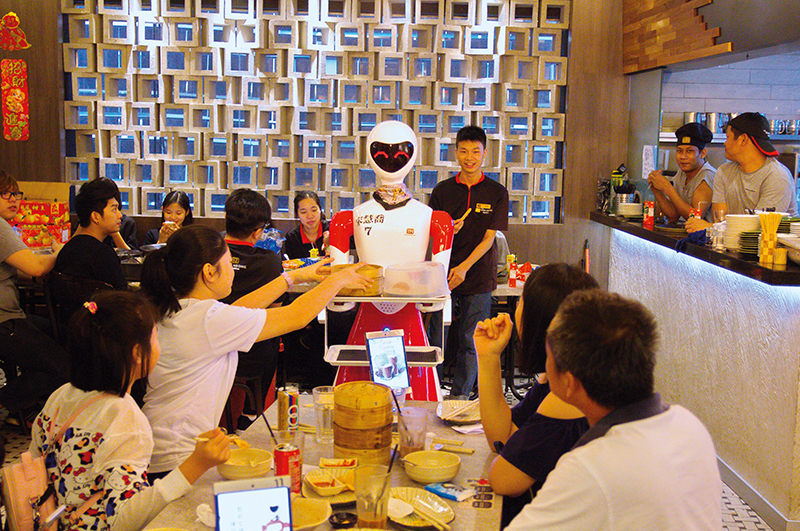 Robotic Service
On another day, I swing east to the "newer town" to try a gimmicky new restaurant named Nam Heong, set in a "lifestyle block" called Ipoh Soho – where diners are served by robots. I order from a computer tablet attached to the tabletop, and before long a metallic figure in a shiny floor-length "dress" glides up, much like a "Dalek" from the Doctor Who series.
Instead of trying to exterminate me, she serves up my order – a delicious bowl of dry curry mee, or strips of chicken and squares of por drenched in a sauce that is perfectly balanced between spice and fire, topped off with al dente mee noodles and a trio of fried wonton. Understandably, I get a black look when I thank the waitress before I tuck in.
This ranked as the tastiest dish I ate during my 10 days in Ipoh, even better than the spicy beef rendang I wolfed down at a Malay cafeteria or the sumptuous North Indian offerings at the Pakeeza restaurant.
The service may have been mechanical, but something tells me that bowl of curry mee wasn't made by a robot.