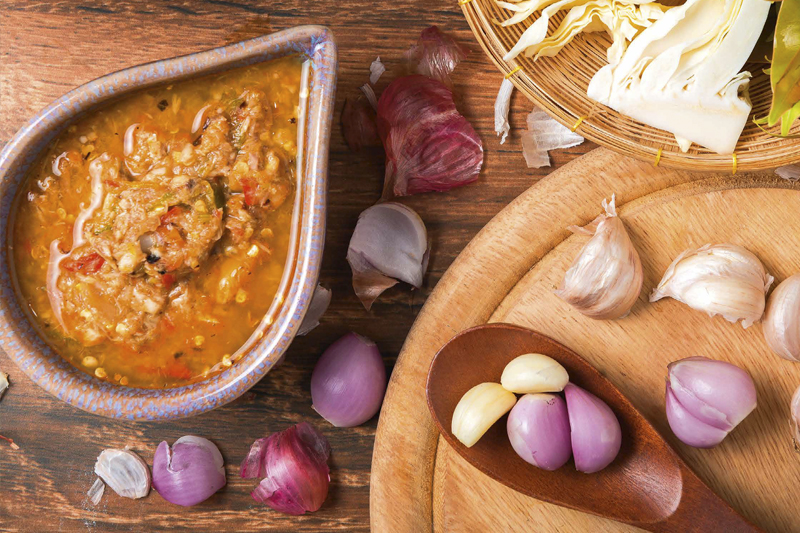 A Bold Bowl of Flavour
Oozing complex flavours, the simple-looking dip known as Nam Phrik is a masterpiece in disguise
Words: Sarita Urupongsa
Thai cuisine is strikingly bold, with a unique taste that both surprises and delights the senses.
Among its abundant recipes passed down from generation to generation, Nam Phrik or chilli-paste dip is a favourite choice when hungry stomachs begin to rumble.
There are many different varieties, but the classic dish found on many Thai dining tables is Nam Phrik Platoo, or chilli-paste dip with mackerel.
Generations of Thais have grown up with this recipe, served with steaming hot rice. Though the rich, dark red paste is easy and cheap to cook, most people buy it ready-made from shops and family-style Thai restaurants.
The secret to a well-crafted Nam Phrik Platoo is to pound and roast the ingredients to perfection, which can be measured by the aroma. Each ingredient, once pounded, releases its own unique flavour that mingles with its partners to create the delicious blend of Nam Phrik Platoo.
Begin by roasting Thai garlic, shallots and red chillies in a pan on low heat until their outer skin is nicely burned. Peel the garlic and shallots, then get out every Thai kitchen's must-have – a pestle and mortar. Pound the roasted ingredients together until they are well mixed. Add steamed short mackerel meat (beware of fish bones!) and crush and blend the mixture together, before seasoning with fish sauce, lime juice and a tablespoon or three of boiled water. and voilà! Your Nam Phrik Platoo is ready to serve!
Elevate your meal to a masterpiece by pairing the dip with fried short mackerel and steamed jasmine rice. Thais often tone down the bold flavour of Nam Phrik by eating it with assorted vegetables – fresh or boiled. Tada! A perfect meal!