Nha Trang: A City for All
Nha Trang, one of the latest beach destinations, gives you the limitless sea or infinity pools, a dose of culture or cutting loose at a party.
The many pleasures to be found on Vietnam's southern coast keep everyone – from small tots to moody teens, and especially adults – in sunny moods.
Words & Photos: Phoowadon Duangmee & Shutterstock
Think of Nha Trang, Vietnam's southern coastal town, and the image of Copacabana Beach in Brazil and the French Riviera crosses my mind. Envision a sweeping crescent-shaped beach that stretches out six kilometres from north to south with golden sand and turquoise water. A promenade with palm trees swaying, beachfront bars, rooftop clubs and liquor shops at every corner help to define the vibe of the Nha Trang resort town. Of course, you won't see Paris Hilton, Bruce Willis and A-list celebrities partying on yachts and raving at beach clubs in this part of Vietnam yet. Nha Trang, however, has become a serious contender for Southeast Asia's best beach party destination.
"Nobody can stand after two glasses of Secret Carre," a playful bartender at Skylight Rooftop Club warns me while setting fire to my cocktail. I take the bartender's advice with great care. No one watns to lose their shoes after having two cocktail drinks.
Perched 151 metres above Nha Trang Beach, Skylight Nha Trang is a perfect landing place if you want to get a sense of Nha Trang.
TK Nguyen, a thirty-something Vietnamese American, transformed a helipad on top of Havana – a hotel in the highest building in town – into a lighthouse with a Skydeck and Rooftop Beach Club. Nha Trang is best viewed from here.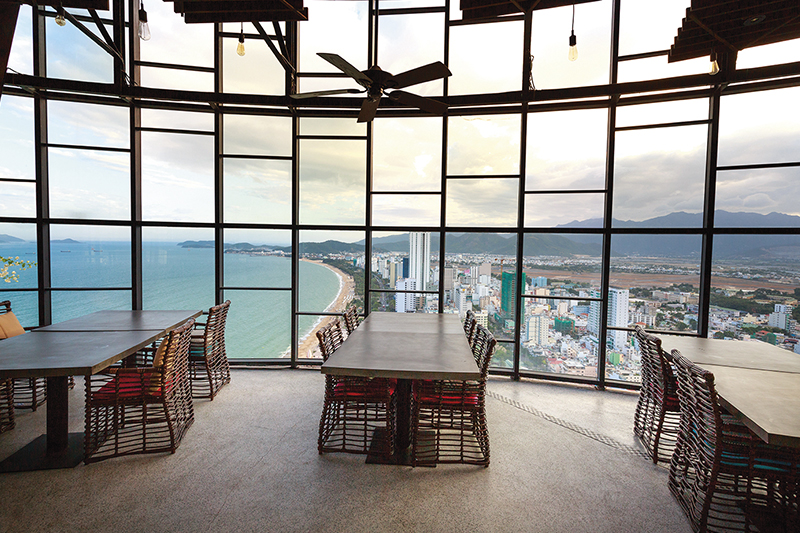 This resort town is ringed by a mountain range on the western side and dotted with tropical islands along the crescent beach on the east. You could see Nha Trang Cathedral on the hill, looming over Vietnamese households like a giant mother hen guarding her chicks. The best time to take the lift to Skylight Nha Trang is 30 minutes before the sunset. With a glass of Chardonnay or a bottle of local beer, you could watch it paint the sky red in style.
The impressive promenade dotted with small parks and sculpture gardens situates itself on the beach side, while small boutique shops, coffee bars and other cosmopolitan arrays cuddle on the town side. The beac is the place to go for a refreshing mid-afternoon dip, a leisurely stroll, or experience a flavourful meal at one of the many beachfront restaurants.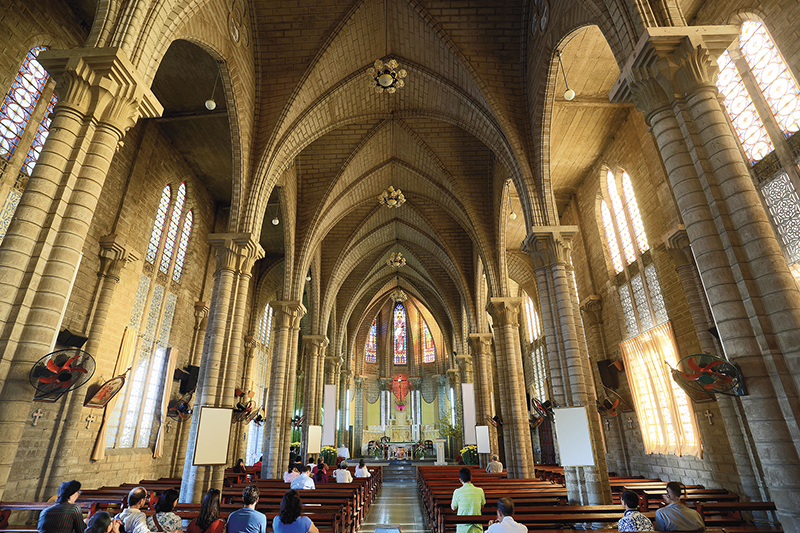 "The golden stretch of sand is long and the water is shallow, making Nha Trang an ideal beach for the family with small kids who enjoy wading in the water," says Suyash Kumar, director of Food & Beverage, Sheraton Nha Trang Hotel & Spa.
There is a lot to do in Nha Trang so the next day I start exploring Vietnam's coastal town.
History has it that Nha Trang was under the influence of the ancient Champa Kingdom – the Cham ethnic group who ruled this part from the 2nd to 15th centuries in what is today southern Vietnam.
Like many great kingdoms, Champa rose and fell. In the 15th century, the Champa kingdom surrendered to the Vietnamese, who marched from the north to eliminate their southern rival. What still stands and speaks as evidence of the Cham people is Po Nagar Cham Towers – their ancient temple.
A guidebook states that this ancient temple was built around the 7th Century for the iconic Hindu gods – Shiva, Parvati and Ganesha. The biggest temple is made for Parvati, the Mother Goddess, while the second largest one is dedicated to Shiva. The smallest one is a shrine of Ganesha, some of Shiva and Parvati.
However, I rather enjoyed my Vietnamese guide's version of the Hindu ruins.
"That's a 'woman' temple where women go to pray and ask for what they want," says my guide, pointing to a most massive stone tower, a Parvati Temple.
"Can I, a man, go inside and pray?" I ask. "Yes, you can. But I am not sure if you would get what you want. The goddess only answers to a woman's call," the guide replies. "Man Temple is on the left. You can ask for anything."
I head to where I belong, a "man" temple – which is dedicated not to an ordinary man – but to the God Shiva.
There is an ancient inscription engraved on the edge of the Shiva Temple entrance. Inside the temple, I find a broken lingam; dark and drained, in the small chamber. Usually wishes are made to phallic representations but no worshippers seem present. The answer might be waiting on the 'woman's' side – the Temple of the Goddess Parvati.
Above the entrance to the "Woman" Temple is a bas-relief showing two musicians flanking a dancing four-armed Shiva – who has one foot on the bull Nandin. Under the main chamber, there is a statue in black stone of the goddess Parvati with 10 arms. Some female devotees on their knees pray for what they have in mind – love, beauty, a rich husband, to name a few.
Three and a half kilometres south of the Cham Temple is Nha Trang Cathedral. Sitting on the hilltop, this Christian church was built in the early 20th century in the French Gothic style. It's worth visiting for the elegance of the building.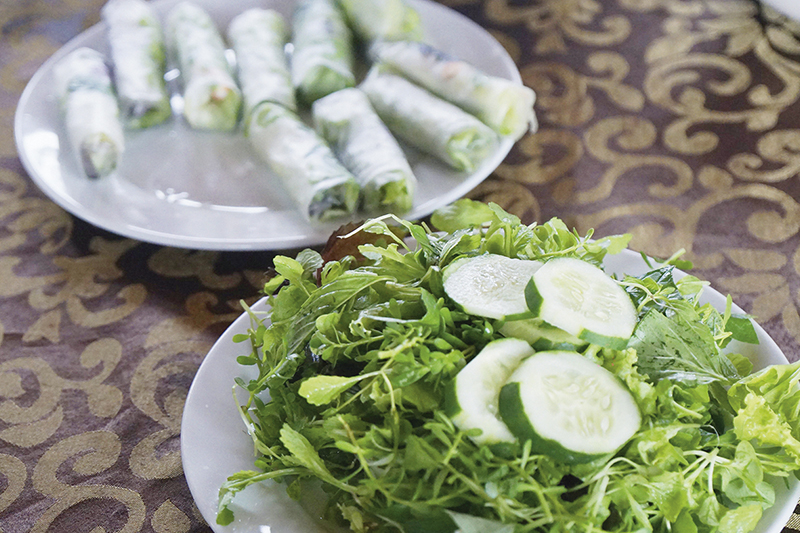 As noon approaches, I start to get hungry. Follow a recommendation from the locals, I arrive at Country Home Memento – a boutique resort 30 minutes outside Nha Trang. Located in the middle of rice paddies, the old villa with its shaded garden, small lodges in the stilt-house style and of course, people in conical hats define Country Home Memento. If you're like me, you will enjoy putting in filling and wrapping yourself a fresh spring roll, a classic in Vietnam, with cooked shrimp and fresh aromatic herbs.
Besides the cultural heritage and rustic countryside, Nha Trang is also an ideal destination for an action-packed holiday. Nha Trang is alive with islands, underwater wonders and a theme park. Close to Nha Trang, visitors can dive up to 50 feet (16 metres) down from the beach. The beautiful scenery yields interesting encounters with cuttlefish, octopus and lionfish. I didn't sail out to diving sties, but took a cable car to Vinpearl Land – a Disney-inspired theme park. With an all-inclusive Day Pass, the theme park offers a 'friends and family' day with various active choices – varying from the evolution ride and swing carousel to seeing a rose garden and a group or flamboyance of flamingos.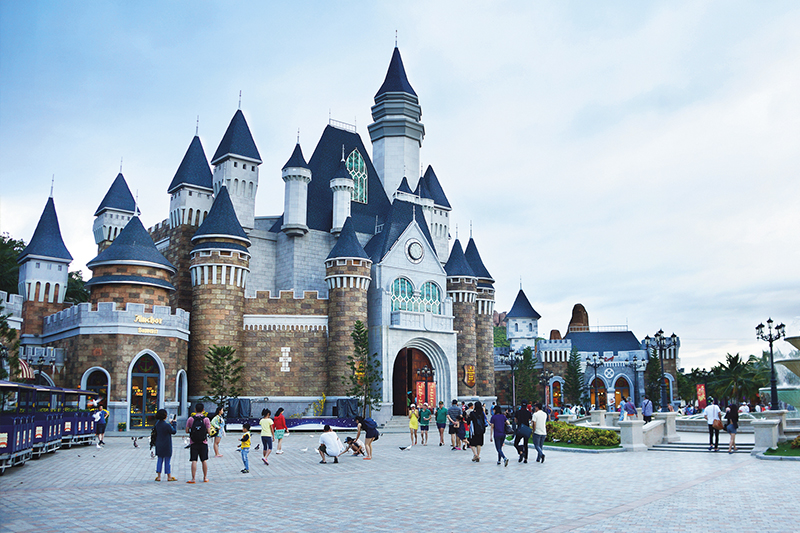 And then there is the issue of getting around and seeing something beyond the touristic town of Nha Trang. A fan of cold beer and surfing could make a journey to Bai Dai – or Long Beach – which is 30 minutes south of Nha Trang. Out there, with its long pristine beach and rough waters, you will find surfers on the beach with their toes planted firmly in the sand. Their eyes lock on the rolling waves, figuring which one is right for a ride. You can create your own spirit of surf culture by bobbing up and down on the surfboard or boogie board. On the northern part of the bay, check out Shack Vietnam to rent a board or learn to surf. This little shack with character also offers food and drinks and a potential beach party. Bai Dai is good for surfing from September to April.
"Nha Trang had been popular for the backpackers who looked for a pristine beach and promising party. The beach now starts to draw middle-income holidaymakers from overseas," says Cable Enstrom, a general manager of the Sailing Club.
The Sailing Club sits on a beautiful stretch of sand in Nha Trang Beach with a breath-taking view of the ocean and has been attracting a spunky crowd for decades. Days are spent relaxing either on or right by the beach with a refreshing cocktail. After sunset, it transforms into Nha Trang's best night club with inventive drinks like the Sailing Sexy Martini and Chateau de Pampelonne on the menu. The full moon parties are epic with DJs fueling the intensity with their club beats and party music.
"Back in 1994, the Sailing Club started off as a small bar by an Australian backpacker who loved Nha Trang Beach too much to leave it behind," Cable relates.
From a small bar with slabs of beer and a few tables, Sailing Club is now an iconic beach club. And when it comes to partying, you can trust they put on a show.