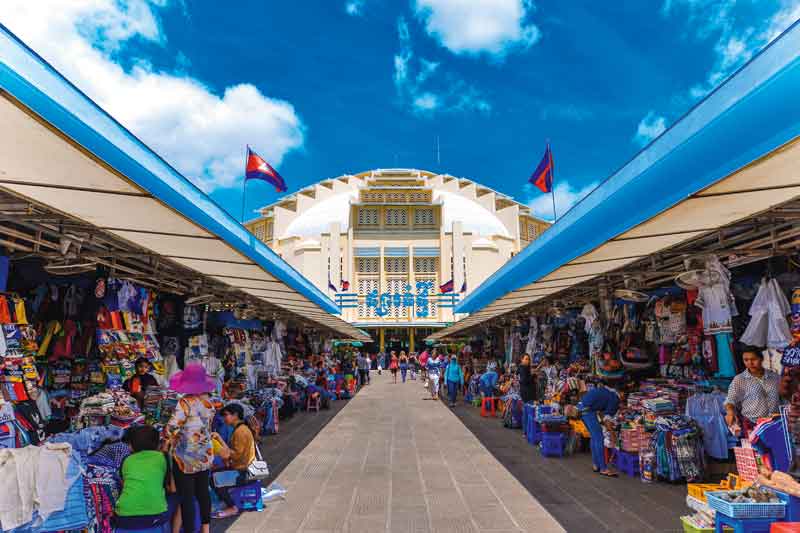 Phnom Penh: From Seedy Backwater to Glamorous Hotspot
Once a dusty riverside town known for its cheap thrills, Phnom Penh has cleaned up its act and is catching the eye of investors and entrepreneurs.
Words & Photos: Bruce Scott, Anutra U.
In 1998, Amit Gilboa wrote a shockingly scandalous book called "Off the Rails in Phnom Penh: Into the Dark Heart of Guns, Girls, and Ganja", which was basically a first-hand account of the life of expats, detailing the daily debauchery of his guesthouse mates. In the '90s, when Cambodia was mired in dire poverty and struggling to recover from the effects of a gruesome civil war, the general atmosphere in the country was one of unbridled lawlessness.
However, reading this classic piece of gonzo-journalism in the here and now underscores the unbelievable changes that have occurred over the past two decades. Gilboa and the characters in his book would find modern-day Phnom Penh almost unrecognisable, with its many new high-rise buildings, upscale shops, restaurants, and glamorous hotels. This incredible transformation is gradually turning the city into a prime tourist destination again.
For newcomers, Phnom Penh's highest concentration of tourist-friendly hotels, guesthouses, restaurants, bars and cafés can be found along Preah Sisowath Quay – a broad boulevard that overlooks the Tonle Sap River. It's a lively thoroughfare by day and by night, with a wide assortment of Khmer and Western restaurants and a bar on nearly every rooftop. One of the most popular riverside nightspots for the city's in-crowd is Oskar Bistro, near the corner of Street 110. Open since June 2015, it's a sister venue to the wildly popular Oskar Bistro in Bangkok, delivering the same urbanchic look and feel, along with great food and cocktails. Jeremie Sebag, the general manager at Oskar Bistro Bangkok, admits that given the success they've had in Thailand, it made sense to branch out.
"Two of Oskar's owners used to live in Phnom Penh," he explains. "They know the city well and felt Phnom Penh could use a concept like Oskar's. So far, the response has been amazing."
In November 2018, the same team took over the management of Mara, another popular Phnom Penh nightspot on Street 214.
"Phnom Penh is definitely getting more sophisticated, though it has still kept its unassuming vibe," says Sebag. "There's still good food, and good fun to be had. I usually have a nightcap at my friends Javier and Sopheap's bar Space Hair – a fun place – and when in town I always have a drink or two at the sky bar of the new Rosewood hotel. Breath-taking view!"
Another popular drinking district is Bassac Lane, a small alleyway running off Street 308. In late 2013, the first microbar opened here, and now the cluster of drink-and-dine spots numbers several dozen. Each bar is deliberately quirky and small, somewhat like the Golden Gai zone of Tokyo's Shinjuku district. To get a taste of it, stop by at Harry's Bar, enjoy an expertly made cocktail and take in the decadent, low-lit chinoiserie atmosphere.
Modern cafés are also abundant in the city, but standing out from the pack is Brown Coffee & Bakery, an ever-expanding chain that boasts an entirely local ownership. What began as a joint venture by a group of young Cambodian entrepreneurs has grown into a recognizable brand with 17 outlets in Phnom Penh and two in Siem Reap.
Of course, there's another side to Phnom Penh's incredible boom. The deep pockets funding many of the city's new construction projects belong to Chinese investors, and their presence is especially evident on Diamond Island (formally known as Koh Pich). This small island, which can be accessed via the bridge near the glittering NagaWorld Integrated Resort and Casino, is really just one massive development project. Consisting mainly of luxurious private residential enclaves, grand hotels and large shopping plazas, many of the buildings here have been meticulously designed to resemble neoclassical Parisian architecture. There's even an exact replica of Paris's famous Arc de Triomphe plunked awkwardly on the eastern side of the island.
For return visitors who prefer Phnom Penh the way it was, this unrelenting urban expansion may come as an unpleasant shock. Yet, change can also be good, and the introduction of PassApp a few years ago – a taxi-hailing app designed to work with the city's new fleet of modern, three-wheeled, bubble-shaped tuk tuks – makes getting around much easier and less stressful. No more haggling with jaded song thaew and cyclo drivers who are prone to overcharging.
Fortunately, for both new tourists and those returning, the heart of the old city is still a pedestrian-friendly zone with ample footpaths and an easily navigable grid pattern with numbered streets – a holdover from French colonial times. The city's historic landmarks also remain untouched, though admission fees at some have risen significantly. The Royal Palace, built in 1866, and the National Museum, housed in a beautifully ornate teak building dating back to the early 1900s and certainly worth a few moments of admiration, both now charge US$10.
In contrast, entrance to the hilltop Wat Phnom, erected by the city's founder Lady Penh in 1373 and believed to be its first pagoda, is still just a dollar. Of course, it costs nothing to stroll in and around the city's many Buddhist temples, including historic Wat Ounalom (which dates back to 1443) and the lush surroundings of the Wat Botum Park, which makes for a great gathering spot in the cool of the evening.
For shoppers, the teeming Phsar Thmei (Central Market), a huge Art Deco-style indoor market originally constructed in 1937, still overflows with stalls selling everything imaginable – authentic and fakes alike. There is also some great boutique shopping to be found on Oknha Chana Street, more commonly known as Street 240. This arty avenue is home to bookstores, cafés, clothing shops and trendy restaurants.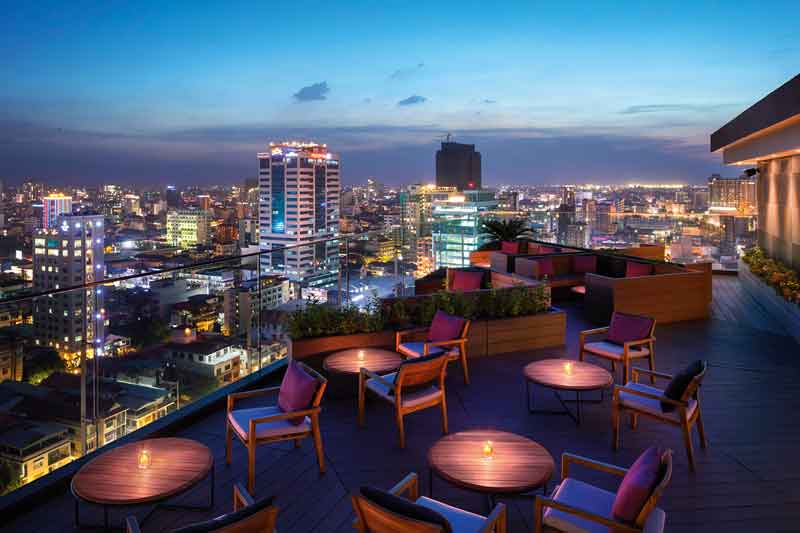 Courtyard by Marriott Phnom Penh
If you like everything under one roof, then the Courtyard by Marriott Phnom Penh is perfect. Located on Street 214 at Corner Street 63, in the heart of Phnom Penh, the hotel offers you cosiness in a modern setting, along with an exquisite traditional and international dining experience at their all-day restaurant, The Mekong. You can also scoot up to the 20th floor to enjoy signature drinks at the rooftop pool bar, The Deck, as you admire the city's magnificent view. courtyardphnompenh.com
Photo: Courtyard by Marriott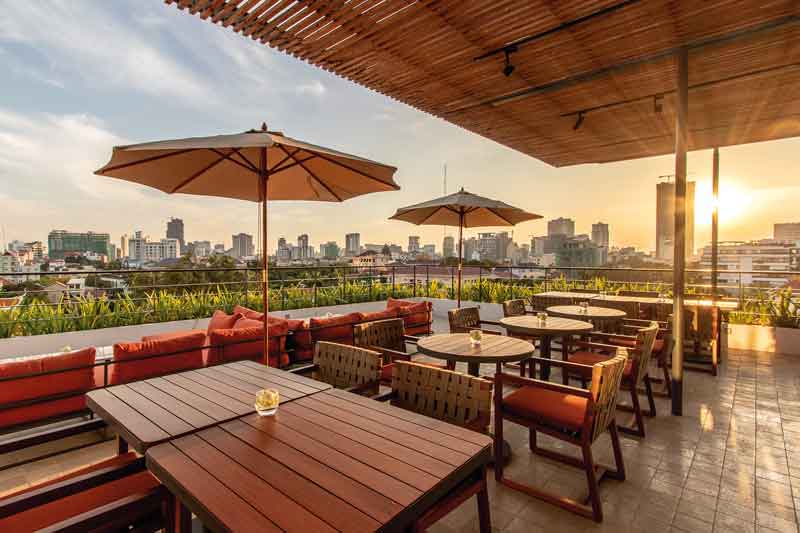 Jungle Addition
Open since December 2018, this property offers guests a choice of "two atmospheres" – the modern, five-storey Penh House, which has a spectacular rooftop bar and adjacent swimming pool, and the 18-room colonial-style Jungle Addition, enclosed in a restored period villa. penhhouse.asia
Photo: Penh House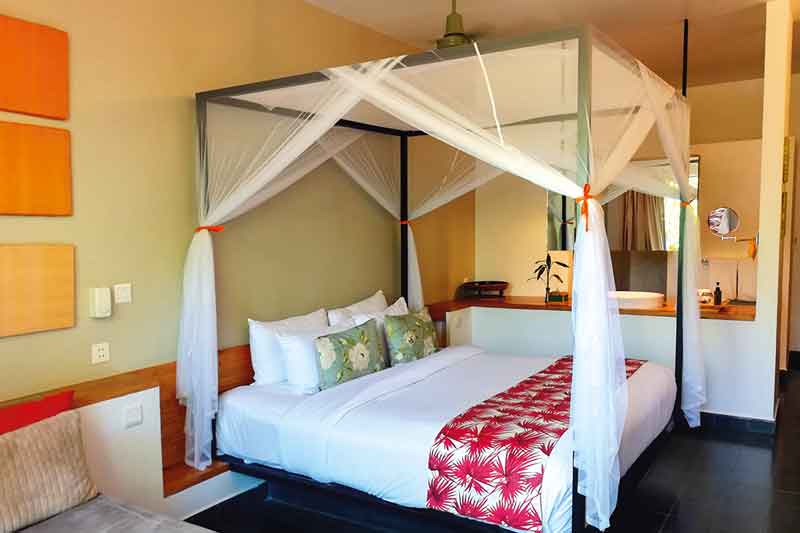 Plantation
On Street 184, close to the Royal Palace, is the beautifully designed 84-room Plantation urban resort, which includes cosy 35sqm Deluxe Pool View rooms (great for couples). The swimming pool here is gorgeous, and there's also a spa, fitness room and two restaurants on site. theplantation.asia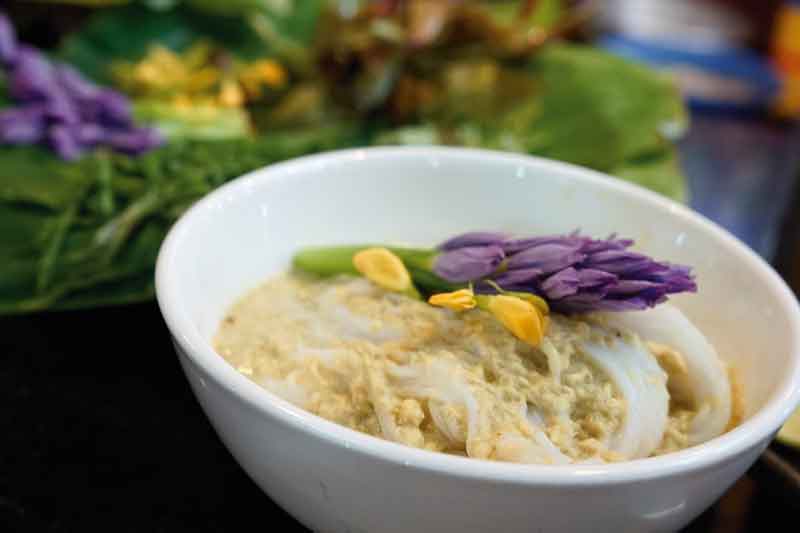 Battambong
If you are craving true Cambodian tastes and street food, head to the Russian Market (Phsar Tuol Tom Pong). Apart from being a great destination for clothes and souvenirs, you'll also find an array of delicacies popular among the locals, such as barbecued seafood, noodles, rice with chicken or pork, and freshly squeezed fruit juice to name a few. Amid the hustle-and-bustle, keep your eyes peeled for a stall named Battambong right in the middle of the market, which serves up bowls of Num Banh Chok – rice vermicelli topped with hot fish gravy and crisp raw vegetables including cucumber, banana blossom, water lily stems and fresh herbs. If you plan to try it out, make sure you're there before the market closes at 5pm.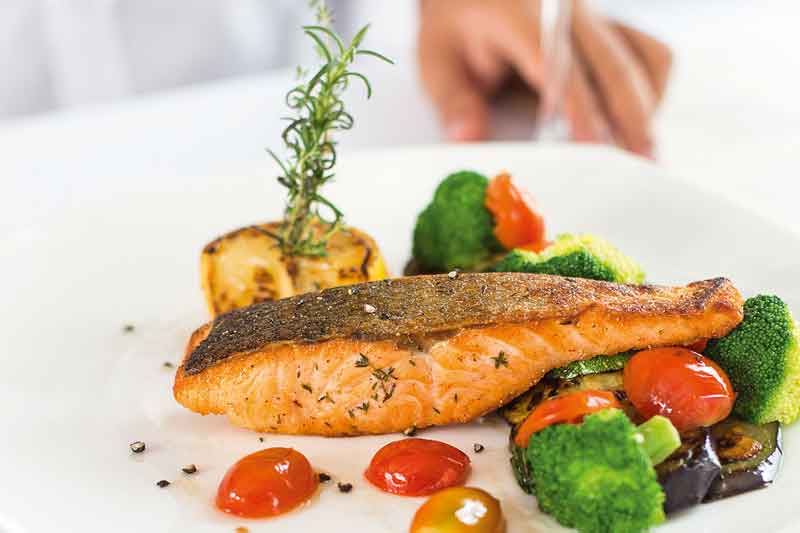 Khéma La Poste
Famous for its free-flow breakfast with a wide selection of Western or Cambodian petit déjeuner menus at $11.99++, the Khéma La Poste boutique eatery is a combination of French café, bakery and delicatessen. You can spend a relaxing afternoon relishing High Tea featuring sweet and savoury bites washed down with special brews chosen by experts at American tea company, Harney & Sons. Those looking for something more substantial can try Khéma's Lobster Bisque (lobster soup), Steak-frites Café de Paris, Salmon Panseared à l'unilatéral, before bringing the feast to an end with a plateful of classic profiteroles. This place is certainly a gourmand's delight. khema-restaurant.com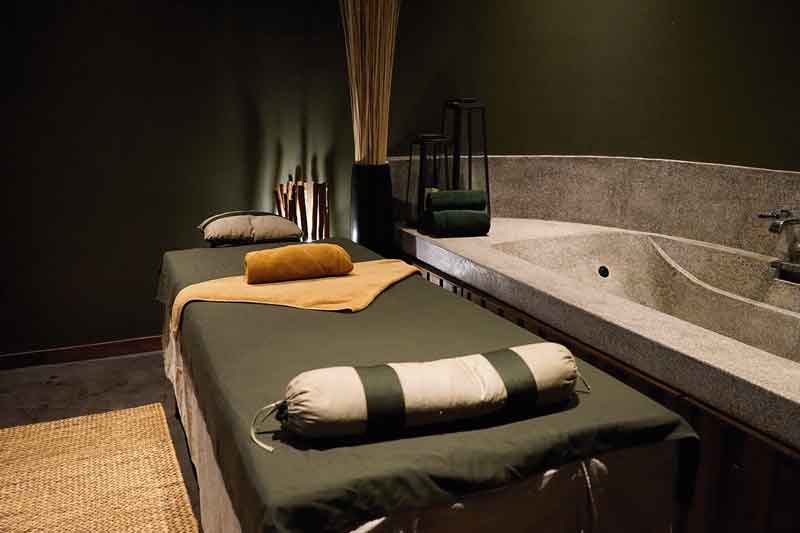 Bodia Spa
The Bodia Spa/Cambodia Cocoon has earned a reputation for traditional massage with magical powers of rejuvenation. The spa, which now has seven branches – three in Siem Reap and four in Phnom Penh – offers treatments ranging from full body massage to head and shoulders and foot reflexology, all set in modern treatment rooms. You can choose the traditional Bodia Classic –60 minutes of true relaxation and tension relief rendered by an experienced therapist using Bodia's own natural spa products – or opt for something more specialised such as the Charcoal Detox Body for full-body cleansing. Everybody needs an hour or two of sheer indulgence. bodia-spa.com