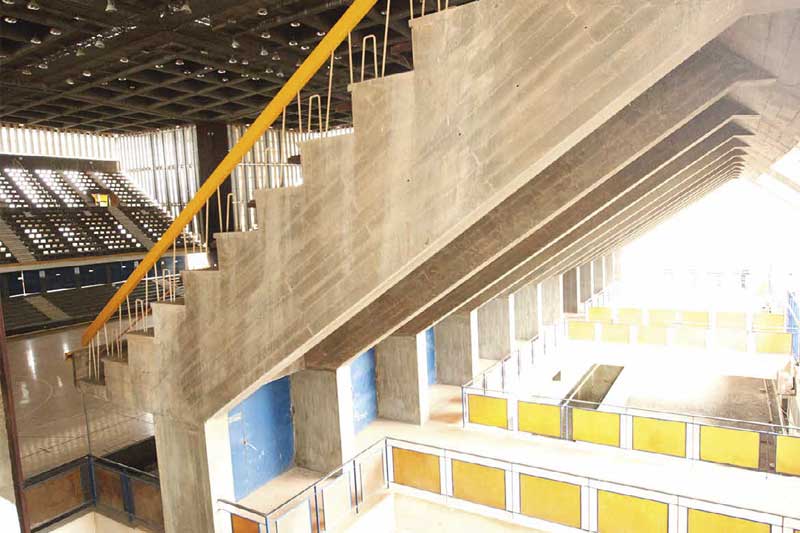 PHNOM PENH'S PRECIOUS ASSETS
Phnom Penh's glorious past can be seen through some of the still functioning buildings designed by the late Cambodian architect Vann Molyvann. If things had gone according to the original plans from decades ago, his influential urban designs would have defined Cambodia's architectural destiny.
Words Sirin P Wongpanit
Photos Permboon Wongpanit
The sun is coming down and the indoor stadium of the National Sports Complex in Phnom Penh is the best spot to watch the evening's gorgeous amber lights. Completed back in 1964, when Cambodia was pitching to host the Southeast Asian Peninsular Games, the Olympic Stadium, as it was once called, possesses clean and crisp lines of aluminium panels that run in parallel with the main balusters. While the original function of this fluting façade is to provide the needed cross-ventilation to the typically stuffy spaces in this stadium, these breathable walls also create stunning effervescent screen patterns that play along with the glimmering sunlight. I was told that the architect Vann Molyvann based the idea of this building on a mushroom – with a big core at the centre supporting the entire cantilevered structure – all symmetrical and with a stark modernist approach.
Not too long ago on a dusty tuk-tuk ride in and about Phnom Penh, I found myself inadvertently gawking at the beautiful landmark of Chaktomuk Conference Hall on the busy riverside strip, not too far from the Royal Palace. Vann Molyvann, as I learned again, designed this magnificent Phnom Penh icon, along with almost a hundred other public buildings back in the 1960s that could have shaped Cambodia into a stunning metropolis, if not for the tragic interruption by the Khmer Rouge that practically erased everything.
Some people told me I should not focus on the sad parts of Cambodia. Phnom Penh as we now know is a capital in big transition. Money is flowing in, with mega-constructions aplenty everywhere in the city. Snarling traffic with urban expansions are a big part of life here. Office workers and urban dwellers don to-go gourmet coffee cups as a daytime accessory. Those who visited Phnom Penh just decades ago would never recognise the city now. Its dust, prominent in memories, is almost completely gone. Roads are paved, buildings are getting higher, megamalls and condominium complexes are being built quite rapidly.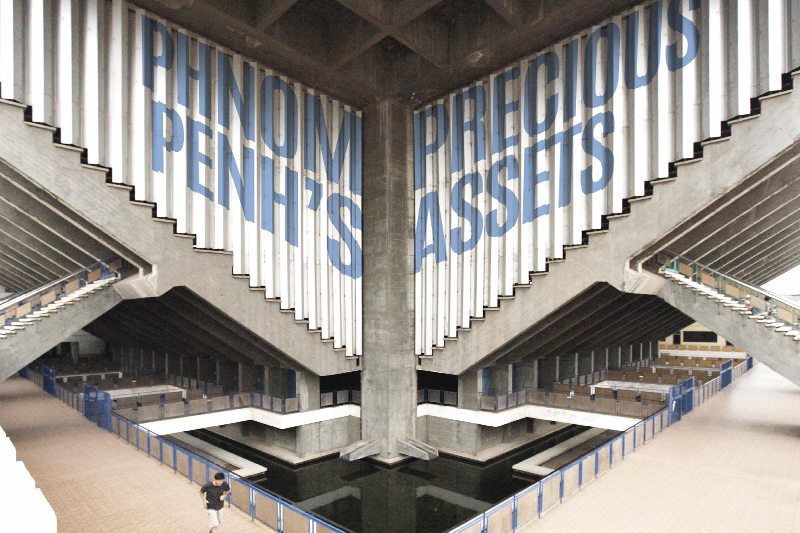 Phnom Penh is letting bygones be bygones. But then again, there are these gorgeous buildings of the 1960s – collectively referred to as 'New Khmer Architecture' – the ones that constructed Cambodian's Golden Age, that took place not too long ago.
At the Institute of Foreign Languages (IFL), another of Vann Molyvann's public building that is still standing and being used, students are reading with some of them engrossed in group studies. All of them are in oblivion to the great architect. Out of personal curiosity, I tried to quiz some of them, to see whether they know of my admired architect. Sadly, none had heard of his name, except for one geek whose job was to keep guard of the library – the round-shaped 'bibliothèque – whose iconic avant-garde design was based on Cambodian farmers' straw hats.