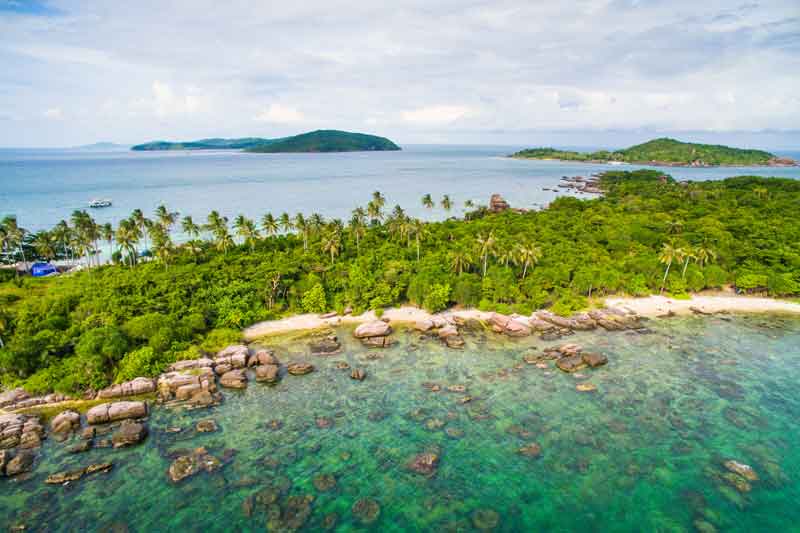 PHU QUOC ISLAND: A SPLIT FANTASY 
If you're looking to be spirited away to a pristine island and enjoy nature or just luxuriate in a resort, Phu Quoc is the latest travel gem with lots to offer. Rollicking expanse of beaches, indigenous farms tours and superb local seafood complete the picture.
Words: S.O. Knight 
Photos: Peter Cloonie
From the plane, the lush green of nature strikes you when descending into Phu Quoc – Vietnam's largest island just off the Gulf of Thailand. A hotspot for beach and outdoor lovers, Phu Quoc races toward transformation with fast-paced and mega-infrastructure construction. Paved roads are being built to connect the entire island, and five-star resorts settle on many stretches of its beautiful beaches. But more than half of Phu Quoc's unspoiled nature is strictly preserved as part of the Kien Giang Biosphere Reserve and protected with a UNESCO designation. This is an island with two worlds: one existing in its original greenness, and the other one possessing world-class beach-front accommodations.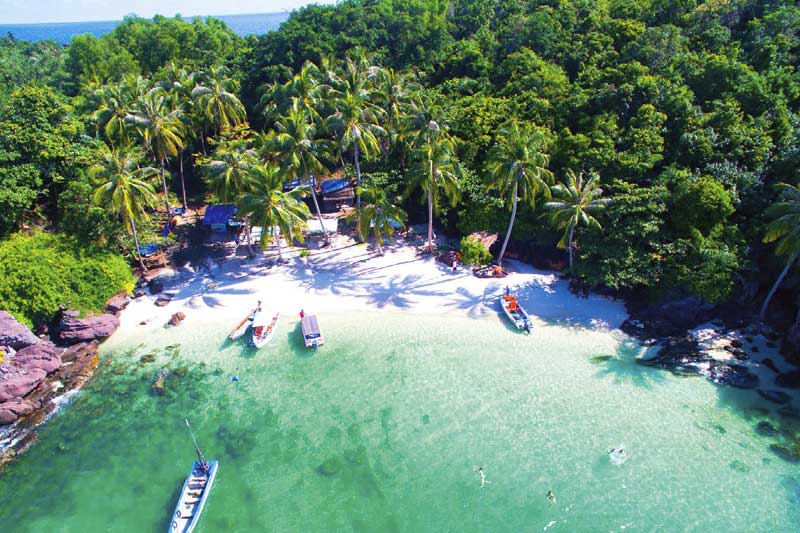 When the Vietnamese government listed Phu Quoc in its National Tourism Master Plan more than a dozen years ago, locals immediately felt the changes. Over the past five years, the island has changed very rapidly into quite a tourist destination. Most visitors to Vietnam need a visa to enter the country, but not if Phu Quoc is listed as one of the destinations. Huge investments are approved in a rapid manner to provide sound infrastructure on the island. Undersea high voltage 110kv cables have been laid to provide much-needed stability to the island's once sporadic electricity supplies. The island's water treatment plants – worth almost US$100 million – have been in the works. The new airport opened in 2012 and has already seen additional expansion. It will soon service larger aircrafts by the time the island expects to welcome as many as three million visitors per year by 2020.
We drove by Phu Quoc's old Duong Dong airport on our way to the famous pepper and bee farms up north. Construction has levelled out some areas into stretches of emptiness awaiting development, with roads leading to the airport used conveniently as shortcuts for locals going between the seaside and inland. The front end of the abandoned airstrip is now dotted with fruit trucks, mainly colourful 6-wheelers and open-through beds piled high with local fruits. Among them are durians ferried over from the Mekong Delta.
The newly-built roads mean easier passage from north to south of this big island of almost 600 square kilometres. Phu Quoc's developed centre is 'Duong Dong' which had early establishments of hotels, banks, and shops that used to cater backpackers. The river running through this area makes it a vibrant living port. Fishing has always been and still is Phu Quoc's main industry. The island is famed for its naturally aromatic and high-protein fish sauce, still largely made from tons of anchovies steeped at least for two years in salt and water. Of the island's many fish sauce factories, four cater to tours and tasting. Go to one of the local restaurants for Vietnamese spring rools – fresh or deep-fried-and dip it into their famous fish sauce.