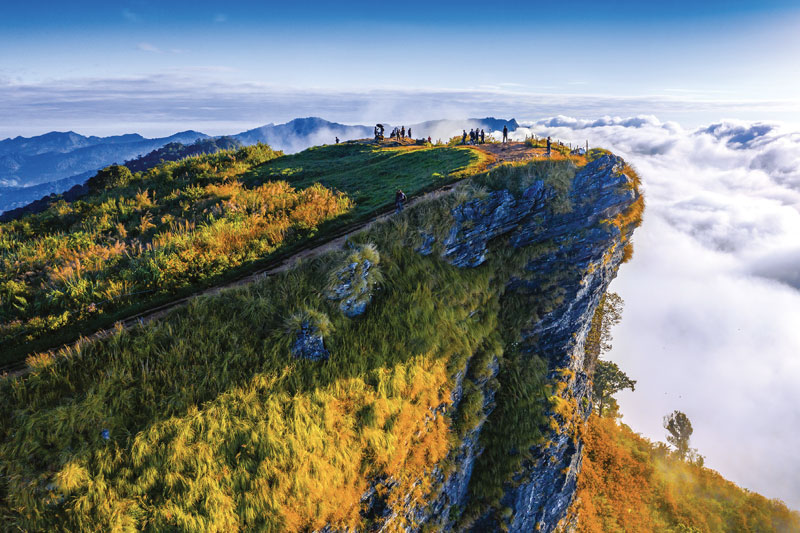 Sailing the Seas of Mist
There's no better way to start your day than witnessing the sun rise over mountains immersed in a cloud ocean
As the sun embrances the horizon in the early morning, its light journeys through a denser atmosphere, scattering blue wavelengths and painting the sky with serene red hues. The simple act of witnessing the sunrise can bring feelings of happiness and contribute to better sleep, thanks to the serotonin boost from its warming rays. 
However, for a peak solar experience, nothing beats watching the morning sun emerge above a sea of mist. The golden glow on cloud-wreathed valleys creates a sight to so magical and inspiring that it draws photographers from all around the world. Lovers, meanwhile, may simply sigh in wonder as they reflect on their deep bond of affection.
Whatever your mood, witnessing the misty landscape of orange-red hues is an incredibly soul-soothing way to start your day.
Here are the top six beauty spots in Thailand – both North and South – where you can experience this spectacular play of Earth, cloud and sun.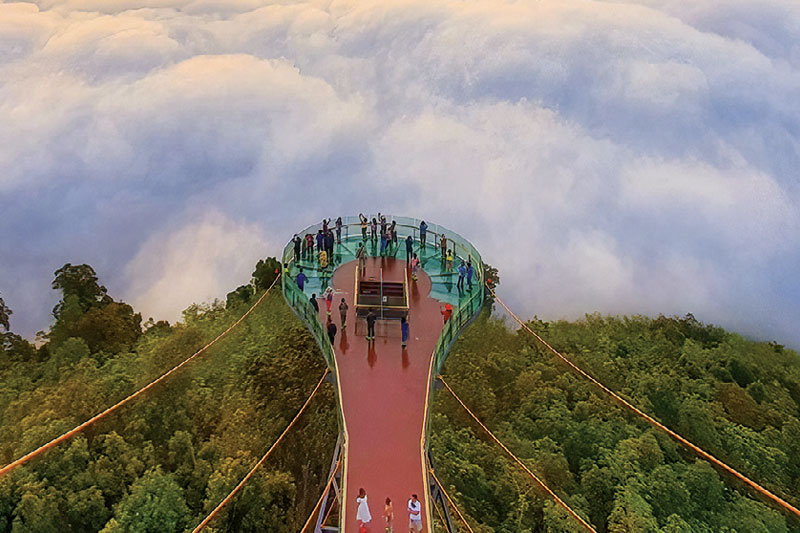 Skywalk Aiyerweng, Yala
Perched 621 metres above sea level on a peak in Thailand's southernmost district of Betong, the Skywalk Aiyerweng extends an impressive 63 metres into the abyss. Take the stairs up to this steel-framed observation for an exhilarating experience and a mesmerising view of the sun rising over the morning sea of mist. An elevator offers alternative access for visitors, including wheelchair users. The highlight is the walkway that stretches out over the precipice. As if the stunning sunrise and mountain views were not enough, the glass floor at the walkway's end adds an adrenaline-pumping view of the world beneath. Skywalk Aiyerweng delivers an epic sunrise over the sea of mist all year round, making it an unforgettable experience for all who venture here.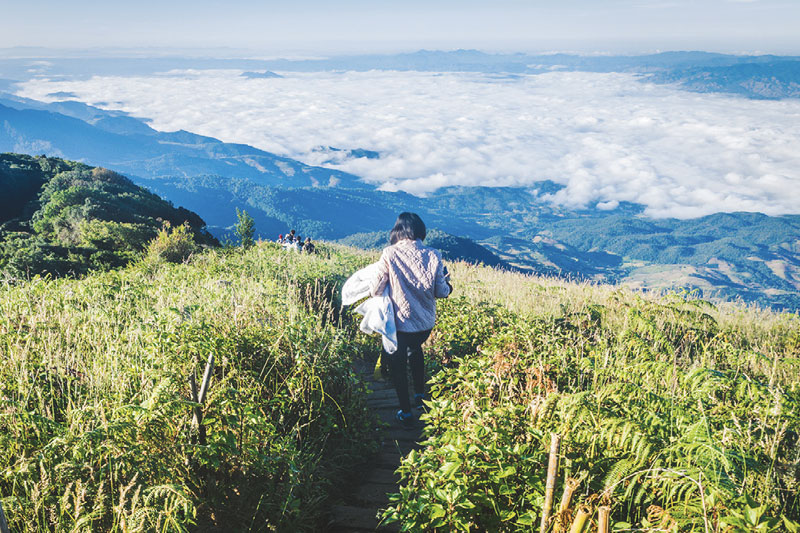 Kiew Mae Pan, Chiang Mai
Doi Inthanon, Thailand's tallest mountain, enchants visitors with the heavenly spectacle of the dawning sun gracefully emerging above a mist-clad valley and towering peaks. This sunrise viewpoint is part of the Kiew Mae Pan natural trail, a short and circular trek spanning 3 kilometres. With guiding done by the warm-hearted Hmong people, this trail is an attraction in its own right, offering visitors a journey through 21 stations, each revealing an exquisite panoramic vista and natural beauty. The highlight awaits at Station 9, where a platform offers awe-inspiring mountain views. Early risers and avid sun-gazers gather here between 6 and 7am to bask in the golden hour and witness day break over Thailand's highest mountain.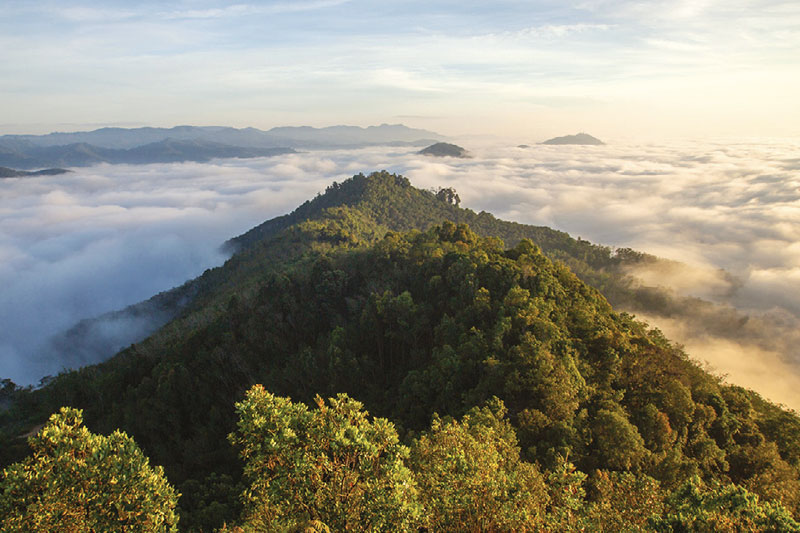 Gunung Silipat, Yala
Hidden in the pristine wilderness of Yala's Betong District, the Gunung Silipat Viewpoint is a well-kept secret. For a memorable day trip, start with a thrilling 4WD ride for 3 kilometres before embarking on a 2-kilometre trek through durian orchards, farmland, and lush rainforest. Seeking a more immersive experience? Spend the night at basecamp before hiking for 40 minutes uphill to the pinnacle of Gunung Silipat. Despite its humble elevation of 607 metres above sea level, Gunung Silipat – Malay for "triangular rock mountain" – offers surprisingly dramatic panoramic views. As the clock approaches 6am, you'll find yourself standing above an ethereal sea of clouds, witnessing the sun's gradual ascent transform the landscape while painting the sky above Thailand's southernmost district a mesmerising array of colours.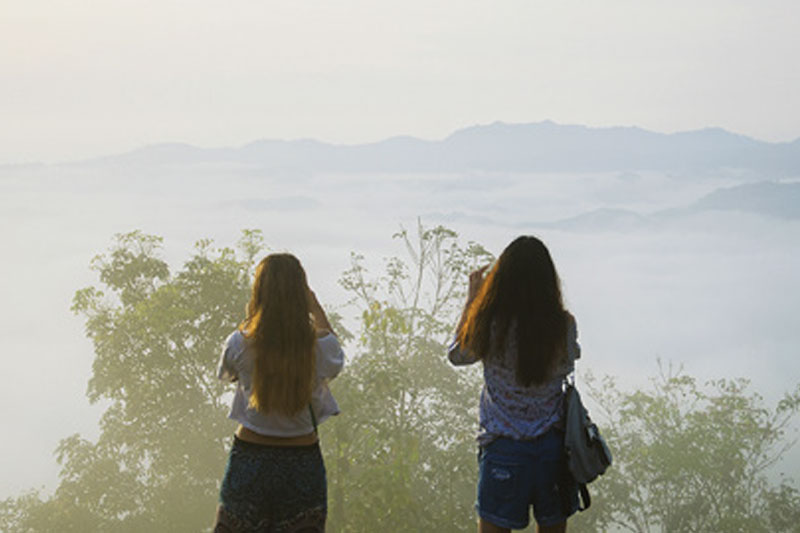 Khao Khai Nui, Phang Nga
Phang Nga is celebrated for its pristine tropical beaches on the Andaman Sea, yet a hidden gem lies just 20km north of Thai Mueang Beach. The Khao Khai Nui Viewpoint sits above a mountain valley blanketed by thick morning mist year-round. From the viewpoint, layers of mountain ranges emerge as dark silhouettes against the mist's canvas, bathed in the soft morning light. Cloud dances gracefully over the tropical forest, gently caressed by the wind, as Phang Nga unveils its natural beauty. To reach the viewpoint, begin your adventure in the village of Baan Thung Ma Phrao with an exhilarating 4WD ride to the summit.
Khao Khai Nui Viewpoint provides sweeping vistas of the Andaman Sea with the bonus of stunning sunsets and mesmerising stargazing. To soak up the atmosphere, consider renting a basic cabin from the hospitable locals. This way, you can wake up to million-dollar views and also indulge in the distinctive local activities, including peaceful mangrove boating, adventurous coastal foraging, and tranquil walks through tropical grasslands.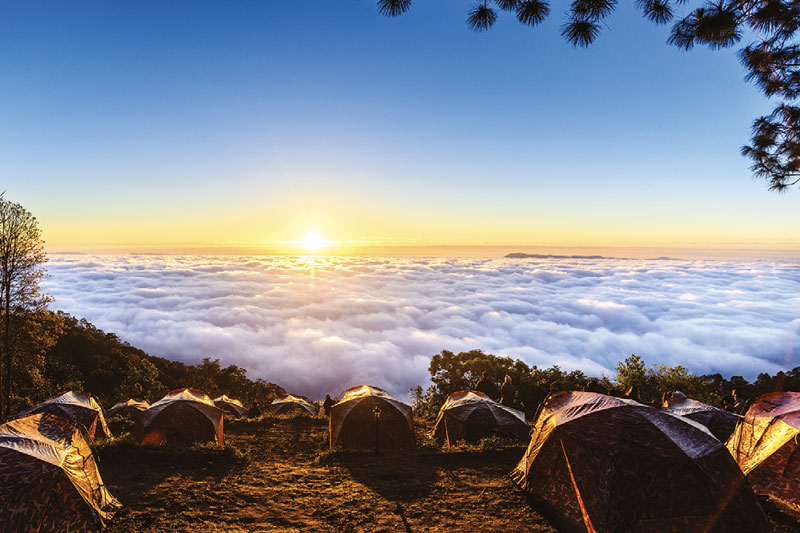 Doi Ang Khang, Chiang Mai
Hunkered among imposing mountains to the north of Chiang Mai, Doi Ang Khang valley is home to the Palong, Rahu, Tai, Akha, and Hor ethnic communities. With such rich ethnic diversity, the area has a storied history. Doi Ang Khang used to be cloaked with endless opium fields, until the transformative Royal Project was launched in 1969. The initiative replaced opium cultivation with flowers, fruits, vegetables, and tourism as new sources of income for the locals. Doi Ang Khang then quickly emerged as one of Thailand's top winter destinations. Travellers are drawn to this hill station for its breathtaking mountain vistas, vibrant hilltribe culture and, of course, the misty mountain sunrise. The Kiew Lom Viewpoint provides the perfect vantage point. Wrapped in history and folklore, Doi Ang Khang also offers visitors jaw-dropping views of the day being born amid a mountain cloudscape.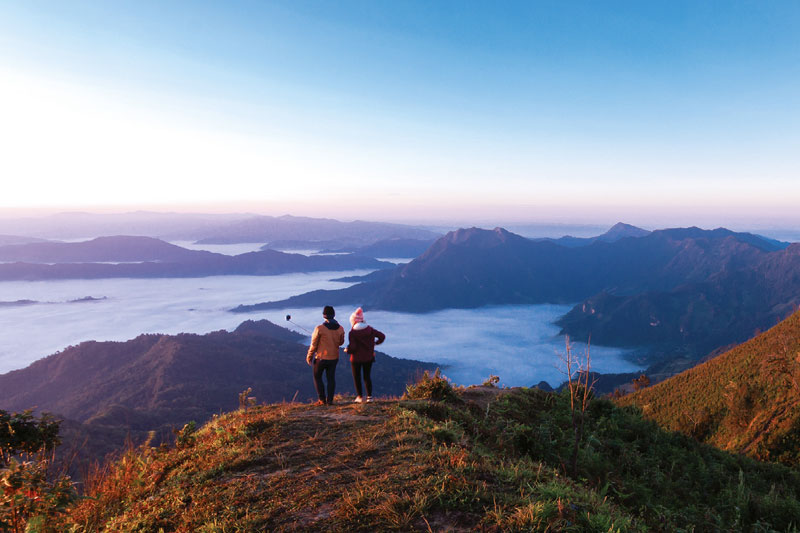 Phu Chi Fa, Chiang Rai
Phu Chi Fa, located in the northern province of Chiang Rai, is among the most remarkable spots in Thailand to witness mountains clad in oceans of mist. Ascending this peak on the Laos border before dawn is an experience that will last long in the memory. Perched on the clifftop, this location offers an exotic panoramic view as the morning sun bathes the high mountain ranges of Laos in glorious red hues. Sunrise at Phu Chi Fa is a bustling affair, drawing visitors even during midweek mornings. Landscape photographers and solitude-seekers may venture off the beaten path to discover serene spots like a sheer vertical cliff silhouetted against the rising sun and the mist-shrouded valley. If the epic sunrise at Phu Chi Fa leaves you yearning for more natural wonders, head 40km north to Doi Pha Tang for a breathtaking sunset over the Mekong River as it winds its way through the Lao mountain valleys.