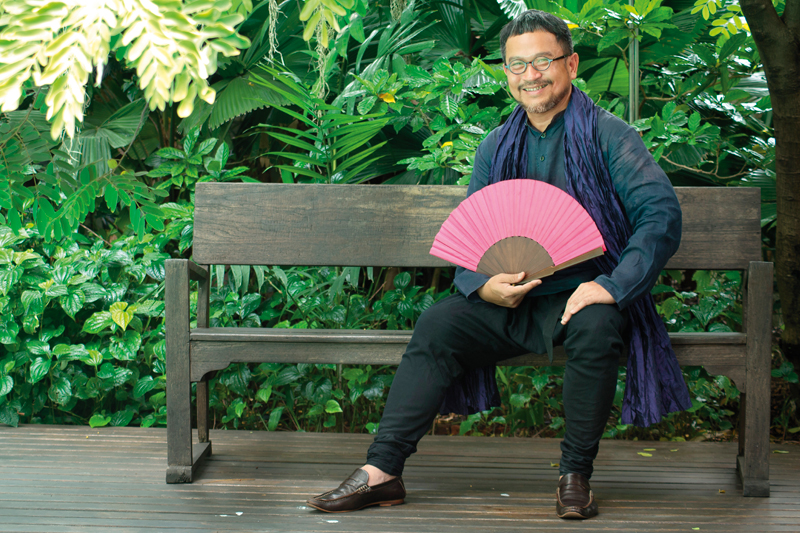 THE SWEET SCENT OF IMAGINATION 

Renown for his fascinating floral arrangements, Thailand's Sakul Intakul made an international name for himself harmonising delicate or vibrant flowers with humble materials like banana leaves or coconut husks; creating sublime and impactful works of art befitting royalty. Always on the move, Fah Thai manages to catch him in a eureka moment. 
Photos: Suwit Kittitien 
Words: Veena Thoopkrajae
Visiting the Museum of Floral Culture in the Sriyan area of Bangkok's Dusit district, you see the literal blossoming of its founder's long-cherished dream. Celebrated floral artist Sakul Intakul opened this one-of-a-kind museum on August 2012 to honour Her Majesty Queen Sirikit on her birthday. After five years, this museum and its flora have thrived off the creative ideas of its founder, evident in the abundance of shady trees and plants surrounding the two-story colonial-style mansion museum.
Sakul was in his casual "uniform", a minimally chic outfit made from naturally dyed Thai cotton. Before our talk began, he excused himself for about five minutes to continue work at a table that sits on the veranda. Fah Thai caught up with him on surely a very good day. Minutes before our conversation, he put together a significant theory about the art of flower arrangement. So ready to reveal the brat plan, he gave a shout of "hallelujah.'
"I'm so, so excited as I have just discovered a great theory to be used as a pillar for our school, (referring to his Tokyo-based floral institute). Isn't that amazing? Every work, every single work, comes down to the formation of dots, lines and simple shapes," he says while simultaneously drawing the dots, lines and shapes on a piece of paper. This discovery will certainly be an entry in some artist tome in the very near future.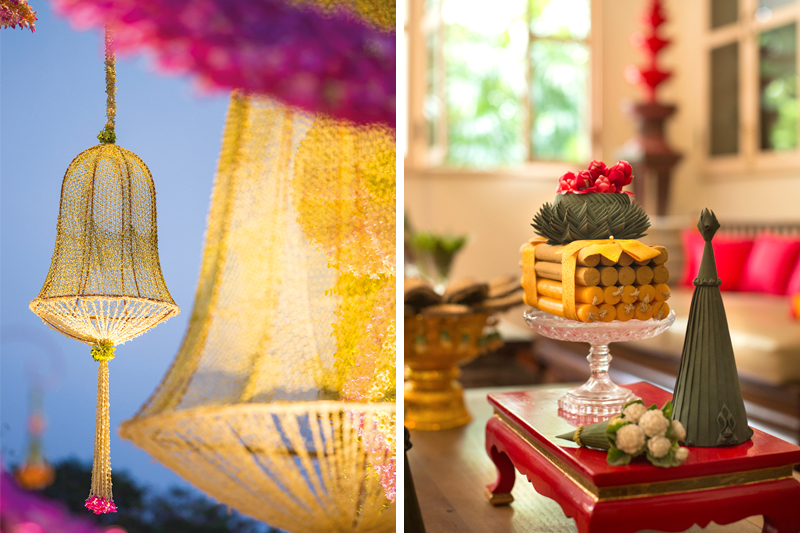 Sakul also believes in destiny. While working as an engineer in the Thaniya area of Bangkok's Silom Road (where most Japanese businesses settled over the decades), he spotted a sign for a Japanese floral design institute that was opening in his building. He took it as a hobby and finished the two-year course. From that point on, he started doing flower arrangements for friends and acquaintances. Later he got an opportunity to write for a women's magazine "Ploy Kaem Petch" about floral art. It landed him a chance to work for Her Majesty the Queen's visit to China in 2000. Since then, he has created projects for the Queen over the last 10 years, with Japan among the many destinations, therefore making the country the starting point for his school.
Now his career as a floral artist has flourished, with a  portfolio that includes the Mandarin Oriental in Bangkok, the Bulgari Hotel and Resorts in Bali, together with work at the Rome International Film Festival in Italy. The coffee table books he has penned, such as "Tropical Colors" and "Dok Mai Thai (The Flower Culture of Thailand)" are international best-sellers. It goes without saying that his books are popular among his students and floral art enthusiasts.
The renowned floral designer had just returned from Japan from yet another of his brainchild projects, the "Sakul Intakul International Institute of Floral Culture" (IIFC). The school launched in Tokyo earlier this year and he dreams of expanding the teaching programmes across Japan and elsewhere when the first batch of qualified teachers graduate. With more than three decades of creating installation arts from blooms, buds, petals, leaves and a structure, coupled with the long list of artwork in his CV, Sakul and his institute unsurprisingly gained attention from Japanese women rather quickly. "Some of them travelled from Hokkaido to apply for a class at IIFC," he said.