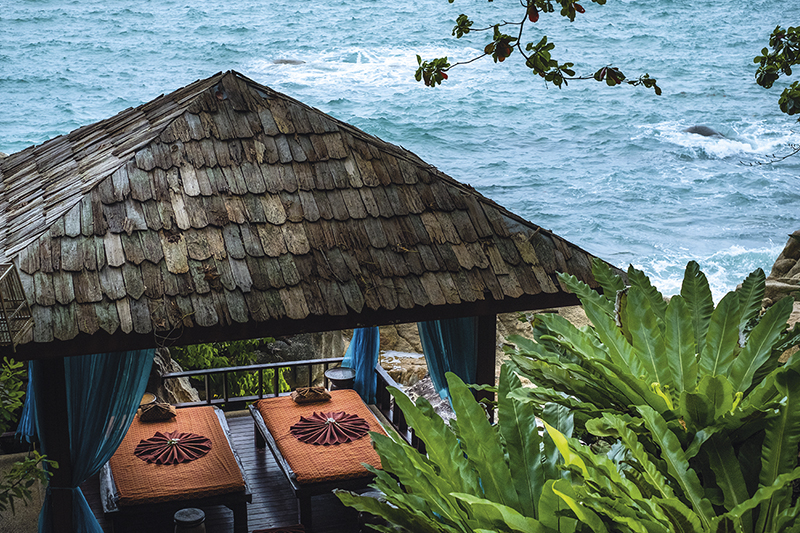 Tried: Salarom Spa at Baan Hin Sai
Words & Photos: Jeremie schatz
Most of us enjoy an occasional pampering session, and for many visitors to Thailand, one or more visits to the spa sits high on their list of must-dos. The kingdom is rightly famous for its gentle hospitality and its ancient tradition of massage. The Thai massage technique is believed to date back more than 2,500 years and is rooted in age-old healing philosophies.
If you've never had a Thai massage, prepare yourself for a different experience: instead of focusing on specific muscles, your masseur will pull, stretch, twist, rock and compress your body in different ways. Thai massage is available in every nook and cranny of the country, but if you're looking for spectacular views and top-notch service then few places can match Salarom Spa.
This spa is open to the elements, located where the mountains meet the sea at Baan Hin Sai resort. The resort features small bungalows that dot a picturesque hillside where boulders are embraced by the roots of towering trees.
The natural beauty of the surroundings creates a welcome refuge from the hustle and bustle of the outside world. All that's required of guests is to lie back in one of the open-air salas and listen to the sound of the waves crashing against the rocks. The sea breeze is refreshingly cool, but those who prefer things cooler can also opt for an airconditioned room.
Though Thai massage is a specialty, the spa also offers a host of other tantalising treatments. The oil massage is a favourite, especially when taken under the tall trees to the music of chirping birds and crashing waves, and the sweet aroma of coconut oil to calm your senses.
Also available are aromatherapy, foot reflexology and deep-tissue massage, as well as body scrubs, facial treatments and more. Check out the packages for combination treatments, too.
The name Salarom – derived from the Thai word "sala" for an open-air pavilion and "rom" which stands for serenity – nicely captures the blissful experience awaiting you at this spa.
Salarom Spa at Baan Hin Sai
5/5 Moo 3, Bo Phut, Koh Samui, Surat Thani,
+66 (0) 77 448 519
salaromspa.com