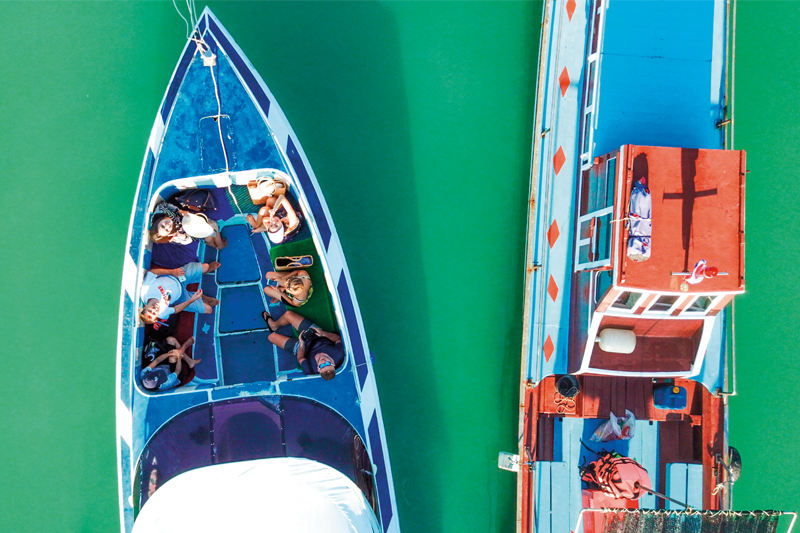 SAMUI TRIPPIN'
Spread across the dazzling turquoise waters of Samui Island are splendid escapes and unknown activities that's juat a hop and a skip away. Once you get there, exploration may simply require some rowing. For outdoor explorers, it's a virtual paradise of calm waters and cool breezes. Slip on a pair of spiffy sunglasses with polarised lens to protect against dazzling reflecting waters, and prep the sunblock for the ride to Samui enchantment.
Words: Sarita Urupongsa 
Photos: Oliver Gane, Anutra U.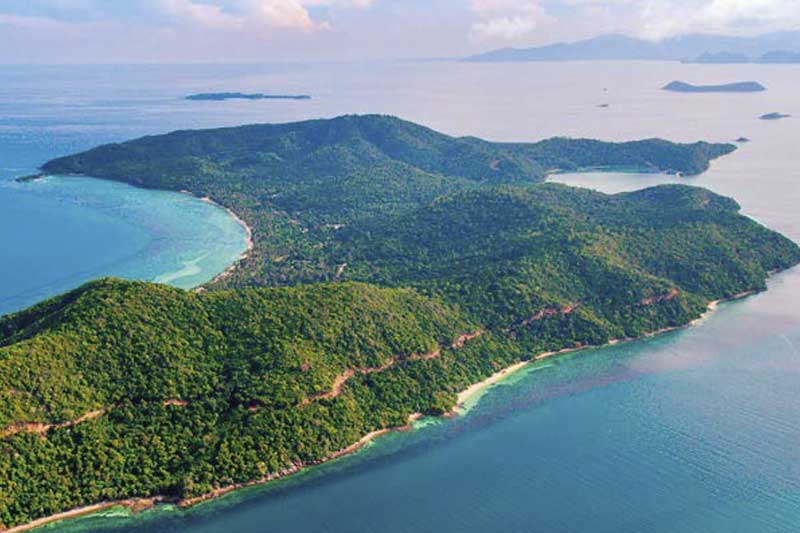 ISLANDS OF ADVENTURE 
Within the protected archipelago of 42 karst islands lie beaches surrounded by exuberant greenery and coconut palms trees, saltwater lakes with deep blue hues, and amazing dive spots skittering with marine life, particularly at Ang Thong National Marine Park. Paving a clear path to these wonders are numerous travel agencies with various itineraries from Samui to Ang Thong islands. A Typical journey starts in the morning with Koh Mae Koh as a highlight stop. You'll be mesmerised by a pristine emerald lake in the middle of a limestone mountain, forming a crater-like lagoon resulting from rock erosion and a cavern collapse. Climbing up 500 metres will reward you with an unparalleled panoramic view in the Gulf of Thailand. An amazing experience kayaking and snorkelling around Koh Tai Plao and other bizarre-looking islets from the north to the south of the national park. Most day trips include lunch, soft drinks, snorkelling gear and life vests. 45 minutes by speedboat from Nathon Pier to Ang Thong National Marine Park. More information at lomprayah.com; +66 (0) 77 420 121
As a further treat, camping and staying overnight on Koh Wua Talap is an option. A tent, light torch, a sleeping bag and mosquito net are available for rent. In the morning, you'll have sightings of black tip reef sharks and rays, with a small shing village within view. Contact Ang Thong National Marine Park at +66 (0) 77 286 025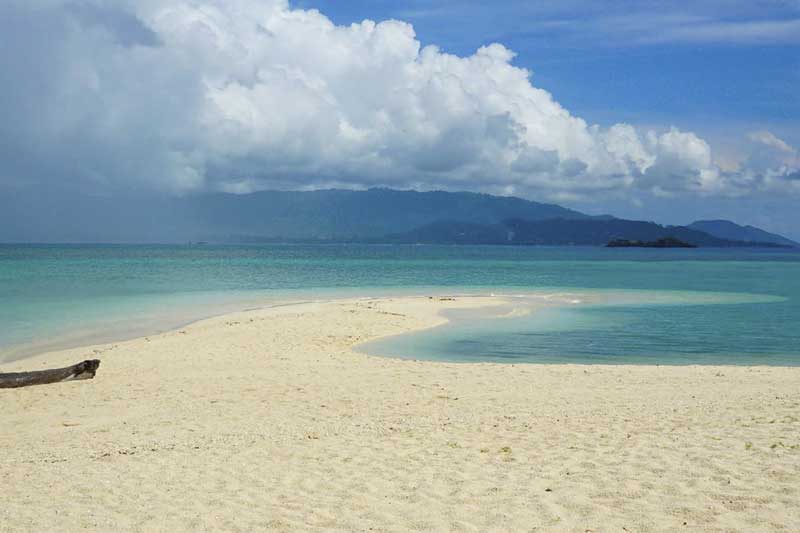 BEACH DELIGHT
Koh Mudsum, a hidden gem, displays itself out in a glorious 43-rai cape. Private sunbathing and romantic moments serve their best purpose here. On the other side of the island, catch the sheen of granite pebbles that wash up on shore for more island ambience.
Travel to Koh Taen around noon and find delight in the colourful fish and corals before trekking through the natural trails and mangrove forests, absorbing the cultures of the local islanders along the way. End your perfect night during sunset with savoury barbecue and dinner set menus. Take a speedboat (10 minutes) or long-tail boat (15 minutes) from Thong Krut pier to Koh Mudsum. Book the trip at Angthong Sea Tour; +66 (0) 77 960 665, +66 (0) 81 894 0581 or email: ang.thongseatour@hotmail.com