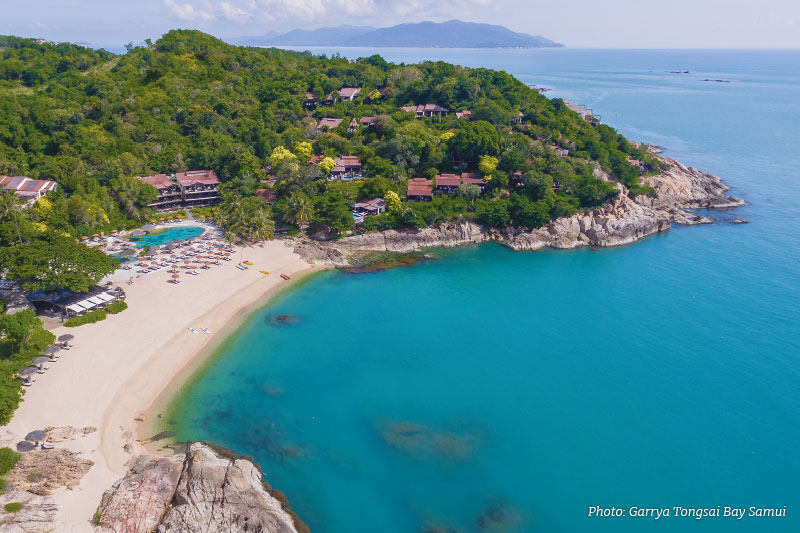 Samui's Visionary Eco-Tourism Leaders 
Ten havens of sustainability are changing the face of island life by prioritising green practices in their hospitality operations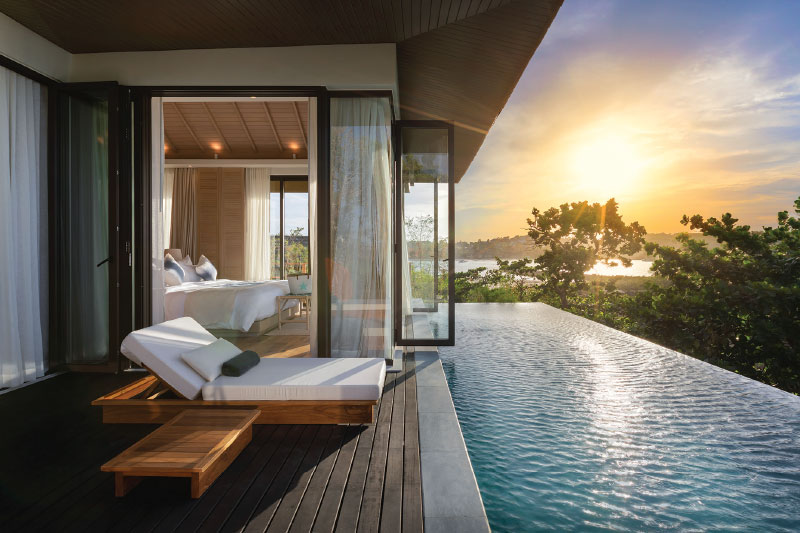 Serene, Sustainable Splendor 
Cape Fahn Hotel
Cape Fahn Hotel, located on the private island of Koh Fahn just off Samui, offers a unique blend of splendour, seclusion, serenity and sustainability.
As a Green Hotel Award recipient and participant in the UNESCO Sustainable Travel Pledge, the hotel is dedicated to eco-friendly initiatives to reduce its carbon footprint. These include a vibrant herb garden, sustainable packaging, minimising food waste, energy-saving keycards, rigorous recycling, harnessing rainwater, and technology to purify wastewater for the gardens.
Cape Fahn Hotel provides nesting materials to ensure native birds have sustainable habitats and only serves line- caught fish for sustainable fishing. They also prioritise local employment to help the local economy. www.capefahnhotel.com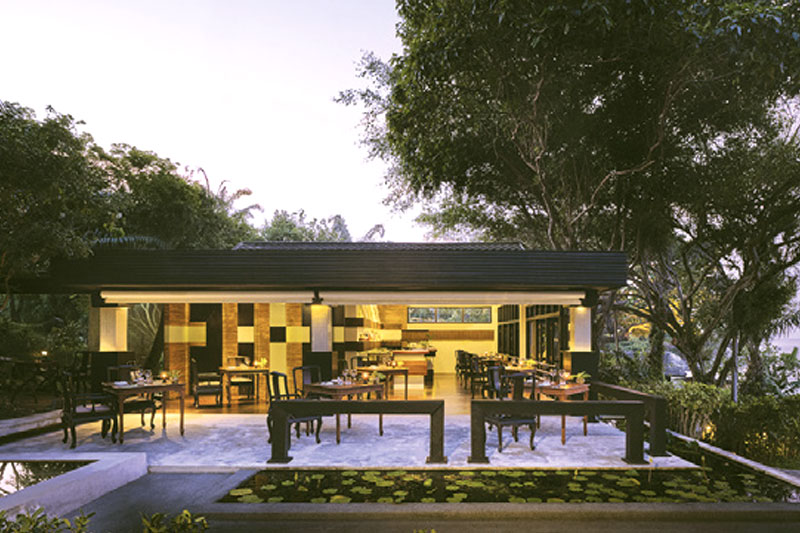 In Pursuit of Perfection 
Garrya Tongsai Bay Samui 
More than just a fleeting trend, sustainability is ingrained in the way of life at Garrya Tongsai Bay Samui. The resort was built to minimise disruption to nature, all under the watchful eye of its founder, Akorn Hoontrakul. Today, his son and daughter-in-law, Thanakorn and Saisiri Hoontrakul, keep that mission thriving through their green projects.
These cover plant protection, tree planting, reduced chemical usage, a ban on single-use plastics, zero-waste kitchen, organic garden, responsible water management, and the specialised role of Sustainability Manager. The resort now boasts over 170 varieties of trees and over 80 species of birds.
The restaurant, EVOL, champions sustainable dining, with 40% of produce sourced from local farmers and 20% grown on the premises. Garrya also supports the Dog and Cat Rescue Samui Foundation – a "paw"fect sustainability leader! www.garrya.com/en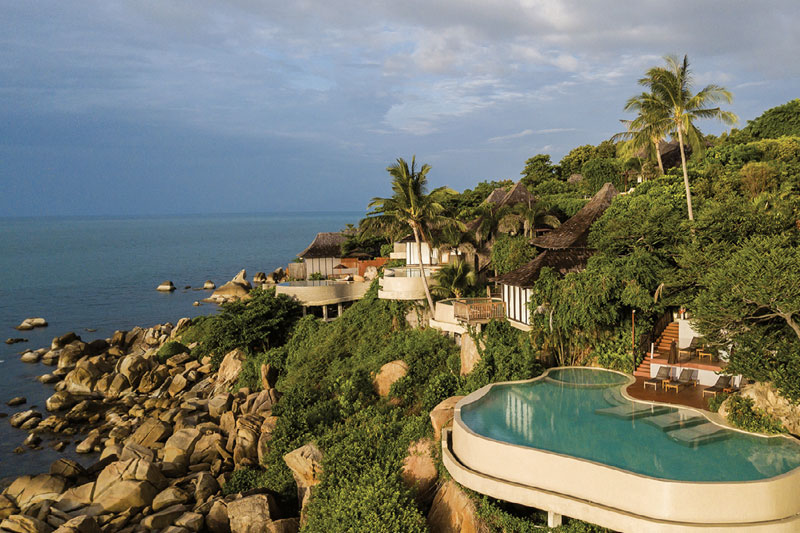 Green at the Core 
Silavadee Pool Spa Resort
Silavadee Pool Spa Resort is marking its 15th anniversary with "New Chapters of Luxury – S.E.A", representing sustainability, experience and activity.
Eco-luxury for this resort is not just a dream, but a reality it is committed to achieving. The venue's three new core values act as a guiding compass, both for the guests and dedicated staff, in fostering responsible travel. Their operational efforts include implementing a keycard-controlled system to minimise energy consumption in the rooms, prioritising water conservation, rigorous waste recycling and reduction practices, and embracing green chemistry products to eliminate toxic cleaning agents.
On a boozier note, Silavadee invites guests to savour the experience of their Signature Sustainable Cocktails, which take a farm-to-glass approach and minimise waste. Just like the cooking, the bar highlights the use of locally sourced, sustainable, and seasonally grown herbs and fruits from Samui, ensuring that your enjoyment aligns with their commitment to a greener future. www.silavadeeresort.com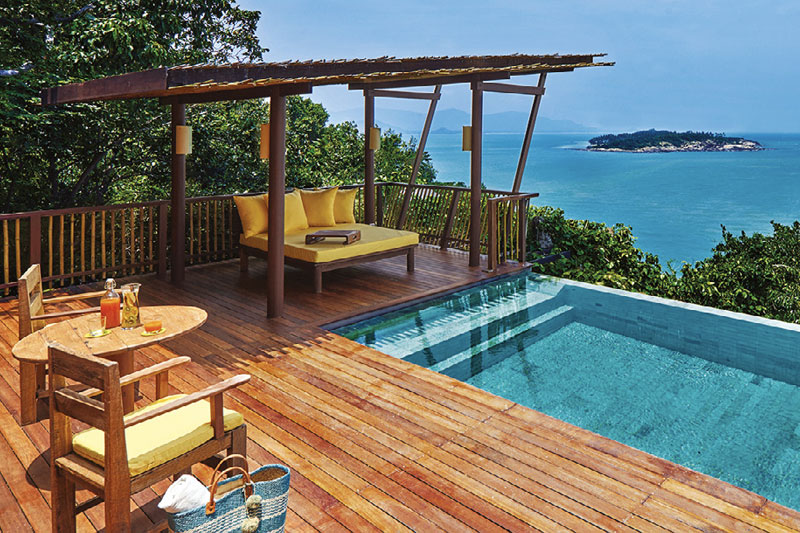 Sixth Sense of Sustainability 
Six Senses Samui
Green vacations become a reality at Six Senses Samui, thanks to sustainability initiatives including plastic-reduction campaigns, waste-management endeavours, sustainable farming practices and precision air conditioning (PAC) systems.
The 67 elegant villas of this seafront tropical paradise are kept cool and comfortable with energy-efficient PAC systems, which adjust cooling according to the surrounding temperature, resulting in big energy savings.
The "Farm on the Hill" boasts an edible garden, chicken coops, and goat shelters to sustain the venue with fresh produce but also minimise its carbon footprint. Six Senses Samui's plastic- reduction policy extends to staff, suppliers and guests. Plastic straws are replaced with lemongrass straws handcrafted in-house. While glass water bottles are served in all guestrooms, stainless steel water bottles are on hand for staff to quench their thirst stylishly and sustainably, refilling them with still or sparking mineral water from the on-site reverse osmosis plant. Suppliers of Six Senses Samui are also joining in the mission to reduce the use of single-use plastics to make the island a more eco-conscious and responsible destination. www.sixsenses.com/en/resorts/samui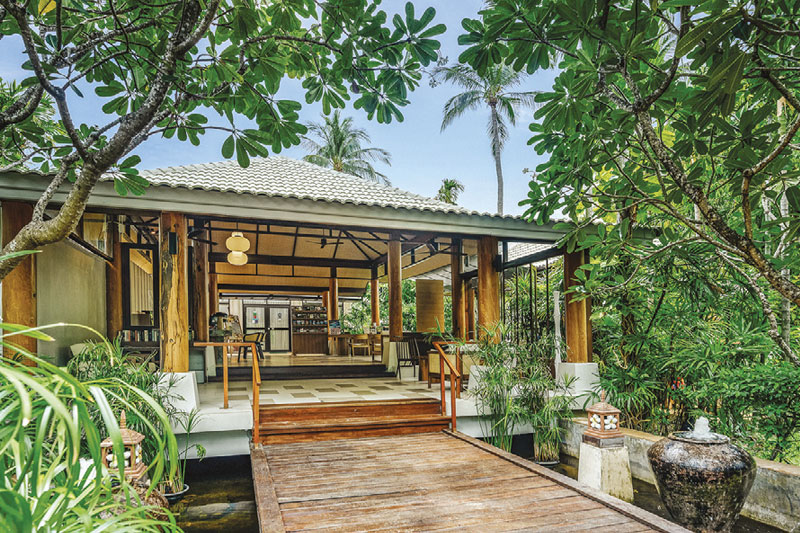 Combating Plastics
Baan Chaweng Beach Resort & Spa
The Baan Chaweng Beach Resort & Spa offers breath-taking views and serene ambience, all the while championing eco-friendly practices.
Recognising the impact of plastic pollution on the island's seas and ecosystems, the resort's plastic- combating campaign raises awareness among staff, promotes eco-friendly alternatives, supports recycling initiatives, and participates in clean-up efforts.
Sustainability extends to culinary offerings, with Baan Chaweng proudly showcasing authentic flavours of Koh
Samui. They prioritise ingredients sourced from local farmers and fishermen who follow sustainable practices. The resort also features artisanal products crafted by island communities to strengthen the local economy.
With the well-being of Samui people a key concern, Baan Chaweng commits to providing local employment opportunities. This way, they not only ensure stable incomes but also contribute to the island's economic growth. www.baanchawengbeachresort.com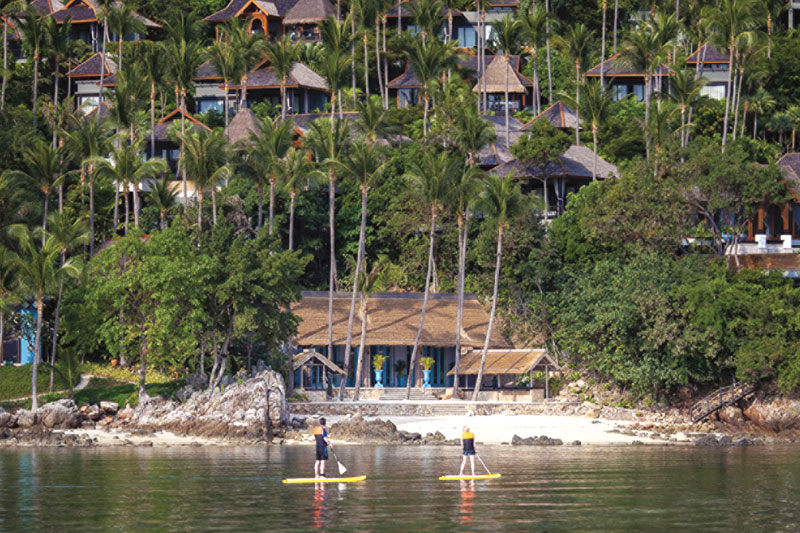 From Shell to Spirits 
Four Seasons Resort Koh Samui
In the true spirit of the hotel brand, Four Seasons Resort Koh Samui maintains sustainability with elegance and charm via its unique eco-initiatives. These include the "Coconut Journey that Contributes to the Community", ecoSPIRITS, Coral Conservation, and more.
Samui generates huge amounts of coconut waste, most of which ends up in landfills. However, in a move to transform waste into a valuable resource, the resort partners with Samui Municipality's Public Health and Environment Division and local communities to collect discarded coconut shells. These shells are then shredded and blended with food waste and kitchen scraps to make compost. This natural fertiliser is then used on the resort's farm and gardens and by local farmers to boost their harvests.
The resort also gives new meaning to responsible drinking by partnering with ecoSPIRITS, whose SmartPour system for refilling premium spirits reduces single-use packaging.
Through its Coral Conservation Project, the Four Seasons team and Department of Marine and Coastal Resources have led to the successful reintroduction of more than 16,000 coral fragments into the Gulf of Thailand and remains dedicated to educating guests about coral reef restoration through engaging sessions led by an in-house marine biologist. www.fourseasons.com/kohsamui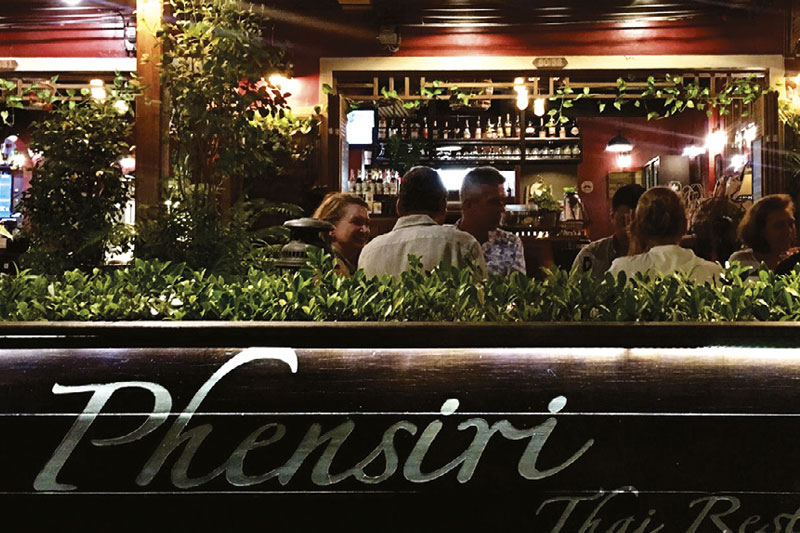 Sustainable Stylings 
Phensiri
Phensiri, a beloved Southern Thai restaurant on Samui, is dedicated to embracing a truly local ethos in its operations. Led by Chef Santi "Aor" Wongsawat, Phensiri not only celebrates the rich tapestry of traditional Southern cuisine but also weaves sustainability into the island's culinary heritage.
The menu blends time-honoured classics and lesser-known gems, all expertly crafted from hyperlocal and seasonal ingredients. Their commitment to sourcing fresh produce exclusively from Samui and seafood only from small-scale fisheries both reduces their carbon footprint and safeguards marine ecosystems.
The kitchen follows a nose-to-tail philosophy to minimise waste. This practice is evident in their signature fish dishes, which are often served whole, and their dedication to preservation methods such as sun-drying and lacto-fermentation. Even the food scraps are donated to local pig farms or turned into organic fertiliser.
The restaurant's commitment to supporting the island's farmers and fishermen as well as employing locals contributes to the island's economy and creates a sustainable dining experience. And with energy conservation in mind, their dining room is powered by solar energy, while the restaurant offers both air-conditioned rooms and alfresco dining. www.phensiri.com/en/home
Sun, Sea and Safety
Explorar Koh Samui
This adults-only resort isn't only dedicated to providing enjoyment for grown-ups, it also contributes to the development of local youth. The resort collaborates with the Rotary Club Samui-Phangan on Swim4Life, a water safety programme that teaches local children to swim and thereby prevents drownings.
Explorar's commitment to sustainability also extends to beach clean-ups conducted in partnership with the Trash Hero organisation and local communities. The aim is to keep Samui's coastline pristine and free from plastic waste. Measures to minimise plastic usage are also implemented throughout the premises. www.explorarhotels.com/koh-samui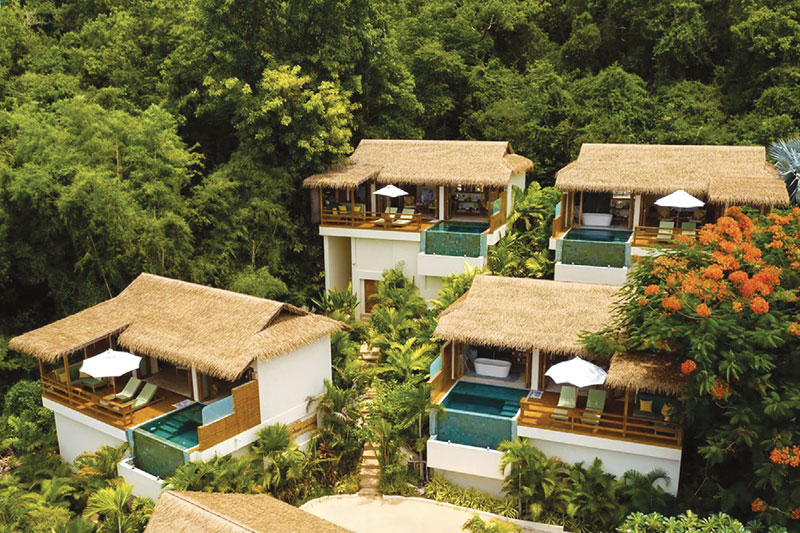 Wild and Heavenly
Wild Cottages Luxury & Natural Resort and Wild Cottages Elephant Sanctuary Resort
With two idyllic locations on Samui Island, Wild Cottages Luxury & Natural Resort in Lamai and Wild Cottages Elephant Sanctuary Resort in Bophut, this brand places the utmost importance on nature preservation and protection.
Founded by the dynamic husband-wife duo, Simon and Melissa Chevalier Dubois, Wild Cottages offers an eco-luxury haven for conscientious travellers who seek both opulence and a commitment to making our world a greener place.
At Wild Cottages Luxury & Natural Resort, sustainable tourism takes centre stage through practices like organic and local sourcing, food-waste recycling, and the employment of locals. The resort places strong emphasis on the use of organic, chemical- free products, and its cottages nestled amid lush greenery proudly showcase handcrafted artworks created by local artisans to support the surrounding community, all to nurture a thriving local economy within Samui.
Meanwhile, the Wild Cottages Elephant Sanctuary Resort, in partnership with Samui Elephant Haven, transcends the traditional resort experience. Here, the property serves both as a playground for guests and a sanctuary for rescued elephants who get to roam freely around the vast grounds. Wild Cottages provides a secure and caring environment for these majestic creatures without any form of exploitation, and simultaneously allows guests to partake in a memorable ethical tourism experience.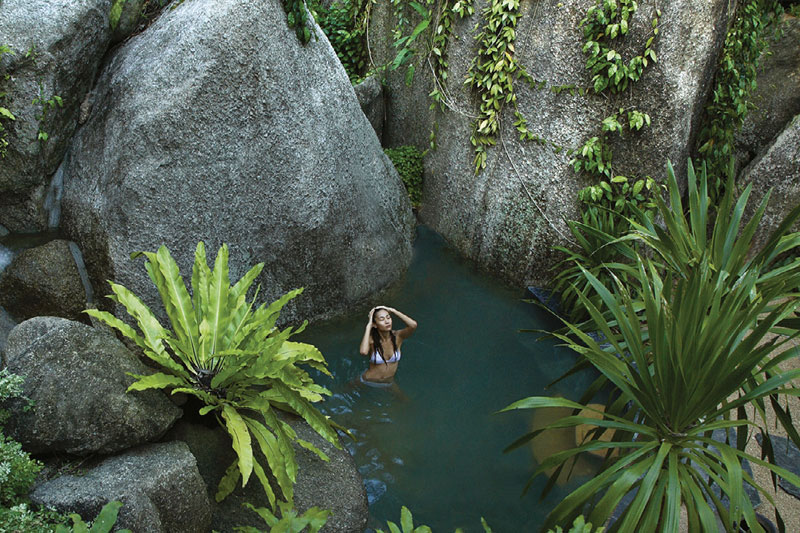 Twice as Nice Tamarind
Tamarind Springs Forest Spa
Tried and tested, this spa's signature treatments like the Herbal Steam Caves, Thai Yoga Massage, and Twice as Nice Prakop deserve all the praise they have been receiving. However, what has received less attention is their sustainable approach to the surrounding landscape.
Located amid forest, enormous boulders, and a hidden rock cave, Tamarind Springs Forest Spa blends harmoniously with the natural environment.
"Nature, in its own way, is a form of art," remarks co-owner and Samui native Khun Kulnisa Kullapaspawit. "Always cherish that and remember where you come from." These statements elucidate how Tamarind's setting and services were meticulously designed to seamlessly integrate with the gifts bestowed by Mother Nature since opening in 1998.
Supporting the local community is
at the forefront of the forest spa's ethos. They utilise the island's premium coconut oil, spa products, and seasonal produce for their Kulnisa Cafe & Gallery. This ensures that their service contributes to the local economy while minimising their carbon footprint. Moreover, Tamarind converts food waste into compost for use in their gardens, and incorporates trash sorting and recycling as integral aspects of their sustainability efforts. Taking this commitment further, the spa also prohibits the use of toxic pesticides for mosquito and insect control. www.tamarindsprings.com/en