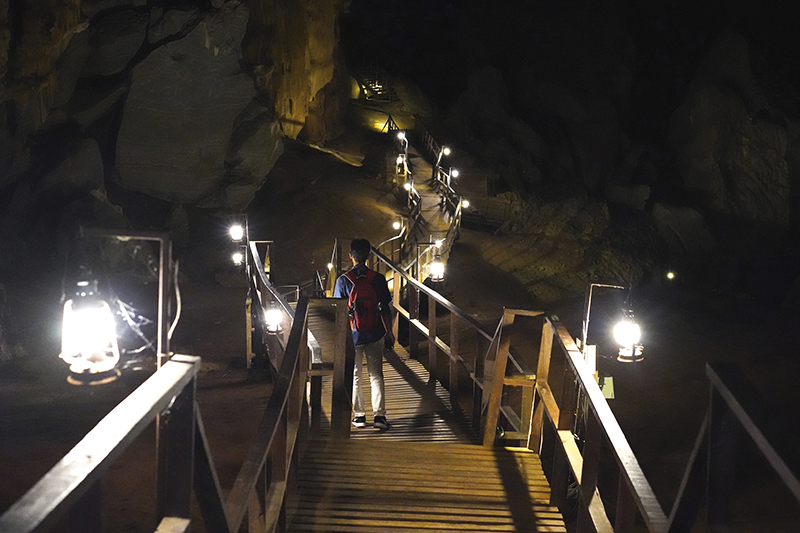 Satun: Natural Wonders Unfold in Ancient Silence
While visiting Thailand's Satun Global Geopark, photographer Graeme Green discovers natural geological formations and undisturbed waters still rich with marine life.
Words: Graeme Green
Flying fish leap and splash as we paddle down the wide river that cuts deep into the island of Tarutao. The silvery trunks and spidery roots of the mangrove forest are mirrored in the calm, glassy water as eagles soar above towering black cliffs that echo with their faint mewls. Amid all this natural beauty, there is something very unfamiliar – a stillness, an unusual silence and surprisingly not a single person in sight.
Thailand receives up to 35 million tourists every year, with many heading for Bangkok or popular islands like Phuket, Samui and Phang Ngan. However, very few have heard of Satun province, far down in the southwest of Thailand on the border with Malaysia.
Reached via Hat Yai or Krabi airports, it's a destination where you can still have an adventure without having to fight crowds. The reward for making the trip is a river, a cave, a pristine diving site or a stretch of a white sandy beach all to yourself.
However, this idyll may not remain untouched for too long. UNESCO recently named the province a Global Geopark, or an area of international importance for geology, science and culture. Covering more than 2,000 square kilometres, including the Tarutao National Marine Park, Satun is strewn with fossilised creatures from an ancient seascape dating back 500 million years, as well as colourful rock formations, unspoilt beaches, mountains, waterfalls and caves – including Phu Pha Phet, one of the largest caves in the world.
We began by spending several days soaking in the sun and peace on Tarutao – the heart of the 51-island archipelago that makes the Tarutao National Marine Park. Tarutao was originally used as a penal colony, holding as many as 3,000 prisoners at its peak in 1941.
"It would've been a 'hell' in paradise," our guide Mukta Langkart tells us we walk past the former prison governor's house on the Ao Talo Wao Historic Trail, which runs down the east coast of the island. Inmates were used for tough labour in unbearable heat and had to contend with insect-borne diseases like malaria.
"If they wanted to escape, the first way from the Pakbara Pier on the mainland, where the water was infested with crocodiles, while the second was through Langkawi, where the water was full of sharks. So, they only had two choices – crocodile or shark," Mukta explains.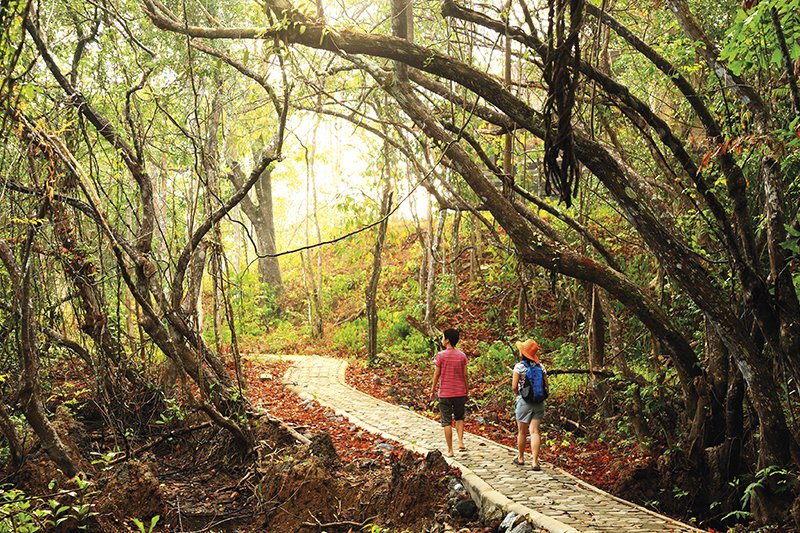 With absolutely no desire to escape our surroundings, we decide to settle down in simple government bungalows by the sea on Mo Lae Bay, where wild boar munch on the grass and monkeys gather every evening. Apart from kayaking through the silent mangrove forests, we take long walks down deserted stretches of sand at Ao Sara Phi and Phantae Malacca, and later set off on a longtail boat over to the tiny Koh Yakha (Grass Island) and other untouched snorkelling sites.
"No one ever comes here," Mukta says as we jump in to swim over colourful coral, with only clownfish, bannerfish and bigeye snapper keeping us company.
Later, we decide to head off to Ko Lipe, where there's more fish and more people. Only an hour away by speedboat from Tarutao, Lipe is Satun's top tourist destination. The coast of this busy and popular island is lined with hotel resorts and beach bars.
So, after a delicious dinner of massaman curry and seafood barbecue on the beach, we check in for the night at the Idyllic Concept Resort on Sunrise Beach. The next morning, we jump on a longtail boat for some more island-hopping.
Off Koh Adang, we swim below forested hills with clownfish and neon damsels, and admire the gaping giant clams waiting patiently for food.
The coral gardens are perhaps even more colourful off the coast of Koh Rawi, lit up by shoal upon shoal of vivid-hued sea creatures ranging from parrotfish, puffers and bright blue starfish to giant sea cucumbers.
Wanting a much closer look at the undersea gardens, I head out the following morning with dive instructor Max Ravi Gitsanalow from Satun Dive. Some 20 metres below the surface, off Koh Adang, we catch sight of titan triggerfish and tiny pustulose wart slugs as we drift over rock and coral.
We go diving again later at Stonehenge, named after the ancient heritage site in England, at Koh Tarrant. About 18 metres below surface, we spy the clusters of granite pinnacles that inspired the site's nickname, some standing upright and some lying on their side. But more impressive still is the sheer number of flamboyantly coloured fish – shoals of striped Moorish idols, golden damselfish and bigeye snapper swimming over the sprawling Fan and Table corals. In places like Koh Phi Phi, there may be some 50 to 100 divers around you. Here, apart from the fish, we are on our own.
At Khao Yai Island, which is near the mainland, we climb high to a vantage point that offers views across the ocean to Tarutao and Langkawi in Malaysia. Near the summit, Mukta points out nautiloid (mollusk) fossils, preserved evidence of life in Satun 470 million years ago. Below, the grey rocks have parted to form a heart shape through which the ocean can be seen flowing. "It's the 'heart' of the Andaman," Mukta smiles.
Later we kayak through dark tunnels in the island to Prasat Hin Phanyod, a round, roofless cave with a little beach referred to as "1,000 Stone Castles" for the jagged stones that surround the natural formation. The next stop is a sandbank that stretches out in the water, curving like a dragon's tail, a sight that reminds us that Satun is full of unspoiled and undiscovered wonders.
There are more wonders to be found back on the mainland. We base ourselves at a hotel near Pakbara Pier, before calling in at Panya Batik, a community-run project that takes fossils from Satun's ancient past and transforms them into bold, bright batik designs.
Along the coast at Phetra National Park, we enter the "Time Traveller Zone", strolling on wooden walkways to a spot in the cliff where limestone from the Ordovician Period (485-444 million years ago) and sandstone from the Cambrian Period (541-485 million years ago) has colourfully, artfully collided. Like Mukta says, it's like you've "travelled 100 million years in geological time". Couples visit this spot to celebrate the "love that bridges time".
On our last day, we venture further inland to the Thale Ban National Park, which is a couple of kilometres from the Malaysian border. In the trees around the quiet, lily-covered lake, we see troops of pig-tailed macaques and spectacled langurs at a distance.
We then drive north to Phu Pha Phet, Thailand's largest cave and the fourth largest in the world. It is our final stop and a highlight of the trip. Passing a set of colourful sculptures representing Satun's fossils, we climb through the humid forest and handing vines to the mouth of the cave, crouching low to make our way through a small entrance tunnel in the rock.
Inside, there are some 20 caves, each one a spectacular display of giant stalagmites, stalactites and floor to ceiling columns where the two have met and fused. "About 30 years ago, a monk saw a vision of a very big beautiful cave while meditating. He then told the locals to look, and they found this," Mukta recounts, as we make our way down walkways dimly lit by metal lanterns.
In another version of this tale, a monk went looking for a place to meditate and chanced upon the cave. However, archaeologists have since found skulls and clay pottery in the cave that prove prehistoric humans found these caves long before anybody else.
It takes us several hours to explore the vast high-ceilinged chambers. In the deepest cave, sunlight filters down through a collapsed roof and spotlights rocks covered in a strangely bright green fungus. Working our way back, Mukta's torch beam picks out towers, spikes, walls, curtains, giant "eggs" and the form of huge serpent's head. Elsewhere, I notice what look like human faces peering from the rock walls.
We are utterly alone. There is nobody taking selfies, no tour group leader toting flags, no noise of chatter, just the sound of steady dripping and the echo of our footsteps.
Getting there:
Bangkok Airways has direct Phuket-Hat Yai flights, which is the easiest way of getting to Satun. It's an hour's drive from Hat Yai to Pakbara, where speed-boats will whisk you to Tarutao or Koh Lipe in 45 to 90 minutes. A speedboat ferry also runs between Koh Lanta and Koh Lipe. Bangkokair.com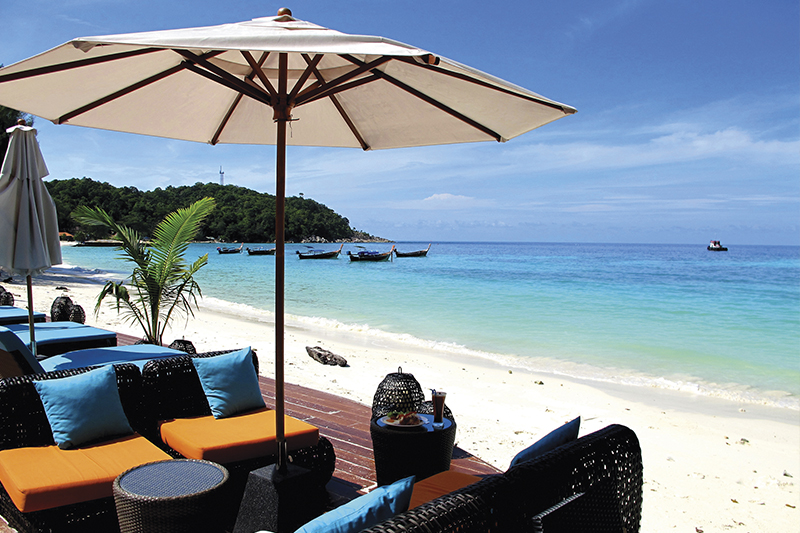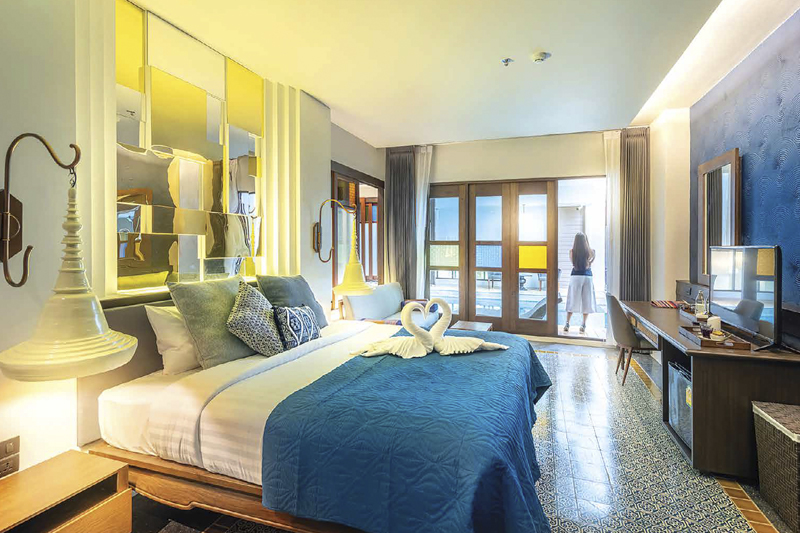 Stay: Hat Yai
MonKham Villate Hat Yai
A mere 2.2km from the heart of Hat Yai and close to Gimyong Market, this hotel gives you a perfect base if you want to explore the city. It is also just 20 minutes from the airport. a sophisticated fusion of boutique style with Lanna touches, the hotel also offers luxurious comforts, such as a private jacuzzi, guaranteeing an unforgettable getaway. 43/22 Rajyindee Road, Hat Yai, Songkhla, monkhamhatyai.com
Stay: Koh Lipe
Akira Lipe Beach Resort
Nestled on the island's Pattaya Beach and just five minutes from the walking street, Akira Lipe Beach Resort features 80 elegantly designed rooms and facilities such as three outdoor pools, two bars/lounges and a restaurant. 370 Moo 7 Koh Lipe, Koh Sarai Sub-district, Mueang, Satun, akiralipe.com
Idyllic Concept Resort
Idyllic Concept Resort on Koh Lipe's Sunrise Beach offers modern, comfy rooms and excellent Thai cuisine along with seafood barbecues. Idyllicresort.com
Stay: Tarutao
Bungalows
Tarutao offers only basic bungalows with no AC, Wi-Fi or hot water.
Stay: Mainland Satun
The Lake Terrace Resort
Accommodation at this resort may be basic, but its location near the Pakbara Pier is good base from which to explore mainland Satun.