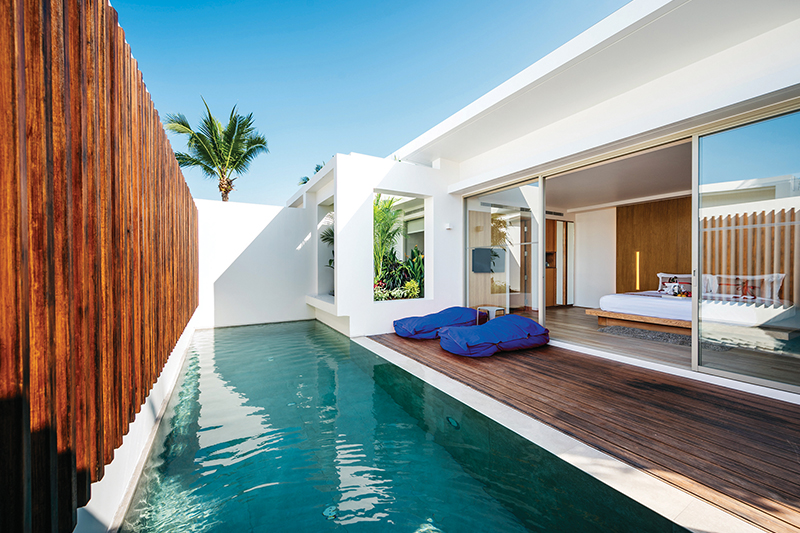 Stayed: Explorar
Words: Loren Infeld
Photos: Explorar
Explorar Koh Samui and its sister property on Koh Phangan offer a doorway to what the next generation of luxury holidays will look and feel like.
While a business traveller in New York may demand heel-clicking service in immaculate surroundings, this is Samui – a casual holiday island in the Thai tropics. People are travelling for a warm, relaxing, and friendly experience and Explorar meets all those expectations and more.
The tone at this adults-only resort (no squealing kids!) on the gorgeous Mae Nam coastline is set by exceptionally friendly and capable staff and a vibe of free-and-easy accessibility.
Every member of staff greets you with a smile. Don't be surprised if everyone here, from receptionists and waiters to groundskeepers and trainees, knows your name immediately. You can feel they are happy to be part of the Explorar family.
The accommodation ranges from hotel rooms to apartment-style suites to walled garden pool villas. All are impeccably designed with a well-planned, light and airy modern feel. But the beachfront pool villas are the jewels in this crown. Floor to ceiling windows extend even to the cleverly designed double shower, offering you a panoramic ocean view interrupted only by your private patio and infinity pool.
Even with such opulent rooms, General Manager Adam Boulton believes it's the experience that distinguishes Explorar from other hotels.
"We want to showcase modern hospitality – a simple human approach with genuine care, like friends hosting friends. Explorar offers a complete holiday, blending leisure and experiences through events and exploration," he explains.
The Exchange, the signature co-working space across from the massive, elegant pool, allows you to send a quick work email without disrupting the holiday mood.
Next door, the café and swim-up bar with breezy indoor and outdoor seating, a spectacular menu, and affable staff also hosts wonderful music most evenings – plus an unmissable breakfast buffet spread.
Exhale Spa is well-equipped and tranquil, offering top-class treatments in large private rooms with the added bonus of a nail salon. The gym next door, as well as yoga and wellness activities, add a healthy touch to an extraordinarily relaxing and charming resort experience.
Explorer breathes the new style of luxury – a beautiful beach resort with a warm and serene atmosphere that lingers in the mind long after check-out.
EXPLORAR KOH SAMUI
44, 134 Mae Nam, Koh Samui, Surat Thani 84330, +66 (0) 77 953 035 www.explorarhotels.com