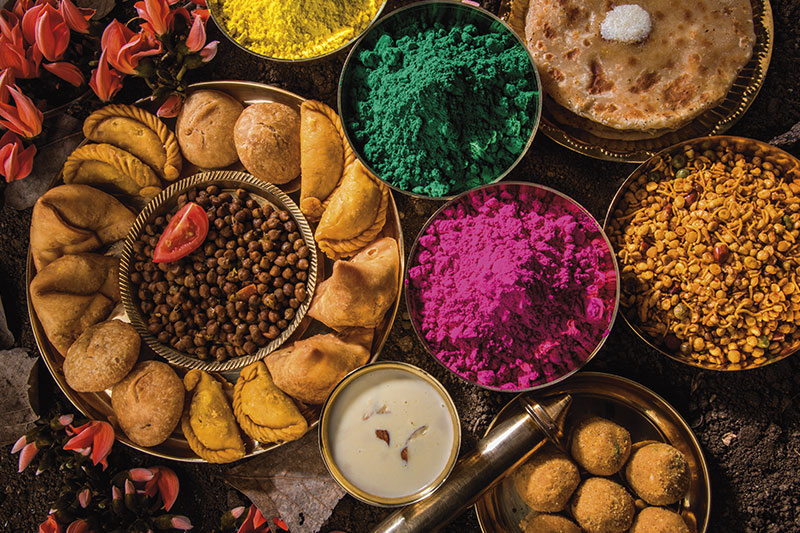 THE VIBRANT TASTE OF HOLI 
The advent of spring is marked with colourful celebrations of Holi across India. Prachi Joshi takes you on a journey to explore its festive foods. 
Words: Prachi Joshi 
Photos: Neha Mathur
As winter wanes, India gets ready to welcome spring with much fanfare. From burning bonfires, to the fun and frivolity of colouring each other with gulal (coloured powders), joy and merriment mark the celebration of Holi all over the country. In fact, in Northern India, Holi is a bigger festival than even Diwali (the festival of lights considered as one of the most important holidays in India.)
Holi is celebrated over two days. The first night is Holika Dahan or Chhoti Holi when people gather around bonfires, perform rituals, and symbolically burn evil. Legend has it that the demon witch Holika was burnt to deathb y Lord Vishnu. The act of lighting bonfires symbolises this victory over evil. The next day, is known variously in different parts of India as Holi, Rangwali Holi, Dhulivandan, or Phagwah.  
This is the day when almost every street in India turns into a colourful party. People smear each other with colours and pelt water-filled balloons, while kids run around squirting coloured water from plastic pistols. After spending the entire morning getting their faces painted in rainbow colorus, everyone retires home for a long bath, followed by a huge feast. Because where there is an Indian festival, feasting goes hand in hand.
Holi is no exception and the sheer variety of food – both savoury and sweet – made across India is quite mindboggling. Here are some of the most popular Holi foods.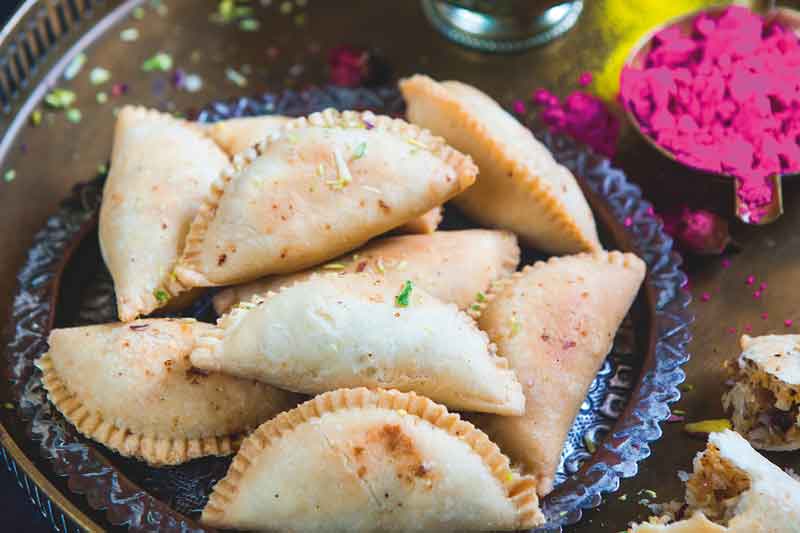 GUJIYA
The most symbolic of festive foods made for Holi, especially in North India, is gujiya – a decadent sweet dumpling of sorts. Pastry sheets are made with refined flour and semolina. These are filled with a sweet mixture of sugar, dry fruits, and khoya (milk solids made by heating whole milk for several hours in an open iron pan till it's thickened). The dumplings are folded over to form a semicircle and its round edge is twirled to form a serrated design. The dumplings are then deep-fried and often also dipped in sugar syrup. In maharashtra state, these are called karanji and contain a mixture of coconut and jaggery (a traditional cane sugar) instead of the dairy product of khoya.
SHAKARPARE
Sweet shakarpare or savoury namakpare are also quite popular as Holi snacks. A mixture of refined flour, semolina, ghee, milk, sugar and salt is kneaded together to form dough. This is then rolled out into a disc and diamond-shaped shakarpare are cut out, which are then deep-fried in ghee or oil. For shakarpare, some jaggery may also be added to increase the sweetness or they may be rolled in powdered sugar. Namakpare are the savoury version where sugar is replaced with spices sucha s a cumin, caraway seeds, and occasionally even chilli powder. Both shakapare and namakpare are made in bulk, as they stay fresh for several days, making these addictive snacks a favourite teatime accompaniment even after Holi fest. These are typically made in Gujarat and Maharashtra states. 
DAHI BHALLE
To counter the sugar ovrload, dahi bhalle are often brought out. This is a chart preparation made of fried lentil balls served with thick beaten yoghurt. The dish is also laced with chutneys – sweet and sour chutney made from tamarind and jaggery, and spicy chutney made with chillies and coriander or mint.