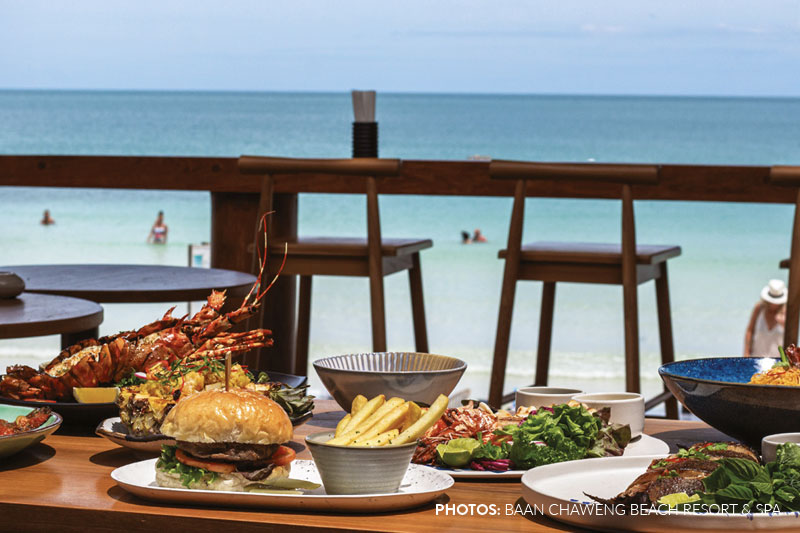 Tasted: Talay Restaurant 
Lively Chaweng Beach has a new heavenly hangout for boat-fresh seafood and spectacular ocean views. Talay Restaurant offers Thai and Western fare all day on a chic and breezy open-air terrace at Baan Chaweng Beach Resort & Spa. Here, the white curves and teakwood pillars overlook the pool and beach just a few steps away – a perfect appetiser for the feast to come.
To get you in the holiday mood, the menu offers signature cocktails like The Oriental and Peaches & Dream with sunset yellow and pink hues. But the real culinary star is the Seafood Set: super-fresh, tender grilled tiger prawns, squid and mussels complemented with a selection of the restaurant's unique sauces. Made with organic Thai herbs from the hotel garden, Koh Samui coconut sugar, and other local ingredients, the sauces are what make this banquet extra special. The set also features deliciously zesty Tom Yum Goong soup of tiger prawns as well as pineapple-baked rice with aromas of turmeric, cinnamon and star anise.
"The secret is in the freshness of the seafood as we only choose ingredients from small boats' catch of the day," says
Chef Sumittra "Whan" Jirapreyanipat, whose new menu is a bold take on classic Thai and Western dishes.

"We don't add any seasoning to the grilled seafood at all. The 'trick' is its freshness," she adds.
Our favourites here include Lobster Garlic Butter & Butter Garlic Sauce, refreshing Tuna Salad, juicy Grilled Salmon served with Italian dresing, Spaghetti in Prawn Fat Sauce, and the unmissably authentic Tiger Prawn Phad Thai. Prefer a fantastically fresh Fish & Chips? Chef When deep-fries yellowstripe scad with khanom kheemod (southern sweets made of ground, roasted coconut) for a scrumptious blend of local and international flavours.
Showcasing creative cuisine as
well as community-conscious practices supporting the local fishers and farmers, Talay Restaurant serves in-house and walk-in guests from 7am to 10.30pm. As well as chilling out at sunset with a cocktail overlooking the beach or enjoying a fabulous dinner under the stars, you can expect a fire show every Tuesday and live music on the beach every Saturday. Enjoy!
Talay Restaurant at Baan Chaweng Beach Resort & Spa
90/1 Moo 2, Chaweng Beach Road, Tambon Bo Phut, Koh Samui, Surat Thani +66(0)77300564to66 www.baanchawengbeachresort.com
Photos: Baan Chaweng Beach Resort & Spa