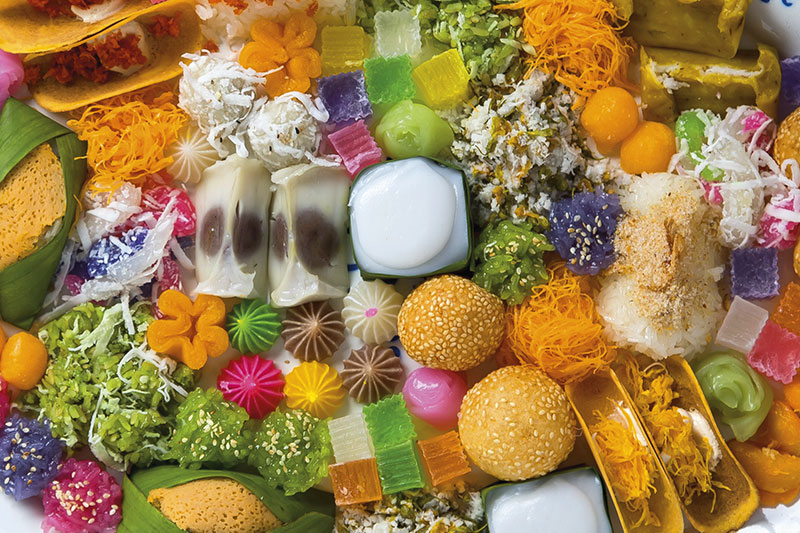 FINDING THE THAI SWEETS SPOT
Thai desserts, or khanom, are blissful treats with a ubiquitous presence. They inspired a popular Thai food blogger and a photographer to engage thier sweet tooth and reacquaint with the traditional and contemporary craft of Thai snacks and sweets. With every luscious bite, the team tasted their everlasting appeal.
Words & Style: Kay Choomongkol
Photos: Chanathip Nantachaibancha
In a bustling market, follow the warm yellow light from industrial bulbs that hang above a dessert stall. The soft hues set the scene for the vendors wh obusily pack delectable desserts into containers in a familiar retail scene in Bangkok. Even more enthralling are those at smaller markets who do things the old-fashioned way, cutting and trimming banana leaves in geometric shapes to wrap the Thai delights. Gentle piercings of sharp bamboo sticks called "mai klad" keep the wrapping in place.
Many vendors make the desserts on site at the market, a lively and charming scene in hidden alleys of the bustling capital of Thailand. Stoves light up, fresh coconuts get grated for their cream, and egg yolks drizzle into sugar syrup. All the while, the dessert magicians fry, steam, chat and offer customers sage advice and tips on how to best enjoy the sweets. The fragrant aroma of boiling coconut milk permeates, with added notes of pandan and other ingredients filling the air with mouth-watering scents.
Such desserts and snacks are available in any market in Thailand starting from early morning while some sellers put them out only in the afternoon. No matter what time they begin, stroll in and explroe the flavourful taste of Thai snacks and desserts. At a mere 20 baht, or around USD 60 cents, it's a taste that lingers forever.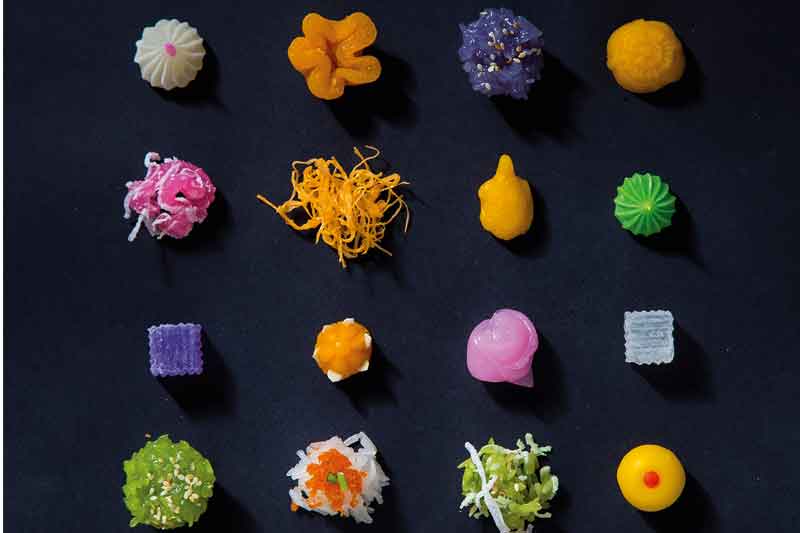 Sakhoo Sai Moo and Khao Kriab Pak Mor (Steamed Tapioca Balls with Pork Filling and Steamed Rice Dumpling) are like twins – always together at the same snack stall. Sakhoo Sai Moo uses tapioca to wrap the minced pork filling while Khao Kriab Pak Mor uses a rice flour wrap. Deep-fried garlic, aromatic herbs of coriander, lettuce, and fiery chillies complete the taste.
Making Thai sweets requires patience and attention to detail, right up to the final presentation. Their inspired origins trace back to traditional times when the colourful desserts got their bright hues from flowers and plants and this practice continues to this day. Blue comes from the butterfly pea flowers, yellow from night jasmine flowers and green from pandan leaves.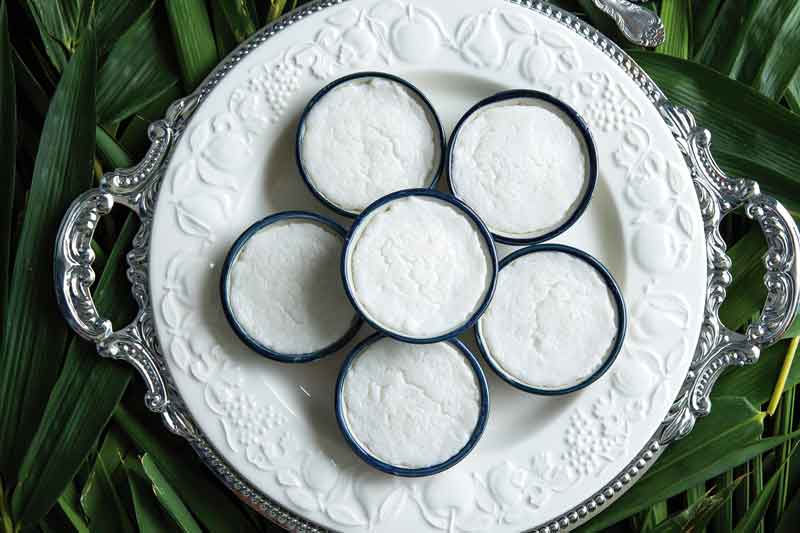 Bouncy soft and creamy Steamed Coconut Milk Custard or Khanom Thuay is a beautiful result of sweet  pandan-scented flavours contrasting with the mild tang of saltiness from the cream of coconut topping. This custard gets its name from the tiny ceramic ramekins that hold the mixture as it cooks in a steamer. Some shops may serve it the authentic way, accompanied with a small wooden paddle for a spoon.