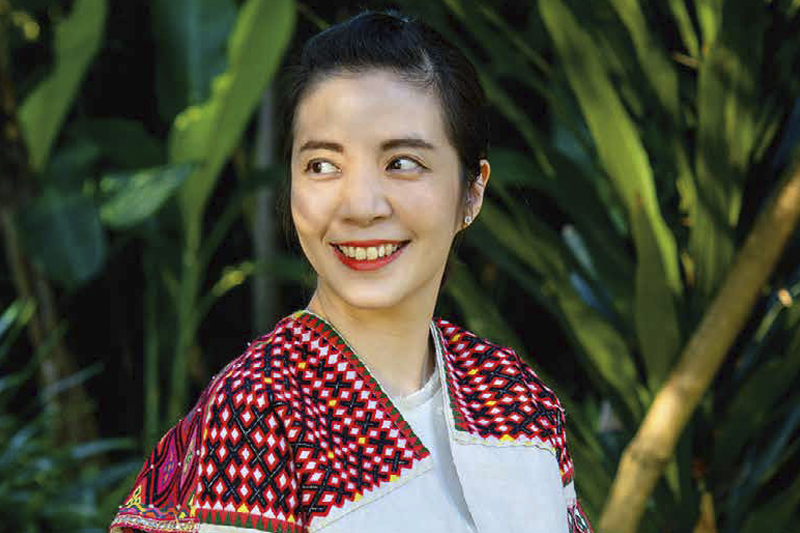 The Green Negotiator: A Sitdown for Organic
Beyond buying organic, a Chiang Mai local proprietor and mother goes directly to her fields of greens to meet the farmers. One of the results in the coming together of food producers and chefs who recently brought their knowledge and food to the table, benefitting the community with a creative dining experience.
Words & Photos: Marisa Marchitelli
Aracha "Cha" Boon-Long isn't quite what you'd expect. Her gentle demeanour, her contagious laugh, and an adorable crinkle in her nose when she smiles all make her very sweet and approachable. Don't let that fool you. This 39-year-old mother of two doesn't let anything stand in her way and is fuelled with passion for building community while safeguarding the environment. A Chiang Mai native, she spent four years in Paris, France working towards a Master's degree in cultural management. Upon returning to Chiang Mai in 2007, she has been a behind-the-scenes fixture on the cultural and environmental scene, living her mantra of pursuing her strengths and passion while giving back to the community.
We meet up for a cup of iced mocha in her recently reopened café, Heart Made Patisserie in San Phi Suea on the outskirts of Chiang Mai. Part of the Baan Suan compound, the ambiance is quintessential Lanna: laid-back spaces, open air seating, lush tropical gardens, all with a dramatic, artistic flair. It's not surprising that the vibrant complex (which includes a boutique hotel) is designed by national artist and architect, Ajarn Chulatat Kittibutr, who also happens to be a former professor of Cha's when she studied Architecture at Chiang Mai University.
Cha says that her interest in food quality was reignited when she became pregnant with her first son. "You are what you eat," she declares, "but more importantly, my baby is what I eat." While she was growing up, people in general had a stronger connection with their food source. "Farmer's markets were common, toxic pesticides weren't used and produce and meats for her family.
On a quest to understand the true meaning of "organic", Cha made it her mission to meet the farmers themselves and build a direct connection with her family's food source. For society to thrive, she believes that we must positively engage with people from all walks of life, from garbage collector to governor – and everyone in between. She shares a concept from one of her mentors and now collaborators, Arrut Navaraj, founder of Samphran Farm in Nakhon Pathom. Arrut says that we build and nurture relationships with our friends, our families, our doctors, even our hair stylists – so why not with those who produce our food?
Her activism dates back to the early days after her return from France. No doubt influenced by the environmental awareness she experienced in Europe, she and a group of close friends were inspired to gather and start a movement. No Foam For Food was incredibly successful campaign that banned single-use plastics and foam containers from the popular Sunday Walking Street. Through perseverance and collaborations with municipality, food hawkkers, suppliers of biodegradable containers and devilery teams, Cha was able to negotiate a functioning system that eradicated the use of single-use plastics from the walking street for the following four years. This is no easy feat in a country where plastic is used rather frivolously.
From there, her activism extended into the organic food supply chain. She operated a little organic grocer called Hug Wiang Shop next to her first bakery, offering fresh produce from local farms. Cha asserts that pesticide-free or organic labels are not enough. "Organic certifications are not the only system, she says. "Not only are most programmes cost-prohibitive to small farms, but often they only check the operations once a year and the criteria isn't comprehensive." She contends that agriculture must be environmentally-friendly, sustainable, and workers must be treated with fairness and dignity.
"Our food system is out of balance," she says. "Coming together, working together and caring for each other is the way forward." Through a collaboration with Samphran Farm, which has reached the status of model farm, and Sustainable Food Lab Thailand, she was tasked with building a network of organic farmers in Chiang Mai that adheres to the rules of the Participated Guarantee System (PGS). This rigorous system (which is also recommended by the U.N.) lays out a structure where a group of small farmers from one area band together and become responsible for each other. The points of agreement extend beyond organic growing practices to accepting the farmer's cultural beliefs and ways of life. Producers must earn a fair living wage, while leaving a minimal footprint on the environment and wildlife. "This system works," Cha says, "especially in Thailand where we have so many small farms with different agricultural traditions scattered all over the country."
Cha passionately believes in uniting all stages of the supply chain. "Bringing together the producer and the consumer is very much needed, but what if we could take it even further?" She explains that if these farmers are responsible for taking their produce to market, it is an added strain and can potentially lead to unstable income and food wastage, another significant issue. "What if we could bridge the gap between small local farmers and hotels?" she questions. "Our movement would reach so many more people." Thus Jiang Mai Organic was born.
Jiang Mai (the Northern Thai translation of Chiang Mai) Organic was founded earlier this year honing in on the importance of local in this movement. Twelve chefs or more from boutique hotels and restaurants join forces on a volunteer-basis to craft highly inventive, multi-course dinners that highlight the latest harvest from PGS farmers. The chefs visit the contributing farms prior to each dinner while the farmers are invited to join the event and share their experiences with diners. "It's the supply chain coming full circle," Cha says proudly. "Chefs really enjoy these dinners," she asserts. "It's a treat for them to be inspired by fresh and seasonal produce, while getting to know their fellow chefs and farmers."
Held every two months, the goal of these dinners is to build awareness around food quality and to connect farmers with steady consumers, all the while fostering a sense of community. Of course, it doesn't end there. Cha plans to open a Jiang Mai Organic Shop alongside her new café and plans for it to be a social enterprise with 15% of sales returning to a profit pool which will fund farmer-focused trainings on topics such as negotiating delivery systems, communicating with their market, sustainable packaging and much more.
Through all of these initiatives, it's impressive to witness Cha's passion, patience and focus in achieving her goals.