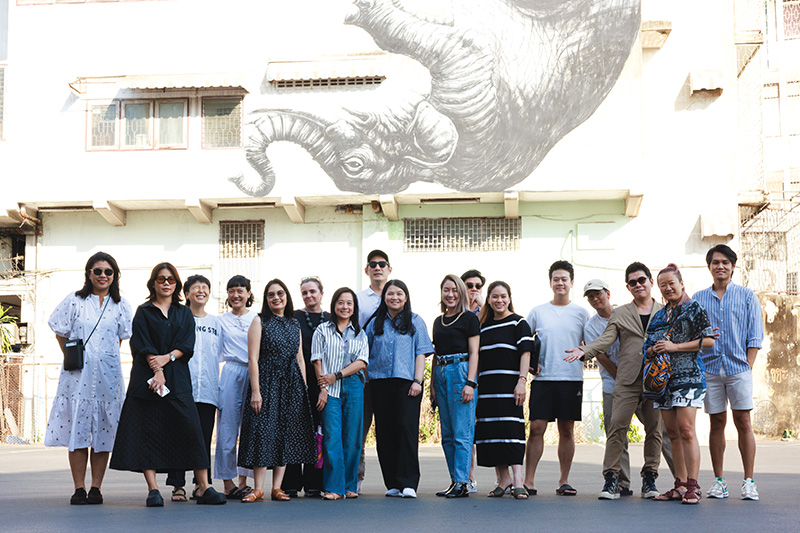 The Rebirth of Old Bangkok
Song Wat has transformed into the city's hippest neighbourhood, with cafés, restaurants and art spaces lighting up its century-old shophouses.
Words: Khetsirin Pholdhampalit & Pinanong Panchuen
Phots: Bobby Heng
If Yaowarat (Bangkok's Chinatown) is a wild buffet bustling with tourists, nearby Song Wat is afternoon tea – a place to savour the heritage of bygone days with contemporary flavours.
Song Wat Road runs for one kilometre parallel to Yaowarat Road along the Chao Phraya River. Its name means "drawn by the King", after King Rama V, who initiated the road's construction by drawing a line on the map. Over a century ago, this area was a bustling business hub and melting pot of Buddhist temples, mosques, and Chinese shrines where the residents of different faiths lived peacefully.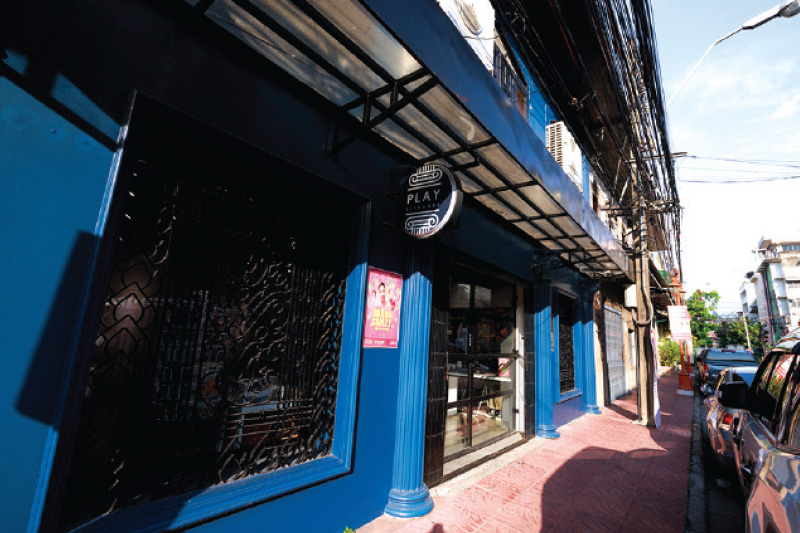 The Art of Song Wat
Daily life on Song Wat is beautifully captured in three paintings – "Wat Pathum Khongkha Ratchaworawihan temple", "Lao Pun Tao Kong shrine" and "Masjid Luang Kocha Itsahak mosque" – by 25-year-old new-wave artist Warunyoo Somboon.
Warunyoo's art recently starred in a showcase featuring stories of the local community at Song Wat's gallery, Play Art House. The bustling local art scene also decorates recently opened restaurants and cafés in the area, such as Arteasia Tart Bar and Hor Fun, a fusion eatery with signature ribbon-noodle dishes.
Kiattiwat Srichanwanpen, a Song Wat resident, transformed his family's shoe warehouse into the lively art gallery in 2020. He is one of a bunch of young entrepreneurs leading the rebirth of Song Wat and neighbouring Phat Sai Road through creative activities such as "Made in Song Wat". The event allows the public to discover hidden gems in the area and will soon offer a guidebook for both local and international tourists.
Legendary Street Food
To enjoy Song Wat's street food, we recommend starting at the parking lot on Song Sawat Road, famed for its graffiti mural of two giant elephants. An alley next to the lot is home to Lim Lao Sa noodle shop and its legendary "bouncy" fish balls. The balls are made of 100% fish, pounded and kneaded until it has a smooth and bouncy texture. Lim Lao Sa has been operating for over 80 years and is open daily from 3pm to 9pm. But be sure to come early as it often sells out by early evening.
Head towards Ratchawong Road for your next stop: the latest branch of Gu Long Bao whose Teochew-style steamed buns are a family recipe passed down five generations. The 5th-generation owner has opened the new youthful-looking branch at the entrance of Luang Kocha Itsahak Mosque, a European-sytle mosque unique in Thailand.
Unlike the Cantonese-style fluffy texture, Gu Long Bao's steamed buns are chewier, as sweet potato is added to the flour. The hand-made buns have fillings including minced pork with salted egg, bean and sesame, mashed taro, and a plant-based option.
Another local culinary legend is Urai Han Pa Lo, where braised goose in sumptuous dark brown broth has been delighting diners for 50 years. Demand is high, so be there before noon to savour the succulent aromatic meat at one of the best Chinese goose restaurants in Bangkok.
At the streetcorner joining Song Wat and Ratchawong Road stands a legacy building called Tuek Khaek, where Indian merchant Abdul Tyeb Maskati imported textiles during the reign of King Rama V. Opposite Tuek Khaek is Ar Liang Khanom Jeeb, serving delectable Chinese steamed dumplings stuffed with minced pork and water chestnut. The yummy taste comes with a pocket-friendly price tag, making it a favourite place with locals.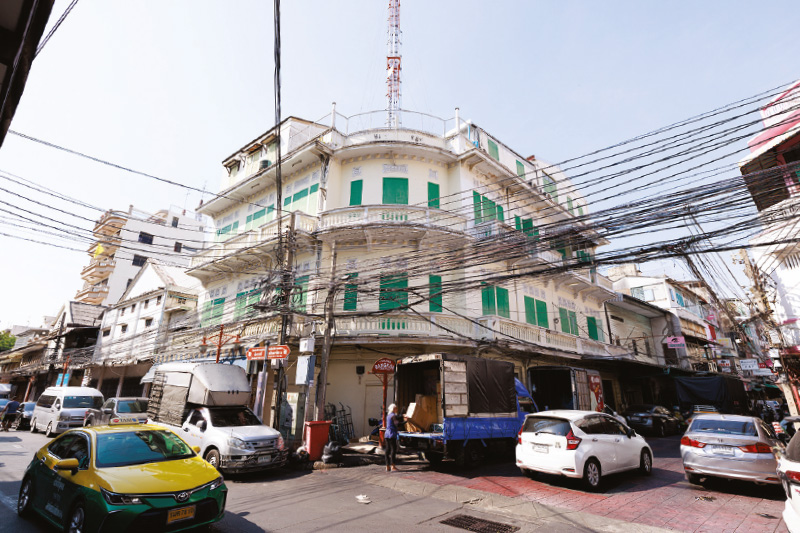 Bygone Charms, Modern Attractions
Over a century ago, the riverside Song Wat was Siam's bustling hub for import and export of agricultural produce, particularly herbs and spices. The nearby Ratchawong pier served as a gateway for international trade and was crowded with steamboats. The shophouses of Song Wat were originally built to serve as offices and warehouses for agricultural produce.
Their distinctive blend of Chinese and Western architecture can be seen in the stucco fruit-and-flower motifs and Corinthian pillars over the window frames – a reminder of the area's glory days as the country's gateway for international commerce.
The charm of the old buildings is now attracting a new generation of young entrepreneurs, who are rapidly transforming Song Wat into a hipster haunt. The area is brimming with trendy restaurants, cafés, galleries, and hostels taking advantage of mass transit and a prime central Bangkok location neighbouring Sampheng (Bangkok's biggest wholesale market) and Chinatown.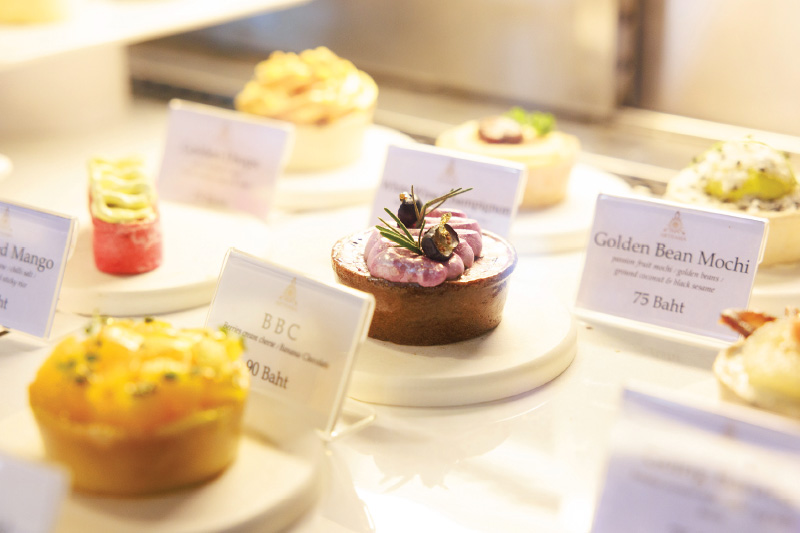 Fresh Chapter from New Generation
FV café is pioneering a fascinating and surprisingly delicious idea – making healthy refreshments from unusual fruits and vegetables including weeds.
Maiyarap (Sensitive plant), for example, is used to brew tea. Other tongue-teasers to try include the red tamarind juice and zedoary shot with Thai-style snacks such as dok lum duan (Thai shortbread cookies) and sam pan nee (mixed flour and coconut). FV's interior resembles a cosy art gallery, with stylings courtesy of its owner Opas Chankam, the founder of OBK Design Studio in the UK.
A step away is Thai restaurant E-ga , where top ingredients are gathered from around the country for home-style dishes such as Gaeng Pa (hot and spicy soup), Gaeng Tai Pla (hot curry with fermented fish innards), Massaman curry, and grilled river prawns. The restaurant is under the umbrella of It's Happened to be a Closet, the brainchild of fashion designer Siriwan Tharannithikul, so its stylish vibes come as no surprise.
Adjacent is a beef lovers' paradise. Though noodle shop Rongklannuer only opened last December, it has quickly become a foodie magnet thanks to its braised tender beef and aromatic herbal broth. Next door is Arteasia Tart Bar, which delivers Thai-style savoury treats and desserts in the form of creative tarts dreamed up by owner Ornong Prasarnphanich. Try the Two-Faced Mango, which combines the flavours of raw mango dipped in chilli and salt and mango sticky rice, or Going Banana, a modern take on banana in coconut cream.
With bellies full, it could be time to feast on art. Spanish graphic designer Myriam Rueda fell in love with the charm of Song Wat and decided to open Mesa 312 Cultural Lab, which offers painting and photo workshops as well as Spanish language lessons.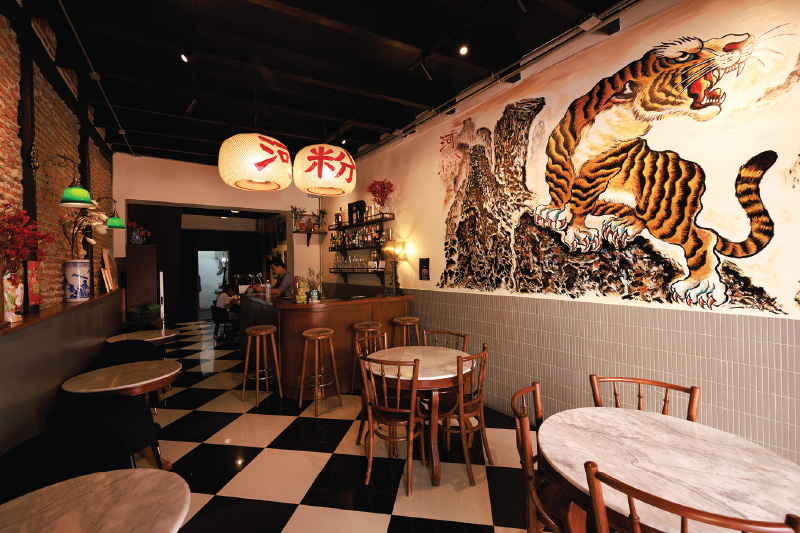 Strolling Around Phat Sai
A short stroll away is Phat Sai, which is also being transformed at the hands of Chinatown's young-gen entrepreneurs. Fusion restaurant Hor Fun run by Yaowarat native Saromwet Thirapochna offers his family's ribbon-noodle recipes passed down the generations in a contemporary interior. The best-seller is Guay Tiew Lord (steamed rice noodle rolls) with nine toppings including Kurobuta pork, shrimp, Tasmanian salmon, braised ox tongue, abalone, and lobster.
Meanwhile, Ploynapus Tanalarppipat, a former Bangkok Airways flight attendant, has turned the first floor of her husband's old three-storey family house into gelato emporium Lucky Ngou 65. Her homemade ice cream flavours are created to pair perfectly with five sauces – black sesame tofu, khanom pia (Chinese-style flaky pastry) with salted egg yolk, Gluay Tak (dried banana) and dark chocolate, and  matcha.
If you are seeking a quiet place to sip an aromatic cup of coffee and read a good book, look no further than The Reader BKK – Books Coffee Tea. Relocated from Bang Lamphu to Phat Sai, this café also offers a selection of interesting English and Thai books in a friendly setting.
If history is your thing, transport yourself to the reign of King Rama VI at the elegant, century-old Sino-Portuguese mansion of Baan 2459. This boutique hotel offers only four rooms, each decked out with exquisite antique furniture. The rooms are numbered 2, 4, 5, and 9, according to the Buddhist era of its establishment. Its café CHATA also serves specially coffee and homemade treats in elaborate Sino-Portuguese decor.
Sandwiched between the mighty Chao Phraya River and Chinatown's bustling Yaowarat Road, the quiet Song Wat and Phat Sai have managed to retain the heritage of bygone days. But their added spice of modern café, restaurants and art spaces now offers a perfect combination of old and new Bangkok for tourists to explore.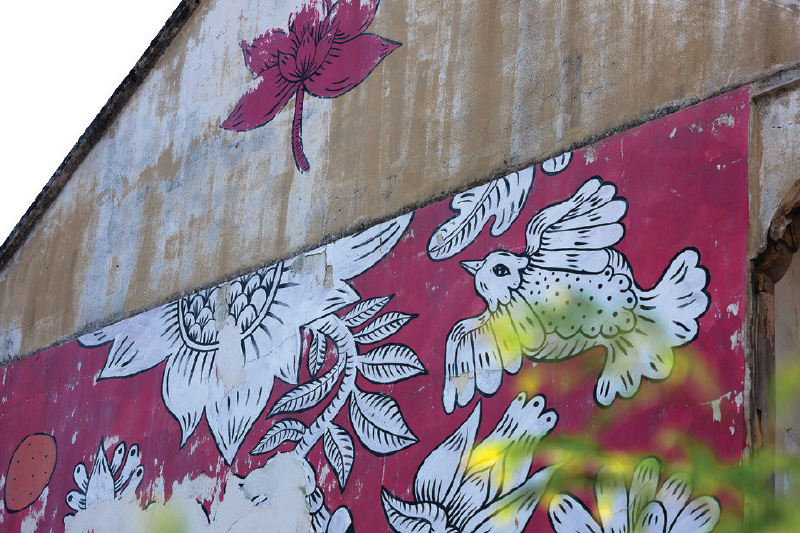 หากเปรียบเยาวราชเป็นสีสันยามเย็นที่เต็มไปด้วยความตื่นตาตื่นใจมีจังหวะลื่นไหลไปด้วยกระแสของนักท่องเที่ยวมากมาย ทรงวาดคงเป็นเหมือนช่วงเวลาน้ำชายามบ่ายที่ชวนให้เราค่อยๆ ละเลียดไปกับความงดงามของชีวิตวันวานที่ดำรงอยู่คู่กับผู้คนวันนี้ได้อย่างกลมกลืน
ทรงวาด เป็นถนนสายสั้นๆ ที่มีความยาว 1,196 เมตร มีเส้นทางคู่ขนานไปกับถนนเยาวราชและแม่น้ำเจ้าพระยา เป็นหนึ่งในถนนสายประวัติศาสตร์ของกรุงเทพฯ ตั้งแต่ชื่อที่มีความหมายว่าพระมหากษัตริย์ (รัชกาลที่ 5) ทรงวาดลงบนแผนที่ เป็นถนนสายเศรษฐกิจที่มีวัด มัสยิด และศาลเจ้า เป็นสถานที่ยึดเหนนี่ยวจิตใจของผู้คนหลากศาสนาที่อยู่ด้วยกันอย่างเกื้อกูลมากว่าร้อยปี
ความแตกต่างทางวัฒนธรรมที่สอดประสานอย่างลงตัวยังคงมีให้เห็นในยุคปัจจุบัน เช่น ตึกแถวที่ได้รับกลิ่นอายแบบจีนและตะวันตก ซึ่งหลายครอบครัวในย่านทรงวาดได้เปลี่ยนตึกแถวเหล่านั้นให้สอดรับกับวิถีชีวิตสมัยใหม่อย่าง Play Art House แกลเลอรีที่เป็นศูนย์รวมศิลปินและนิทรรศการที่สะท้อนถึงอัตลักษณ์เฉพาะตัวของวิถีชีวิตในย่านทรงวาด นอกจากนี้ การรวมตัวกันของผู้ประกอบการรุ่นใหม่ได้สร้างสีสันและเสน่ห์ให้แก่ถนนทรงวาด และนำมาซึ่งพลังแห่งความสร้างสรรค์ที่นำไปสู่การค้นพบสถานที่น่าสนใจต่างๆ ทั้งบนถนนทรงวาดเองและในละแวกใกล้เคียง โดยเร็วๆ นี้ ทางกลุ่มผู้จัด Made in Song Wat วางแผนที่จะออกไกด์บุ๊คและแผนที่ย่านทรงวาดสำหรับนักท่องเที่ยวทั้งไทยและต่างชาติ
สิ่งที่ขาดไปไม่ได้คืออาหาร หากคุณรักสตรีทฟู้ด คุณจะตกหลุมรักถนนทรงวาดเพราะเส้นทางสายนี้มีร้านอาหารตามทางและซอกซอยที่พร้อมหยิบยื่นความอร่อยให้แก่คุณ ลองชิมก๋วยเตี๋ยวปลาลิ้มเล่าซาที่เป็นที่เลื่องลือถึง "ลูกชิ้นปลาเด้งได้" ซึ่งตำนาน 80 ปีของร้านก๋วยเตี๋ยวแห่งนี้เป็นเครื่องรับประกันความอร่อยได้อย่างแน่นอน หรือลองสัมผัสซาลาเปาโบราณจากร้านกู่หลงเปาที่ได้รับการขนานนามว่าเป็นหนึ่งในซาลาเปาสูตรแต้จิ๋วโบราณที่อร่อยที่สุด ย่านทรงวาดยังมีอาหารอื่นๆ ให้ลิ้มลองอีกมากมาย ไม่ว่าจะเป็นอุไรห่านพะโล้ ที่สูตรลับ 50 ปีของร้านดึงดูดนักชิมมาแล้วรุ่นต่อรุ่น หรือร้านอาเหลียง ร้านขนมจีบเจ้าเก่าชื่อดังแห่งถนนทรงวาดที่ทั้งอร่อยและราคาย่อมเยา ทรงวาดยังมีร้านอาหารร่วมสมัยที่หลอมร่วมเสน่ห์คลาสสิกของถนนทรงวาดเข้ากับความรุ่มรวยแห่งยุคสมัยใหม่อย่าง อี-กา ที่รวมความอร่อยจากหลายๆ ภาคมาไว้ในที่เดียว หรือร้านโรงกลั่นเนื้อ ร้านก๋วยเตี๋ยวเนื้อน้องใหม่ที่เนื้อตุ๋นละมุนลิ้นและน้ำซุปหอมเครื่องสมุนไพรกำลังเป็นที่นิยม
ถนนทรงวาดและถนนบ้านใกล้เรือนเคียงอย่างพาดสายยังมีสิ่งน่าสนใจให้ค้นหา ไม่ว่าจะเป็นคาเฟ่ ร้านอาหาร หรือแกลเลอรี แม้ว่าถนนทั้งสองเส้นอาจเทียบไม่ได้กับเยาวราชในด้านความคึกคักและแสงสี สิ่งที่ทำให้ถนนเส้นนี้มีความพิเศษไม่เหมือนใครคือการผสานเสน่ห์มรดกจากครั้งอดีตเข้ากับไลฟ์สไตล์ยุคใหม่ได้อย่างลงตัว