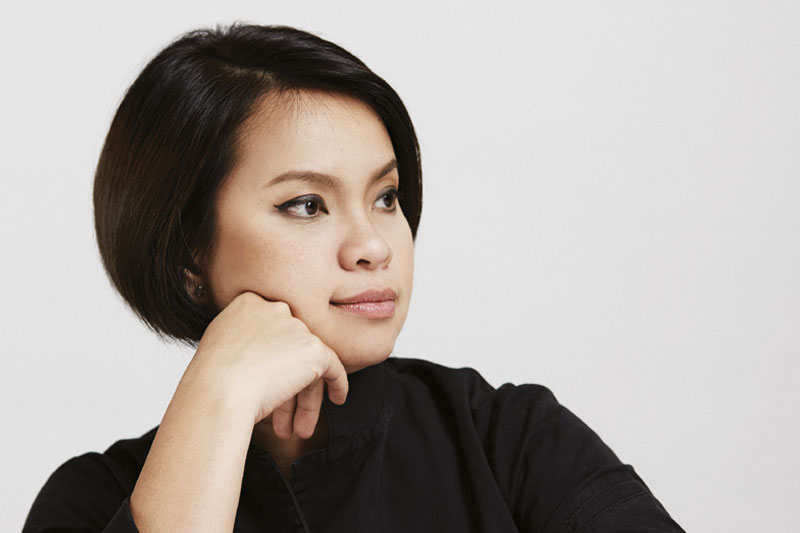 The Time Traveller of Thai Cusine
Chef "Bee" Satongun of PASTE Bangkok reveals how her love of slower-paced tradition inspired her Michellin-starred reinvention of Thai cuisine
Words: Sarita Urupongsa
When asked how she was first introduced to the world of food, Bongkoch Satongun or "Chef Bee", recounts childhood memories of helping her mother, the owner of a food stall that sold Thai favourites like Khanom Jeen (curry noodles) and assorted curries.
She remembers the fragrance of herbs being pounded in a mortar, and the richness of grated coconut used to make milk – the essential ingredients of sumptuous Thai curries.
She grew up in a slower and more traditional Bangkok, before the hustle, bustle and bright neon lights that dominate the city today.
People would put laborious efforts into making just one simple dish. That's how Chef Bee first fell in love with food – by experiencing the wondrous flavours each herb or spice can bring to a dish when treated in the right way.
She met her future husband and co-creative Jason Bailey when she was just starting in the F&B industry. An experienced chef back home in Australia, Bailey trained her in the serious business and skills of being a chef and together the couple began to explore the complexities of Thai flavours.
They discovered that creating perfect thai dishes was not just about achieving a great taste. The secret was finding the perfect balance between herbs, spices, umami-rich sauces and ingredients.
Their collaborative creations break with Thai dining traditions, though. Instead, they revitalise Thai flavours to tickle the tastebuds of contemporary diners, local and foreign alike. 
Bee takes original recipes and then meticulously tests and refines each dish while exploring ways to reinvent them. She sees this as a form of creative rebellion that is helping to spice up the world of Thai cuisine.
In 2013, Bee and Bailey opened Paste in Bangkok at the height of the city's independent-restaurant boom. 
A pioneer of modern Thai food, Paste scooped up a Mechelin star in the first Thai edition of the guide (2018). In the same year, Bee was named Best Female Chef in Asia 2018 by Asia's 50 Best Restaurants.
The recipe for success is drawn from archieves and antique cookbooks that Bee mines from old Thai famly recipes. She and Bailey then get to work transforming the classics in their unique innovative style.
The couple also travels across Thailand to unearth forgotten cooking techniques and native ingredients that lie buried in the heritage of Thailand's indigenous communities.
For Bee, the Nan River Alley is a particularly rich culinary source, filled not only with lush forests and fertile soil but also wild ingredients that have nurtured locals for centuries.
She likes to immerse herself in the forest's secrets, absorbing the deep wisdom of local experts. They teach her how to offset and balance the herbs and aromatics against one other.
The fruit of these expeditions are dishes that blend local organic produce to create the exquisite balance of flavours that has earned Chef Bee fame all around the world.
PASTE BANGKOK
Open daily from noon-3.30pm, 6-11pm;
3rd Floor, Gaysorn Village 999, Ploenchit Road, Bangkok; +66 (0) 2656 1003, www.pastebangkok.com