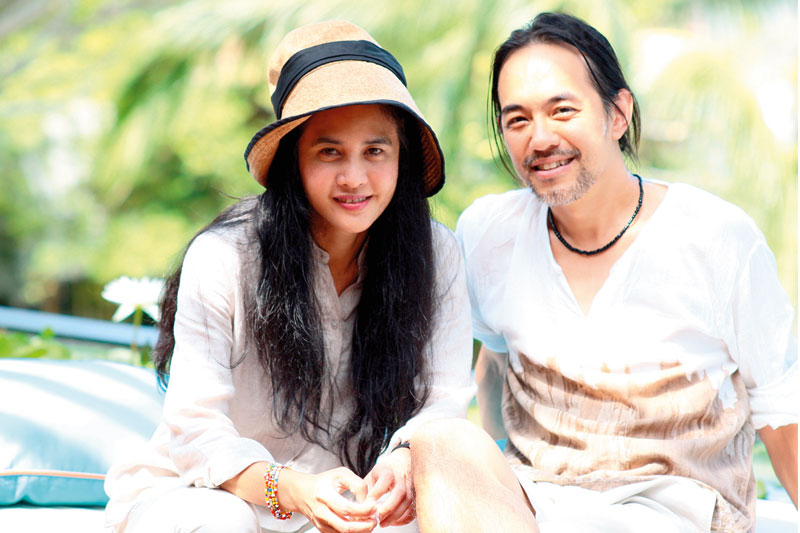 A LARGE HELPING OF GREEN 
Words like fair trade, carbon footprint and social responsibility circulates in their keen minds. At their eco-luxe spot, our couple show how sustainability is not a deprivation, but an appealing addition.
Photos: Thewin Chanyawong 
Words: Nawarat Acosta 
Thanakorn and Saisiri Hoontrakul make it their business to be green in running their hotel and in their lives. How ecocentric do they go? Fah Thai gets a lesson on distilling citronella and more while checking out the lemongrass plants in their hotel organic garden.
They look like the nice couple next door, but to know hoteliers Thanakorn and Saisiri, (Gob and Goya) means respecting their policies on protecting the environment. Friends and family who visit their home in Bangkok know that non-recyclable items like plastic bags cannot make it past their front door. So if you're gifting food wrapped in plastic, rejection is guaranteed. Sure, plenty of people profess to the same eco-philosophy to protect the environment. But the dynamic couple immersed into the practice over a decade ago at their eco-luxury property Tongsai Bay in Koh Samui and by natural extension live a life that they believe pays respect to the earth. They go beyond using cotton tote bags and meals in Thai tiffin containers in a cry against unnecessary packaging. Solar panels line their rooftop at home and home-grown herbs have a spot in their living space.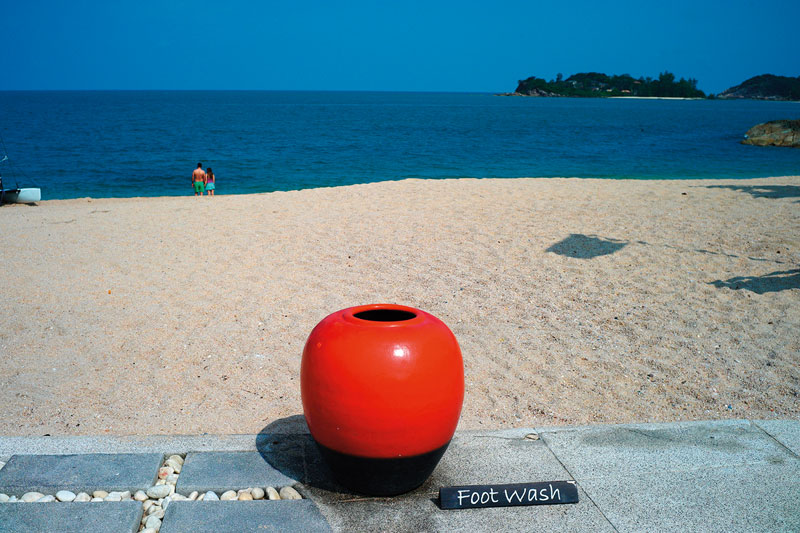 While talking about their green philosophy on a hot day in the family-owned hotel, the couple is however the epitome of cool – in appearance, demeanour and thinking. Despite their youthful appearance, they're veterans in the hospitality business. Gob was 12 years old when his father, the late Akorn Hoontrakul took him to Tongsai Bay for the hotel while Goya had worked on the lush property in Guest Relations.
All this is part and parcel of the deeply-entrenched green philosophy that began at the hotel in Koh Samui. Goya relates that concern for the environment began rather unhappily when a neighbour pointed out that one of their hotel caretakers burnt garbage that created constant air pollution. Dismayed by the information, the couple did detective work and discovered that a staff member, through good intentions, eliminated rubbish via burning.