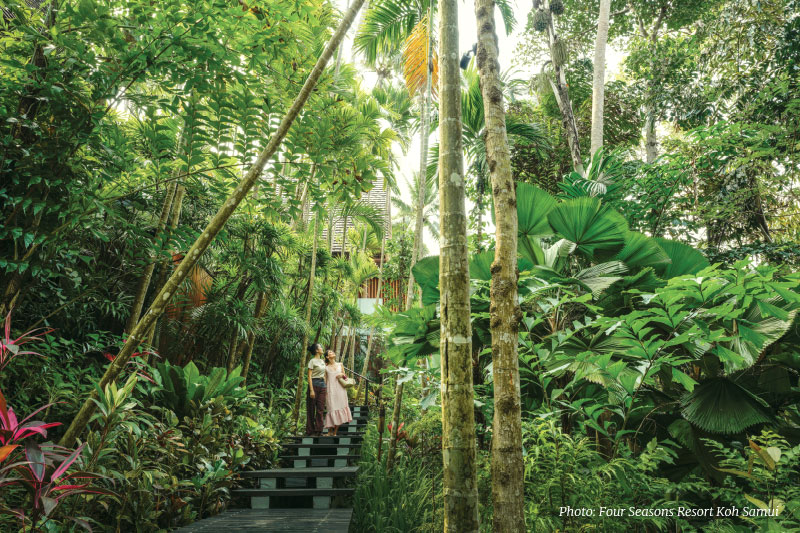 An Insider's Guide to Green Samui
Sustainability isn't just a passing trend on this island paradise – it's a way of life
Words: Kankanit Wichiantanon
Photos: Anutra Ungsuprasert
Samui boasts a multitude of celebrated attributes. Thailand's second-larger island gleams like a precious gem, attracting globetrotters in seach of azure seas, sugar-white sands, and fun festivities.
However, there's another facet of Samui that's sparkling ever-brighter these days – its commitment to sustainability. The island has emerged as a sanctuary for businesses dedicated to eco-friendly practices, demonstrating that ecotourism can flourish while embracing both luxury and sustainability.
Leading the way is Bangkok Airways, which has placed sustainability at the core of operations with a goal to achieve carbon neutrality by 2050. The boutique airline's push is exemplified in the low-carbon architecture of the three airports it owns and manages in Samui, Sukhothai, and Trat.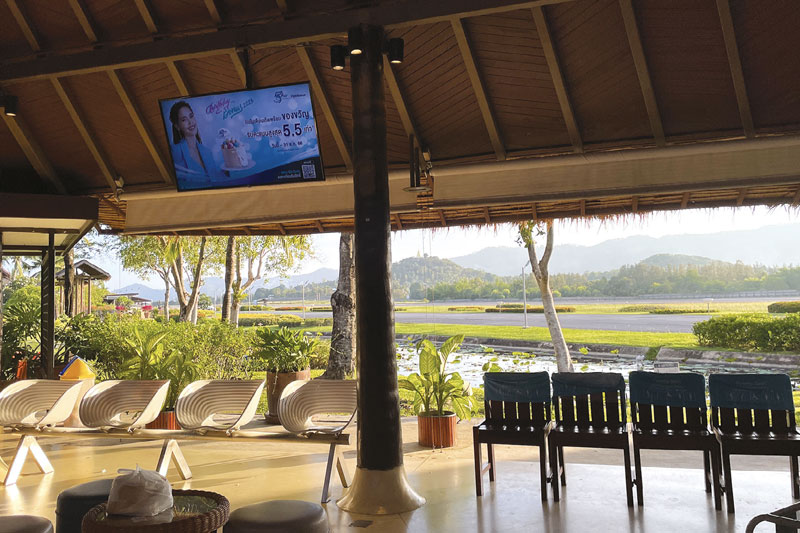 "Sustainable tourism forms a part of the [UN's] Sustainable Development Goals or SDGs, which means we must promote sustainability across all aspects of the tourism ecosystem – economic, social, and environmental," said Puttipong Prasarttong-Osoth, President of Bangkok Airways Public Co., Ltd. 
"Our sustainable effort began with the construction of Samui Airport in Surat Thani province. The founder of Bangkok Airways, Dr. Prasert Prasarttong-Osoth, recognised the pristine beauty of the sun, sand, and sea of Koh Samui and so his goal was to build an airport that seamlessly integrates with existing nature. What was once a coconut plantation is now an open-air airport that neither requires nor depends on an air conditioning system and uses very few natural resources in its operations and maintenanace." 
In addition to its open-air pavilions desinged with energy-saving strategies, Bangkok Airways is dedicated to environmental responsibility through its Waste Segregation for Wonderful Beneifts Project. It involves the meticulous sorting of recyclable and food waste to be transformed into valuable materials and nutrient-rich compost. In recognition of these efforts, Samui Airport became the first in Thailand to earn the Carbon Footprint label from the Thailand Greenhouse Gas Management Organisation (TGO) in both 2016 and 2017 while also receiving numerous awards for its environmentally friendly missions.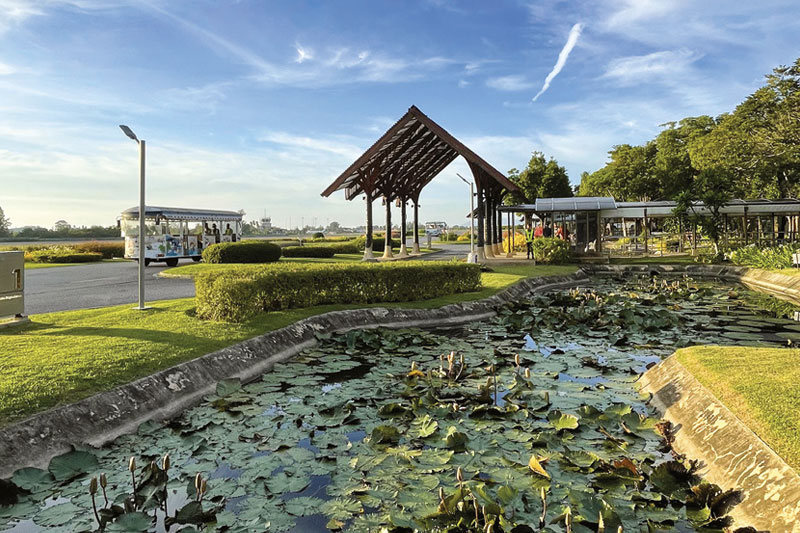 Away from airline territories, Samui residents and frequent visitors like ourselves know for a fact sustainability isn't just a passing trend in this island community: it's the very essence of life. Local heroes are preserving ancestral traditions of green living and pioneering innovative methods to transform island waste into wealth. 
Here's our list of local businesses we had the pleasure of visiting during our recent trip to Samui, each of which has invaluable lessions to offer eco-conscious travellers seeking ways to travel extraordinary and sustainably.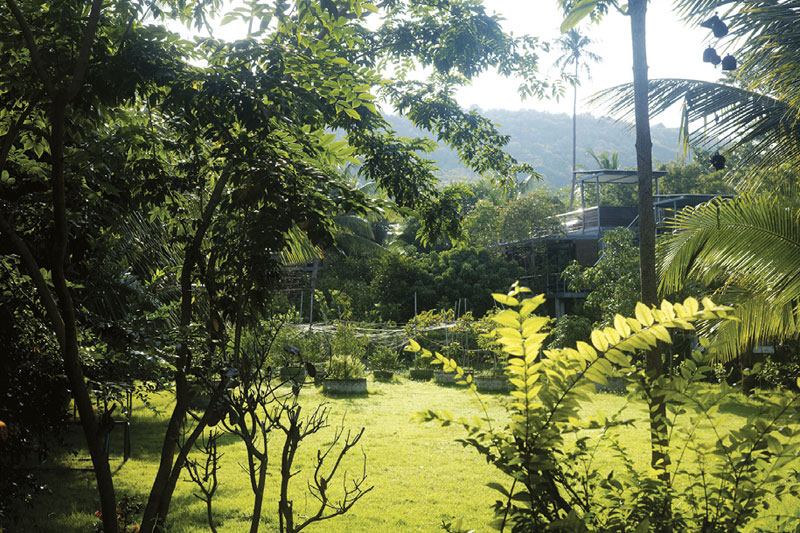 Baan Boom Boxes 
From landfill to tranquil forest retreat, the tale of Baan Boom Boxes and its remarkable transformation into an eco-friendly resort is the definition of a "blessing in disguise".
Unbeknownst to owner Prapan Suanleng, the very land on which the resort stands was a landfill
with trash buried under the surface. Facing this challenge, he decided to take matters into his own hands.
"We live with trash, so we need to think about how we can live best with it," said Prapan.
Surrounding a lush garden, you'll discover accommodation fashioned from repurposed shipping containers. But the real stars are Prapan's homemade bricks crafted from recycled objects like plastic and glass bottles. All power needs, including air-conditioning, come solely from solar panels dotted throughout the premises. Resident chickens provide eggs for resort meals, while a kitchen garden occupies the heart of the resort and scattered throughout are fruit trees and beehives for honey.
Prapan, together with E2C, a green social enterprise led by Panipol Apichitsakul and eco-conscious Samui locals, are committed to promoting sustainability across the island and beyond. Their ongoing initiatives educate communities on solar energy and how to create bricks and walls from recyclables. To dive deeper into this inspiring enterprise, visit their website at: www.facebook. com/e2csamui.
Address: 28, 45 moo 1, Mae Nam, Koh Samui, Surat Thani, +66 (0) 94 582 9297 www.facebook.com/baanboomboxes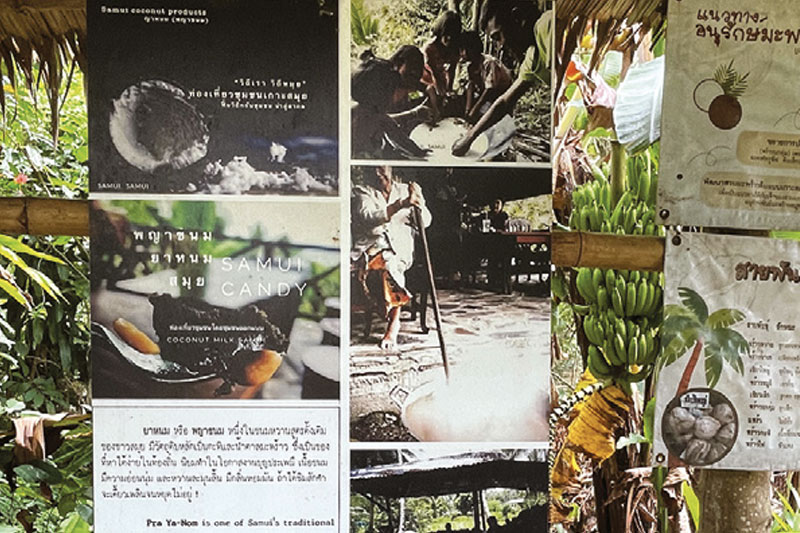 Honey Rose Herb Garden & Art 
Those fortunate enough to meet Manee Auiprasert and visit Honey Rose Herb Garden & Art to sample her herbal products, as we did, will discover an inspiring haven of local sustainability.
Manee uses her unique talent to create wellness and personal care products rooted in time- honoured, all-natural Thai traditions while opening visitors' eyes to various aspects of sustainability: environmental, wellness, and cultural. 
Within her lush gardens you'll find a vibrant array of medicinal plants and flowers. These natural treasures are transformed into a wide range of herbal products, including essential oils, shower gel, shampoo, herbal balm, traditional Thai herbal compresses (known as Luk Prakob), and massage oils.
Manee offers a Thai Herbal Compress Workshop for those intrigued by the world of Thai aromatherapy. And for food enthusiasts, we highly recommend the Miang Mai Tree Tour where you'll get to sample Manee's signature Miang Kham snacks and rose tea while exploring her garden.
Address: Moo 2, Ang Thong, Koh Samui, Surat Thani, +66 (0) 81 649 6061 www.facebook.com/Honeyroseherbgarden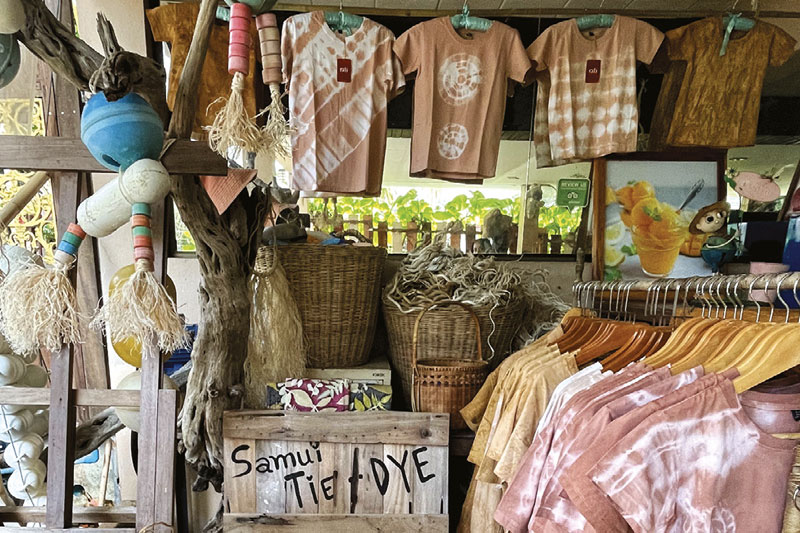 Samui Natural Tie-Dye Workshop at Meewaya Hotel
Fancy trying your hand at sustainable fashion design? Yuphaphorn Wanitcharoen will
show you how. Plunge into the world of eco-friendly dyes and head to Meewaya Hotel, where Yuphaphorn will be your colourful guide.
Her three-hour workshop reveals the secret art of extracting colourful pigments from local plants and mastering fabric folding techniques to create cool tie-dye patterns.
Participants get a snack break to sample local treats, before it's off to the beach to wash your dyed creations in azure seawater.
From start to finish, the process is 100% chemical-free, relying only on the natural colours provided by plant ingredients like mangosteen peel and neem bark. Moreover, while you're waiting for your dyes to set, Yuphaphorn often invites students on beach clean-up missions. So, you won't just leave with a beautiful fabric but also the satisfaction of contributing to the island's beauty.
Address: 9/41 Moo 2, Koh Samui, Surat Thani, +66 (0) 95 423 9236 or +66 (0) 99 451 9215 www.facebook.com/p/Meewaya- Hotel-100065032811865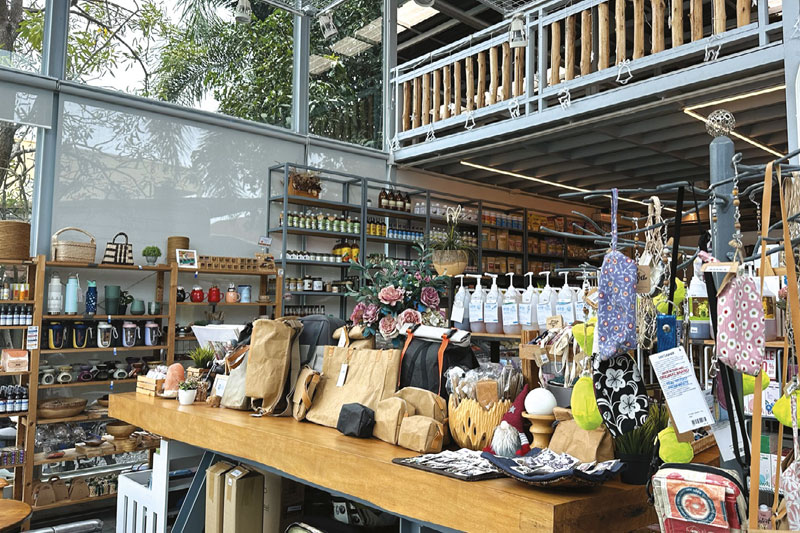 Samui Health Shop by Lamphu
Health, community, and sustainability are the cornerstones of Samui Health Shop, a venture driven by its owner, Benjaphon Iamvatcharin.
This welcoming space offers a bounty of wholesome products, ranging from nourishing foods to organic skincare and supplements.
Dedicated to showcasing Thailand-based green brands, the shop has become an island sanctuary of natural, organic, sustainable, and ethically produced goods, all crafted right here in Thailand. It's a powerful reminder that sustainable producers can only thrive with the support of eco-conscious consumers like ourselves.
The shop also offers a refill station to stock up on everything from lentils to personal care and cleaning products. Bring your own containers and bags or opt for the shop's reusable packaging options. Fresh and local ingredients sourced from Samui farmers can also be found here. But if cooking isn't your thing, then leave it to Samui Health Shop's very own café, located just across the street. There, you can savour nutrient-rich dishes and beverages to complete your sustainable shopping experience.
Coconut Museum
Coconut lovers can go coco-loco at the Coconut Museum. Managed by a local Samui family with over a century of experience in the coconut industry, this establishment serves as a one-stop destination to explore the rich history and heritage of coconuts in Koh Samui.
Now overseen by the third generation, the museum offers educational tours and workshops for visitors craving cultural- culinary experiences.
Those with a sweet tooth will appreciate the Thai dessert-making workshop, where they can learn how to make traditional coconut- based sweets over a coconut-shell charcoal fire. Guests can also take a guided tour of the property to witness coconut cultivation, de- husking, and virgin coconut oil production to learn more about this liquid gold. Follow up with a delicious feast of coconutty dishes at Baan Suan Langsat restaurant (see below), located just a coconut's throw away.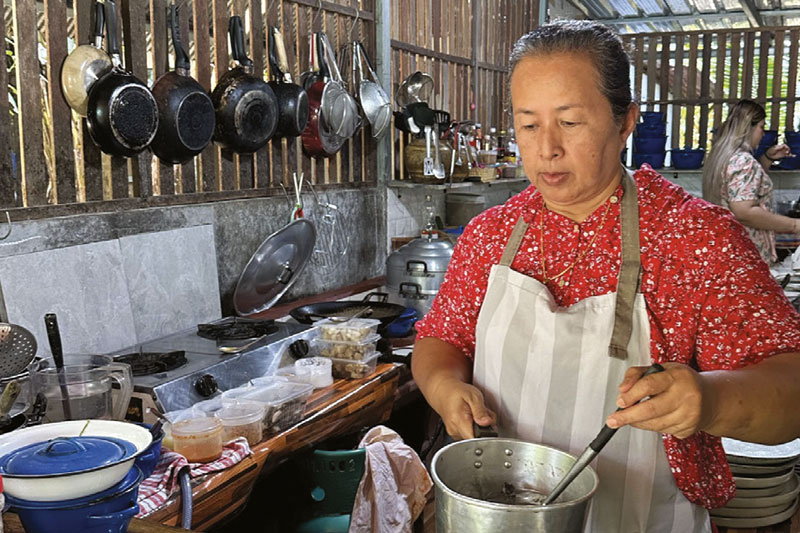 Baan Suan Langsard
Hidden in a lush langsat orchard, Baan Suan Langsard by Kanitha Saelim opens a window on Samui's rich culinary heritage.
Garden-to-plate cooking is an essential part of the local dining culture and is showcased here in
a menu filled with island classics, all prepared using pesticide-free produce sourced from Kanitha's own garden, local farmers and fishermen.
Kanitha's original mission was to conserve her family's langsat orchard, but she also began growing her own vegetables for everyday cooking. Word of mouth spread, visitors began flocking to try her delectable dishes, and Baan Suan Langsard was born. Part-orchard and part-restaurant, this place now welcomes discerning diners from all around the world.
Our favourites here include Stir- Fried Stink Beans with Prawns, Phad Mee Samui (Samui-style stir-fried noodles), Steamed Egg in Coconut, Southern Crabmeat Curry, and Fish Entrails Soup with Fermented Herbal Rice Noodles.
Address: 69/12, Ang Thong,
Koh Samui, Surat Thani,
+66 (0) 99 051 4099 www.facebook.com/BaanSaunLangSard